— -- Many cities east of the Rockies have observed the warmest start to December in recorded history, with daily temperatures running 10 to 30 degrees above normal. Take a look at all the record highs this past weekend.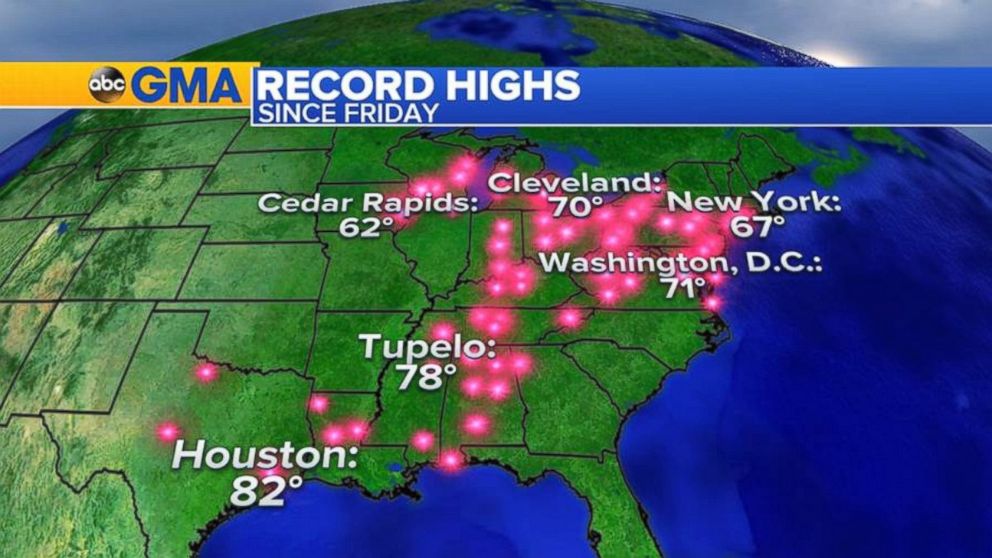 The big question now is, when will this warm weather end and who will see a white Christmas?
There will be several cold fronts that will move through the eastern US from now until Christmas, but the cold air behind them will only last for a few days, so temperatures will rebound very quickly back to above normal. This is due to a very strong jet stream blocking all the cold air in Canada. Because of this jet stream, during the Christmas week, temperatures are likely to be above normal for most of the country. The biggest chance for temperatures to be above normal will be east of Mississippi River from Dallas to Atlanta to Chicago and NYC. These cities could see temperatures at least 10 to 15 degrees above normal.
In the west, a shift in the jet stream could bring chillier weather from Seattle to L.A. just in time for Christmas Eve and Christmas. Due to this dip in the jet stream, a storm is expected to develop and could bring snow from Denver to Green Bay on Christmas Eve, making a White Christmas there.
Here is a map below showing the jet stream forming a ridge in the eastern US with much above normal temperatures, and a trough in the west with temperatures just slightly above normal.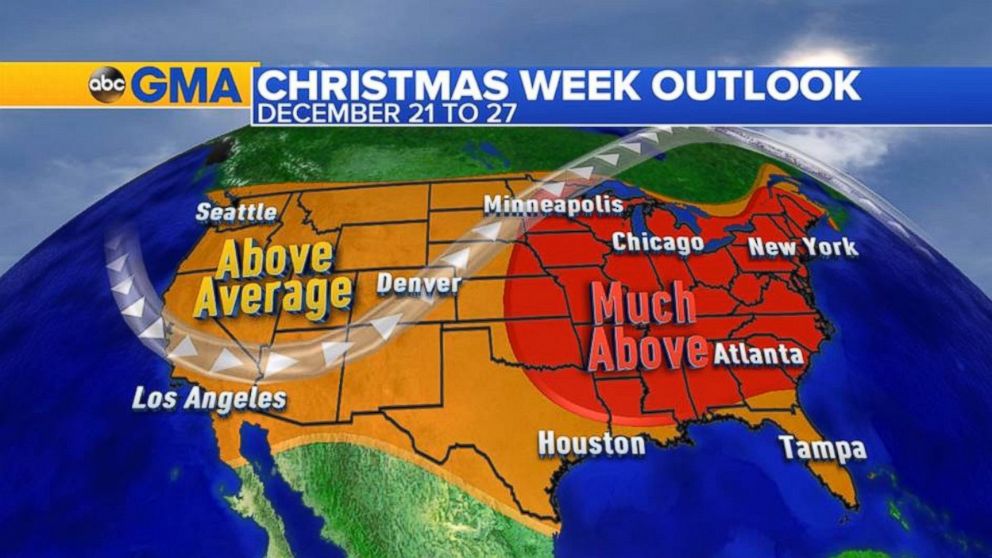 On an average year, there is a very good chance, 70 percent, of seeing white Christmas in the higher elevations of the Rockies from ID to CO and also in the Upper Midwest and the Great Lakes from North Dakotas to northern Michigan. In the Northeast, due to the warm waters of the Gulf Stream, early winter tends to be more rainy then snowy, especially along the coast, so if you want to see the snow along the east coast for Christmas you need to go up to the higher elevations of Catskills to Adirondacks and into Green and While Mountains of Vermont and New Hampshire.