— -- The travel forecast across much of the country for one of the busiest travel days of the year will be quiet with minimal travel disruptions on the road and in the air.
The main trouble spot will be in the Pacific Northwest where several storms have brought heavy rain to the area this week and it will continue Wednesday with flooding and flight delays possible.
Anyone traveling early Wednesday morning in the Northeast could face some issues, with snow for the interior areas and rain showers from New York City to Boston. However, it will clear out by the afternoon.
Elsewhere, the rest of the country will be mostly sunny and dry with easy travel weather.
Wet early in Northeast
A cold front is making its way into the Northeast Wednesday with colder air behind the front and milder air ahead of it.
The cold air is creating light snow for parts of Pennsylvania and western New York early Wednesday morning and that will move into interior New England later. Any snow should be confined to northern interior Maine by the afternoon.
ABC meteorologists are also tracking the rain ahead of the front with some heavy showers happening in eastern North Carolina, mainly the Outer Banks, and moving up the coast through Wednesday morning.
Washington, D.C. should stay mostly dry, with some light rain anticipated for New York City between 6 a.m. to 10 a.m., and then rain moves into Boston, lingering there through the early afternoon. Overall, this could bring minor travel impacts to the area this morning.
Cold weather coming next
Behind that front is another cold blast. Although widespread record lows are not expected, wind chills will still be quite cold for the Midwest Wednesday morning and the Northeast by Thanksgiving morning.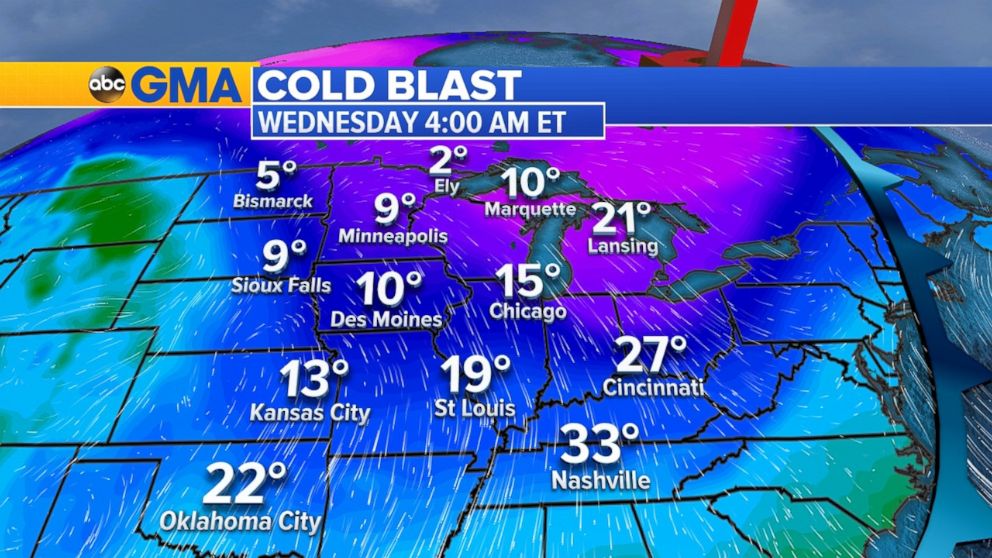 Wind chills are in the teens and even single digits across the Midwest early Wednesday, and it feels like only 15 degrees in Chicago and 9 degrees in Minneapolis.
By Thursday, morning wind chills will be in the 20s from New York City to Boston.
It will be cold for the Macy's Thanksgiving Day Parade, but winds look light with lots of sunshine.
Northwest continues to see rain
A flood watch remains in effect for northwest Washington, including Seattle, Wednesday through Thursday afternoon.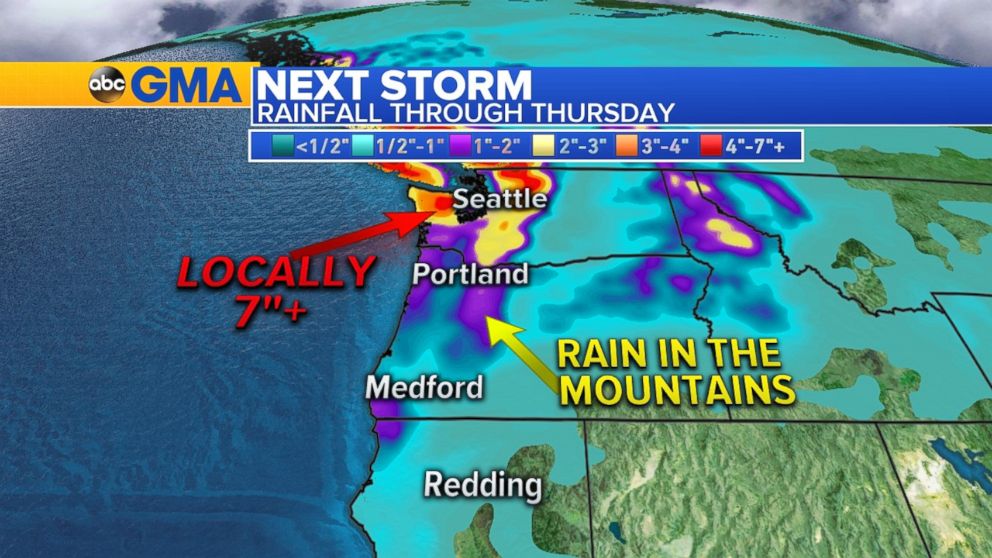 Rainfall totals of 2 to 5 inches have already fallen, and an additional 1 to 3 inches is possible, with storm totals of over 7 inches of rain this week.
Due to all the rain from these storms, minor flooding is possible for rivers in the area. The rain will also bring slick and wet roads for travelers.