— -- San Francisco 49ers quarterback Colin Kaepernick announced plans to take his peaceful protest against racial injustice and police brutality "a step further" at a postgame news conference Thursday night.
Kaepernick, 28, who has refused to stand during the national anthem at two NFL preseason games, said he would donate the first $1 million he makes this season to organizations assisting communities affected by racial injustice and police brutality.
He said he wanted to make sure he was not "just talking about" these issues but was also "actively being involved" and "actively trying to make a change."
"I've been very blessed to be in this position and be able to make the kind of money I do," Kaepernick said. "I have to help these communities. It's not right that they're not put in the position to succeed or given those opportunities to succeed."
He also said he was "definitely considering" accepting invitations to meet with police and other law enforcement officers.
The San Francisco Police Department has had "a lot of issues," Kaepernick said, adding that he wanted to address the alleged "racist text messages that have been passed back and forth between PD members."
Kaepernick began his protest last week when he sat down during the national anthem before a game.
"I am not going to stand up to show pride in a flag for a country that oppresses black people and people of color," he told NFL Media. "There are bodies in the street and people getting paid leave and getting away with murder."
He continued his protest by again refusing to stand, instead kneeling, as "The Star-Spangled Banner" was sung before last night's preseason finale against the San Diego Chargers. He was joined by teammate Eric Reid, who also knelt.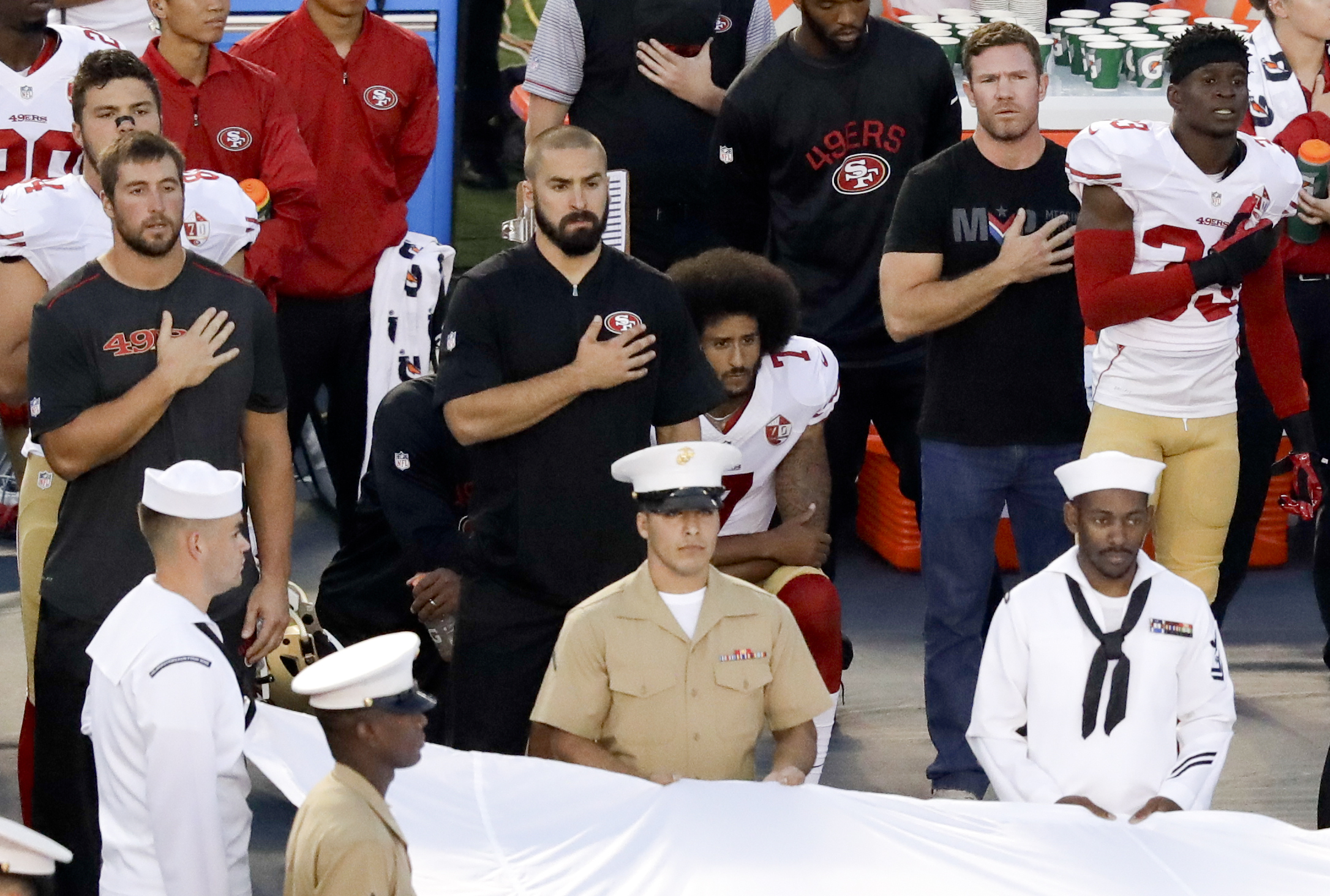 Kaepernick, who was born in Milwaukee to a white mother and a black father, said at Thursday night's news conference he believed his protest has been falsely painted as "anti-American and "anti–men and women of the military."
"I realize that men and women of the military go out and sacrifice their lives and put their selves in harm's way for my freedom of speech," he said. "I have the utmost respect for them. I think what I did was taken out of context and spun a different way."
Kaepernick added that he and his teammate had a conversation before Thursday night's game with a veteran, Nate Boyer, who helped them come up with the idea to kneel.
"We were talking to him about 'How can we get the message back on track and not take away from the military, not take away from pride in our country but keep the focus on what the issues really are?'" Kaepernick said. "Once again, I'm not anti-American. I love America. I love people. That's why I'm doing this. I want to help make America better."
ABC News' Michael Edison Hayden and Julia Jacobo contributed to this report.