A Colorado woman survived five days in the cold Rocky Mountain wilderness after her car plunged off a parkway when she swerved to avoid a herd of deer.
Cynthia Hoover sustained 11 broken ribs and vertebrae, as well as a punctured lung in the accident. Dehydrated and alone, she managed to stay alive by sucking the moisture from her own hair.
"She was scared most of the time because at night, when she was out there, she could hear all the wild animals," Rhonda Adams, her sister, told ABC's affilate KMGH-TV. "But what really kept her motivated was her family. She kept having these thoughts of, 'I'm going to die here alone, but I've got to fight for my kids and my family.'"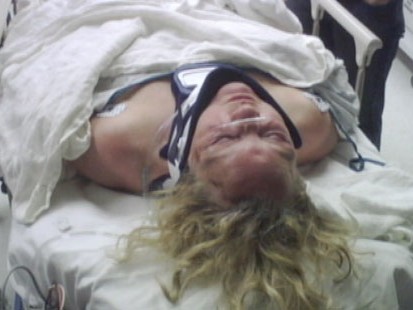 Her son, Ron Daniel, said his mother is a "very strong woman" and was lucky to survive.
After nearly a week of her grueling ordeal, Hoover stumbled upon a mining operation tour group on Sept. 15 and was rescued. She was airlifted to St. Anthony's Hospital in Denver and though at first listed as critical, is now in fair condition.
ABC's affiliate KMGH in Denver said Hoover was heading home on the Central City Parkway Sept. 10 when her Volkswagen Passat rolled 350 feet, down a steep hilliside and landed on its roof.
The car could not be seen from the road, which connects Interstate 70 with Central City in the heart of the Rocky Mountains. Hoover waited for help, but none came.
The family told KMGH that they did not report Hoover missing because she often traveled alone on trips.
Because Hoover was so badly injured, she used a golf club from the car to try to crawl up the hill to the highway above her in her bare feet. Apparently unable to climb the incline, she turned around and crawled to a mining operation below.
Later, Hoover said that she planned to use the golf club to fight off animals that never came.
Rain, sleet, hail and cold temperatures arrived with a cold front on the weekend. Eventually, she was able to crawl within 450 feet of the mining operation where she could hear people's voices.
Hoover yelled twice for help and someone responded. Jon Northern was conducting a tour of the Hidee Gold mining operation that day for tourists who had decided to stay for an extra day.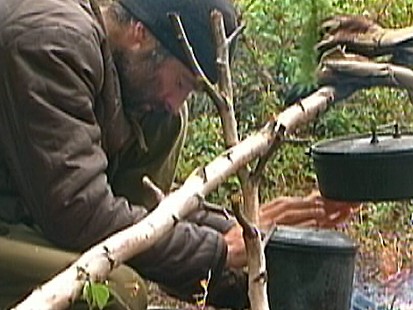 At first, Northern could not see Hoover behind the hillside, but when he found her, called his manager Chris Stone for help and a first-aid kit.
"All I heard them say was, 'Jon needs you right away. He needs first aid,' so I thought Jon had been injured," Stone told ABC.
Stone grabbed the first-aid kit and headed up the hill. He said she was in bad shape when he saw her, purple eyes and her mouth filled with dirt from crawling with her head on the ground.
Rescuers Thought She Was Left to Die
"When I got there, we covered her with blankets and tried to make her as comfortable as possible until emergency units arrived," Stone said. "She kept saying, 'I've been here since Thursday, I've been here since Thursday.'"
Stone said she didn't know what day it was, and he didn't tell her because he didn't want to alarm her. Hoover was so "purple and bruised" that he had intially thought she had been beaten and left to die.
"Rest easy now, we're here," Stone said he told her. He said she was very thirsty and the blood from her injuries had caked on her.
Central City Fire Chief Gary Allen was one of the first to arrive after the 911 call was made. He told the ABC affiliate that in his 34 years he had never seen such a remarkable survival story.
"She used up three or four miracles," Allen told KMGH. "She survived the initial crash, she survived the elements and she was heard by people conducting mine tours."
About the same time Hoover was stranded in the wilderness, a 21-year-old Ohio hiker was discovered dead at the bottom of a 300-foot cliff in rugged terrain southwestern Colorado, according to The Associated Press.
Joshua Gulvas had been hiking with his father Weminuche Wilderness north of Durango. More than 35 people, including friends from Ohio who came to help, searched a 32-square mile area in cold temperatures, heavy rain and lightning storms.