How Cooking Helped Change the Life of a New Orleans Katrina Survivor
Chef Syrena Johnson was 15 when she lost her home to Hurricane Katrina.
— -- After Hurricane Katrina made its way through the Gulf coast, a million people were displaced and scattered across the country. For some who eventually came back home, the Big Easy's food community not only fed them, but gave hope to those struggling to rebuild their lives.
Syrena Johnson was 15 years old when Katrina left her and her family stranded in the unbearable heat for three days at their home in New Orleans.
"We all wanted help. That's all we wanted was help, and nobody came to our aid for a long time. And that's what makes me mad," Johnson, now 25, said in an interview with "Good Morning America" anchor and Pass Christian, Mississippi, native Robin Roberts for the ABC News special "Katrina: 10 Years After the Storm," which airs on Sunday, Aug. 23 at 10 p.m. ET.
Eventually, Johnson, her mother and her stepfather were able to catch the attention of a Coast Guard helicopter. Johnson said when the helicopter came down to rescue them, the propeller winds were so strong that a bag she packed with some of her clothing and other possessions fell into the water.
"I think they took my mom in second. They took me in first," Johnson recalled. "And then we left, like, without my dad."
Johnson and her mom ended up at Louis Armstrong Airport, where she said she had to "be strong" for her and her mom, who was a nervous wreck without her stepfather and with what was going on around them.
"When you walked into the airport, you saw all beds, like it smelled like a hospital. Some people were passing right there," said Johnson. "I don't even think I was aware really the capacity of what was going on at the time."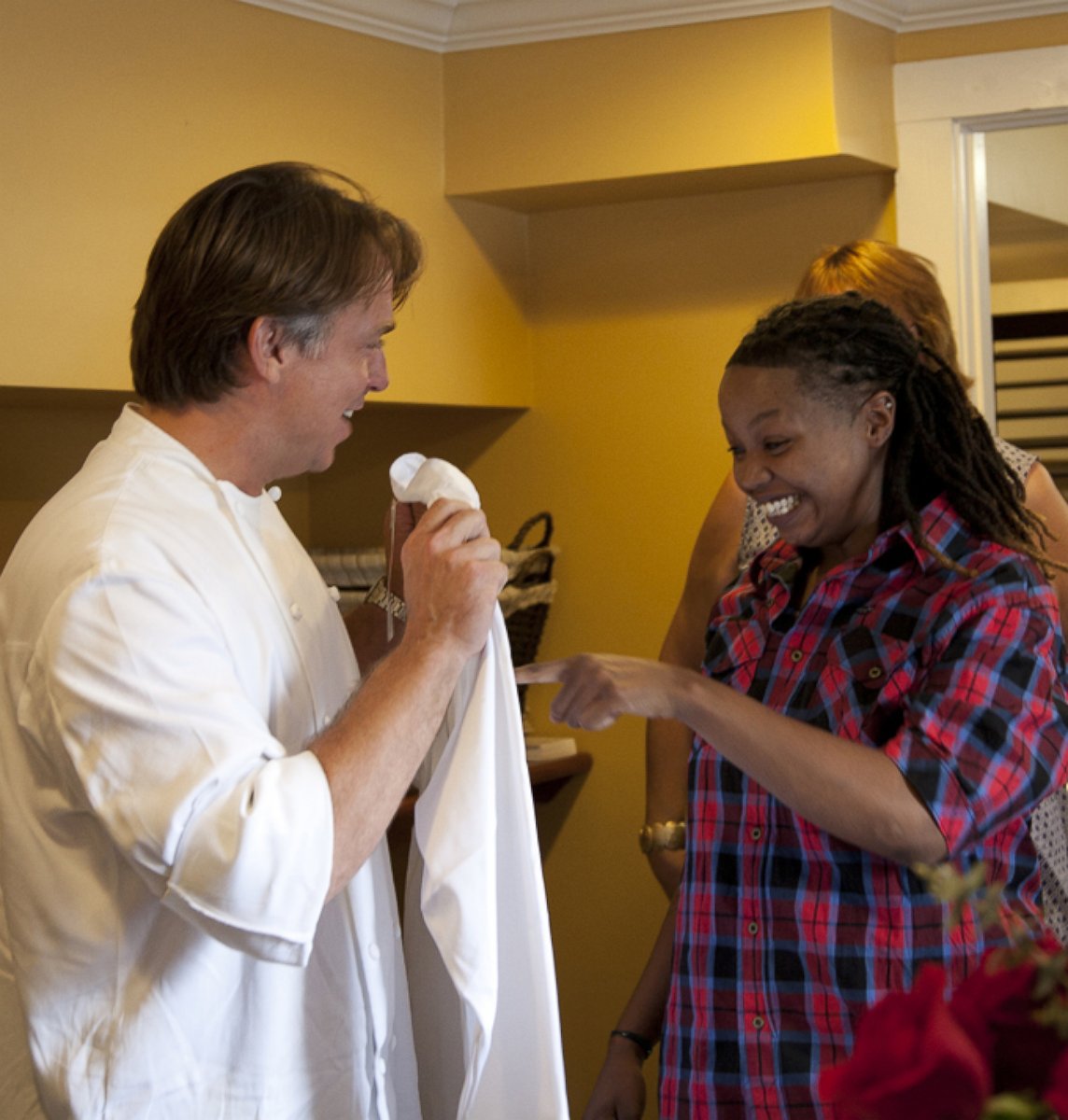 Johnson and her mom were eventually relocated to Texas, where her stepdad found them with the help of databases that were set up to assist in reuniting evacuees with each other. Though she and her family were safe and together again, Johnson couldn't help thinking of her home in New Orleans.
"I wanted to go back. But I also knew that it wasn't quite ready for me to go back," she said.
When she finally did return, Johnson worked at several fast food restaurants during the day and went to school at night. She lived for some time in a FEMA trailer with her family, and then bounced around living in homes of different family members. But as high school graduation approached, she wondered how she would find her way in a struggling city.
Johnson chose to enter Liberty's Kitchen, an outreach program that targets at-risk youth, teaching them job skills through cooking and giving them a future in the hospitality industry.
She then found an unlikely mentor in celebrity chef and New Orleans native John Besh.
"I'd been in combat in the Marine Corps. I'd thought I'd seen bad things, but seeing so many people just so torn up their entire lives, it hit me that what I could do best was cook around the clock," Besh told ABC News. "We started setting up small red bean and rice kitchens where we would feed people."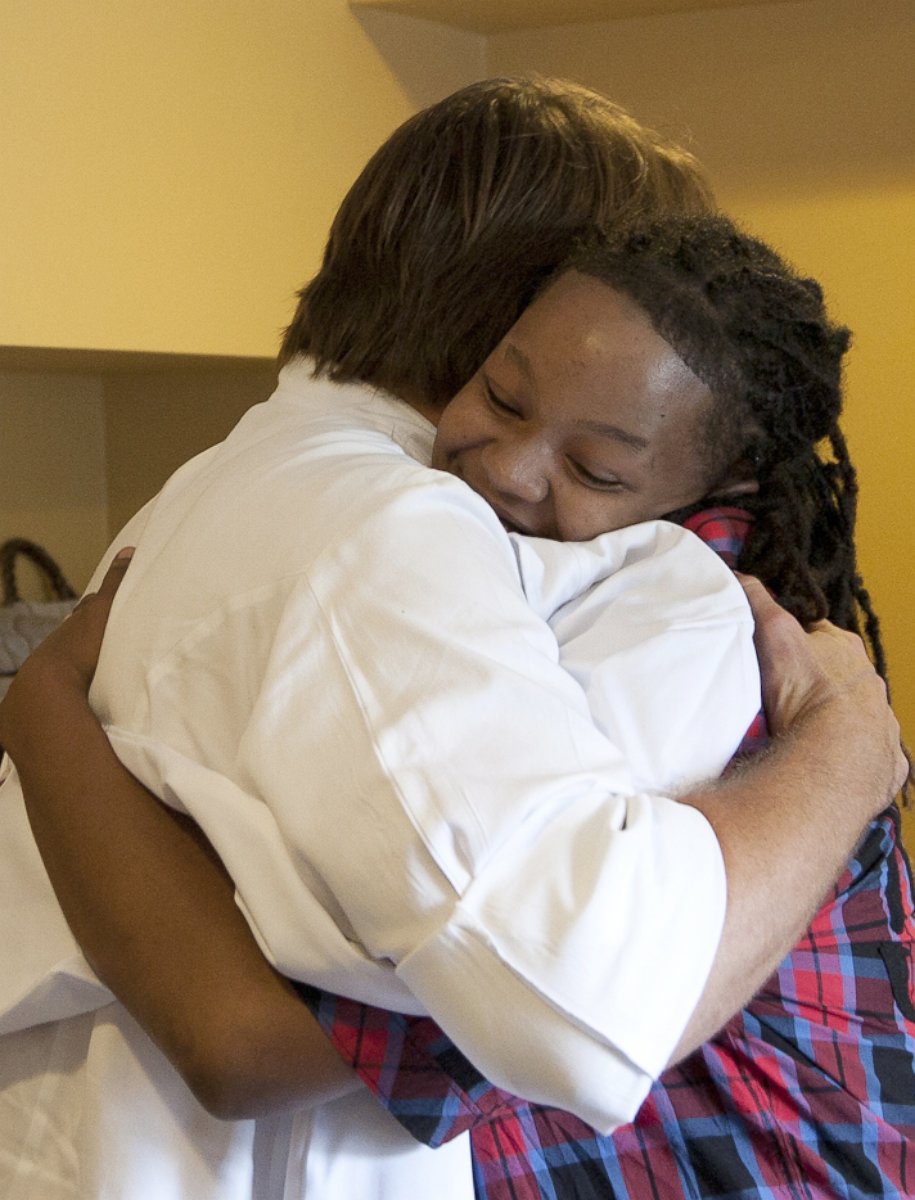 His foundation later created a scholarship to one of the world's best cooking schools, International Culinary Center, in New York City.
"We all saw a need and saw a lack of opportunity for the minorities of inner-city New Orleans. The poor black kid down the street doesn't have an education that would allow he or she to become a great chef," Besh explained. "When we look across the city, there's very few minorities represented in the upper-echelons of, you know, cooking."
Johnson didn't think she had a chance when she applied for the scholarship. She hadn't even heard of Besh, by the time she got to the final round where she had to meet him at his signature restaurant, August.
"I Googled him. I had to, like, find out all my homework," Johnson said.
"I met Syrena at Liberty Kitchen and presented her with this scholarship, and she was flabbergasted," Besh said. "She went to New York and just killed it."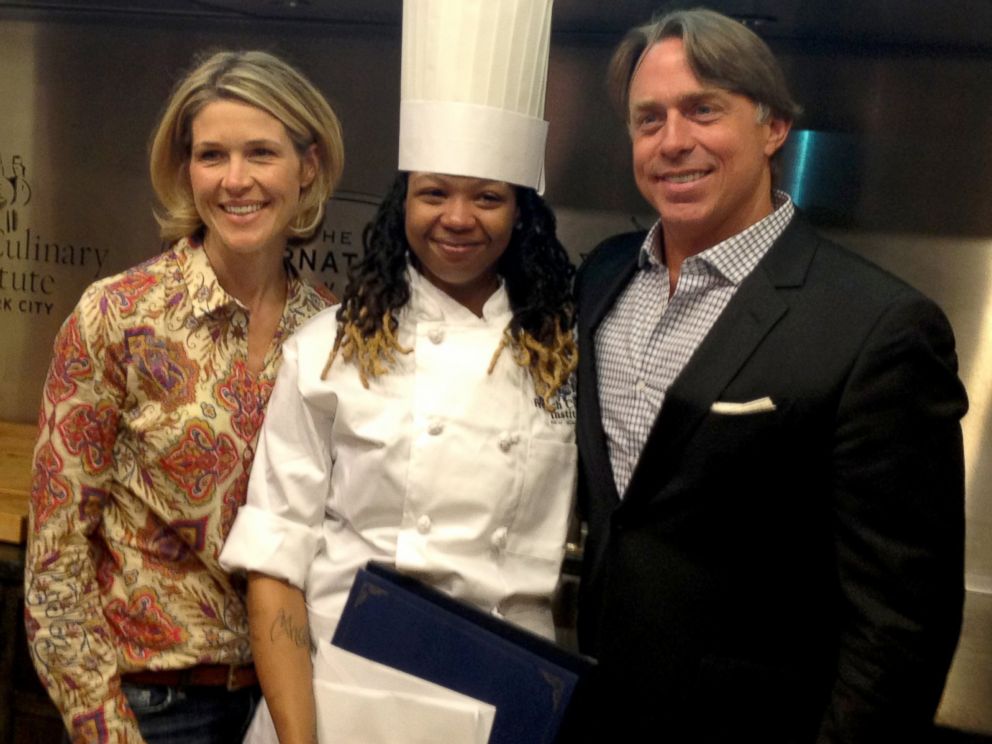 Johnson was the first recipient of the John Besh Foundation's Chefs Move! scholarship. The scholarship funded her program at International Culinary Center. For nine months, Syrena studied under acclaimed chefs in New York, and after graduation she returned home to work at some of New Orleans' top restaurants and to help her community.
"No sooner did she arrive in New Orleans, then she started working, training those in the same outreach that she came from," said Besh. "She could've easily just gone and gotten a job, but instead, she's out in the community, helping other people with … her talents."
Johnson now owns her own house and said wants to travel as a private chef. She said she is still getting used to being called Chef Syrena, but she wants people to know that she and other New Orleanians are still standing strong.
"I want people to know that we good. We never not been good. We was good when the levee broke. You know, we was good when we evacuated. ... But we're better," Johnson said. "We're rebuilding. We still here. Don't forget about us."