18 states in 'red zone' for COVID cases, White House document shows
At least 139,175 people have died of COVID-19 in the U.S.
The novel coronavirus pandemic has now killed more than 600,000 people worldwide.
Over 14 million people across the globe have been diagnosed with COVID-19, the disease caused by the new respiratory virus, according to data compiled by the Center for Systems Science and Engineering at Johns Hopkins University. The actual numbers are believed to be much higher due to testing shortages, many unreported cases and suspicions that some governments are hiding or downplaying the scope of their nations' outbreaks.
The United States has become the worst-affected country, with more than 3.6 million diagnosed cases and at least 139,175 deaths.
Latest headlines:
18 states in 'red zone,' according to White House
World crosses 600,000 deaths and 14 million cases
Illinois governor sues to require masks in schools
US sets new daily record for cases, most deaths since late May
Here is how the news is developed Friday. All times Eastern. Check back for updates.
9:41 p.m.: World crosses twin milestones
Two grim milestones were passed Friday night as the world crossed 14 million cases and 600,000 deaths, according to Johns Hopkins University.
The rate of cases continues to surge as the world hit 10 million cases on June 28. There's been a 40% increase in less than three weeks.
The U.S. still leads the world in cases (3.6 million), but India crossed 1 million cases on Friday and Brazil crossed 2 million cases a day earlier.
At over 139,000, the U.S. leads in total deaths, with Brazil (over 77,000) and the U.K. (over 45,000) in second and third, respectively.
The Americas account for about half the total deaths. Between just the U.S., Brazil, Mexico, Peru and Canada there have been over 276,000 deaths.
6:28 p.m.: US reports another daily case record
The U.S. marked a high for coronavirus cases reported Friday for the second day in a row, according to The COVID Tracking Project.
The project announced 77,233 cases nationwide, including about 5,000 from a backlog in Texas' Bexar County. But even without the backlog, the total announced Friday surpassed the previous record of 71,229 announced yesterday.
The number of deaths (951) today was down 26 from Thursday, which had been the highest total since May 29.
5:40 p.m.: Texas cases cross 300,000; set new record death toll
The total number of confirmed cases in Texas crossed with 300,000 mark on Friday with 307,572, according to the Texas Department of State Health Services.
The statewide total included about 5,000 cases from Bexar County, which includes San Antonio, that were backlogged. Those were not figured into the daily total of 10,256.
Cases have skyrocketed in recent weeks with figures over 10,000 cases four days in a row. Maybe more starkly, the number of deaths have set a daily record three days in a row.
The new record death toll on Friday was 174 -- 45 more than the previous day's record.
Hospitalizations were also a daily record of 10,632.
5:05 p.m.: HHS to distribute $10B in extra funding to hospitals
The U.S. Department of Health and Human Services will distribute $10 billion in extra funding to hospitals in the hardest-hit COVID-19 areas, according to a statement from the federal agency.
For hospitals that have seen at least 161 COVID patients admitted from Jan. 1 to June 10, the HHS will pay $50,000 per eligible admission.
The distribution will begin next week.
"The top priority for HHS's administration of the Provider Relief Fund has been getting support as quickly as possible to providers who have been hit hard by COVID-19," HHS Secretary Alex Azar said in a statement. "Because we've carefully targeted support, we can make payments to areas most in need as the pandemic evolves, like we are doing with this round of funds."
4:46 p.m.: Chicago Public Schools propose 'hybrid model' for fall
Chicago Public Schools and Mayor Lori Lightfoot have released what they're calling a "hybrid model" for reopening schools this fall.
The model includes sending K-10 students back to class for two consecutive days a week, one day of virtual learning with a teacher and two days of independent at-home learning. No more than 15 students can be in class at once.
Pre-K students will be in class, while 11th and 12th graders would be remote learning only.
The district is taking the proposal to parents for feedback before unveiling an official plan in August.
The Chicago Teachers Union has already said they don't want to go back to the classrooms under current conditions.
4:25 p.m.: California details back-to-school plan
California Gov. Gavin Newsom outlined five principles to advise schools on how to reopen in the fall.
The first principle is that schools may physically open in counties that have been off the "monitoring list" for 14 consecutive days. For counties on the list, they must begin their school year with distanced learning.
Currently, more than 80% of the state population is on the "monitoring list."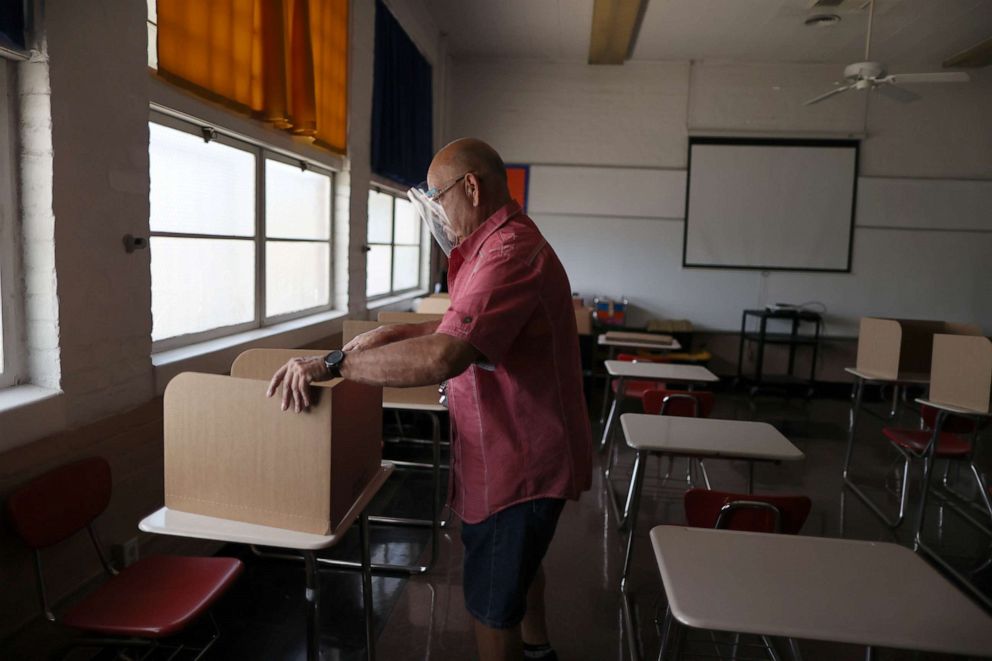 The second and third principle include new measures to be adopted in the school, including mask requirements and social distancing. For school staff and students in thirrd grade and above, masks must be worn. For students in second grade and below, masks are strongly encouraged.
Staff will also be required maintain at least 6 feet between each other and students and have their symptoms checked at the start of the day. Additional hand-washing stations will also be placed in schools.
The fourth principle focuses on testing. It will require staff is tested regularly and on a rotating basis.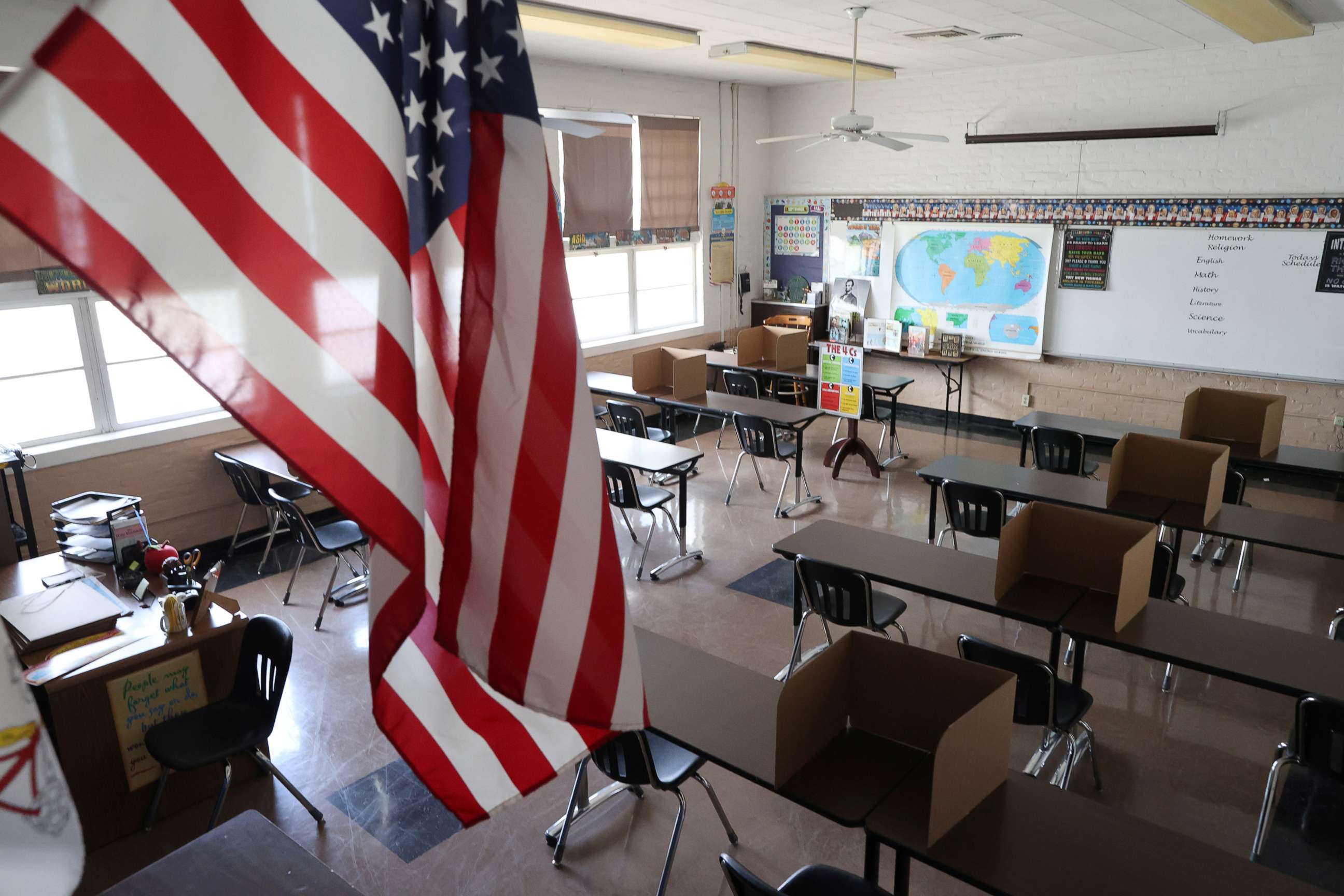 The final principle requires that all kids have access to devices and connectivity when distance learning. There will be daily live interactions with teachers and students and "challenging assignments equivalent to in-person classes," according to Newsom.
He noted that in-person learning would stop for a handful of reasons.
If there is a confirmed case, a classroom will go home and if 5% of a school is positive, the whole school goes home.
A district goes home if 25% of their schools have to close within a two-week period.