While many countries around the world and cities in the U.S. are pointing toward positive signs that social distancing might be finally flattening the curve, the novel coronavirus death toll continues to be staggering.
In the U.S., more than 529,000 people have been diagnosed with COVID-19, the disease caused by the new respiratory virus, according to data compiled by the Center for Systems Science and Engineering at Johns Hopkins University. At least 20,602 people in the U.S. have died, the highest out of any country.
Across the globe, at least 108,800 people have died from the coronavirus.
Worldwide, more than 1.77 million people have been diagnosed since the virus emerged in China in December. The actual numbers are believed to be much higher due to testing shortages, many unreported cases and suspicions that some governments are hiding the scope of their nations' outbreaks.
Today's biggest developments:
US death toll highest in world, cases now over half a million
Michael Avenatti granted release from prison due to COVID-19
Global death toll tops 100,000
Disaster declared in all 50 states
Here's how the news developed on Saturday. All times Eastern.
7:03 p.m.: Puerto Rico extends curfew
Puerto Rico's governor has extended an island-wide curfew until May in an effort to stem the spread of COVID-19 on the island.
While wearing a face mask and gloves, Gov. Wanda Vazquez announced the lockdown continuation that started on March 15 would be extended until at least May 3.
The curfew orders people to stay home from 7 p.m. to 5 a.m. and remain there even outside those hours unless they have to buy food or medicine, go to the bank or have an emergency/health-related situation. Violators face a $5,000 fine or a six-month jail term, and police have cited and arrested hundreds. Nonessential business were closed in March.
According to Puerto Rico's health secretary, the peak in cases for the island is not expected until early May. There have been about 7,700 people tested so far with more than 780 confirmed cases. Forty-two people have died on the island from COVID-19. There is a backlog of over 1,300 tests that are pending results.
5:20 p.m.: More Navy crew members test positive
The number of crew members testing positive for COVID-19 has increased to 550 from 447 on Friday, according to the Navy. About 4,800 are aboard the ship.
The Navy originally had planned to move only 2,700 ashore to quarantine facilities in Guam, but that number has since increased to 3,696, about three-quarters of the ship's crew.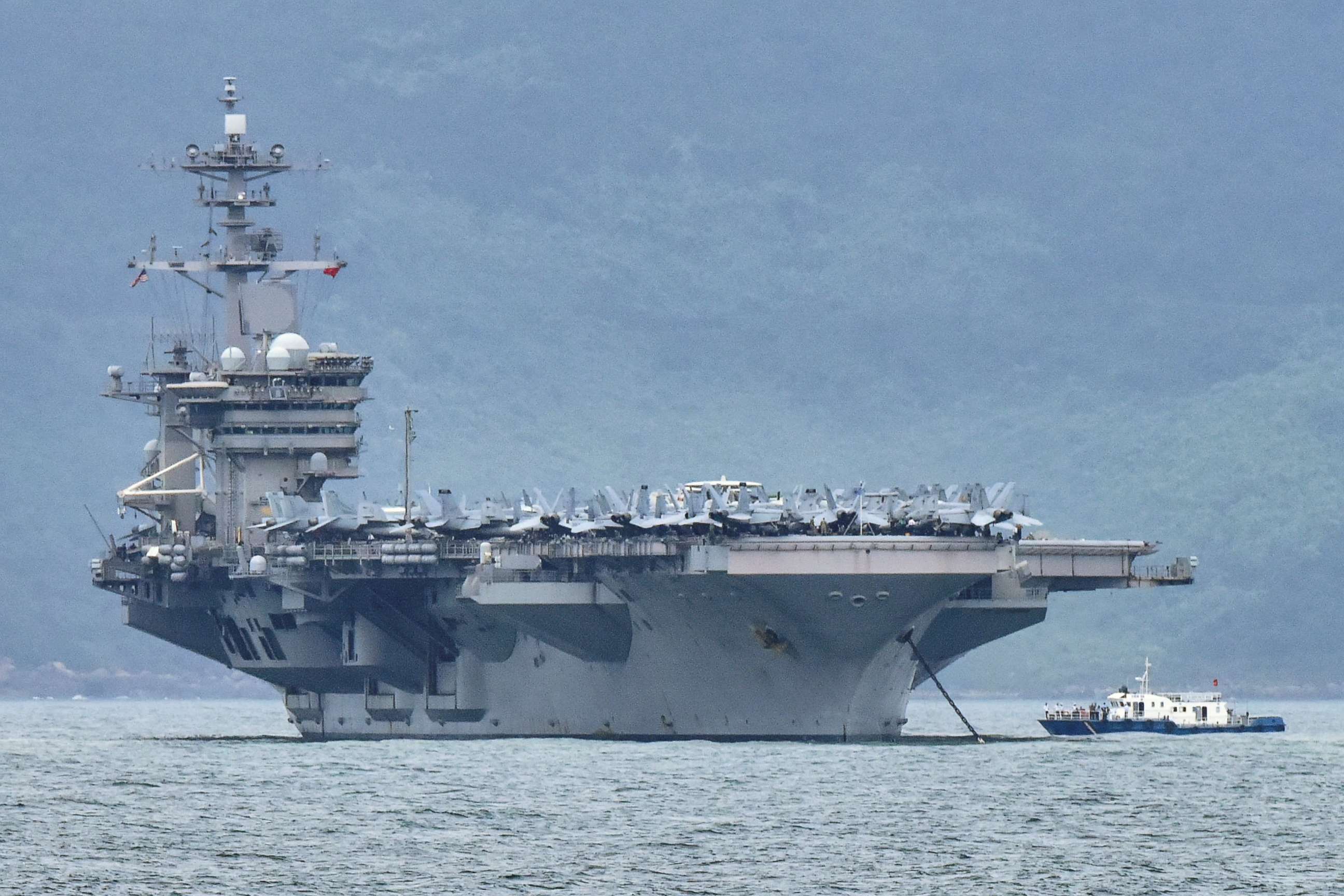 Tune into ABC at 1 p.m. ET and ABC News Live at 4 p.m. ET every weekday for special coverage of the novel coronavirus with the full ABC News team, including the latest news, context and analysis.
5:03 p.m.: US to punish countries that don't accept deportees
President Donald Trump has signed a memorandum allowing the government to punish any countries that refuse to accept citizens whom the U.S. wants deported or removed.
The development comes as Mexico and three Central American countries have urged the U.S. to halt removals of migrants or put stronger protections in place to ensure deportees and others removed don't bring COVID-19 with them. All four countries' more fragile health care systems could be easily overwhelmed by a COVID-19 outbreak.
The new memo from the administration allows the State Department, working with the Department of Homeland Security, to issue visa bans for officials from those countries as punishment. Though a common tactic for countries that don't accept their deportees, its issuance during a pandemic has been criticized.
A State Deptartment spokesperson declined to comment on "diplomatic discussions" with these countries and referred questions about removing COVID-19-positive migrants to the Department of Homeland Security.
4:35 p.m.: Disaster declared in all 50 states
President Donald Trump has approved a disaster declaration for Wyoming, the last of the 50 states to request one.
The White House said this is the first time in history a president has declared a major disaster in every state at the same time.
The declaration allows the state to receive federal funding.
3:59 p.m.: US surpasses 20,000 deaths
At least 20,071 Americans have died because of COVID-19, according to a tally by Johns Hopkins.
Earlier today, the U.S. surpassed Italy as the nation with the most confirmed deaths.