A manhunt is on for a ring of crooks who Washington state authorities said are responsible for at least two crimes in which their victims were found via Craigslist.
It is "highly probable" that the robbery April 25 in Everett, Wash., and a fatal home invasion in Pierce County April 28 are related, Lake Stevens Police Chief Randy Celori said.
Both cases involved suspects who allegedly drew weapons when the homeowners opened their doors, expecting to sell items they had posted on the online community website Craigslist. The victims in both cases were then tied up while their homes were ransacked. One victim was shot to death.
"These cases have a lot of distinct similarities," Celori said.
Celori said police responded April 25 to the report of a robbery that occurred after two male suspects arrived at a victim's home after he had posted a flat-screen TV for sale on Craigslist.
"We believe the suspects are finding the ads on Craigslist and contacting the sellers and making arrangements to purchase the items," Celori said. "At which time the sellers are providing their home addresses and the suspects show up and pull a gun."
The suspects brandished firearms before tying up the family and then let other members of their team into the home, according to the police report.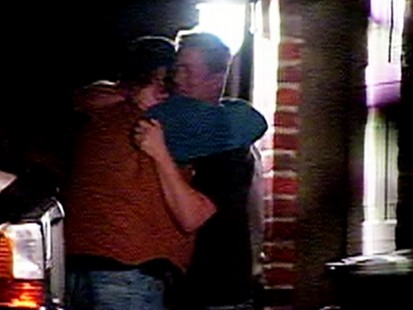 They spent 10 minutes stealing electronics, jewelry and cash that amounted to $30,000, Celori said.
Celori said the victims in that robbery should "consider themselves very lucky," considering that a similar home invasion turned deadly.
Craiglist did not immediately respond to inquiries by ABCNews.com.
Suspects May Have Killed Man Who Posted Ad on Craigslist
In Edgewood, Wash., 50 miles south of Everett, police are investigating a robbery that left one man dead.
James Sanders, 43, was killed when he was shot "multiple times" after people posing as interested buyers of an expensive ring turned violent, police said.
ABC News' Washington affiliate KOMO reported that three man and a woman arrived at Sanders' home "pretending to be interested in the ring," but that once they got inside they tied up Sanders and his wife.
A neighbor of the family told KOMO that she believes Sanders was killed because he was trying to protect his teenage son, who was trying to fend off the criminals.
"He saw his son being hurt, because they started hitting his son, because his son jumped on the back, tried to protect his dad," neighbor Kamille Papini told KOMO. "And I think Jim responded to what they were doing to his son."
Authorities have released sketches of two of the suspects they believe were involved in the crimes, but say that more -- including a teenaged girl -- may be involved.
One suspect is described as a thin, African-American male between the ages of 18 and 24 with a goatee and the other is believed to be a mixed race male of the same approximate age with a tattoo on his neck.
Celori said his department is working with the Pierce County Sheriff's office to try and find the suspects and will be issuing search warrants for the IP addresses used in the online communications. In the meantime, Celori said he advises people to pick public places to meet people from Craigslist.
"I'd say there's a good chance these crooks could strike again," he said. "I'd try to avoid at all possible meeting a buyer at your residence."