At least three people were killed and multiple others were injured when an Amtrak train derailed in remote northern Montana on Saturday, sending several cars toppling over, authorities said.
Eight cars on the train, Empire Builder 7/27, which was headed from Chicago to Seattle, derailed just before 4 p.m. local time near Joplin, Montana, according to Amtrak. The rail line confirmed there were injuries to passengers and crew members, but offered no more details.
The three deaths were confirmed by the Liberty County Sheriff's Department, and Hill County's disaster and emergency services coordinator, Amanda Frickel, confirmed to ABC news Sunday that there were "upwards of 50 injuries."
Frickel said the injuries ranged "from minor cuts and bruises, sprains, to a couple head wounds and critical."
On Sunday, Montana Gov. Greg Gianforte said five people remain hospitalized in stable condition.
There were 146 passengers and 13 crew members on the train, Sarah Robbin, the disaster and emergency services coordinator for Liberty County, said at a news conference Sunday. She said multiple people were taken to area hospitals, where most were treated and released.
All of the train passengers have been accounted for, according to the governor. With the exception of those who are in the hospital, all of the passengers have been transported out of the area, Gianforte said.
On Sunday evening, Becca Schneider, the wife of Zach Schneider, confirmed to ABC News that Zach was one of those killed in the Amtrak derailment.
"Zach Schneider was a kind, compassionate and patient man. He was an incredible husband, software developer, debate coach and friend," she said. "He loved board games, bonfires, the Packers and a good slice of Chicago-style pizza. He was fiercely loved by his wife, family, friends and pets, and will be dearly missed."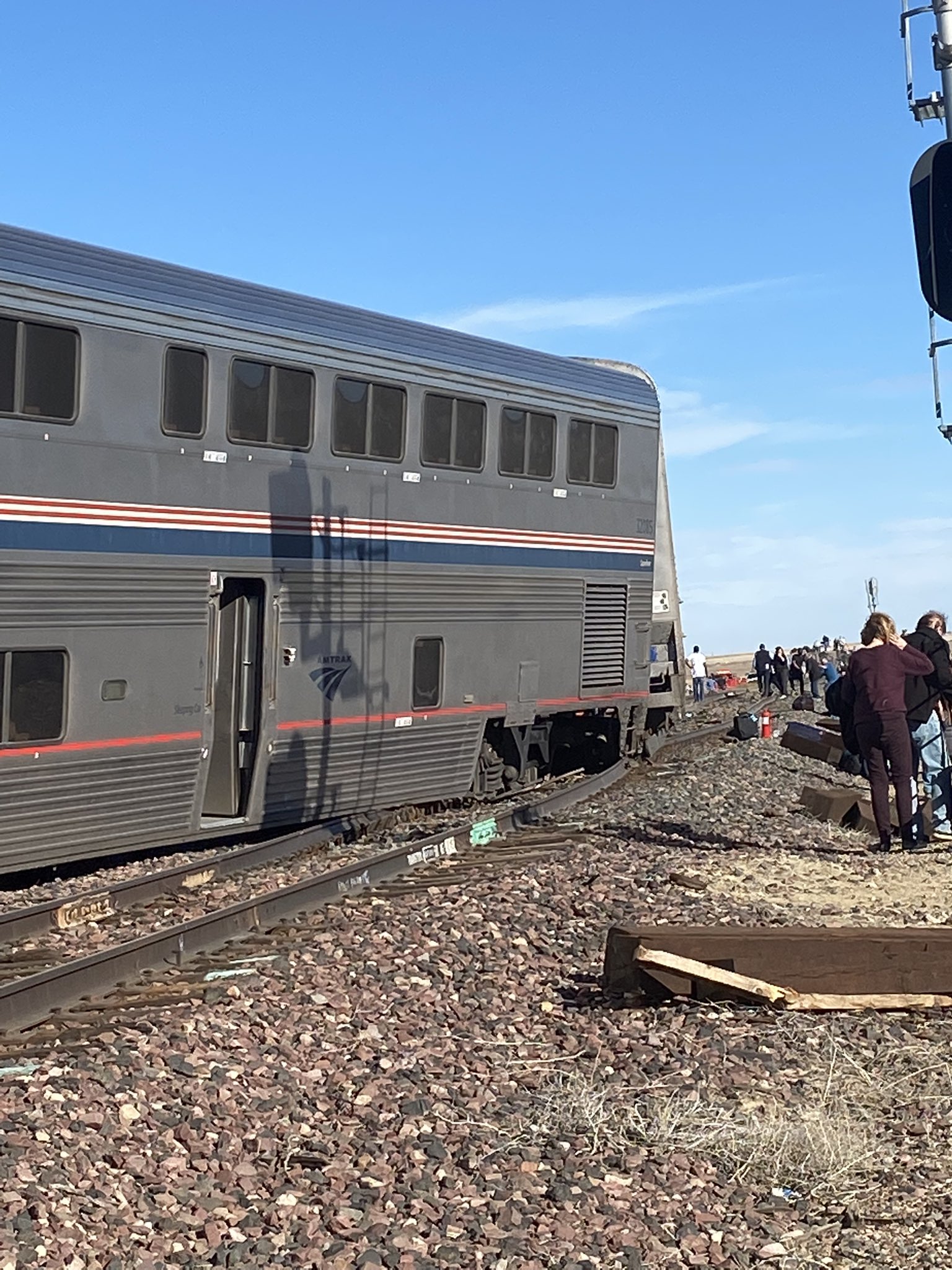 "We are in mourning today for the people who lost their lives due to the derailment of the Empire Builder train Saturday, near Joplin, Montana, on the BNSF Railway, as well as the many others who were injured. We have no words that can adequately express our sorrow for those who lost a loved one or who were hurt in this horrible event. They are in our thoughts and prayers," Amtrak CEO Bill Flynn said Sunday.
Several passengers shared images of the front cars off the track, with some tipped on their sides.
One passenger, Megan Vandervest, told ABC News in a telephone interview early Sunday that she was taking a nap in a sleeper car near the front of the train when she was jolted awake.
"I woke up to the train derailing. It was very bumpy, like extreme turbulence and very loud noises, and it kind of smelled of smoke," Vandervest said. "And so my first thought was that we were derailing. And then I thought that was crazy. There was no way that we could possibly be derailing. That's insane."
She said the train slowly came to a stop, and she initially thought they had gone over a stretch of "bumpy track."
"Then we kind of looked out our car, and you could see that one of the cars, the car behind us, had been tilted so that (you) couldn't see down the hallway anymore," Vandervest said.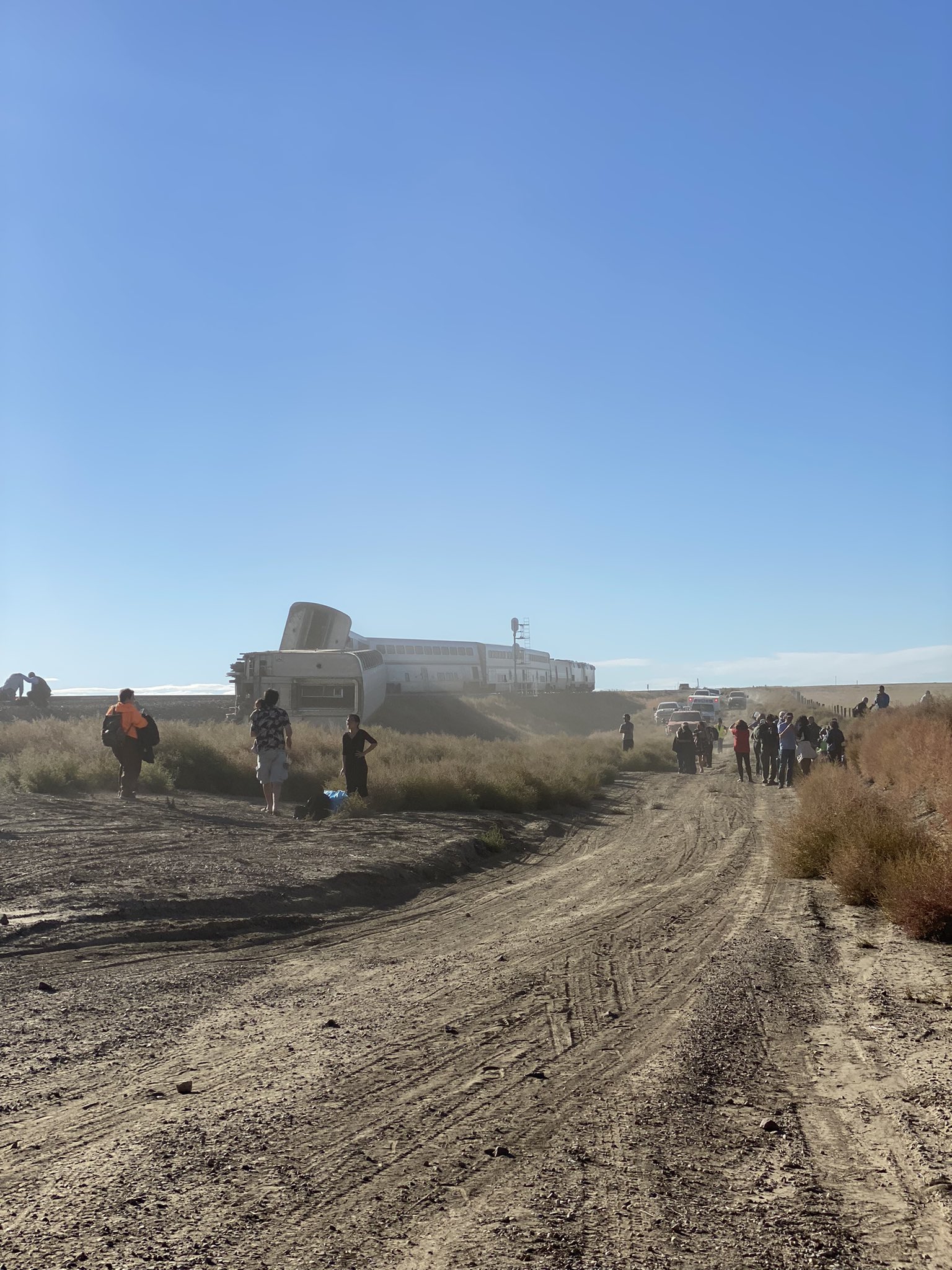 She said she and other passengers were evacuated within 10 minutes of the derailment.
"It wasn't until you really got out of the train fully that we knew the extent of what had happened. It was definitely like an incredible shock," Vandervest said.
She described a "chaotic" scene outside the train as passengers emerged from tipped-over cars dazed, confused and injured. She said one of the toppled cars was the observation car.
"The people who had been in some of the tipped-over cars that had gotten out were definitely just in shock and sitting there, and the rest of us were kind of just waiting for what would happen," Vandervest said.
She said passengers were taken by bus to a senior center in a nearby town, where she was able to call a cousin who lives in Montana to come and pick her up.
Vandervest said she spoke to passengers who were in the tipped-over cars and they described holding on for life.
"They held on really tightly. And others were less fortunate for the positions that they were. If they were by windows, it was more dangerous," she said. "One passenger I talked to, he had kind of gotten out of the observation car that had been completely tipped over that he was in and that there was another passenger outside that asked him to go back and check for someone else. He went back in and, unfortunately, they were pretty badly injured."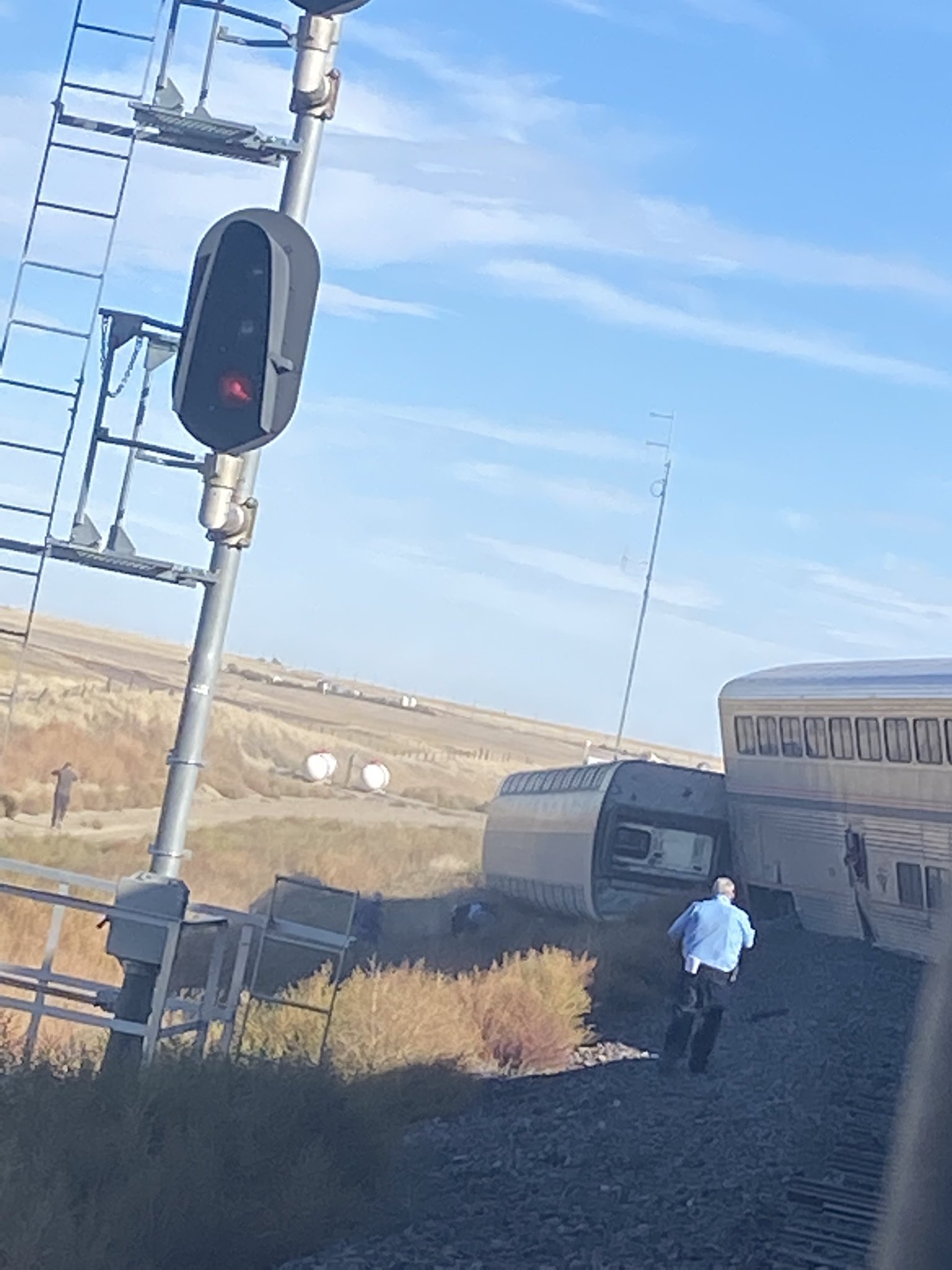 The section of track where the accident occurred was last inspected on Sept. 23rd -- just last week -- as part of a regular BNSF inspection, Gianforte said.
It was not immediately clear what caused the derailment.
Amtrak said in a statement that anyone with questions about friends or family who were traveling on the train can call (800) 523-9101.
They said they are fully cooperating with the investigation, working closely with National Transportation Safety Board, the Federal Railroad Administration, local law enforcement and response agencies.
"We share the sense of urgency to understand why the accident happened; however, until the investigation is complete, we will not comment further on the accident itself. The NTSB will identify the cause or causes of this accident, and Amtrak commits to taking appropriate actions to prevent a similar accident in the future," Flynn, the company's CEO, said.
He added that Amtrak's focus is on "doing everything we can to help our passengers and crew, especially the families of those who were injured or died, at this painful and difficult time." Their Incident Response Team has been initiated and they have sent emergency personnel and Amtrak leadership to the scene to help the passengers, employees and families affected.
"We have dispatched nurse case managers to support those hospitalized," Flynn said. "As soon as Amtrak has permission, we will access the accident site to retrieve the personal effects of our passengers and crew."
Amtrak Sunday also thanked first responders, hospital staff and law enforcement for their immediate and ongoing help to support those aboard the Empire Builder.
The National Transportation Safety Board deployed investigators to the site Sunday evening and they are expected to stay on the scene for at least a week, according to a statement from the agency. The Federal Railroad Administration also sent an 18-member team to the crash scene to help in the investigation.
"Our number one focus is safety, and we are committed to taking all steps necessary to prevent a similar event from occurring again," Amit Bose, deputy administrator of the Federal Railroad Administration, said in a statement.
Liberty County is an extremely rural part of northern Montana, with only a few thousand residents, despite being larger than the entire state of Rhode Island.
Great Falls is the largest nearby city, about 100 miles south of Joplin. The state capital of Helena is about three hours south of Joplin by car.
ABC News' Stefan Joyce, Amanda Maile, Ivan Pereira and Matt Foster contributed to this report.