— -- At least 18 people are dead, including four children, when heavy rain unleashed flash floods, mudslides and debris flow in California this week, according to Santa Barbara County officials.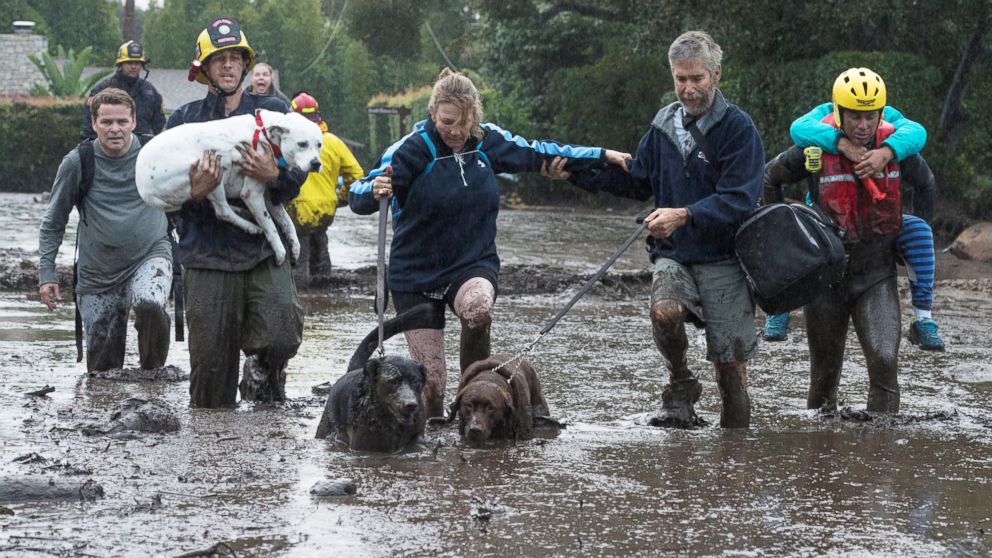 Those killed were as young as 3 and as old as 84. At least 28 people were wounded in the storm, according to the Santa Barbara County Fire Department.
Santa Barbara County officials said today that five people are missing, adding that the list is constantly fluctuating. An active search and rescue operation is ongoing, officials said.
Hundreds of people have already been rescued, many of whom had to be hoisted out of the mud-filled area by aircraft, officials said.
Santa Barbara County's fire chief said almost the entirety of Montecito, except for a small section in the southeast, was under mandatory evacuation orders on Thursday. The order covers about 10,000 residents, and officials said it could last "one to two weeks."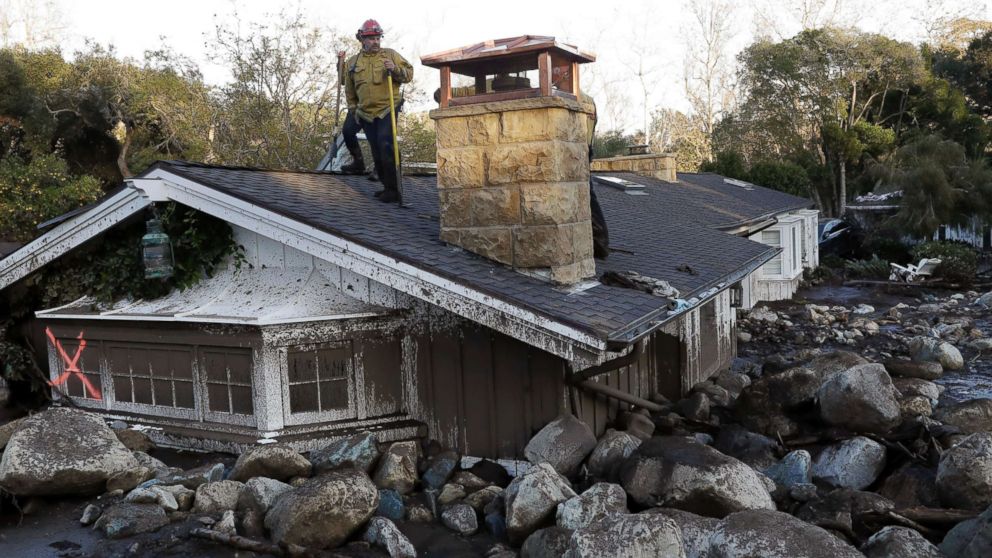 Victims include Catholic school founder, mother, realtor
Among those killed was Roy Rohter, the founder of the St. Augustine Academy in Ventura, according to the Catholic school's headmaster, Michael Van Hecke.
A mudslide swept Rohter and his wife, Theresa Rohter, out of their home in Montecito. Roy Rohter's wife was rescued and hospitalized in stable condition, but Roy Rohter did not survive, Van Hecke told ABC News.
"Roy's life has been in service to his good, loving and ever-forgiving God," Van Hecke, a close friend of the Rohters, said in a statement. "Thousands have been blessed by the Rohters' friendship and generosity."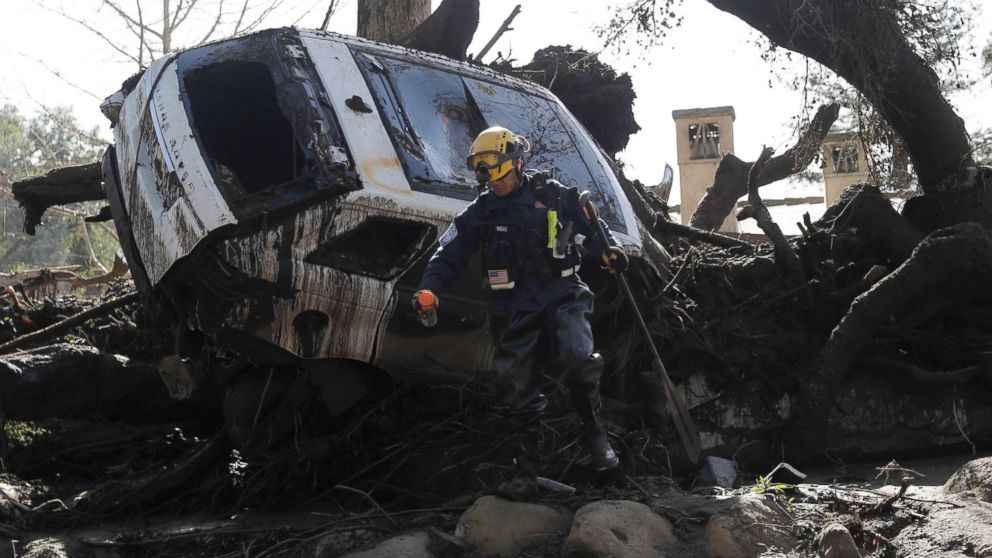 Another victim, Josie Gower, had tried to escape the mudslides with a friend, according to Doug Scott, Gower's longtime friend, told ABC News.
Gower's son, Hayden Gower, confirmed to ABC News that her body was found Wednesday afternoon.
"Why didn't she stay upstairs?" Hayden Gower asked, tearfully. "Why did she go downstairs?"
Rebecca Riskin, a real estate agent and founder of Riskin Partners, was also killed in the mudslides in Montecito, the company confirmed in a post on its Facebook page Wednesday.
Riskin Partners described its founder as "an exceptional woman" who lived her life with "strength, grace and elegance." Riskin is survived by her husband and their two children, her namesake firm said.
Among the missing were sisters Sawyer Corey, 12, and Morgan Corey, 25, family members confirmed to ABC News. A third sister and the girls' mother are currently being treated in the ICU, the family said.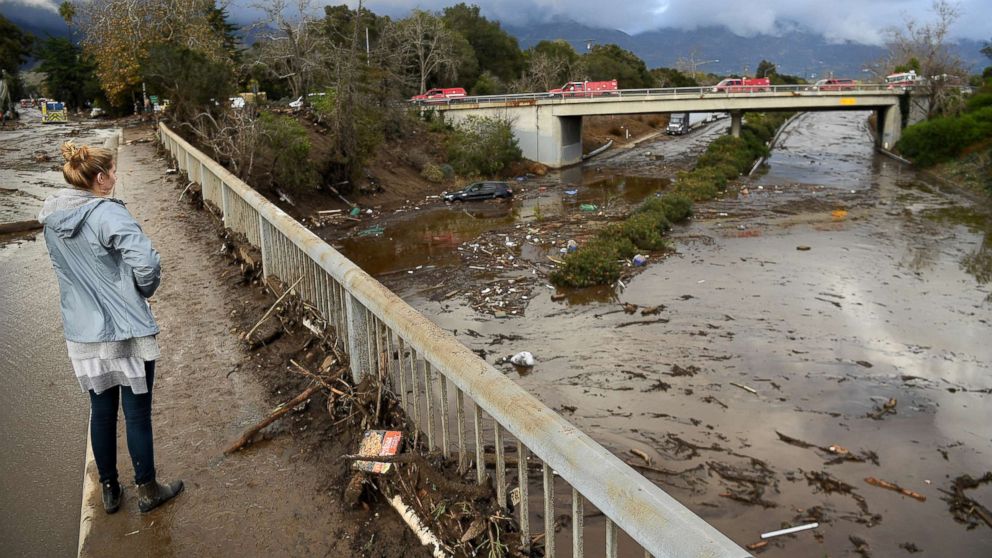 Storm sets record rainfall in California
The rate of rainfall in Southern California Tuesday was 18 times more than required to produce debris flow, according to an analysis by ABC News meteorologists.
Montecito alone saw heavy rainfall in a short amount of time. Because hundreds of thousands of acres were charred in the fires, the influx of water has nowhere to go.
Some homes in Montecito's affluent community have been ripped from their foundations as a result of the torrential conditions. About 65 single-family homes were destroyed and another 462 were damaged. Meanwhile, eight commercial structures were destroyed and 20 commercial structures were damaged, according to the Santa Barbara County Fire Department.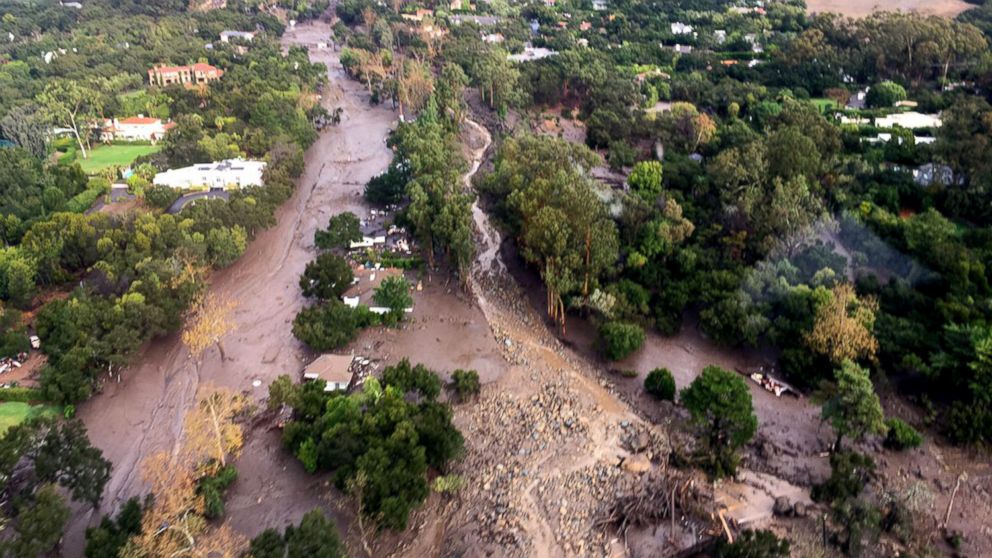 Aerial footage over Montecito showed a contrast of widespread damage next to homes completely untouched by the disaster. The roofs of some homes in canyon runoff areas were encased in mud, which has now dried.
The Santa Barbara County Office of Emergency Management said Tuesday night that Montecito would be without potable water, electricity and sanitation "for an extended period of time."
Local fire officials reported rescuing several people in the area, including a mother and her daughter who were caked in mud.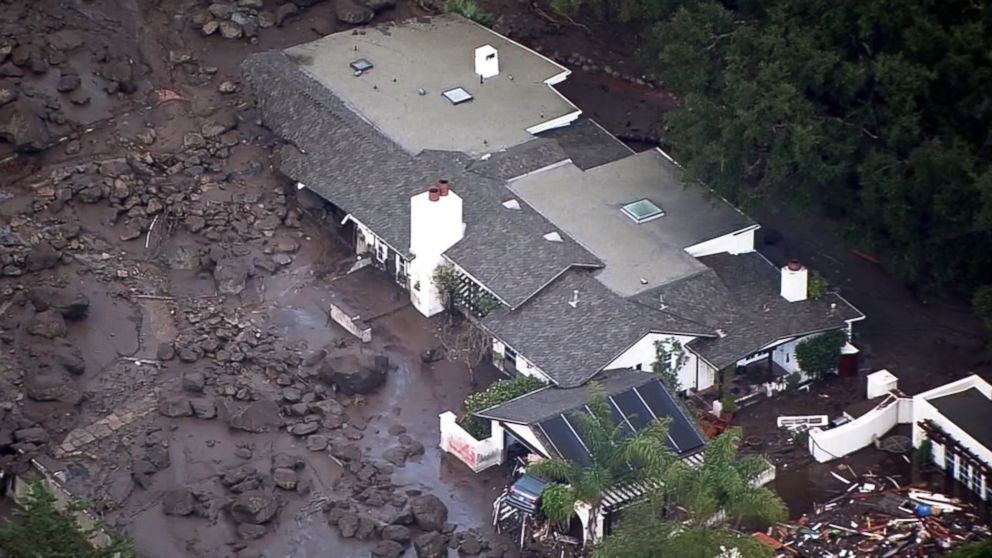 The record rains started coming down Monday, soaking northern cities like San Francisco and Sacramento. First responders put on skis to help the stranded since many roads and thruways had become raging rivers.
A 14-year-old girl was trapped for hours in mud-soaked rubble on Hot Springs Road and then pulled to safety in a triumphant moment.
Rainfall totals on Tuesday afternoon ranged from 3 to 5 inches in the mountains in Ventura County and 2 to 3 inches in the mountains of Santa Barbara County.
Rainfall rates exceeding 1 inch per hour at times contributed to the damaging mudslides in portions of Southern California.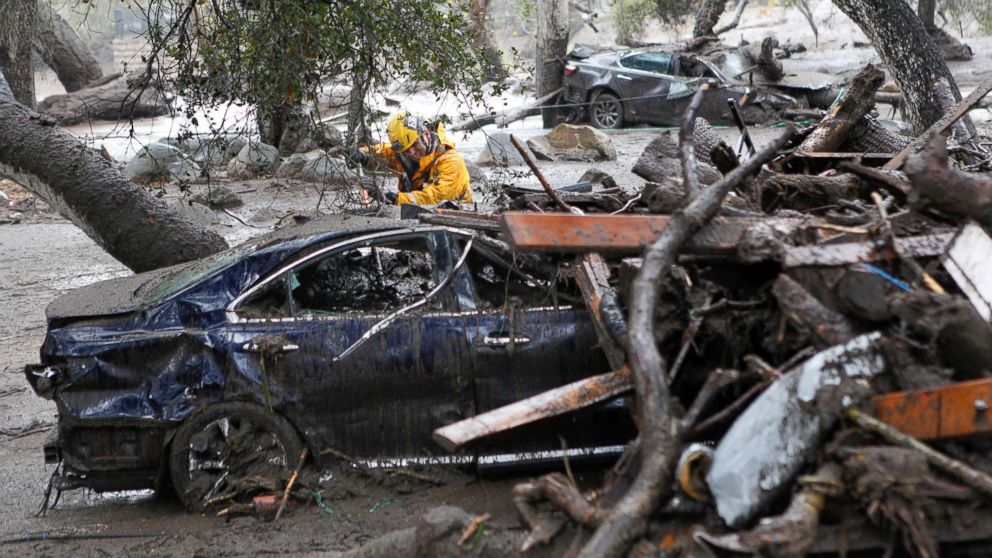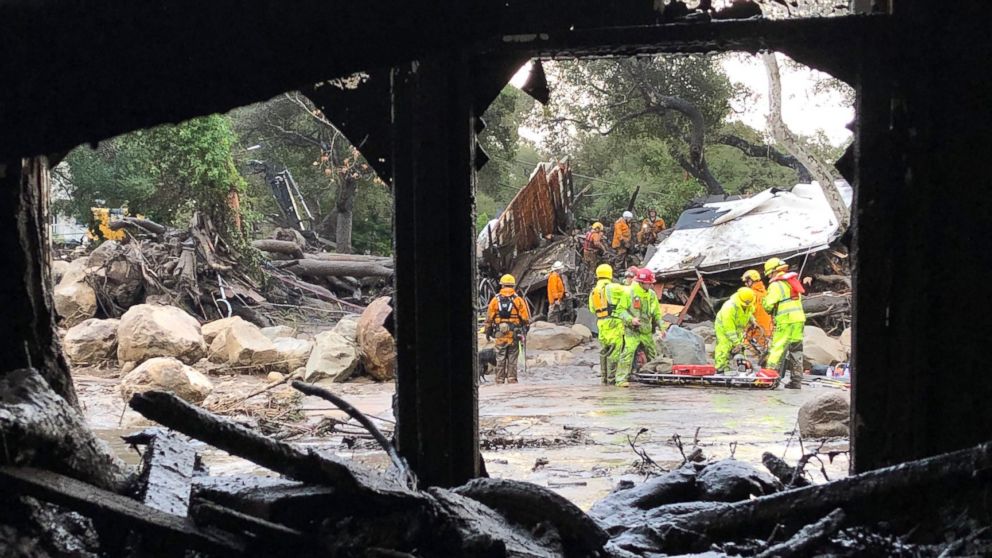 The weather has snarled drivers and first responders attempting to aid storm victims. Routes in and out of Santa Barbara have been shut down from the south, and various roadways have been swallowed by the floods.
The only way into some of the washed-out homes is by air. Ventura's Air Squad 6 dedicated helicopters to join Santa Barbara in the rescue effort.
Officials told ABC News they have been called to locations but they are stuck like thousands of motorists. Excessive flooding and debris made some parts of Santa Barbara impassable.
Stranded drivers caught up in the rising water levels were being plucked from their vehicles to safer, dryer ground by emergency personnel relying on mostly aviation transportation.
The Santa Barbara County Fire Department released photos of U.S. Route 101 that was flooded with runoff water from Montecito Creek. Debris and mudflow blocked the railway for the main line of the Union Pacific Railroad through Montecito.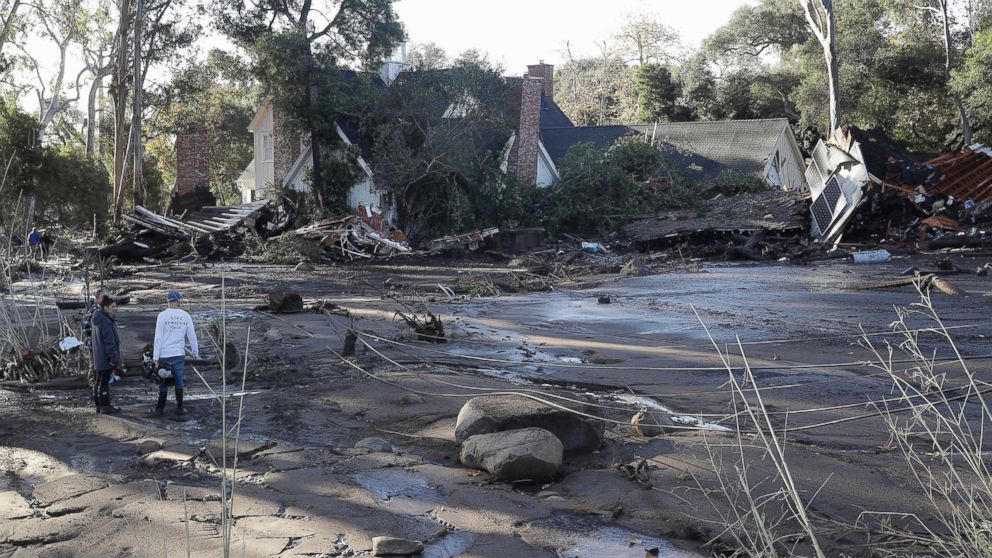 ABC News' Fergal Gallagher, Julia Jacobo, Michael Kreisel, M.L. Nestel and Morgan Winsor contributed to this report.
Editor's Note: An earlier version of this story incorrectly stated that, according to the Associated Press, Michael Van Hecke was killed. Van Hecke was not killed, nor did The Associated Press report that he was killed. Roy Rohter was killed, according to the AP, citing Van Hecke.