— -- Three reported tornadoes swept through the South overnight, while flooding and other severe weather also wrecked havoc on the region, resulting in at least four deaths.
The tornadoes were reported in Kentucky, Tennessee and Arkansas. Three of the deaths reported so far were reported in Kentucky, while the fourth death occurred in Arkansas.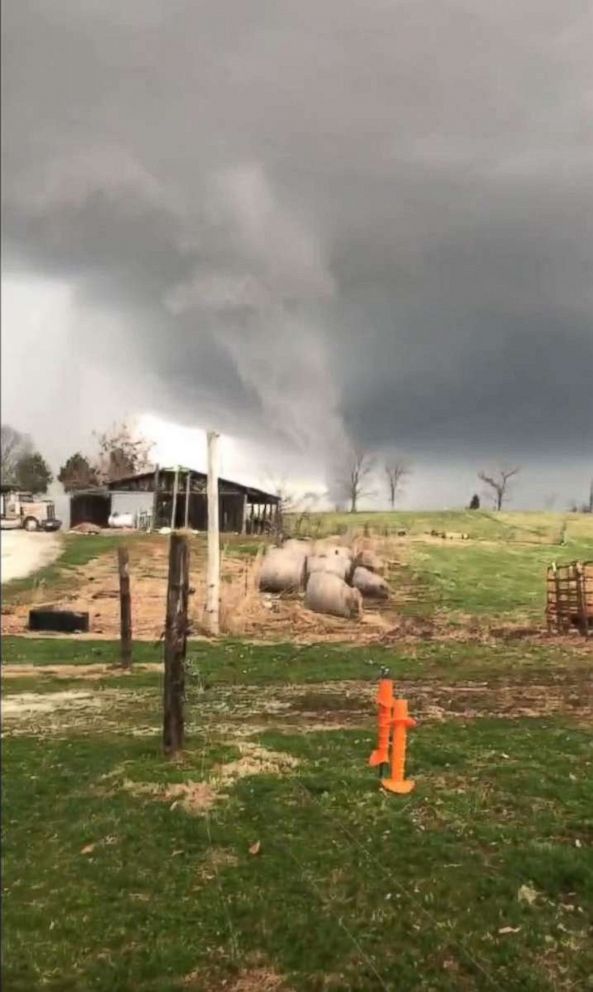 In Kentucky's Logan County, one person died from a house collapsing due to strong winds. In Simpson County, a man was killed after flooding washed away his car. And in Henderson County, a man was found dead submerged in his car.
The fourth death, in Arkansas, was caused by a man's trailer being blown away during strong winds. Straight-line wind gusts of 70 mph were reported in parts of Arkansas.
There was also widespread damage in parts of Missouri, as well.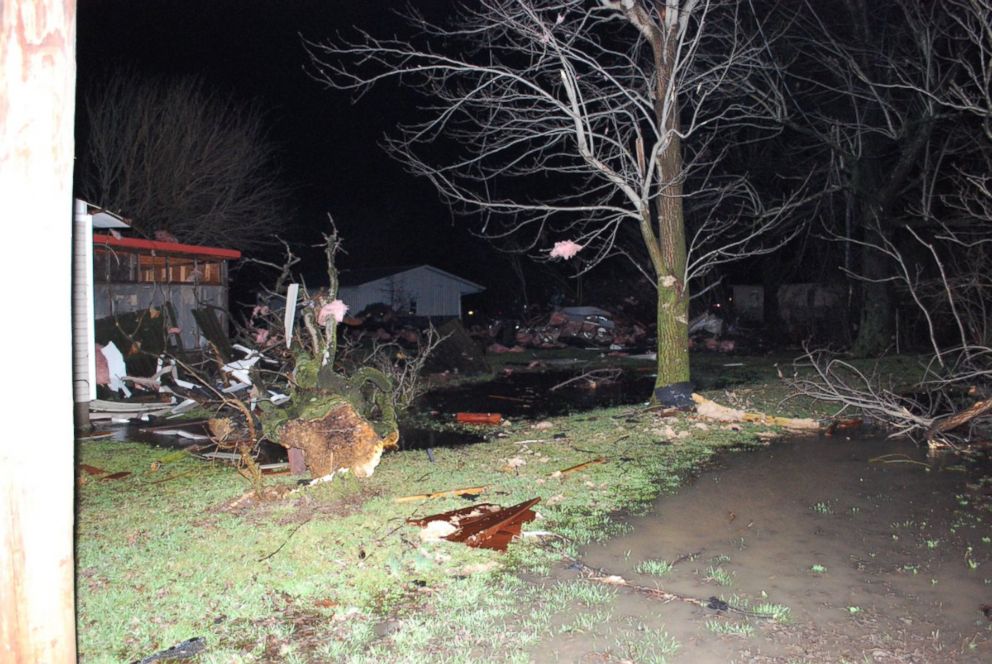 In Hopkinsville, Kentucky, damage to homes prompted 13 residents to relocate to a shelter and 25 residents to move into a hotel.
Over 4 inches of rain was reported in the Louisville, Kentucky area on Saturday. Louisville has seen over 10 inches of rain so far this month, nearly three times the city's average monthly rainfall. According to the Louisville Division of Fire, there were over 100 water rescues overnight. Nearly 6 inches of rain has been reported in western Kentucky in the past week.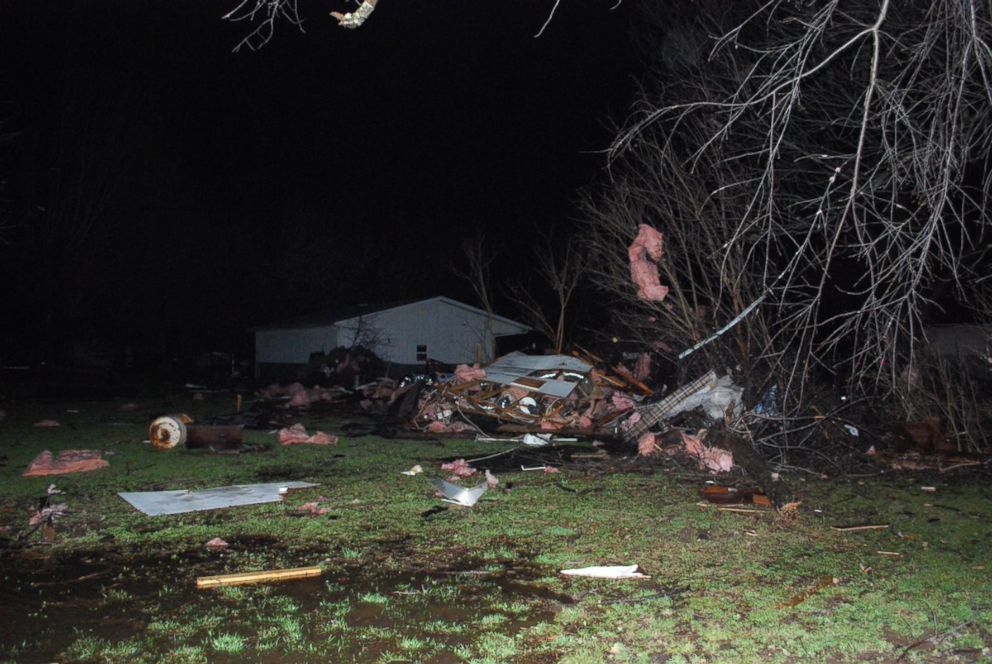 Now, the good news: The storms are rapidly losing intensity Sunday morning as they move off to the north and east. Drier air is finally moving into much of the central U.S. for the next few days. However, the concern for river flooding remains.
Over 30 gauges across much of the Midwest and south-central U.S. will see major river flooding this week.
The Ohio River in Cincinnati will reach 60 feet Sunday, the highest in 20 years. This is moderate flood stage for the area. Homes and businesses near the river will see some flooding. The Ohio River at McAlpine Upper, near Louisville, is on the rise this morning. The Ohio River here is now the highest it's been in 20 years.
The river flooding across the central U.S. could linger for much of the upcoming week. It will take time for the some rivers to come to their highest crest and then recede. The Mississippi River, for example, at Osceola will reach major flood stage by next weekend.
The next round of unsettled weather arrives around midweek, when more rain and severe weather could return to regions that were hard hit overnight.
On the colder side of this storm, snow moved from the central Plains into the upper Midwest. Nearly 5-6 inches of snow reported in the Twin Cities metro area.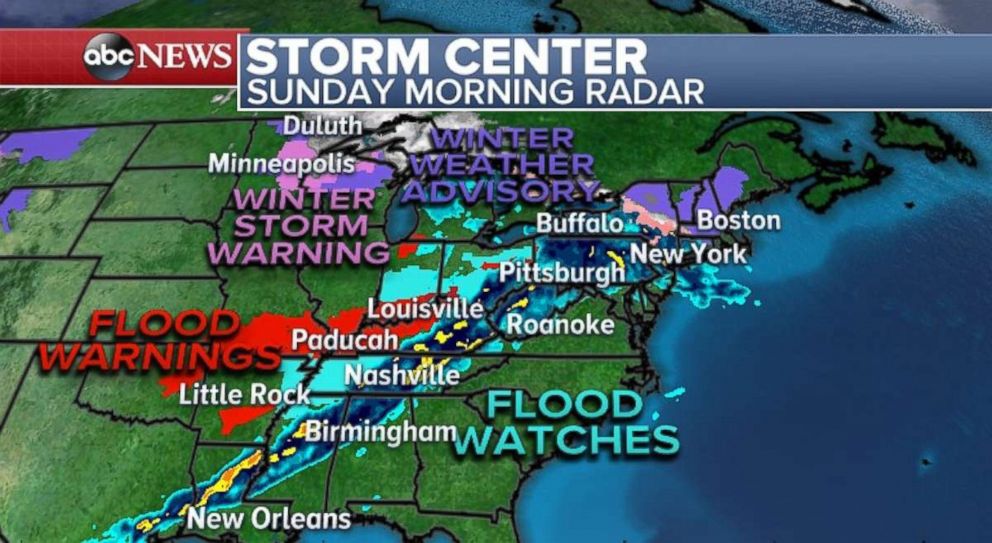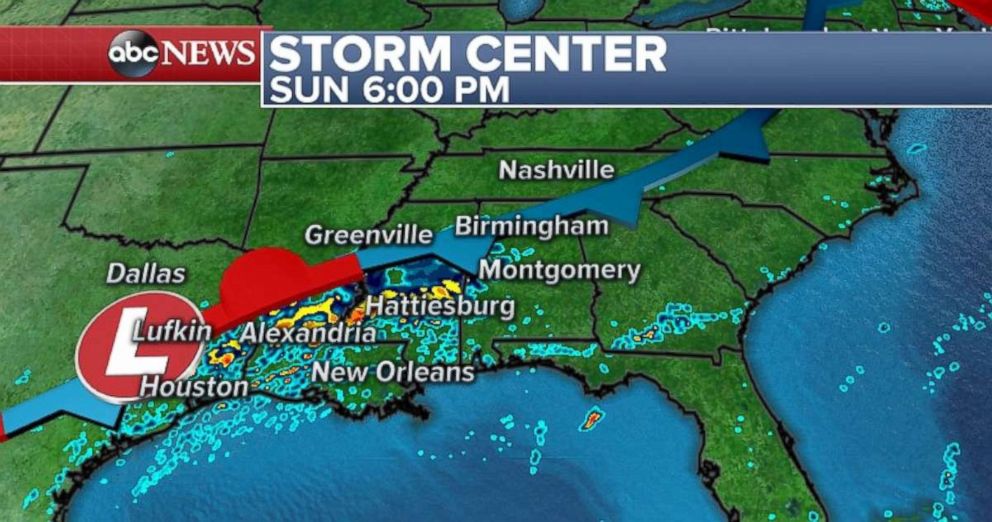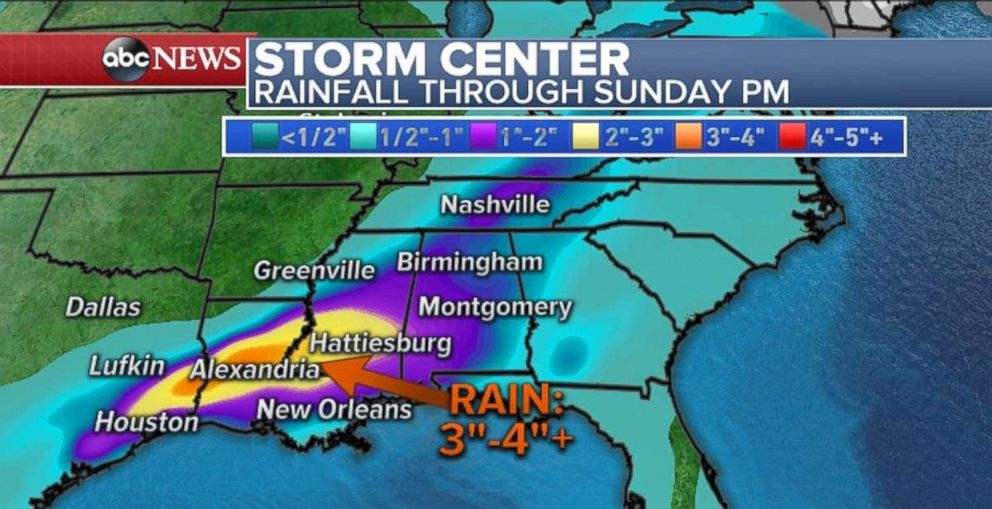 Some heavy rain and strong thunderstorms will get caught up across portions of the Gulf Sunday, from eastern Texas to southern Mississippi. Locally 3 to 4 inches of rain is possible and some flash flooding will be possible in the metro areas from Houston, Texas, to Hattiesburg, Mississippi.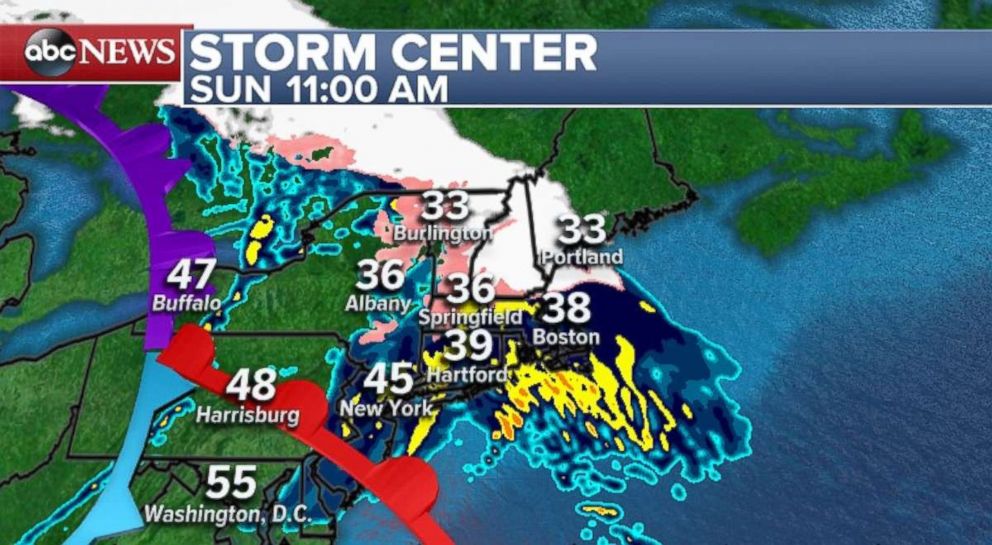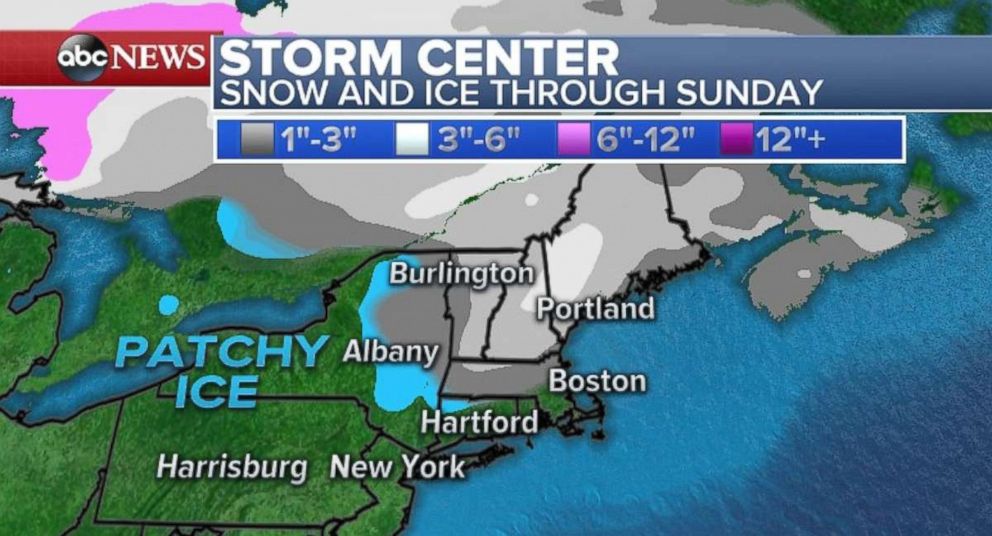 In the Northeast, heavy rain and some wintry mix will move in Sunday morning. Temperatures are very close to freezing across interior New England. Therefore there is a risk of some low end ice and snow accumulation on untreated roadways and surfaces.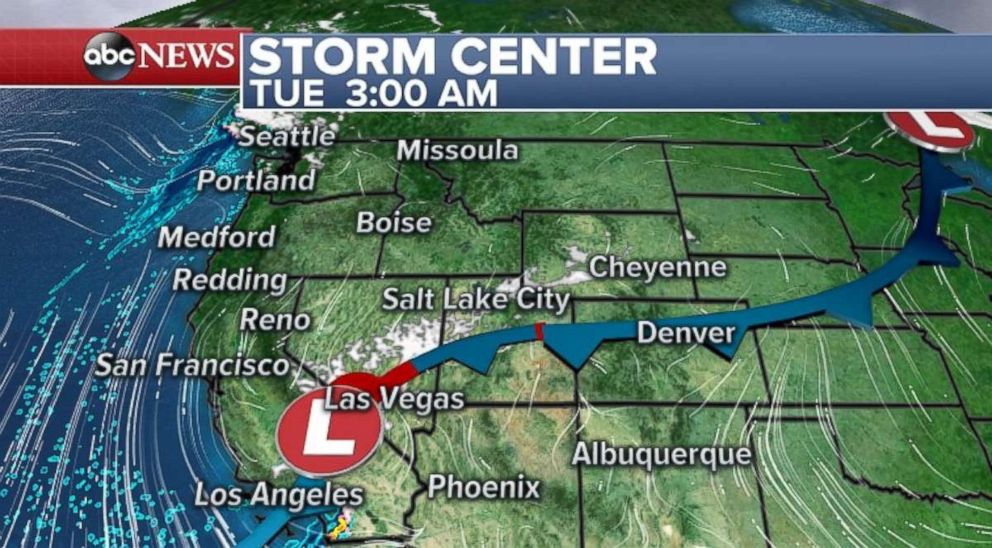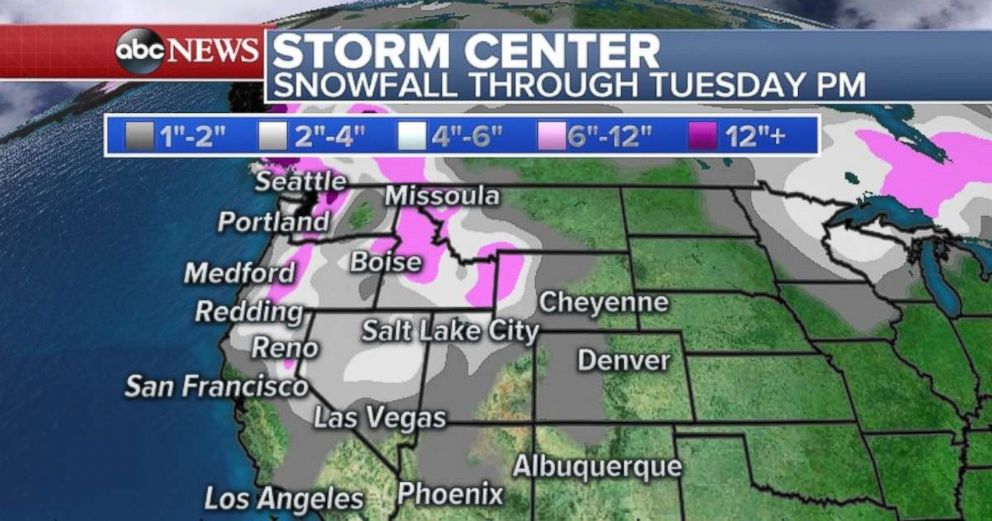 As for the West, another round of cold air and snow is moving in on Sunday. It will bring more heavy snow to Cascades and parts of the Sierra Nevada.
Lowland snow will be possible across parts of the Seattle area Sunday. Accumulations should be light. However in parts of the Cascades another 1 to 2 feet will be possible.
As the frontal system moves south into California, it will increase the winds out ahead of the system. Wind gusts over 35 mph will be possible in parts of southwest California Sunday.
By Monday night and Tuesday, there will be some rain moving into southern California, with locally over 0.3" of rain possible in the metro area. Another round of snow will be possible in the higher elevations outside of Los Angeles, with 1 to 2 inches of snow possible.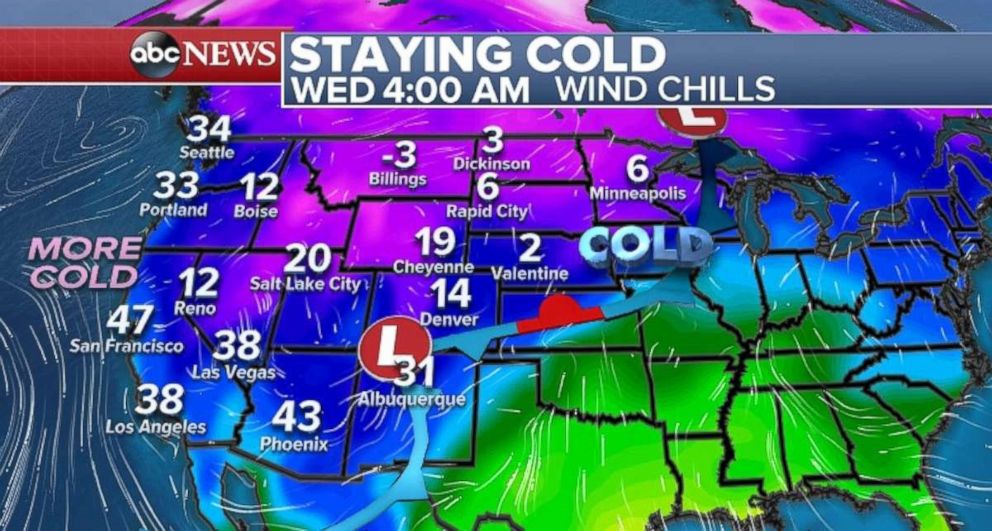 Behind this frontal system, another round of pretty cold air comes into the west, with wind chills dropping from Washington to the Rockies. Seattle, Portland, and Los Angeles will have chances to have wind chills in the 30's this upcoming week. This comes after having below average temperatures across the region for the last week or so.