Grand jury declines to indict Travis Scott, 5 others in deadly Astroworld crowd crush
Ten people were killed at the 2021 festival in Houston.
A grand jury has declined to indict rapper Travis Scott and five others in connection with the deadly crowd crush at the 2021 Astroworld Festival in Houston, prosecutors said.
Harris County District Attorney Kim Ogg said the grand jury on Thursday returned no bills on all criminal charges related to the deaths of the 10 spectators.
"The grand jury found that no crime did occur, that no single individual was criminally responsible," Ogg said during a press briefing.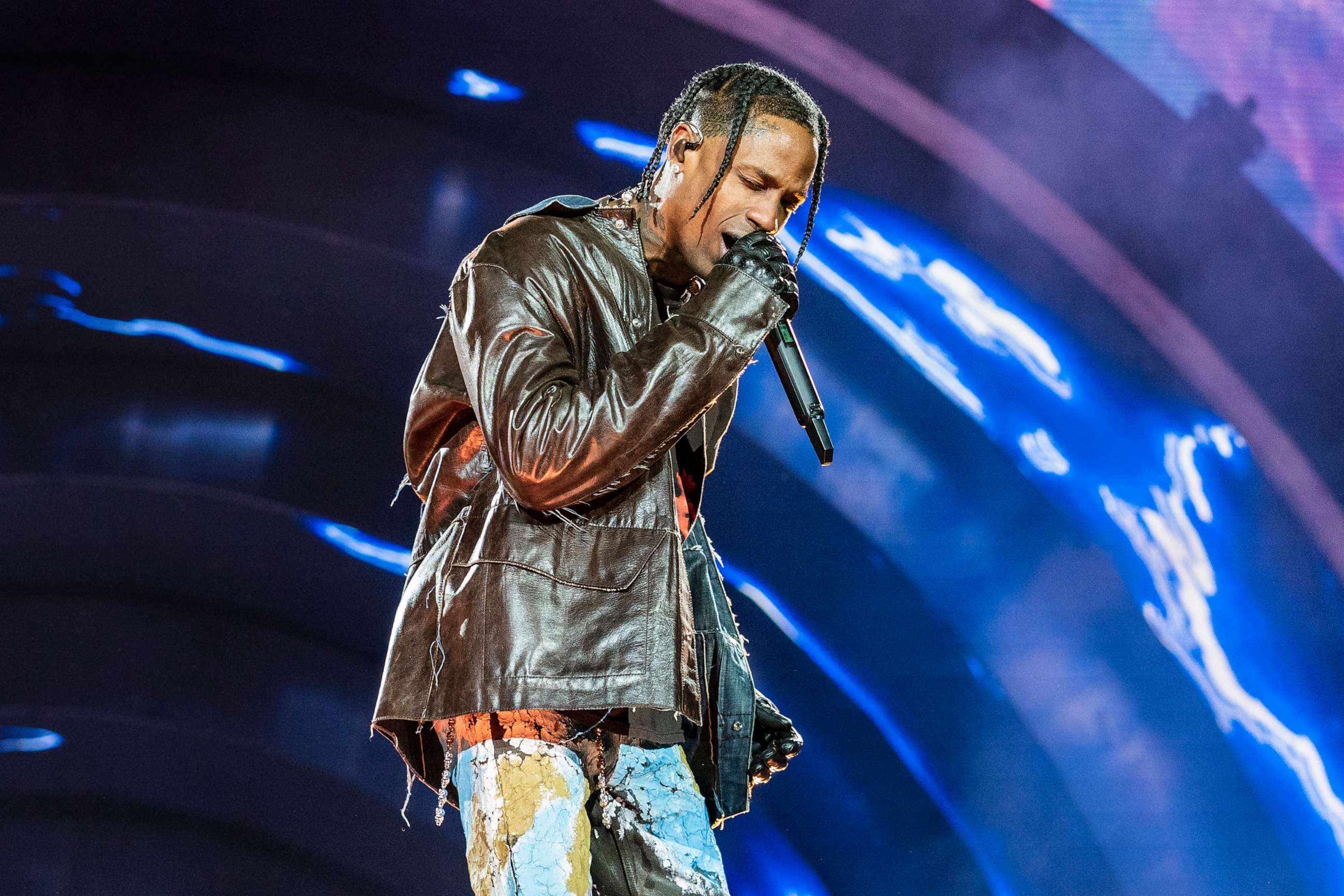 Ten people died, including a 9-year-old boy, after the crowd rushed toward the stage during headline and festival founder Travis Scott's set. Thousands were injured, according to attorneys representing people suing Scott, promoter Live Nation and dozens of other companies.
According to Houston Police and witness accounts, a wave of tens of thousands of people moved toward the stage when Scott -- and later rapper Drake -- appeared. Concert attendees said they were pushed into one another from all sides. As the crowd pressed its way forward, some began to fall, pass out and get trampled by others in the audience. The 10 victims died from compression asphyxia and were located in the same general area, police said.
"One of the key contributing factors to the deaths was the overpopulation and resulting compaction in this quadrant," Houston Detective Michael Barrow told reporters during the press briefing. "This was not a crowd stampede, this was not a stage rush, this was not a crowd surge. This was a slow compaction or constriction into this quadrant, resulting in collapses within the crowd."
Houston Police Chief Troy Finner said police completed their criminal investigation into the incident last week, calling it a "very complex investigation." The investigation will be publicly released, he said.
In addition to Scott, the grand jury weighed whether any criminal charges should be filed against festival manager Brent Silberstein; John Junell, with Live Nation; Shawna Boardman and Seyth Boardman, with crowd management company Contemporary Services Corporation; and Emily Ockenden with production company BWG, according to court documents.
Alycia Harvey, a prosecutor with the Harris County District Attorney's Office, said possible charges under consideration were limited to crimes that can be committed by omission, such as child endangerment. Charges of manslaughter or criminally negligent homicide would have needed an "act of causation" to be sustained in front of the grand jury, she said.
An attorney for Scott called the 19-month investigation "one of the most exhaustive investigations in the history of the Houston Police Department" in remarks to reporters Thursday.
The case has "had a huge impact" on Scott's career, the attorney, Kent Schaffer, said, including lost sponsorships and endorsements.
"As long as there was a pending criminal investigation, it makes it extremely difficult to get insured," Schaffer said. "Now he's going to be able to pick back up where he left off, which is great because, you know, in this country everybody's presumed innocent."
Following the concert, Scott released a statement on Twitter, saying, "I'm absolutely devastated by what took place last night. My prayers go out to the families and all those impacted by what happened at Astroworld festival."
In an extensive interview with radio host Charlamagne Tha God in December 2021, the rapper said he was unaware of the injuries and fatalities among fans until after his performance was over.
When asked at the time if he feels responsible for the tragedy, Scott said, "I have a responsibility to figure out what happened here. I have a responsibility to figure out the solution."
In a statement to ABC News in the days after the concert, Live Nation said it was working with law enforcement to get answers.
"We continue to support and assist local authorities in their ongoing investigation so that both the fans who attended and their families can get the answers they want and deserve, and we will address all legal matters at the appropriate time," Live Nation said.
Scott and event organizers have been hit with litigation in the wake of the tragedy.
Hundreds of lawsuits filed against the event organizers, managers and performers were consolidated and are being handled by one judge.
A case brought by the family of Axel Acosta, a 21-year-old who was killed in the crush, settled last year under undisclosed terms.
The family of Ezra Blount, the 9-year-old killed, have also sued Scott and other event organizers.
The attorney for his family, Robert C. Hilliard, said in a statement Thursday that "criminal and civil accountability are critical to be sure that those responsible for the loss of innocent lives are made to not only understand the permanent devastation they caused these families -- but to show the rule of law applies to the powerful, to the well connected."
The grand jury's decision "has no impact on the many civil lawsuits pending," Ogg said.