— -- A Minneapolis man who says he's heartbroken and "devastated" after his bride-to-be was shot and killed by police this weekend is "desperate for information" on the shooting.
Here's what we know about the deadly Saturday encounter.
The shooting
Just before 11:30 p.m. Saturday, two Minneapolis police officers "responded to a 911 call of a possible assault," and "at one point an officer fired their weapon, fatally striking a woman," according to the state Bureau of Criminal Apprehension (BCA), the lead investigating agency.
The BCA said the 911 call will not be released until the investigation is over.
The officers' body cameras were not turned on at the time of the shooting and the squad camera didn't capture what happened, the BCA said, adding that "investigators are attempting to determine whether any video of the incident exists."
"When the investigation is complete, the BCA will turn its findings over to the Hennepin County Attorney's Office for review," the bureau said.
The two officers involved are on paid administrative leave, the Minneapolis Police Department said.
The victim
The victim was Justine Maia Ruszczyk, 40, the county medical examiner's office confirmed Monday night. She died from a gunshot wound to the abdomen, the medical examiner said.
The Minneapolis Star Tribune said she was Australian and went by the name Justine Damond, using the last name of her fiancé, Don Damond.
"Her maiden name was Justine Ruszczyk," the Star Tribune said. "While the couple were not yet married, Justine referred to herself as Damond on her personal website."
Damond's website says she was a yoga instructor, a personal health and life coach and a "meditation teacher, embracing and teaching the neuro-scientific benefits of meditation."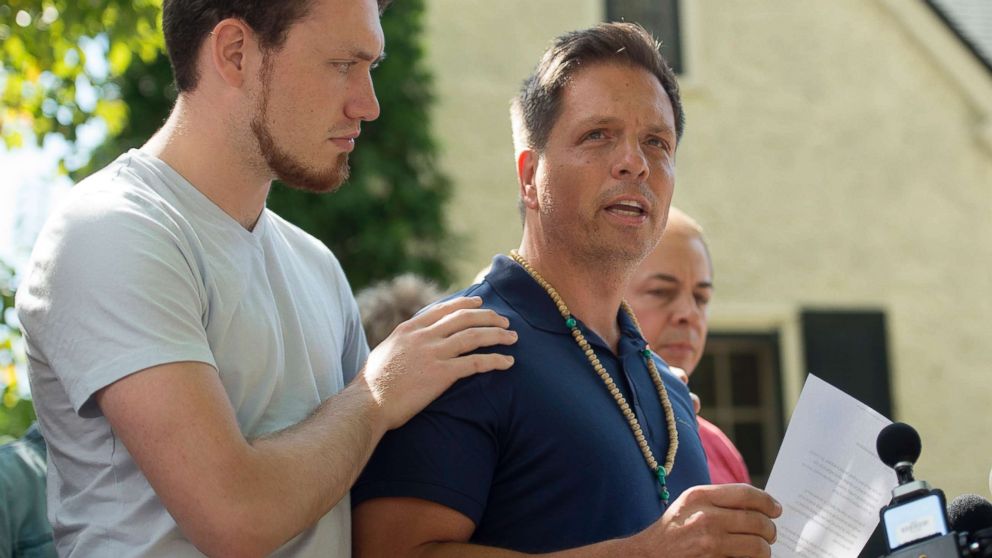 Don Damond was overcome with emotion as he spoke to reporters in Minnesota this afternoon.
He said Justine Damond called 911 Saturday evening reporting what she believed was an active sexual assault occurring nearby.
He said his fiancée's death is "a loss to everyone who knew her."
"She touched so many people with her loving and generous heart. She was a teacher to so many and living a life of openness, love, and kindness," he said. "Our lives are forever changed as a result of knowing her. She was so kind and so darn funny. ... It is difficult to fathom how to go forward without her in my life."
Family friend Julie Reed read a statement on behalf of Justine Damond's family at a press conference in Australia.
"She was treasured and loved and we will really miss her," Reed said.
The Star Tribune said some people wept at a vigil held in the neighborhood Sunday. About 50 friends and neighbors held hands in a semicircle near the site of the incident, and about 200 or more others watched from the sidewalk and the street, the Star Tribune said.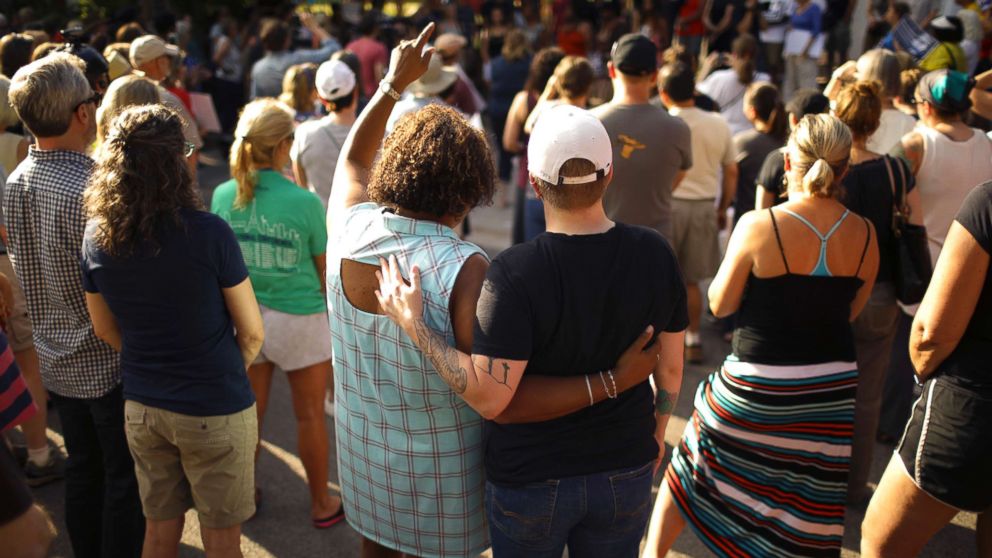 A call for more answers
Don Damond said this afternoon he has received very little information from law enforcement regarding what happened after police arrived.
"We are desperate for information," he said. "Piecing together Justine's last moments before the homicide would be a small comfort as we grieve this tragedy."
Minneapolis Mayor Betsy Hodges said, "I'm sad, disturbed, and looking for more answers, like many of you," including as to why the police body cameras were not on.
Hodges said there are "few facts" available to the public at this point, and she called on BCA investigators to share as much information as they can as quickly as they can.
"This is a tragedy — for the family, for a neighborhood I know well, and for our whole city," Hodges said. "My thoughts are with the family and the community. There is a long road of healing ahead, and a lot of work remains to be done."
Minneapolis Police Chief Janeé Harteau called the shooting "clearly a tragic death," saying in a statement, "I want to acknowledge the pain and frustration that family and community members have."
"I also want to assure you that I understand why so many people have so many questions at this point," Harteau said. "I have many of the same questions and it is why we immediately asked for an external and independent investigation into the officer-involved shooting death. I've asked for the investigation to be expedited to provide transparency and to answer as many questions as quickly as we can."
In a live video posted to the Women's March Minnesota Facebook page on Sunday afternoon, Don Damond's son, 22-year-old Zach Damond, said, "My mom is dead because a police officer shot her for reasons I don't know. And I demand answers."
"If anybody can help just call the police and demand answers," he said. "I'm so done with all this violence."
He said he thinks that police should be trained differently.
This incident comes one year after another high profile police-involved shooting death in the state. On July 6, 2016, St. Anthony police officer Jeronimo Yanez, who is Latino, shot Philando Castile, a 32-year-old black man, several times during a traffic stop in Falcon Heights, a suburb of St. Paul. Yanez, who no longer works for the police department, was found not guilty of second-degree manslaughter last month.
ABC News' Josh Hoyos and Dominick Proto contributed to this report.