April 28, 2014— -- Rescuers sifted through the rubble today looking for survivors after a powerful tornado carved out a path of destruction, flattening homes and businesses and downing power lines.
The death toll was originally set at 17, but it was revised down by two people this afternoon by Arkansas Gov. Mike Beebe's office. At least 15 people in the central and southern United States were killed by the storm system, with 14 of the victims in Arkansas.
PHOTO: Tornadoes Reduce Neighborhoods to Rubble
One trail of storm destruction stretched 30 miles, Arkansas Department of Emergency Management spokesman Brandon Morris said.
"Some homes have been completely destroyed, some have severe damage, we have power lines and trees down in those counties, as well," Morris told ABC News.
At least one other person died in Quapaw, a small northeastern city near Oklahoma's borders with Kansas and Missouri.
Ottawa County Emergency Management director Joe Dan Morgan said Quapaw, which has about 900 residents, was heavily damaged by the tornado.
"Looks like about half of town got extensive damage as well as the fire department," Morgan said.
The violent storm destroyed entire neighborhoods within minutes, slicing an 80-mile path across the region.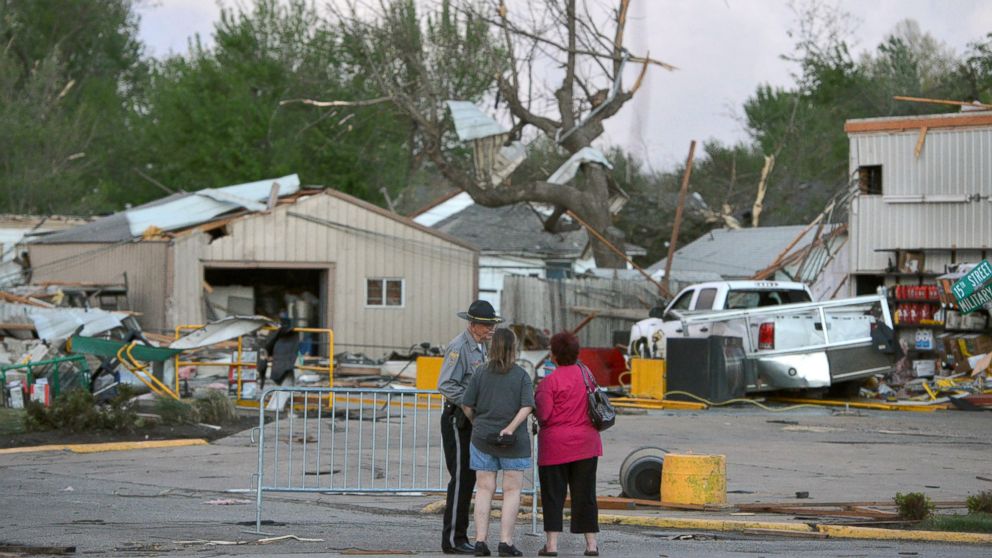 Judy Garrett and her husband, Robert, escaped to their tornado safe room as the storm approached. Fifteen minutes later, they tried to get out -- but couldn't. Debris was everywhere.
"The whole roof's gone, the walls are gone," Robert Garrett said.
The Garretts only had a purse and a few items they were able to get into the safe room. But after losing everything, they said, they had what mattered most.
"Everything's gone," Judy Garrett said. "And our camper is laying on its side. We had everything there, but you know that's just things. Those are things.
"We're so thankful God spared our lives," she said.
WATCH: Deadly Tornadoes Leave Extensive Damage
After hitting Quapaw, the tornado continued north into Kansas, striking Baxter Springs. The heavy winds leveled buildings, leaving behind twisted metal and trashed homes.
Search crews went house to house checking on the safety of the community's roughly 4,200 residents. No deaths were reported in Baxter Springs.
Tornadoes also touched down in Arkansas, Nebraska, Iowa and Missouri, leaving residents awed and fearful. Some residents snapped photos and video of the brewing storm.
Some of the worst damage occurred in Mayflower, Ark., with a tornado turning homes to rubble. The town, located in the center of the state, covers about three square miles and has less than 2,000 residents.
"It turned pitch black," said Mark Ausbrooks, who was at his parents' home in Mayflower when the storm arrived. "I ran and got pillows to put over our heads and ... all hell broke loose."
"My parents' home, it's gone completely," he said.
Drone footage shows the level of destruction in Mayflower. Neighborhoods are gone, replaced by debris fields.
Mobile homes and campers ended up stacked atop one another. Vehicles were flipped and strewn like Matchbox cars.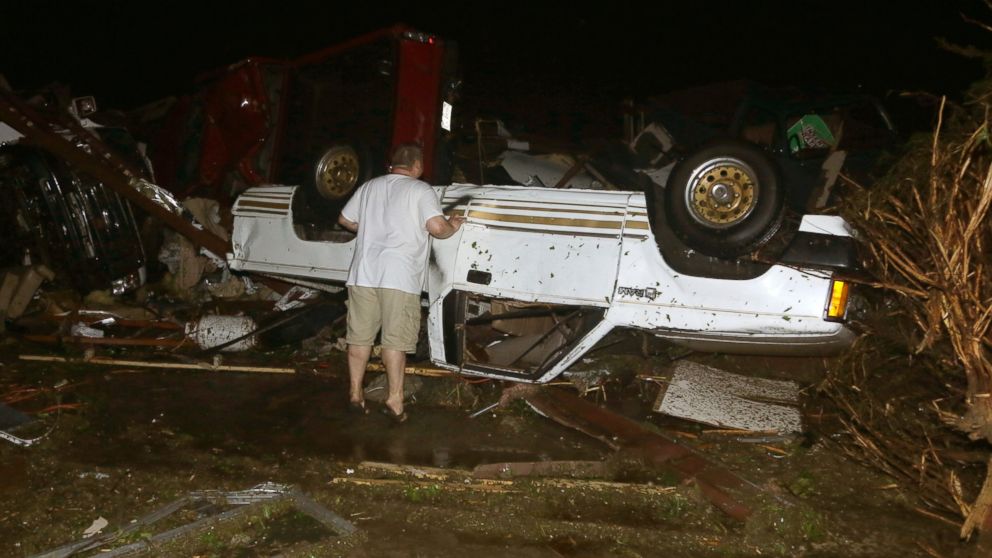 Authorities issued tornado emergencies for the nearby communities of Maumelle, Morgan, Saltillo and Vilonia.
Vilonia Mayor James Firestone's town faced another tornado, an EF 2, three years ago that followed a similar path. That storm damaged roofs, blew out windows and ripped apart privacy fences.
This storm was much stronger, Firestone told ABC News.
"The devastation was just tremendous as far as the damage that it did," Firestone said. "Houses are reduced to just rubble."
Rescue crews searched through the city overnight, house by house, looking for injured residents. Firestone called the search a "slow, painstaking process."
President Barack Obama, speaking in the Philippines today, expressed condolences for the tornado victims and said the federal government was on the ground to help.
"Your country will be there to help you recover and rebuild, as long as it takes," he said.
The Associated Press contributed to this report.