Selfies at Auschwitz and 9/11 Memorial: Are They Ever OK?
The definitive guide to selfie etiquette.
— -- The selfie craze has reached a new low: People are now taking the social snaps at sacred places like the Auschwitz concentration camp and New York's 9/11 memorial.
It's not that hard to believe considering how ubiquitous the social media photos have become. Miley Cyrus took one from a hospital bed, Ellen DeGeneres did it at the Oscars and, even though his finger wasn't on the trigger, President Obama took one at a funeral.
Pope Poses for Selfies After Palm Sunday Homily
Photos: Vintage Celebrity Selfies
Despite criticism, at least one person who took a selfie in front of the 9/11 memorial and posted it on social media said he did so out of respect and patriotism.
"Here's how I see it -- I remember 9/11, I remember exactly where I was," Chris Canning, who grew up in Florida, told ABC News today. "I was in kindergarten at the time."
Canning, 18, added that he took the snapshot to show his family back in Florida where he was.
"I don't just want a photo of the memorial, I want a picture of myself and the memorial," he said. "This was my first time in New York City, I wanted to capture a special moment."
But some selfies should be off limits, according to the Emily Post Institute, which has long set the standards for etiquette in sticky situations.
Here are Lizzie Post and Daniel Post Senning's do's and don'ts of where it's OK to snap a selfie:
At A Memorial? Just Don't Do 'Duck Face'
When it comes to sites like Auschwitz in Poland and the 9/11 memorial in New York City, Lizzie Post, the great-great-granddaughter of Emily Post, says selfies are OK depending on how you take them.
"If you're going to stick your tongue out or make a duck face in front of the World Trade Center, I think that's probably inappropriate," she said.
But if you're taking a photo just to show you've been there, that's OK, as long as photos are allowed.
"I would definitely consider asking someone who is monitoring the site whether this is appropriate or common before you go right ahead and do it," she added.
Smartphone Snaps Sometimes OK at Hospitals
Senning, Emily Post's great-grandson, wasn't fazed by the snapshot Cyrus took earlier this year to let fans know she was sick in the hospital.
"To me, that doesn't sound inappropriate," he said. "It didn't intrude on anyone's privacy. She didn't take a picture of a wound or rash – nothing gross."
When taking photos at a hospital, Senning stressed context is just as important as content.
"A hospital is a place where you want to be careful about everyone's privacy," he said. "You have to ask yourself, how appropriate is it to be sharing what I'm sharing? If you're celebrating a new birth, it's absolutely appropriate to share a photo with friends and family. But to share that same photo on Facebook? People might find that inappropriate."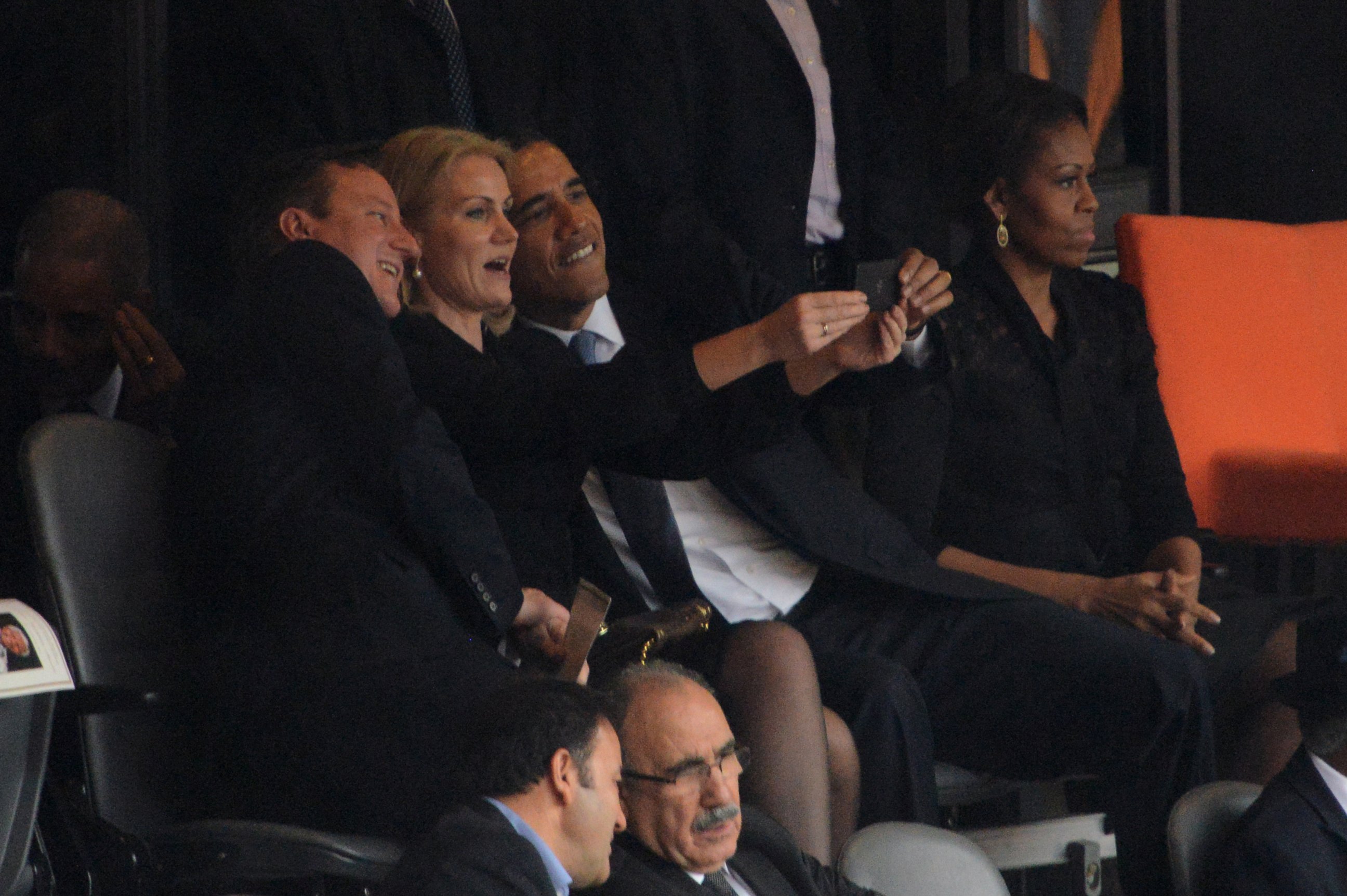 Stand Down at Funerals, Churches
One place selfies are never OK? Funerals.
"This is where you really want to be careful," Senning said. "You really want to keep the intention on the respectful remembrance of the person who passed."
But even President Obama is guilty of posing for a funeral selfie. He was criticized after snapping a photo with other world leaders at a memorial service for Nelson Mandela last year.
At the Oscars? Sure, snap away!
When Ellen DeGeneres snapped a selfie at the Oscars last month, it became the most retweeted photo of all time — and Senning thinks that's great.
"I thought it was kind of funny," he said of the star-studded photo.
An event that's "celebratory, for fun" is free game for selfies, he explained.
Public Restrooms Should Be Selfie-Free Zone
Selfies should be off limits in public restrooms, Senning said.
"Don't even have your phone in your hand," he said. "That's a place where other people can expect their privacy."
Save the mirror selfies until you get home.
Proceed With Caution after Traumatic Events
Students posting so-called "lockdown selfies" and the Florida woman who snapped a selfie after a minor plane crash last month have said they share the photos to let friends and family members know they're OK after a scare.
"To me, that makes sense," Senning said. "I can see someone finding it reassuring to get a photo of your family member or close friend."
But again, it's important to consider context. If your snapshot includes other people or wreckage or a crime scene, you might want to reconsider sharing.