23 protesters charged with domestic terrorism after fiery clashes at Atlanta's 'Cop City' training center
People threw bricks, rocks, fireworks and Molotov cocktails, police said.
Felony state domestic terrorism charges have been filed against 23 protesters arrested in Atlanta on Sunday after allegedly hurling bricks, rocks, fireworks and Molotov cocktails at police officers near the site of a planned public safety training facility, police said.
After attending a music festival near the site of the soon-to-be Atlanta Public Safety Training Center, a group of people changed into black clothing and entered the construction area at around 5:30 p.m. ET. The "agitators" approached officers there and launched a "coordinated attack," according to the Atlanta Police Department.
Twenty-three of the 35 protesters arrested Sunday were charged overnight with felony domestic terrorism, a charge Atlanta Police Chief Darin Schierbaum said reflects the "very violent" nature of the attack.
"This wasn't about a public training center, this was about anarchy and this was about an attempt to destabilize," Schierbaum said at a news conference Sunday night. "When you throw commercial grade fireworks, when you throw Molotov cocktails, large rocks, a number of items at officers, your only intent is to harm."
Police officials noted that 21 of the suspects charged with domestic terrorism were from out of state, some from as far away as Utah, Colorado, Arizona and New York. Two protesters charged are from other countries, one France and another from Canada, according to police.
The suspects range in age from 18 to 49.
"The violent agitators used the cover of a peaceful protest of the proposed Atlanta Public Safety Training Center to conduct a coordinated attack on construction equipment and police officers," Atlanta police said in a statement.
Several pieces of construction equipment at the site, including tractors, were destroyed by fire and vandalism, according to police.
The officers "exercised restraint" and held their position until authorities from multiple law enforcement agencies responded and "used non-lethal enforcement" to detain at least 35 people, according to police.
No officers were injured during the incident, though police noted that "the illegal actions of the agitators could have resulted in bodily harm." Some of those arrested sustained minor injuries.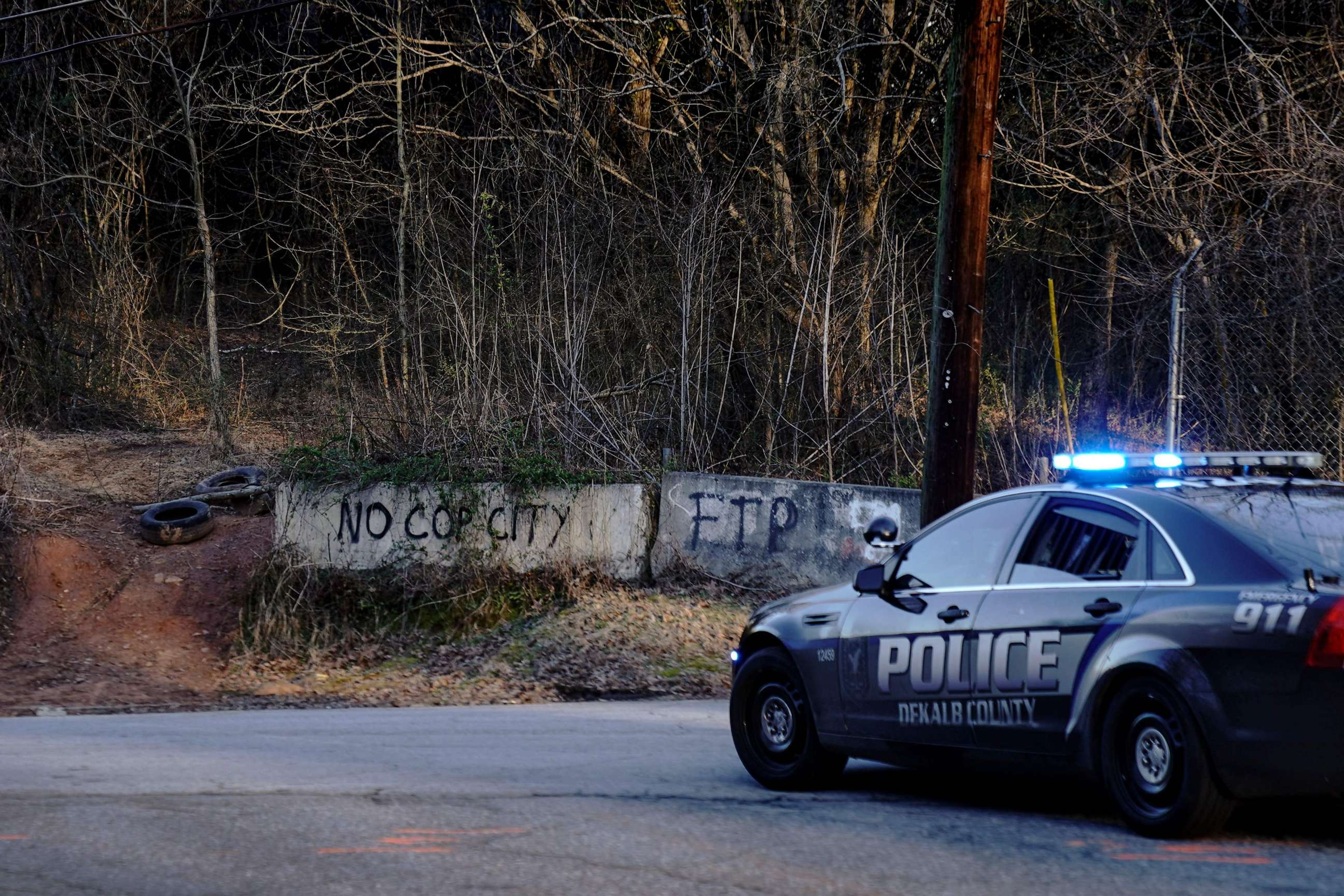 Police continue to investigate the incident. Both the Georgia Bureau of Investigation and the FBI are also conducting a probe.
The Atlanta Public Safety Training Center, known by its opponents as "Cop City," has been at the center of escalating demonstrations and confrontations since its proposal in 2021. The city-approved facility is being built on 85 acres of a 400-acre, city-owned property in unincorporated DeKalb County that is within the larger South River Forest, or "Weelaunee" as it's called by the land's indigenous people.
The city has said the training center "will support high-quality, community-oriented training for police, fire and E-911 personnel," while the remaining 315 acres of the property will be preserved "as restored and improved green space for ecological protection and the public's enjoyment as part of the larger South River Forest initiative."
Those protesting the planned facility have said they lament the increasing militarization of law enforcement as well as the development of the forest.
More demonstrations are expected to take place in the coming days. While calling for "peaceful" protests, the Atlanta Police Department said its officers, "in collaboration with law enforcement partners, have a multi-layered strategy that includes reaction and arrest."
Sunday's clashes came as the GBI investigates multiple law enforcement officers in the Jan. 18 fatal shooting of an environmental activist during a raid on protesters camped out in the forest. Several large protests have occurred in downtown Atlanta over the death of 26-year-old Manuel Esteban Paez Teran, prompting Georgia Gov. Brian Kemp to declare a state of emergency on Jan. 26.
Officers involved in the shooting claimed Teran fired the first shoot, hitting a state trooper in the abdomen and prompting them to return fire. Teran's family said a private autopsy found he was shot 13 times
Following the fatal shooting of Teran, the U.S. Department of Homeland Security released a bulletin warning of growing concerns of escalating violence apparently connected to opposition to the development of a new Atlanta public safety complex. The bulletin, obtained by ABC News, said that since the shooting, suspected domestic violent extremists "have cited the incident as justification for violence."