An all-female Air Force team, the "Strike Eagles of 'Dudette 07,'" have soared into history over Afghanistan. Their combat mission, performed March 30 in honor of Women's History Month, was the first in history to involve only female airmen. From the pilots of the two F-15E jets to the mission planners and maintainers, the operation was carried out entirely by women.
"I have flown with female pilots before, but this was the first time I have flown in an all-female flight," Maj. Christine Mau told the Air Force's news service. "This wasn't a possibility when I started flying 11-years ago."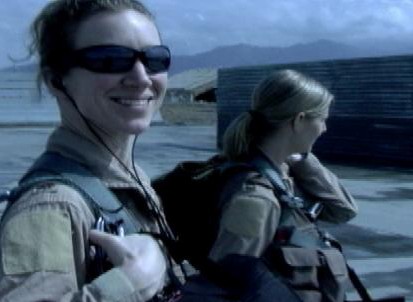 Although the mission was full of symbolism, the air support they were providing to coalition and Afghan forces in the Kunar Valley was anything but symbolic. ABC News' Mike Boettcher was embedded with the
101st Airborne
in the valley and said it was the fiercest fighting he'd seen in his 30 years of covering war zones and that the support was desperately needed.
"We knew that they were taking some fire, that there were some bombs being dropped that day and we knew we were going to support the guys on the ground by ... at the very least making some noise, and most likely that we were going to drop some bombs," said Capt. Jennifer Morton.
Watch 'World News With Diane Sawyer' for more on this story tonight on ABC
Women -- yes, they are still called airmen -- have been able to participate in Air Force pilot training since 1976, but they were not allowed to fly combat missions until 1993. Morton says even though women have been flying combat missions for 18 years when she coordinates air support with the men on the ground they are still sometimes surprised to hear her voice.
"I know for a fact that a lot of ... the Army guys on the ground they don't hear women's voices very much. And so sometimes that's kind of exciting for them to hear our voices," Morton said. "All four of us being females ... it was nice for the ground guys to hear that they ... had women protecting them."
Sgt. Tamara Rhone, a Expeditionary Aircraft Maintenance Squadron crew chief, said she hopes the mission inspires other women to join the Air Force.
"The women throughout time have paved the way for us today and they made it possible for us to be equal as well as respected as individuals. Females are a rare breed on the flight line. It is my hope that more females step up and join the maintenance career field," Sgt. Rhone told the Air Force's news service.