Dying man who was deported after cruise docked in Florida will return to US, attorney says
The man, who has stage 4 cancer, was detained after disembarking from a cruise.
A man with stage 4 cancer who was detained after disembarking from a cruise and sent back to China will soon be traveling back to the U.S. due to special permission granted by U.S. Customs and Border Protection, the family's immigration attorney told ABC News.
Yuanjun Cui and his wife, Huan Wang, were placed on a flight to Beijing Monday night after they were detained when their Carnival cruise docked in Jacksonville, Florida, that morning, the attorney representing the family, Susan Pai, said.
Cui is dying of stage 4 cancer, the couple's son-in-law, Joe McDevitt, told ABC News Tuesday. After Cui had his stomach removed and went through several rounds of chemotherapy, the McDevitts invited him and his wife to stay with them in the U.S. so they could get to know their young grandchildren, ages 3 and 4, McDevitt said.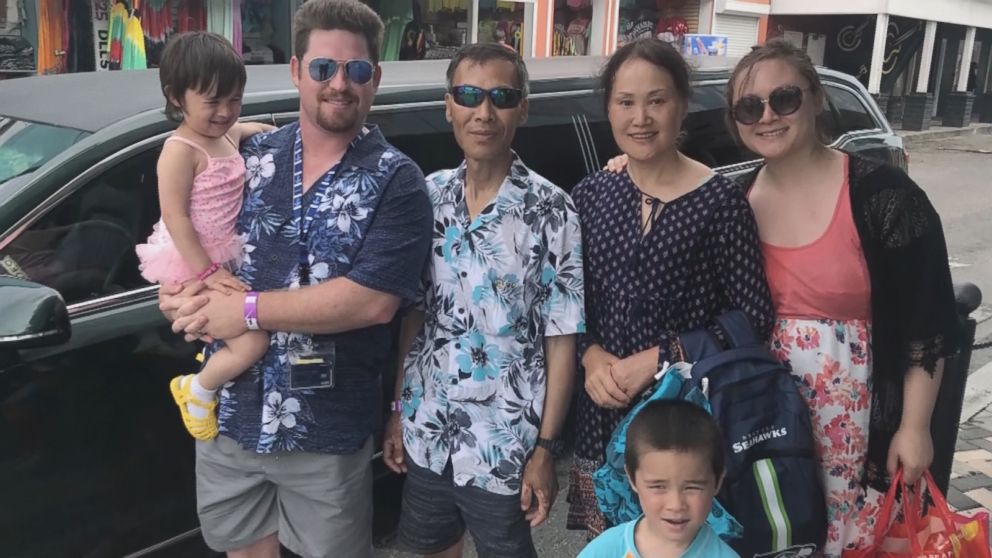 The couple's B1/B2 visitor visa, commonly known as the "multi-visit visa," was issued to them in November and does not expire until November 2027, Pai said. Wang had been issued the visitor visa in the past and had been visiting the U.S. since 2009, "and has never had an issue," Pai said, adding that the U.S. embassy in Shenyang "goes through an extraordinary vetting process for Chinese nationals."
At some point during the trip back to China, which included a layover in New York City, the couple was allegedly handcuffed, Pai said. During the trip, the couple was allegedly not given any food or water and weren't permitted to use their cellphone until they arrived at the Beijing airport, she said.
A photo taken by Wang shows her husband lying on a pile of luggage after the deportation was issued, Pai said. The couple has been there for more than 24 hours, and Cui is at constant risk for dehydration if he doesn't eat and drink regularly since he doesn't have a stomach, McDevitt said.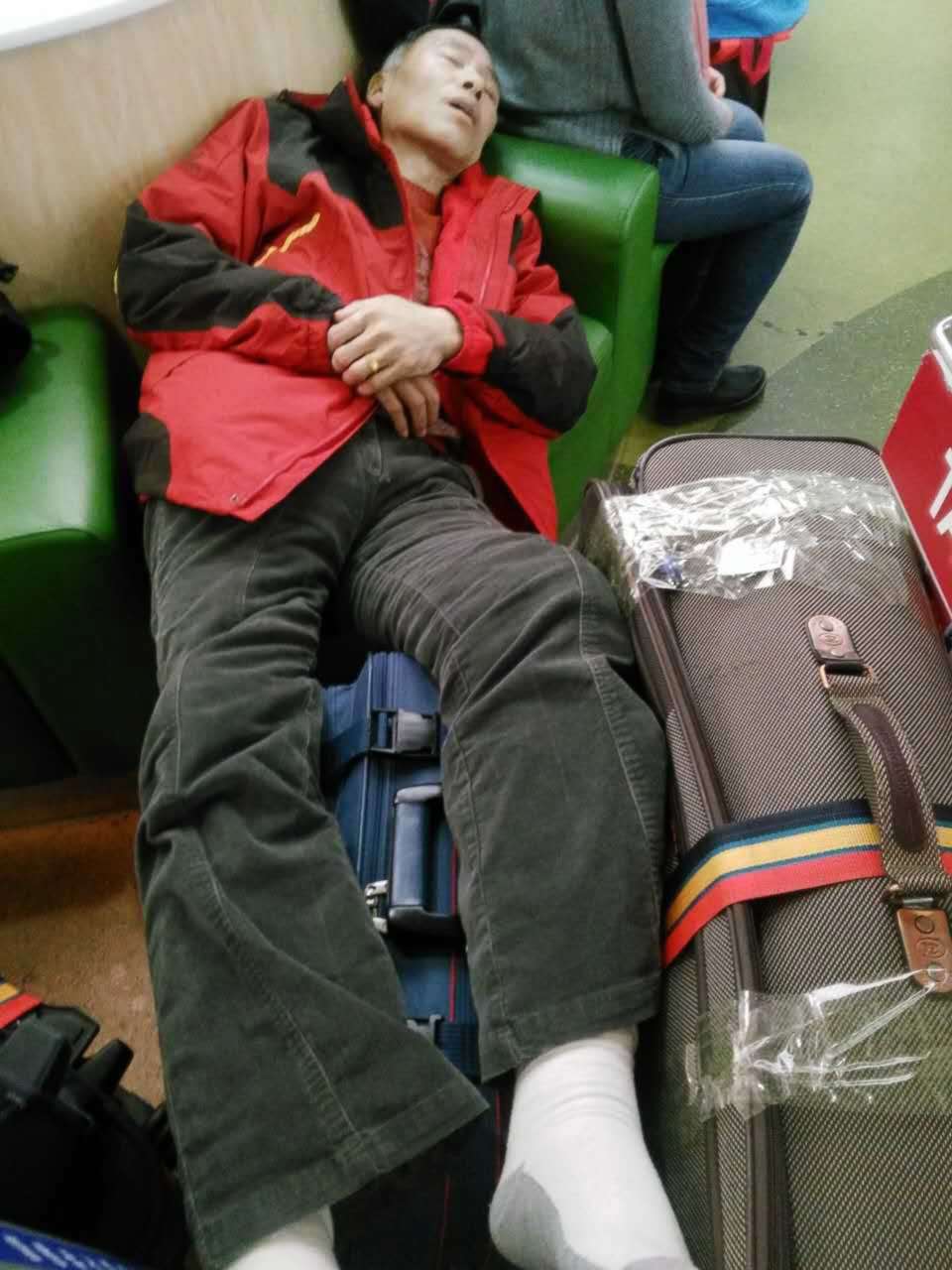 Once the couple arrived in China, Wang was given her phone back, and she contacted her daughter, Pai said. They were sent back to China with no money or keys to their home, which is more than 400 miles away from the Beijing airport in Shenyang, Pai said.
The couple was eventually able to get money wired to them from family in China, McDevitt told ABC News today.
When Wang spoke to her daughter upon arriving in Beijing, she expressed that she was upset about being treated like a criminal and being placed into handcuffs, Pai said. McDevitt said his parents-in-law were "confused" and "exhausted" from the trip, which isn't even over yet.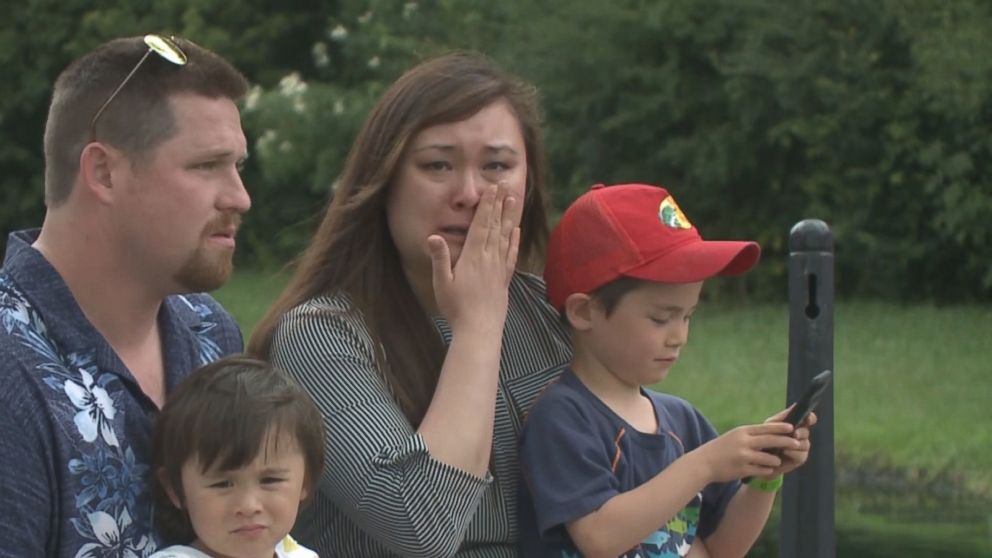 In a swift turn of events, the couple will now return to the U.S. after the U.S. Border and Customs Protection authorized them to board a plane from Beijing back to the U.S., Pai said, calling the move an "extraordinary remedy" of humanitarian parole that is "only given under the most "egregious, dangerous situations."
The couple will board a plane to Seattle, where McDevitt's sister lives, on Wednesday night, he said. It was the fastest way to get them back to the U.S., Pai said.
McDevitt and his family, who live in the Ozarks region of Missouri, have been in Jacksonville since their cruise to the Bahamas docked on Monday, he said. They footed the bill for Cui and Wang's return flight back from China -- more than $1,000 -- but it's unclear how much it'll cost to get the family of four to Seattle to meet them there, he said.
Cui and Wang will then stay in the U.S. until June 19, their original departure date, Pai said. But the family is worried that Cui may not make it until then -- or even through the long flight back, she added.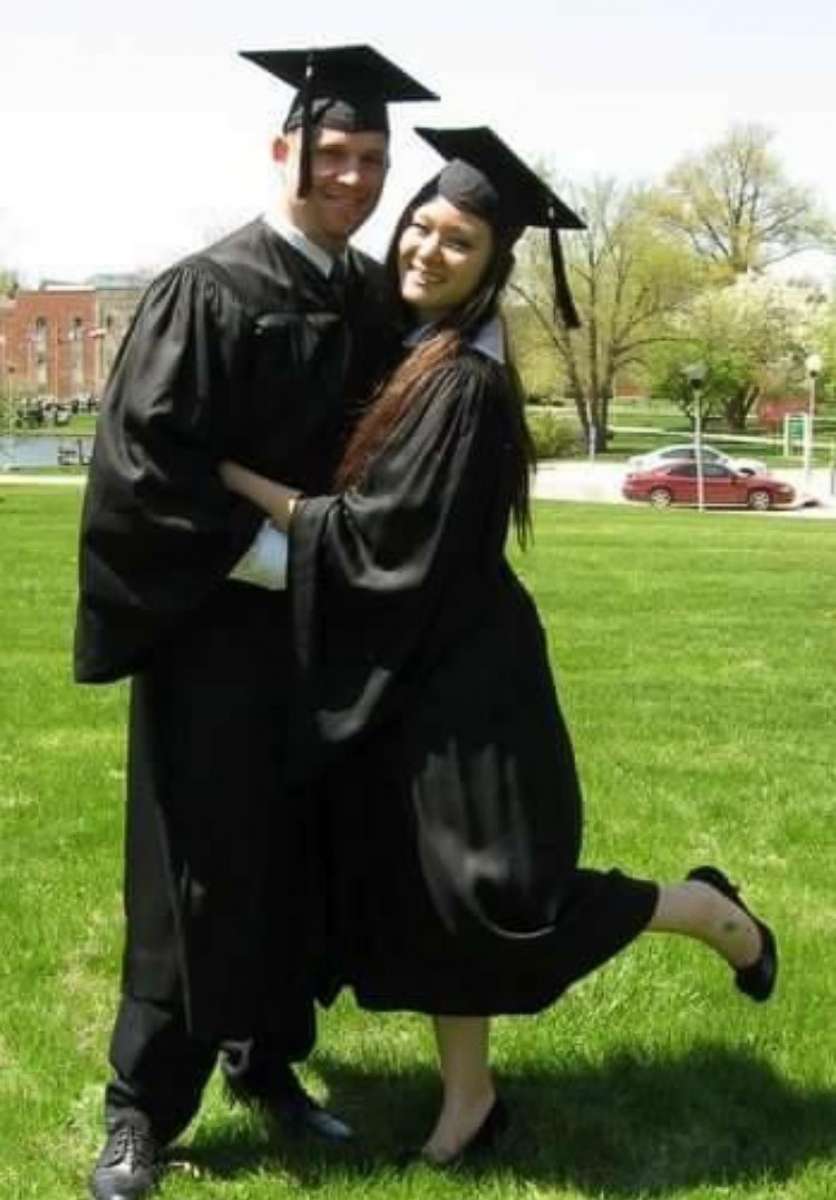 McDevitt, a U.S. citizen and active-duty member of the Army National Guard, and his wife, Zhengjia McDevitt, obtained her citizenship through marriage, ABC Jacksonville affiliate WJXX reported.
Pai hypothesized that the recent green card applications filed by Wang and Cui were invalidated when they left the country on the cruise, according to WJXX. But their valid travel visas should have guaranteed the couple's return, she told the station.
In a letter sent to federal officials, Pai wrote that the couple did not voluntarily or knowingly withdraw their application for admission under their 10-year B1/B2 visas" and said they were forced to sign a paper with contents unknown to them because they only understand Chinese.
Despite the harrowing ordeal, Pai said that she and the family were "grateful" to CBP for granted the special permission, adding that no air carrier would have let the couple on without it.
"We are grateful for CBP," Pai said. "They can't undo mistakes that have been made, but they did give their permission to the grandparents to board the plane."
The family has been "distraught" through the entire ordeal, Pai said. In addition to getting little sleep in the past three days, McDevitt is "emotionally exhausted," while his wife "has been crying nonstop," Pai said.
On Tuesday, McDevitt accused Carnival of knowing something was wrong before they boarded the cruise last week. Due to an "issue" with the family's paperwork, it took the family more than an hour to board the cruise, and during the trip, McDevitt was called up to the front desk four times so they could review their paperwork, he said.
"They should have never let us on the boat," McDevitt said. "I would have rather lost my money on a cruise than my family."
The family were the first passengers off the ship after they were marked as persons of interest, McDevitt said. They did not see his wife's parents again after they were separated and questioned, he said.
In a statement to ABC News, a Carnival cruise line spokesperson said there isn't a pre-clearance process during boarding, similar to in the airline industry.
A passport is not required for U.S. citizens but is required for foreign nationals when departing and returning from U.S. ports, the spokesperson said. The cruise line collects the information during boarding and turns over a passenger list to CBP prior to departure, and CBP may inquire about specific passengers and seek documentation during the course of the voyage without the cruise line necessarily knowing the reasons for their inquiry, the spokesperson said.
The cruise line does not know what the issue is when CBP inquires about specific passengers and their status, the Carnival spokesperson said, adding that it's up to each passenger to comply with U.S. immigration law.
The spokesperson said that while Carnival understands the family's frustration, laying the blame on the cruise line is misplaced.

A spokesman for U.S. Customs and Border Protection said in a statement on Tuesday that the agency "welcomes more than a million passengers arriving in the United States every day," and that CBP officers are "charged with enforcing not only immigration and customs laws" but also enforcing more than 400 laws from 40 other agencies.
"Under U.S. immigration law [Section 291 of the INA [8 USC 1361] applicants for admission bear the burden of proof to establish that they are clearly eligible to enter the United States," the statement read. "In order to demonstrate that they are admissible, the applicant must overcome ALL grounds of inadmissibility."
When ABC News reached out to the CBP on Wednesday, the spokesman declined to comment beyond the previous statement.