— -- Charleston church shooting survivor Felicia Sanders, who lost her son, Tywanza Sanders, in the shooting rampage, shared today how her son stayed by her side while she faced cancer surgery and recovery.
Tywanza Sanders stayed in the waiting room through his mother's nine-hour surgery, Felicia Sanders said, and he refused to leave her. He studied up on the recovery process, and he later sat by her bed while she rested, telling her personal stories, she said. He helped her get back on her feet, too, telling her it's "time for boot camp." A photo shown in court today showed him holding her hand as they walked over a bridge.
This was one of the many stories Felicia Sanders shared this morning to the jurors deciding the fate of her son's convicted killer, Dylann Roof.
Roof, already convicted of opening fire and killing Tywanza Sanders and eight other churchgoers during a bible study in Charleston, South Carolina, in June 2015, will be sentenced to death or life in prison at the conclusion of this federal trial.
"It was a joy to be Tywanza's mother," Felicia Sanders said in court this morning, according to ABC affiliate WCIV. "For those of you who hadn't met him, y'all missed out."
Tywanza Sanders, who died at the age of 26, was a poet, his mother said. A photo shared in court today showed him reading a poem at the church where he was later murdered, WCIV reported.
Felicia Sanders told the jurors that when she got pregnant with Tywanza, doctors said he wouldn't survive; she had tumors on her belly, leaving the baby without room to breathe, according to WCIV. She was offered a C-section while 6 months pregnant, but she said no and gave birth at full term, she said, according to WCIV.
Felicia Sanders described her son as very respectful. In a photo shown in court, Tywanza escorted his mother down the aisle at a wedding at the Emanuel AME Church, where Roof shot the nine people.
Felicia Sanders said everyone at church loved to see Tywanza because he made them feel special. After the shooting, many church-members told her about the last words Tywanza had told them, she said.
Tywanza had been accepted to Full Sail University near Winter Park, Florida, when he was killed, his mother said. She said there have been many hard days since his death, but one of the hardest was when the university called asking where he was, and her husband had to say he was dead.
Tywanza Sanders' older sister of 13 years, Shirrene Goss, testified earlier this morning, saying she wished she could have seen her younger brother fall in love and get married, and accomplish the successes he was working towards.
After Felicia Sanders testified today, the government rested. The government is asking the jury to sentence Roof to death.
Roof, 22, called no witnesses and said he did not wish to testify, and the defense then rested. Roof's father was in court for the first time today.
Last week, other victims' family members shared their emotional stories with the jury. Among those who testified was Jennifer Pinckney, wife of slain pastor and South Carolina State Sen. Clementa Pinckney. Pinckney told the jury her husband was a loving, devoted and involved father to their two young daughters, ages 7 and 12.
She and her youngest daughter were at the church the night of the shooting, she said, noting they were in an office while her husband was at the Bible study where the shooting took place. She recounted to the jury how she and her young daughter hid under a desk as gunshots rang out. She said they put their hands over each other's mouths.
She testified that she heard Roof say he was not crazy and had to do this. She said Roof tried to open the door to where she was, but it was locked.
She said the hardest thing she ever had to do was tell her children that their father had been killed.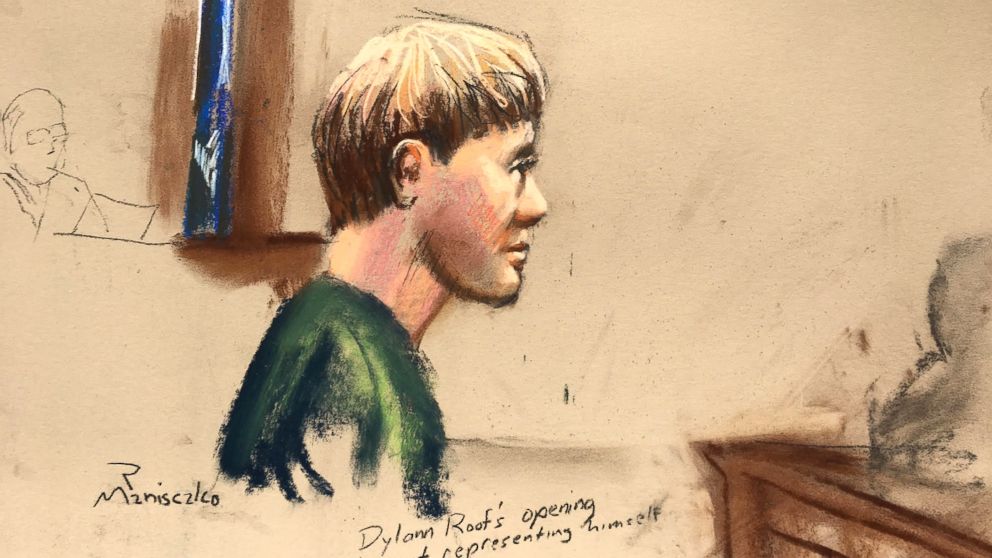 Roof, who is representing himself for the sentencing phase of his federal trial, spoke for less than five minutes in his opening statement last week, telling the jury there is nothing wrong with him psychologically. Roof did not apologize for his actions.
Closing arguments are expected on Tuesday, after which the jury will begin deliberations on Roof's sentence.
While Roof's defense attorney David Bruck told the court last month, "He did it," Bruck added, "Our society does not order the death penalty if there are reasons to choose life."
Roof also faces a state trial in which he may again face the death penalty. The state trial, which was scheduled to begin this month, has been delayed indefinitely.