— -- The threat of a huge winter storm has prompted panic and preparations along the East Coast as the head of the National Weather Service said today that tens of millions of people could be effected.
In addition to those impacted by the snow, an additional seven million people could be impacted by ice and other dangerous conditions, NWS director Louis Uccellini said today.
"You put all the ingredients together, you can get a storm like this and it's happening in real time," he said.
Residents in at least a half-dozen states are being warned to keep their travel plans light and prepare for potentially damaging winter weather starting early this weekend.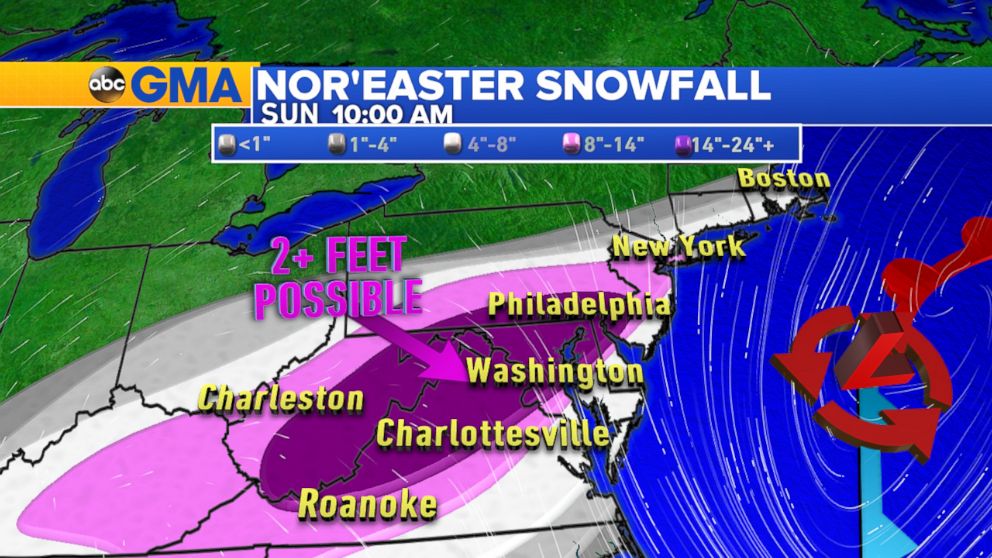 Expected Snow Totals
New York: 5 - 10 inches
Philadelphia: 12 - 18 inches
Baltimore: 18 - 24 inches
Washington, DC: 18 - 24 inches
Raleigh: 1 - 4 inches
Two People Died in North Carolina Because of the Weather
North Carolina Gov. Pat McCrory said today that there have already been two fatalities as a result of the dangerous weather conditions.
One person died in Forsyth County after the car they were driving slid across a highway median because of slick roads. The second death occurred in Stokes County where similar icy and snowy road conditions caused a car to go down an embankment.
McCrory declared a state of emergency and warned that power outages and dangerous road conditions are expected to continue through the weekend.
National Guard soldiers have already been deployed.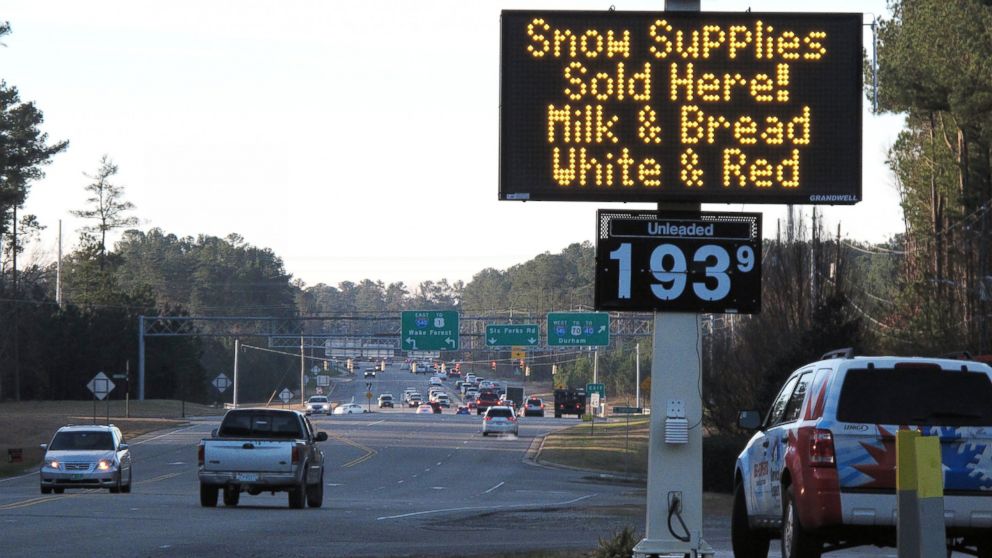 First Taste of Traffic Issues in DC
Washington, D.C., got its first taste of the storm Wednesday. Less than 2 inches of snow caused more than 100 accidents and traffic jams.
Police in Arlington, Virginia, said there were "hundreds" of drivers stranded on several roads amid reports of hospitalizations for minor injuries.
More than 100 crashes were being investigated in Virginia as snow blanketed the area. Most of the crashes involved damage to vehicles only, according to the Virginia State Police.
D.C. Mayor Muriel Bowser apologized this morning for the city's "inadequate" response Wednesday night and said that she was "very sorry."
Historic Levels Expected in DC
Bowser said the National Weather Service predicts up to 20 inches of snow in the District over the weekend, with winds reaching speeds of up to 40 mph.
She also declared a state of emergency and a snow emergency for D.C., which allows for federal aid and the ability to move vehicles out of snow emergency lanes.
"We will treat this as a Homeland Security event," Bowser said.
"It is an extremely large storm and it will last for 36 hours," she said.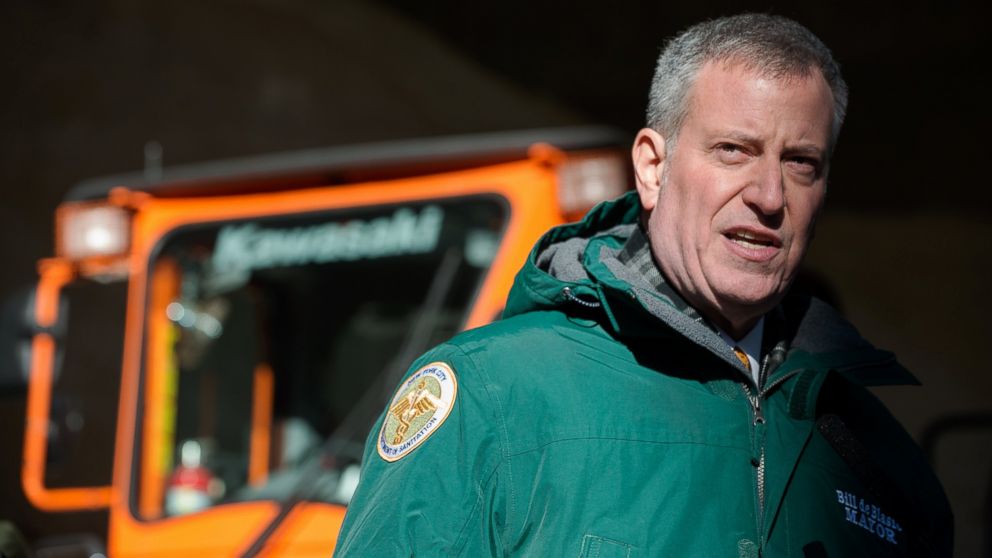 New York Braces for the Snow
New York City Mayor Bill de Blasio said he is confident city services can handle the storm.
He noted that weather forecasts predict New York will receive 8 to 12 inches of snow starting early Saturday morning through Sunday.
"New Yorkers should be ready for a big storm this weekend," de Blasio said.
Sanitation Commissioner Kathryn Garcia noted that the city is expecting blizzard conditions, gale-force winds and white-out conditions on the roads.
De Blasio said, "We've all been lulled to sleep a bit because of what warm a winter it's been. I think people need to take this very seriously and realize that this is a real thing."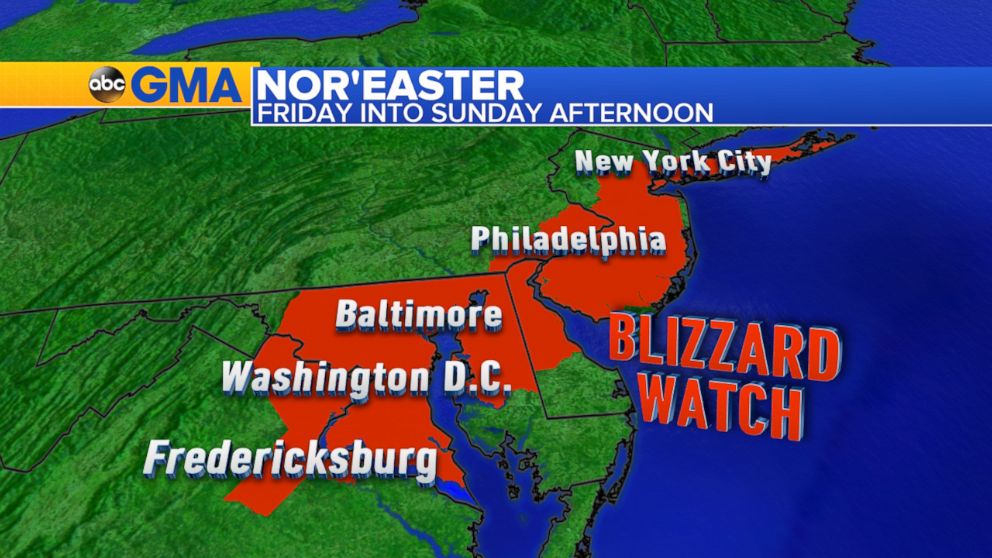 States of Concern
Blizzard and winter storm watches for parts of Maryland, Washington, Virginia, West Virginia and Arkansas were issued by the National Weather Service Wednesday for today through Saturday.
Get real-time updates as this story unfolds. To start, just "star" this story in ABC News' phone app. Download ABC News for iPhone here or ABC News for Android here.