After several days of rain, the Northeast will finally be dry and sunny on Sunday. Warmer and more humid air will move into the region from the South over the next few days.
Heat is already building in the central U.S. on Sunday and will spread toward the East Coast by Monday. Heat indices on Monday are forecast to be in the high 90s for the Eastern Seaboard.
Heat advisories are in effect for the New York metro area until Monday evening.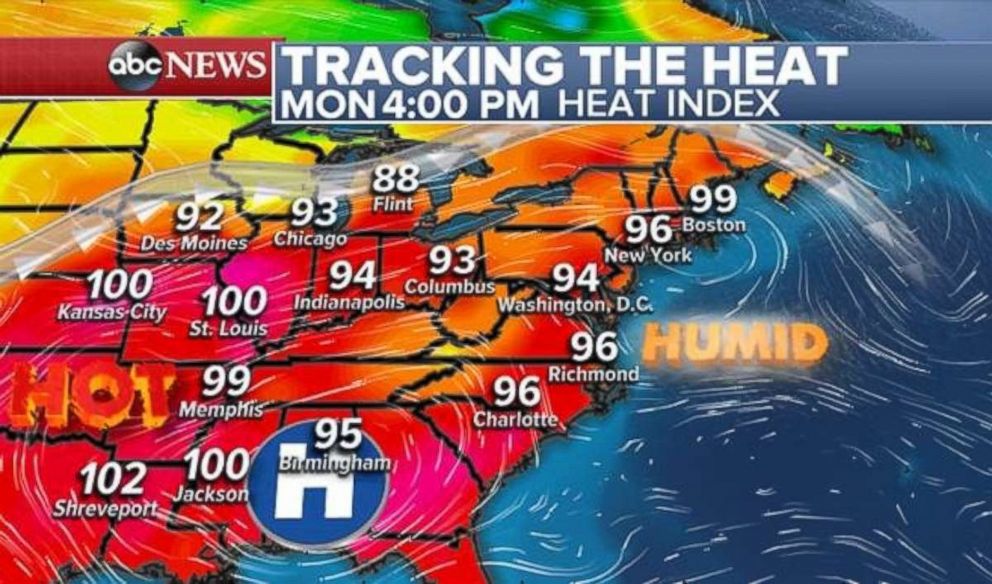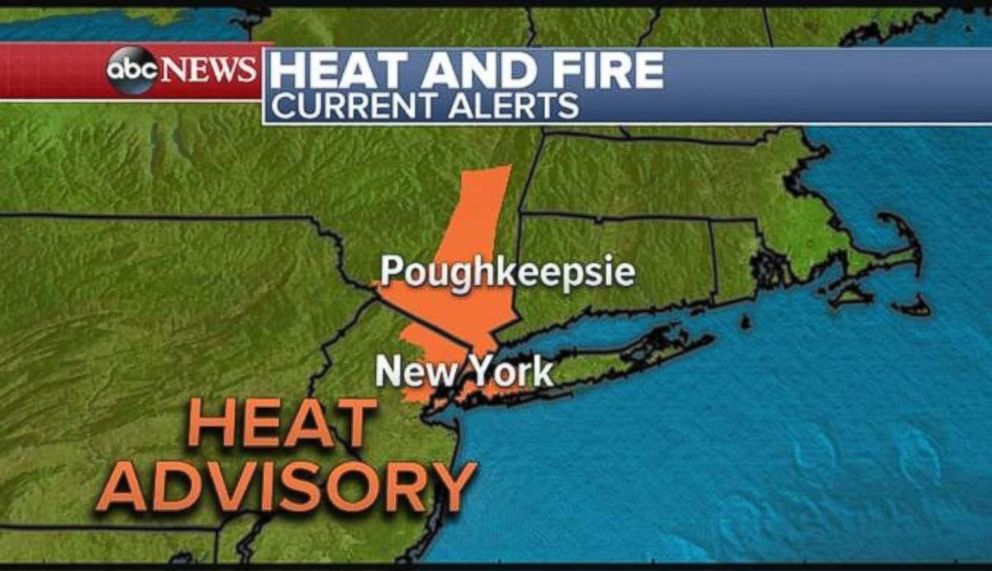 Next round of brutal heat in West
There are 68 large, uncontained fires now burning 14 states, most in the West.
The Mendocino Complex Fire in Northern California is now over 181,00 acres and 22 percent contained with 55 residences destroyed, and 49 other structures damaged. The Ferguson Fire grew to 81,699 acres and has now caused the majority of Yosemite National Park to be evacuated. Containment was down 6 percent from yesterday and it is now just 35 percent contained.
Meanwhile, the Carr Fire in Shasta County, California, claimed its seventh death. A worker for Pacific Gas & Electric was killed doing restoration work in a remote area, the company told ABC News.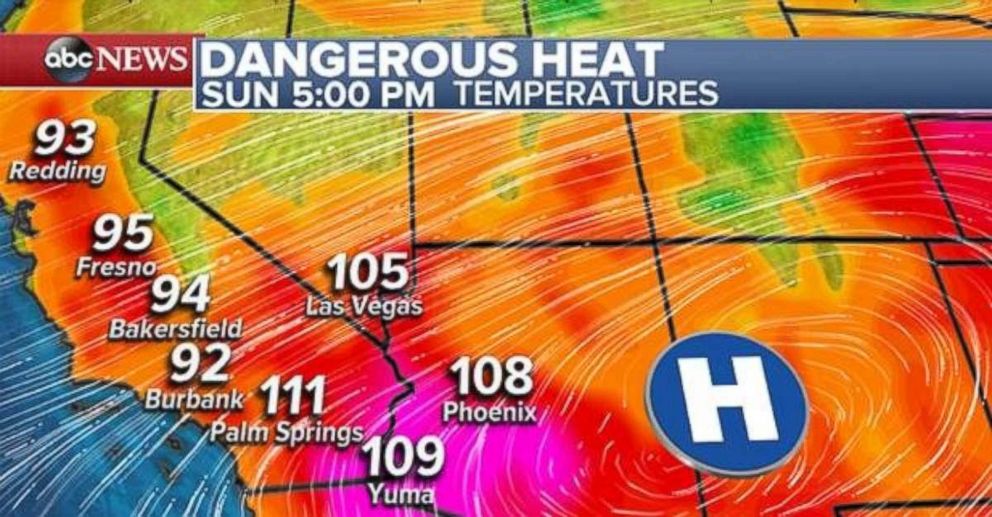 The weather pattern will not provide any relief for the West. A new round of heat is on the way to parts of the West this week.
High pressure continues to pump in heat from the South. Highs on Sunday will reach the 90s and 100s. Hot and dry conditions, with temperatures in the 100s, are expected through at least the middle of next week.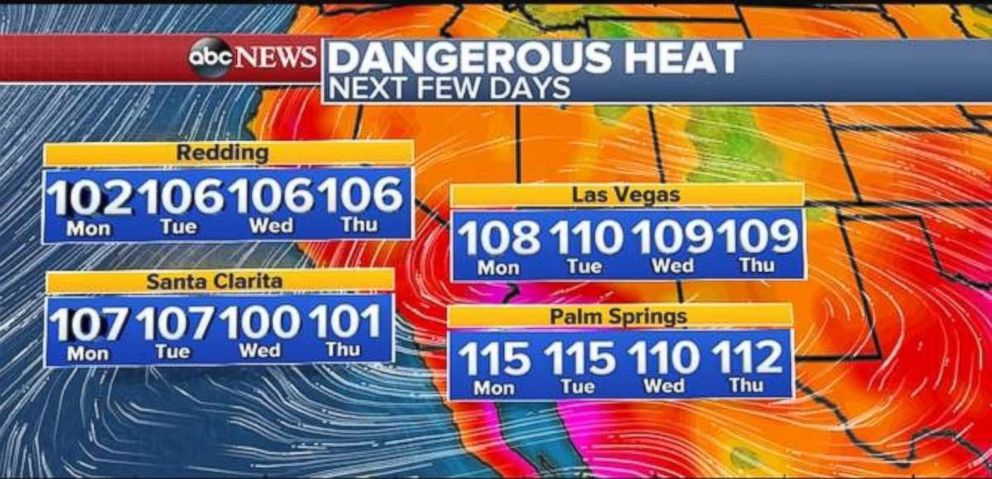 Excessive heat watches and warnings, along with red flag warnings, are in effect in California, Nevada, Arizona and Wyoming.
Additionally, gusty sundowner winds are likely in Southern California on Sunday and Monday, which could rapidly spread any new fire that develops.
Severe threat to Midwest, Plains
One day after two tornadoes touched down in Connecticut and Massachusetts, the Midwest and Plains will be dealing with potentially severe storms.
The Northern Plains saw severe weather on Saturday as well, including gusty winds and large hail that affected the Dakotas, Nebraska and Wyoming.
Storms are moving through South Dakota, Iowa and southern Minnesota on Sunday morning. Wind gusts of 60 mph have been reported with this line of storms.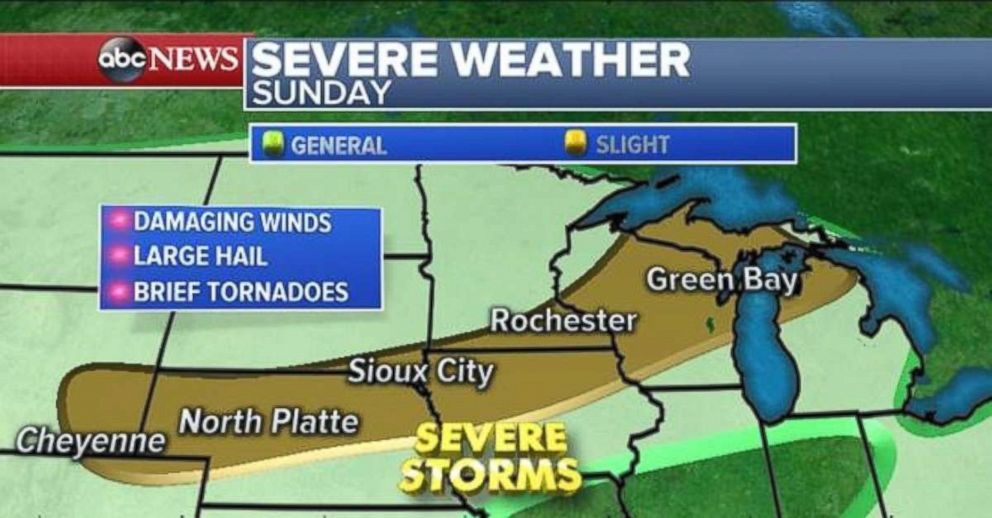 There is a new threat for severe storms today in eight states from Wyoming to Michigan. Although storms will weaken in intensity this morning, they are expected to fire up again this evening in the Northern Plains and upper Midwest. Strong winds, large hail and brief tornadoes are all possible.
In addition, the thunderstorms could produce heavy downpours creating localized flash flooding, especially in northern Iowa and southern Minnesota.