EF3 tornado rips through North Carolina amid extreme weather nationwide
The U.S. is seeing a range of extreme weather, from tornadoes to heat waves.
A powerful tornado ripped through central North Carolina for more than a dozen miles on Wednesday, destroying homes and injuring residents, according to officials.
The National Weather Service said early Thursday that a preliminary damage survey indicates the tornado was an EF3, with peak winds up to 150 miles per hour. It's the first EF3 tornado ever observed in central North Carolina in the month of July and the strongest twister for this time of year on record in the state.
The National Weather Service currently uses the Enhanced Fujita scale to rate tornado intensity based on wind speeds and the severity of the damage caused. The scale has six intensity categories from zero to five (EF0, EF1, EF2, EF3, EF4 and EF5), representing increasing wind speeds and degrees of damage. There is also an unknown category (EFU) for tornadoes that cannot be rated due to a lack of evidence.
The 600-yard-wide tornado touched down Wednesday afternoon at around 12:30 ET near Dortches, a tiny town in North Carolina's Nash County, just outside the city of Rocky Mount. From there, the twister traversed 16.5 miles over a period of about 30 minutes before lifting near the Battleboro neighborhood of Rocky Mount in North Carolina's Edgecombe County, according to the National Weather Service.
While on the ground, the tornado snapped power poles, uprooted trees and damaged buildings. Multiple mobile homes in the Dortches area were completely destroyed and removed 20 to 30 yards from their foundations. Farther northeast, a residence building suffered major damage as all exterior walls collapsed with only interior walls and a brick fireplace still standing. The twister also flattened a metal truss tower connected to the electrical transmission line as well as caused significant damage to a metal warehouse building near the Belmont Lake Golf Club in Rocky Mount, according to the National Weather Service.
Pharmaceutical giant Pfizer said its facility in Rocky Mount was damaged by the tornado but that all staff "are safe and accounted for" after evacuating the building.
Citing media reports, the National Weather Service said there were 16 storm-related injuries in the affected area -- including two life-threatening -- and no fatalities. The Edgecombe County Sheriff's Office confirmed it had received reports of two life-threatening injuries and one non-life-threatening injury related to the storm.
The tornado is part of a system of severe weather threatening some 57 million Americans. The latest forecast for Thursday shows destructive winds, large hail and an isolated tornado are the main threats from Denver, Colorado, to north-central Oklahoma. And from Michigan to South Carolina, the main threat will be large hail -- especially from Fort Wayne, Indiana, to Detroit, Michigan -- along with damaging winds and isolated tornadoes. There is also a risk for flash flooding at all locations.
Meanwhile, extreme heat continues to plague a swath of the United States with no end in sight. More than 100 million Americans across 16 states -- from California to Florida -- are on alert for dangerous heat on Thursday, with the latest forecast showing temperatures at or above 100 degrees Fahrenheit in the Southwest and heat index values in the 100s in the Southeast.
Arizona's capital had its all-time hottest day on record on Wednesday, with a high temperature of 119 degrees and a low of 97 degrees. Temperatures in Phoenix have now been at or above 110 degrees for the past 20 days and haven't dropped below 90 degrees for 10 straight days.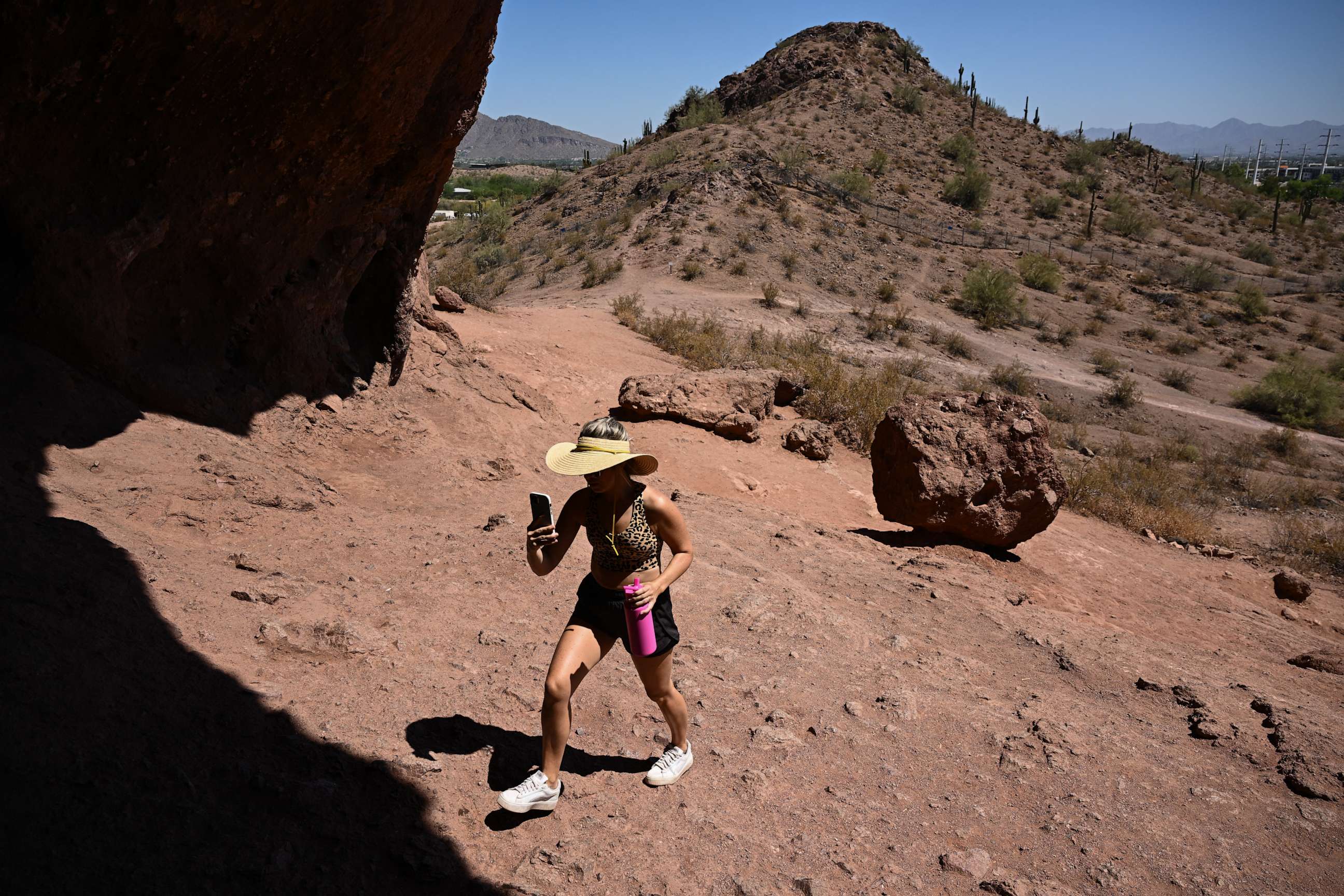 A 71-year-old man from the Los Angeles area collapsed and died at the Golden Canyon trailhead in Death Valley National Park in California on Tuesday afternoon as temperatures soared to 121 degrees, according to the National Park Service. While the Inyo County Coroner's Office has not yet determined the cause of death, park rangers suspect heat was a factor.
It's possibly the second heat-related fatality in Death Valley this summer. A 65-year-old man died there on July 3, the National Park Service said.
ABC News' Melissa Griffin, Dan Peck, Darren Reynolds and Jennifer Watts contributed to this report.