— -- Emanuel African Methodist Episcopal Church in Charleston, South Carolina Sunday held its first service since nine people were killed during a Bible study at the church.
The emotional service was filled with 800 people inside, including those downstairs in the room where the shooting happened. Hundreds more stayed outside the church -- clapping, praying and singing along as audio came out from speakers outside.
"Many of our hearts are broken," said Elder Norvil Goff. "Many of us are still shedding tears, but I know a man who can answer all of our questions. But you and I must bring our burdens to the Lord and leave them there."
The service was held only days after police say Dylann Roof allegedly killed nine people, including Rev. Clementa Pinckney, inside the church Wednesday. He was apprehended a day later about 250 miles away in Shelby, North Carolina, and has been charged with nine counts of murder and possession of a firearm during the commission of a violent crime.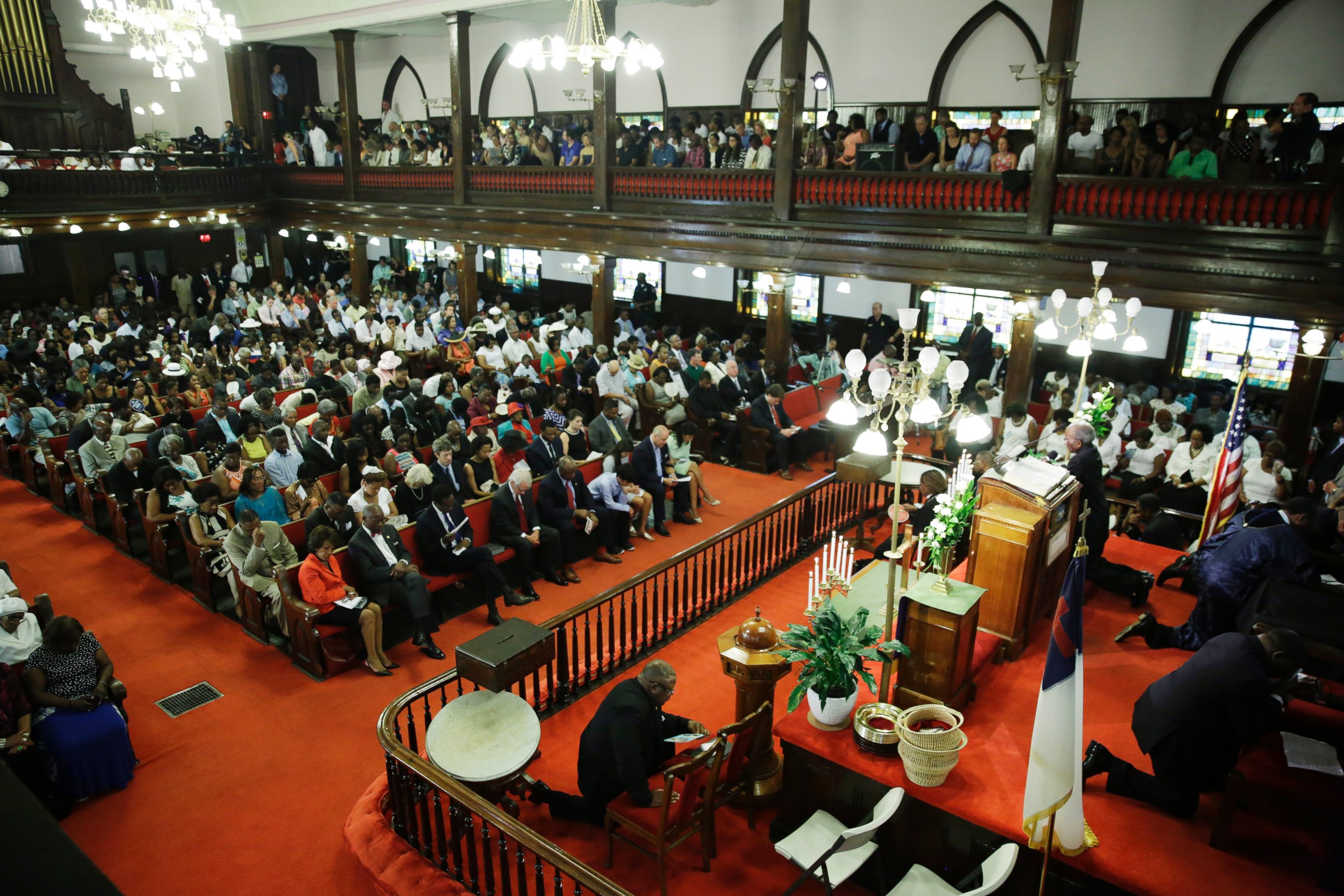 Police officers lined the stairs leading up to the church and the walls inside and parishioners had their bags checked as they entered. Backpacks, fanny packs or camera bags weren't allowed inside and non-parishioners were directed to the upper level of the church.
"We ask questions, Lord, we ask why," said presiding elder John H. Gillison, adding "we can look through the windows of our faith, and we see hope and we see light."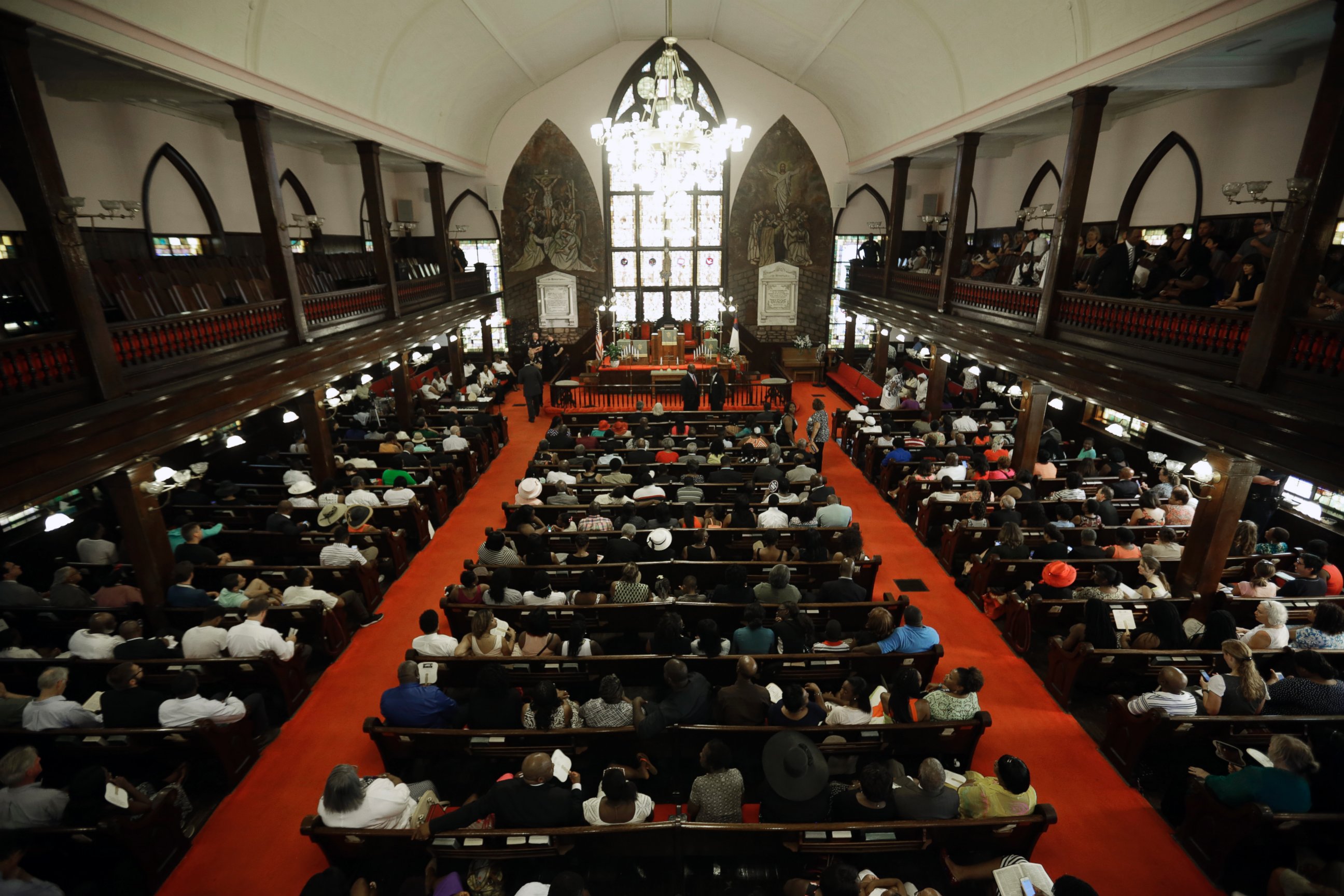 Parishioners and the choir sang "Amazing Grace" before the service, which was full of songs and prayer.
The local Red Cross handed out water to everyone in the church as people sweated and fanned themselves. The high in Charleston was forecast in the mid-90s.
South Carolina Gov. Nikki Haley, Republican presidential candidate Rick Santorum, Rep. Maxine Waters (D-CA) and Sen. Tim Scott (R-S.C.) were among those in attendance.
Haley was seen wiping away tears as people approached the altar during a prayer.
"As we come, let us remember those who were on the battle here studying the word of God," Goff said before naming the nine victims.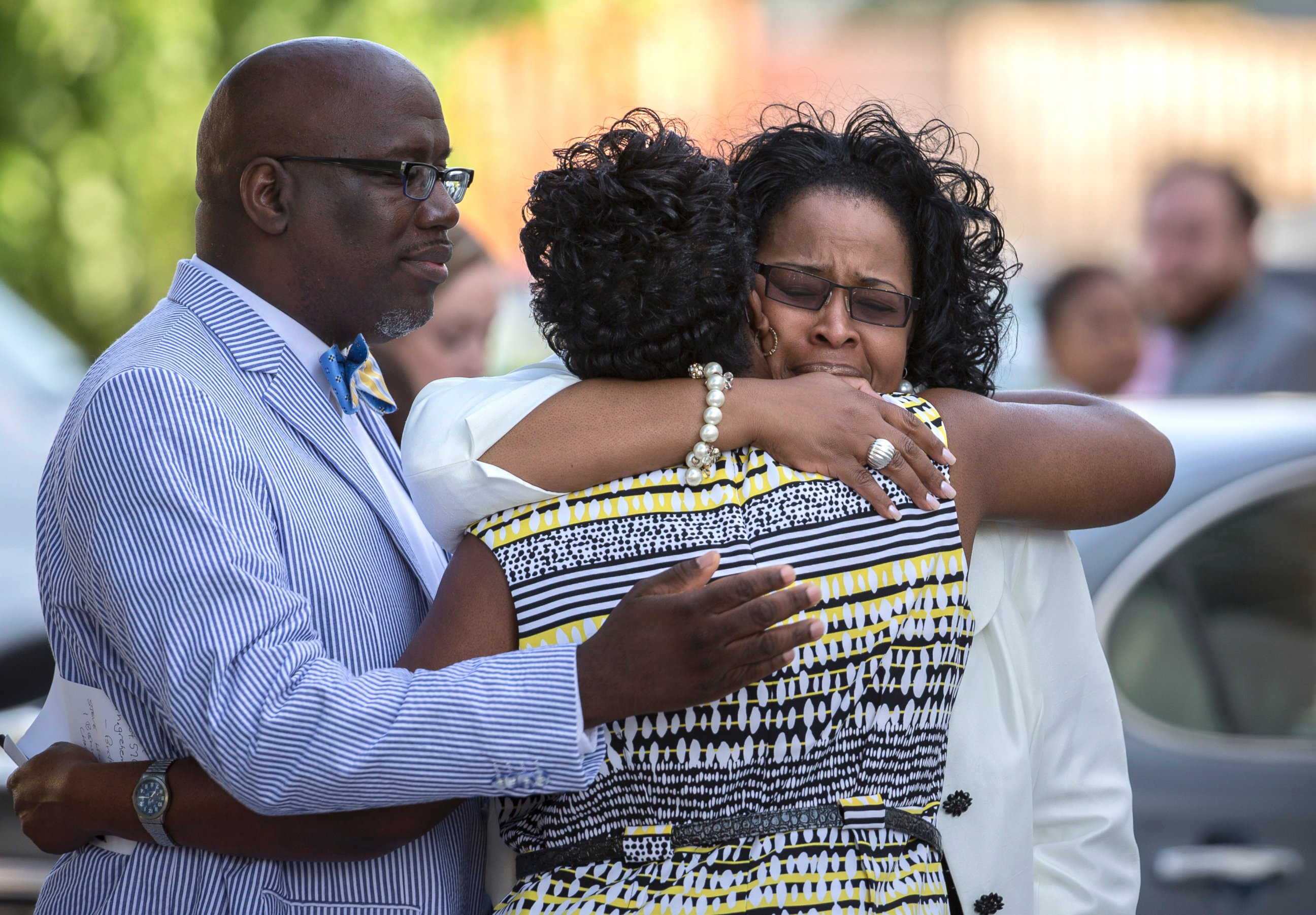 Outside, the church was lined with balloons and hundreds of flowers to memorialize the victims. There were also posters asking Haley to remove the Confederate flag from outside the statehouse.
Family members of the victims gathered in the room where the shooting occurred after the service, placing flowers on a table inside.