— -- With New York City is rolling out a limited pilot test program for police body cameras, former law enforcement officials and the relatives of Eric Garner are questioning what good additional footage will do in future cases if the Staten Island grand jury decided not to indict the police officer who put Garner in an apparent choke hold even with the incident caught on cell phone video.
Garner's mother Gwen Carr called the body camera program a "waste of money" when asked about it during a visit this morning to the site where her son died on July 17.
"Trash that. They're in control of the body cameras," she told a group of reporters, referring to the police. "The video camera didn't make a difference to the grand jury. What do we need body cameras for?"
In the Garner case specifically, the officer who administered the apparent choke hold was in plain clothes at the time, so even if body cameras were in use for the department, he would not have been wearing one, but the four other uniformed officers around him would have been equipped with the devices, which are generally worn on the chest.
New York officials have reiterated that the body cameras are not being implemented as a result of the Garner case but rather a result of Mayor Bill de Blasio's desired reforms on the controversial stop-question-and-frisk policy, though said they are aware that the recordings of police interactions will clearly have widespread repercussions.
NYPD Commissioner Bill Bratton said that the use of the cameras will elevate behavior on both sides of any interaction. "What you see is reforms in the behavior of officers and reforms in behavior of the public," Bratton said on Wednesday during a news conference before the grand jury's decision in the Garner case was announced.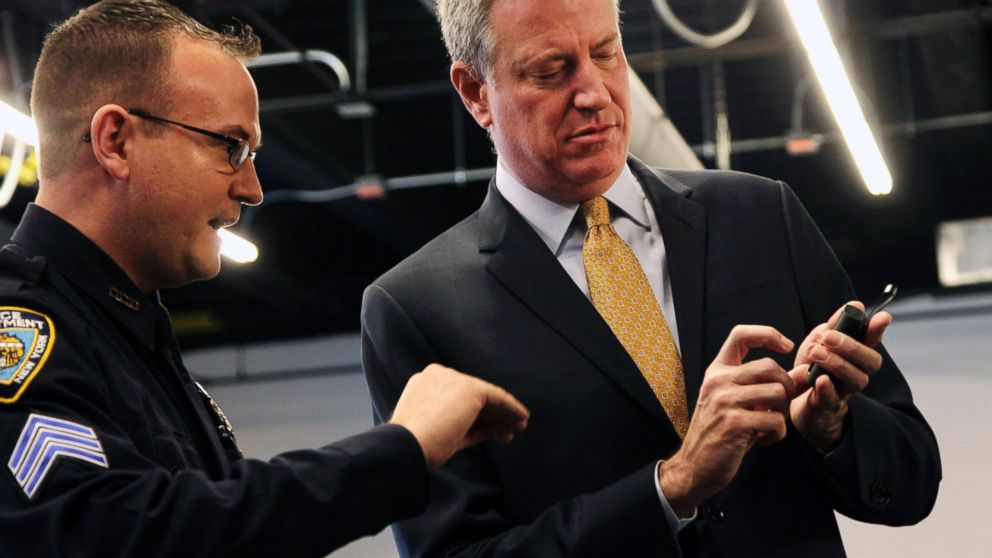 De Blasio reiterated that idea this morning during an interview with local radio station Hot97, saying that while the Garner incident was caught on video and that didn't necessarily lead to the indictment of officer Daniel Pantaleo, future officers would be trained to know that their every move will be recorded.
"In that moment, those officers may have been aware of people holding up cell phones, but it wasn't part of their experience until that moment," de Blasio said. "When you train people, from day one, recruits go into the academy and they are trained that whatever they do ultimately will be seen publicly. They are wearing a camera. It's a reminder every hour of every day to comport themselves the right way."
Body cameras are used in some smaller American cities, with the Los Angeles suburb of Rialto, California, regularly held up as an example of the technology's success after the number of complaints against police dropped dramatically.
Rialto police participated in a year-long study in 2012 of the cameras' effectiveness, with half of the officers recording their interactions with civilians. TASER, the company that produces the ACON flex body cameras used in Rialto, reported that the number of use-of-force incidents dropped by 59 percent during that time period.
Former NYPD Commissioner Ray Kelly, who is a contributor to ABC News, is aware of the Rialto statistics but said that it is not appropriate to expect their success to directly translate in New York largely due to the difference in size. Rialto had a population of 101,501, according to the 2012 census, while New York City's population hovers around 8.4 million.
"I think they need a comprehensive test of the cameras to see what the pluses and minuses are in terms of overall police performance," Kelly told ABC News.
"I don't think it should be a foregone conclusion that body cameras [lower crime rates]," he said.
The White House today continued to point to evidence showing police body cameras "do have an impact," despite the grand jury decision in the Garner case.
"I don't think there's anybody who's suggesting that having police officers, every police officer, wear a body camera would entirely solve the problem. Nobody's making that case. The president doesn't believe that," White House Press Secretary Josh Earnest said, when asked if the president still has confidence that body cameras would make a difference.
Earnest also questioned whether the officers in the Garner case knew they were being filmed. "I think at least some of the social science here indicates that there might be a difference in the way that police officers confront these kinds of situations if they know they are being filmed. And if they're wearing a body camera, then they obviously know that their interaction is being filmed," he said.
The president has asked Congress for $75 million to provide up to 50,000 body cameras to law enforcement across the country. "Included in the funding proposal that the president put forward, his community policing initiative, it included $55 million to actually study the effect of body cameras being worn by police officers. So the extent that members of Congress, again, are interested in this issue and are interested specifically in this issue of body cameras, this seems like a worthwhile line of inquiry," Earnest said.
ABC News' Mary Bruce contributed to this report.