The mother and father of the man shot and killed by police at an Alabama mall on Thanksgiving Day are calling for "equal justice" after they say an officer gunned down their son as he was trying to defuse the chaos.
Emantic Fitzgerald Bradford Jr., 21, was killed by police at Riverchase Galleria mall in Hoover, Alabama, on Thursday night after an altercation between multiple people outside a Footaction store.
"It hurts me to the core. My son is gone and I can't get him back. But you vilified my son like he was a straight criminal on Facebook and National TV," Bradford's father, Emantic Fitzgerald Bradford Sr., said at a news conference on Sunday, referring to police and city officials. "You need to clean up and apologize. I want an apology, his mother needs one, his grandmother definitely needs one."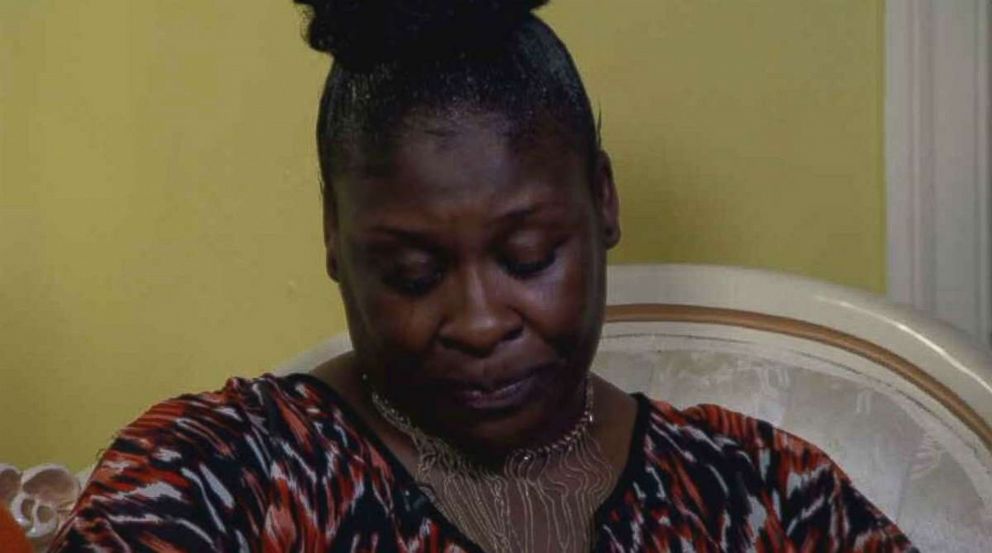 Police said Bradford Jr. "may have been involved in some aspect of the altercation," which led to an 18-year-old man and 12-year-old girl being struck by gunfire. One of two officers responding to the fight shot Bradford, who they initially said was "brandishing a handgun."
"We regret that our initial media release was not totally accurate but new evidence indicates that it was not," Hoover Police Capt. Gregg Rector said in a statement on Saturday.
The gunman in the incident remained at large on Sunday.
The senior Bradford demanded officials release police bodycam footage and surveillance video from the mall to show his son was needlessly shot in the face by an officer whose deadly actions were immediately praised by the mayor and police chief of Hoover for saving lives.
"I just want everybody to understand this: Thanksgiving will never be the same for me because that's the last time I saw my son," April Pipkins, the mother of the man shot dead by police, said during Sunday's news conference. "My son was a loving, very loving young man. He would give any of you the shirt off his back. And that's true. He loved people, period. He was not a killer."
Bradford Jr.'s uncle, Anthony Thomas, demanded that the police chief and mayor of Hoover resign.
"Somebody has got to have accountability for this and I will never stop fighting until the day I die. I will get justice," Thomas said.
During an earlier interview with ABC News, a tearful Pipkins said no one should be treated the way she has been by Hoover police.
At first, police said they believed Bradford fired the shots and that the officer who killed him, whose name has not been released, acted professionally.
"From the time that shooting took place, they engaged and it was safe within seconds that it happened. You don't see that too often. So very, very proud of that," Hoover Police Chief Nick Derzis said at a news conference just hours after the incident.
At the time, Hoover Mayor Frank Brocato said of the officer's actions: "He did so as a professional. He did so at the risk of his own life. But he stepped in to protect thousands, and I'm grateful for that."
Pipkins said she is appalled that the mayor and police chief have yet to publicly retract their statements.
"I'm outraged as a mother because I carried him for nine months," Pipkins said. "As a mother, no one understands how I feel. It's like someone ripped my heart out."
The family said they have not been contacted by the Hoover Police Department over the accidental shooting and only learned about details through the media.
"That is no way to learn of your child's death," Pipkins said. "How would you want to be treated? Nobody should have to go through this, to see their son on TV, on social media."
Ben Crump, a lawyer for the family, told ABC News he wants authorities to release video of the shooting, saying it exonerates Bradford and shows the mistake made by police.
"The police calling him a killer, when they had the video there," Crump said. "They wanted to justify the killing and that's why they were so quick to assassinate his character."
He added, "When the police saw him, all they saw was the worst, when the young man was trying to help the situation."
Crump said Bradford was standing over the wounded 18-year-old victim, trying to defuse the situation when police shot first and "asked questions later because he was a black man."
"The video is unbiased, it is completely objective," he continued. "It tells the whole story."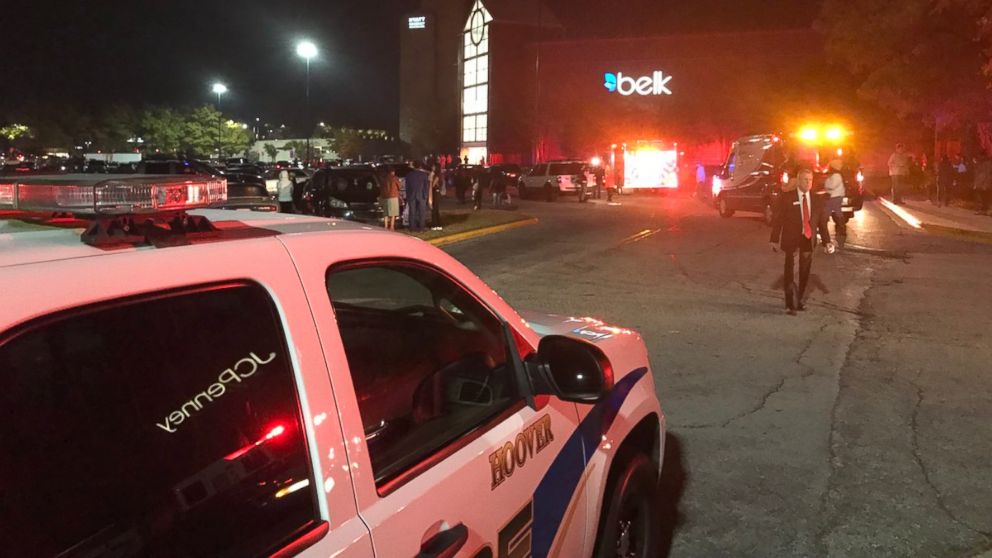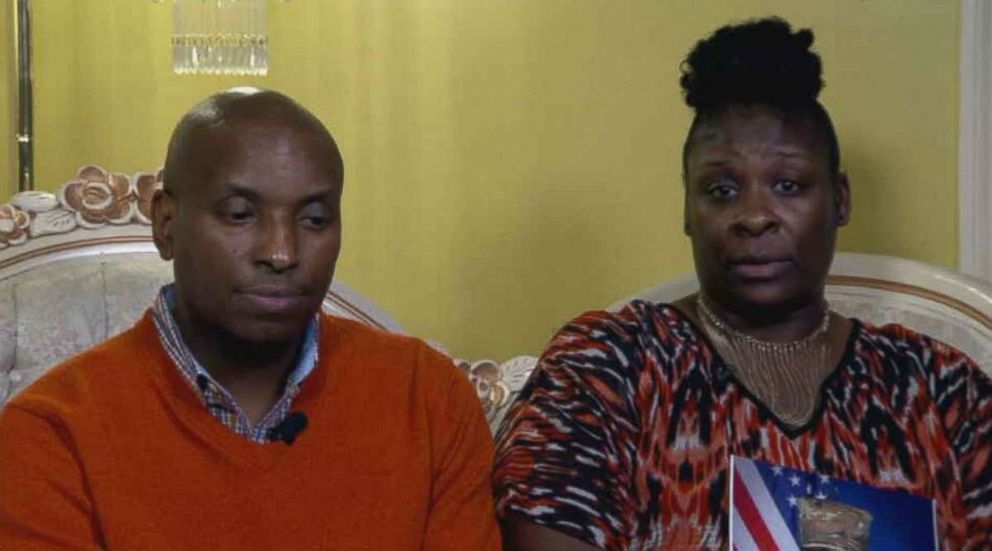 Crump said Bradford was carrying a handgun but was licensed to do so. Alabama is an "open carry" state, meaning he did not require a permit to openly carry the handgun, as long as it was holstered.
Bradford was honorably discharged from the Army due to an injury, according to his parents, who clutched a photo of him in uniform during an interview with ABC News Saturday and at the news conference on Sunday.
An Army spokesman said only that Bradford Jr. "never completed individual training" and was not considered to have served. Bradford had returned home to Alabama to work full-time.
The 18-year-old victim remains in a hospital in serious condition while the 12-year-old girl was stable.
Protesters gathered at the mall on Saturday, some carrying a black and red banner reading "Justice for EJ." Crump said the family was looking into legal action over the shooting.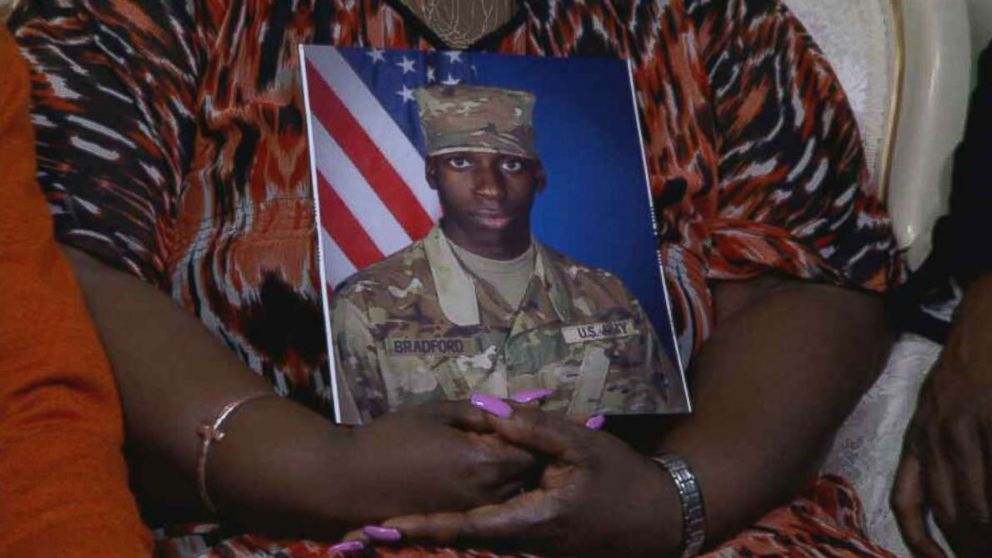 Protest organizers plan to hold another demonstration on Monday afternoon outside the Hoover City Jail.
"Equal justice, we plan to get it under the law, because of what they've had to endure," Crump said, referring to Bradford's parents.
"You can't bring back my child; you can't clean it up," Bradford's father told ABC News.
He called for the police officer who killed Bradford to be punished, saying, "They need to be locked up."