A white former North Carolina police officer, who was captured on body camera video in 2017 beating and using a stun gun on an African-American man stopped for jaywalking, was the subject Thursday in a criminal arrest warrant for assault and communicating threats, the Buncombe County district attorney announced.
The warrant against Christopher Hickman was issued by Chief Magistrate D.L. Cowan on charges of assault by strangulation, assault inflicting serious injury and communicating threats, according to a press release from District Attorney Todd Williams.
The announcement, which also said no further comment would be forthcoming, comes days after the Asheville Police Department, where Hickman worked at the time of the alleged assault, submitted the results of its investigation into Hickman's actions.
The announcement comes after the North Carolina State Bureau of Investigation, which had declined to open its own investigation into the matter, said the FBI had launched a criminal investigation into the case.
Federal agents were asked by the North Carolina State Bureau of Investigation to conduct the criminal probe against Hickman, officials said.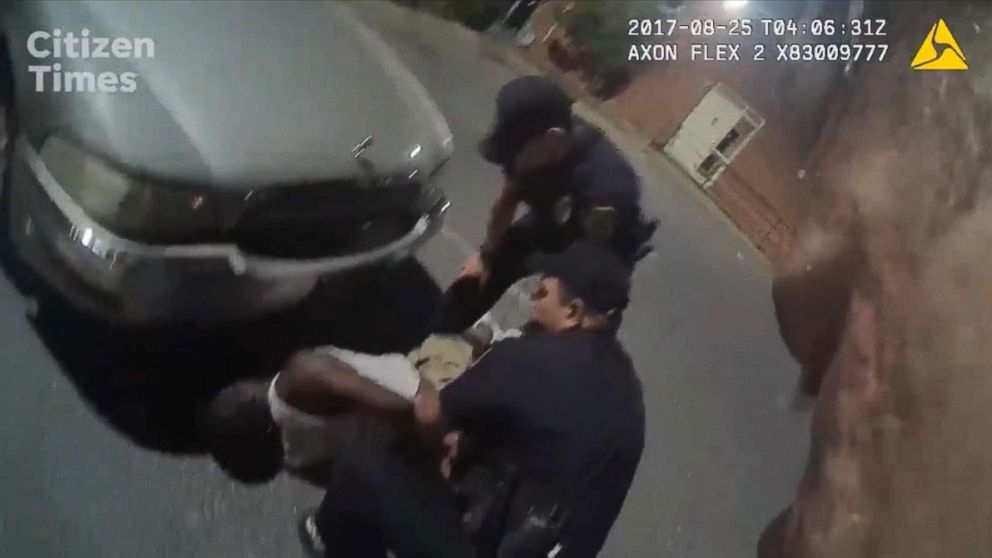 Patty McQuillan, a spokesman for the state Bureau of Investigation, said the decision to bring in the FBI was made after discussions with the Buncombe County District Attorney's Office.
"The SBI director has discussed this with the district attorney and has declined to open a separate state investigation at this time given that the SBI is already assisting with a federal criminal investigation which will encompass most, if not all, of the issues set forth in the district attorney's request," McQuillan said in a statement to ABC News. "A second state investigation would likely duplicate much of the results of the ongoing federal investigation."
That did not deter Williams from asking the SBI director for a probe as late as March 2, according to a letter tweeted by the D.A. after the disturbing video was leaked to a news organization.
The criminal probe stems from an incident on Aug. 25, 2017, when Hickman and a partner he was training stopped 33-year-old Johnnie Jermaine Rush for allegedly jaywalking in Asheville.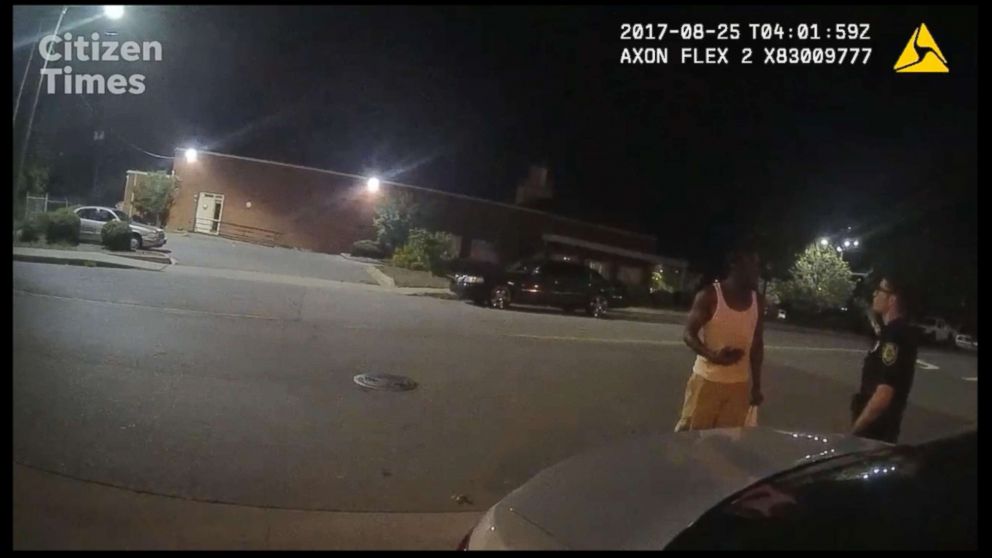 Video taken by Hickman's body camera, which was leaked to the Citizen Times of Asheville, shows he and his partner stopping Rush and telling him they had warned him four times to use a crosswalk instead of jaywalking and trespassing on private property.
"I don't care. I just got off of work, man," Rush told the officers.
Rush went on to tell the officers, "You ain't got nothing better to do besides mess with me, and I'm trying to go home?"
Hickman eventually ordered Rush to put his hands behind his back, but Rush backed away and started to run, the video shows.
As Hickman ran after Rush, he radioed a dispatcher, saying, "black male, tank top, thinks its funny." Then he yelled at Rush, "You know what's funny is you're going to get f----- up hardcore on the ground."
Hickman tackled Rush and the two men wrestled before Hickman's partner and at least two other back-up officers helped hold Rush down.
The video shows Hickman punching Rush in the head repeatedly and then shooting him with a yellow stun gun.
As officers held Rush on the ground and handcuffed him, Rush is heard on the video screaming in pain and yelling, "I can't breathe! I can't breathe."
Rush is shown in the footage being put in the back of a police car and paramedics checking his bloodied face and head.
As the footage continued, Hickman told an arriving supervisor that Rush "tried to drag the Taser out of my hand."
"I beat the s--- out of his head. I'm not going to lie about that," Hickman is heard saying.
Rush was arrested on suspicion of trespassing, impeding traffic and resisting a public officer.
In a report to the Asheville City Council on Monday, City Manager Gary Jackson wrote, "The use of force shown in the recordings is, understandably, a source of great anger and concern within the community."
"I am concerned that the public does not presently have access to all of the information necessary for it to judge the City's response to this officer's actions, and that absent that information, this matter will continue to negatively impact the community's perception of its police department and the way which the city responds to misconduct by its employees," Jackson wrote.
Jackson wrote that as soon as Asheville Police Chief Tammy Hooper saw the video on the night it was taken, she ordered Hickman to "to turn in his badge and gun."
On Sept. 15, 2017, Buncombe County District Attorney Todd Williams dropped all charges against Rush.
Jackson wrote that Hickman ordered a review of all body camera footage taken by Hickman while on duty. He said 58 hours of footage was reviewed and "revealed four other instances where Hickman displayed discourteous and rude conduct to members of the public."
"The administrative investigation into Hickman's arrest of Rush concluded that Hickman had engaged in excessive force in violation of [Asheville Police Department] policy, as well as unbecoming conduct and failing to meet the responsibilities of duty," Jackson wrote.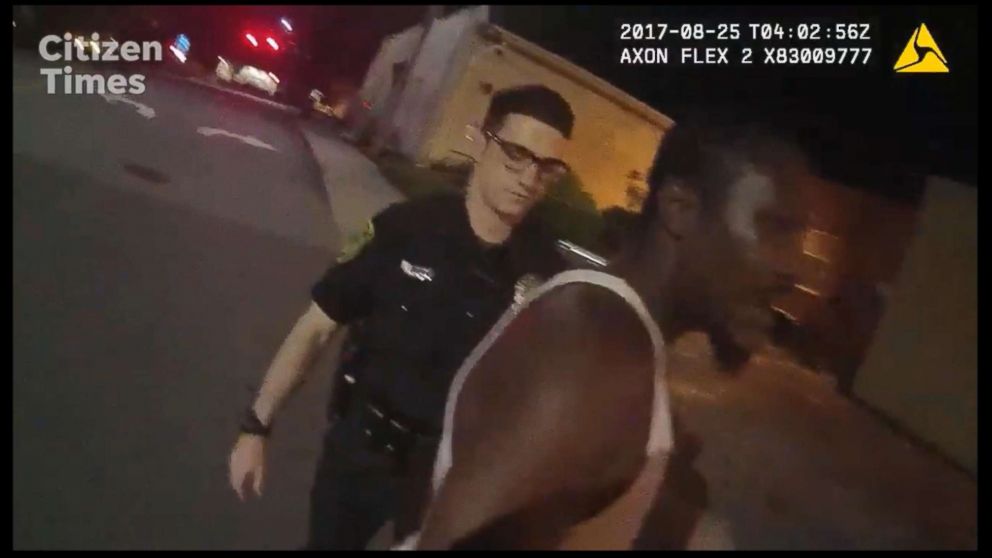 Chief Hooper fired Hickman on Jan. 5, according to Jackson.
"The community deserves to know that the City takes Hickman's misconduct seriously, and that APD employees who engage in excessive force will be held accountable."
Efforts by ABC News to reach Hickman for comment were not successful.
During a community meeting Wednesday night, many Asheville residents said Hickman should have been arrested and charged with assault.
"This is a human rights issue, and Hickman should've been charged from day one," DeLores Venabel, local Black Lives Matter leader, said during the meeting. "If no one would've leaked it [the video] or said something, we would be in the dark."
During the meeting, Hooper repeated an apology to the community she first publicly issued on March 1, saying, "I am happy to resign if that will solve the problem."