FBI probing whether Pensacola naval base suspect watched mass-shooting videos before attack, sources say
The preliminary assessment is that the alleged shooter acted alone.
Investigators are probing a report that the suspect in the deadly Florida naval base shooting watched mass-shooting videos in the presence of some friends in the days leading up to the attack, two people briefed on the probe told ABC News.
Three people were killed during the shooting at Naval Air Station Pensacola on Friday morning. The alleged shooter, identified by authorities as Mohammed Alshamrani, 21, a Saudi national and second lieutenant the country's air force who was in the United States for flight training, was shot and killed at the scene by Escambia County Sheriff's deputies, authorities said.
"We are, as we do in most active shooter investigations, working with the presumption that this was an act of terrorism," Rachel Rojas, special agent in charge of the FBI's Jacksonville, Florida, field office and the lead investigator on the Pensacola shooting, said at a news conference Sunday. "This allows us to take advantage of investigative techniques that can help us move more quickly, identify and then eliminate any additional potential threats to the rest of our community."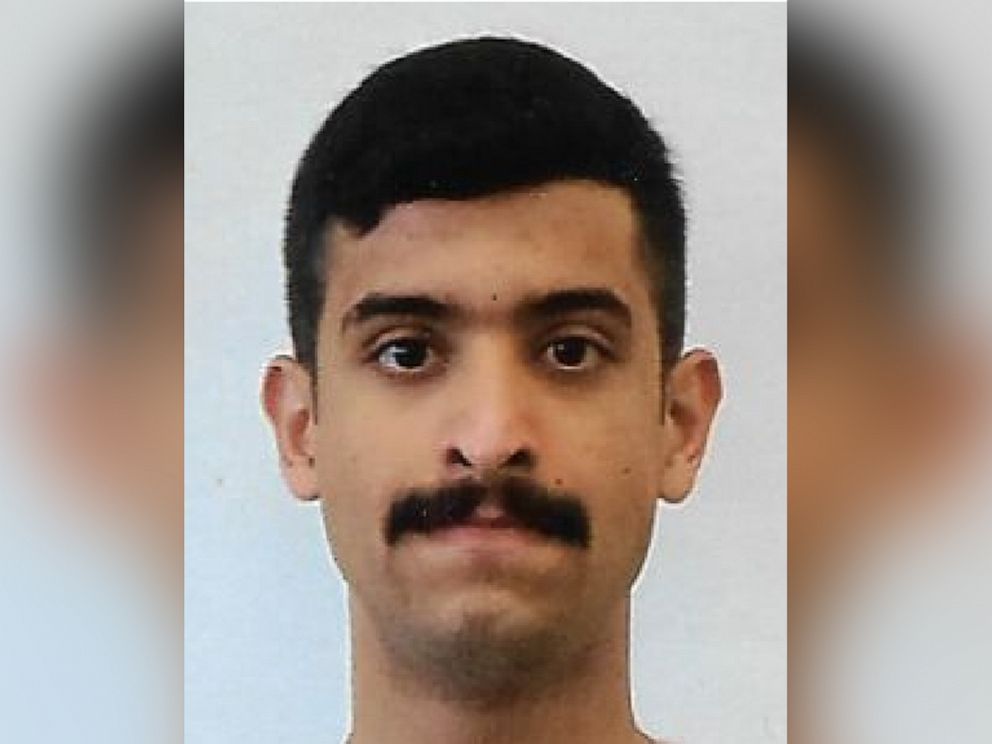 She emphasized the investigation has yet to find "any information that indicates any additional potential threats to the rest of the community."
Gun purchase legally
Rojas said Alshamrani used a Model 45 Glock 9 mm handgun. She said the gun was purchased "legally and lawfully" in Florida but declined to release specific information on when and where.
"As we speak," Rojas said, "members of the FBI's Joint Terrorism Task Force and the FBI's Counterterrorism Division are working tirelessly to discern if any possible ideology ... may have been a factor in this attack."
The shooting broke out in a classroom at the sprawling base just before 7 a.m. on Friday. The victims killed were identified Saturday night as Ensign Joshua Watson, 23, Airman Mohammed Haitham, 19, and Airman Apprentice Cameron Walters, 21.
The bodies of the victim were being taken to Dover Air Force Base on Sunday night, according to Rear Adm. Gary Mayers, commander of the Navy Region Southeast.
Walters' family released a statement on Sunday that read: "He was a true friend, fun loving, genuine soul, great brother and son. Made us so proud. He had 3 brothers and three sisters who adored him."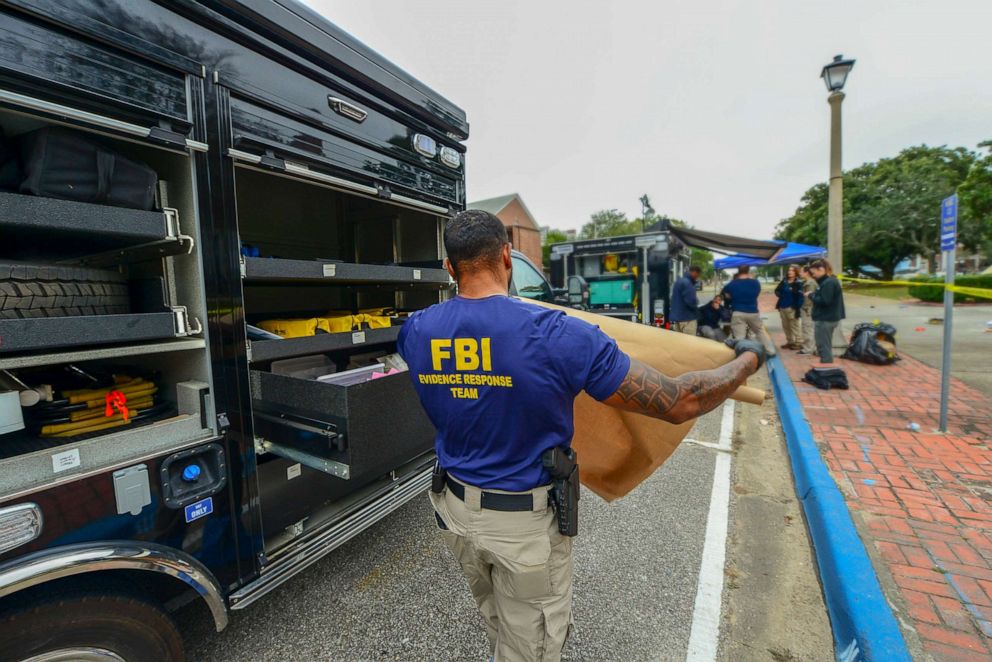 FBI agents also are trying to confirm whether the investigative lead that Alshamrani showed mass-shooting videos to friends is accurate and have been combing through his electronic devices for evidence of those videos. The information about the videos came from interviews with classmates of Alshamrani, sources told ABC News.
Investigators are being led to believe that this was not some sort of gathering called specifically to watch the videos or that the friends who were present were part of any plot. Investigators have been told the friends gathered with Alshamrani in an unplanned get-together in which Alshamrani apparently turned on the videos, the sources said.
Alshamrani is said to have wanted to "pump" himself up in the run-up to Friday's planned shooting, and the friends present were not aware that he was planning a lethal attack, sources said.
Rojas refused to comment on whether Alshamrani showed the mass-shooting videos at the recent gathering. But in a statement released Sunday afternoon, FBI officials said they have obtained and are reviewing digital evidence.
"This includes multiple videos from base security surveillance, as well as cellphone videos that were taken by a bystander from outside the building after the attack had started and after first responders had arrived. We have interviewed that person, and are analyzing the videos to determine if any details can further this investigation," the FBI statement reads.
Suspect believed to have acted alone
The preliminary assessment of investigators is that the shooter was not connected to a group or a band of conspirators. Instead, it is believed he acted alone.
"Our main goal right now is to confirm whether he acted alone or was he part of a larger network," Rojas said at Sunday's news conference. "We currently assess there was one gunman who perpetrated this attack and no arrests have been made in this case."
She said 80 FBI special agents and task force officers have been assigned to the investigation and that nearly 100 professional staff in FBI field offices across the country were assisting in the probe.
"There are a number of Saudi students who are close to the shooter and continue to cooperate in this investigation," she added. "Their Saudi commanding officer has restricted them to base, and the Saudi government has pledged to fully cooperate with our investigation."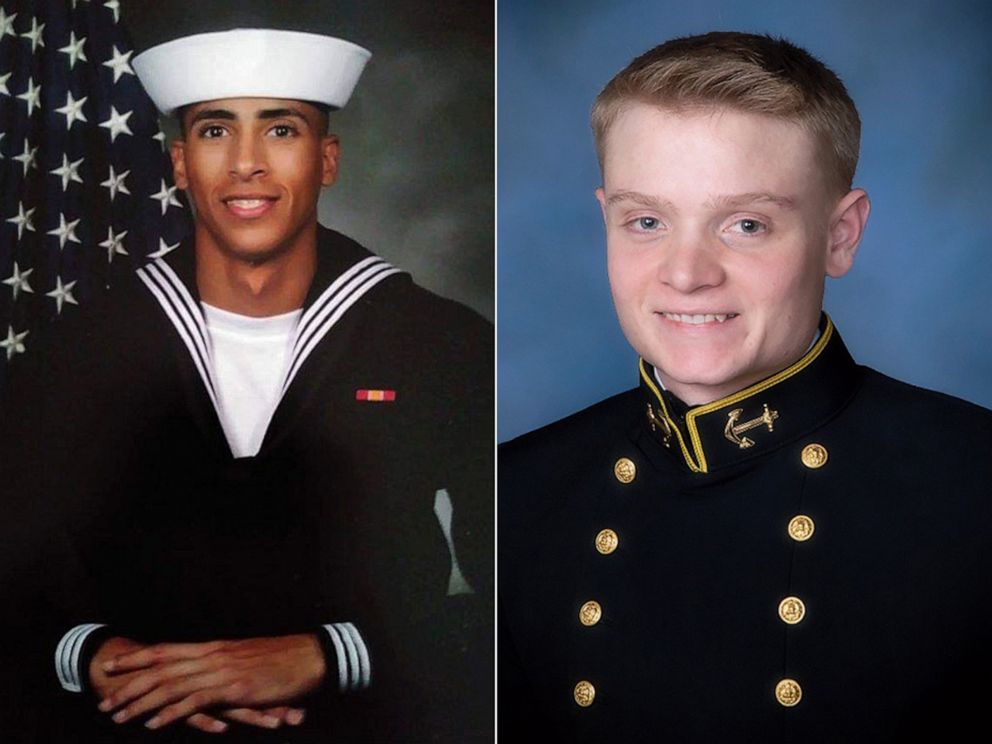 Rojas disputed media reports that the FBI had been unable to track down some international students participating in the naval air training program at the base.
"I can report that the FBI is working side-by-side with the U.S. Navy and they have confirmed to us that they have 100% accountability on all international students from NAS Pensacola," Rojas said.
Probe turns to Texas
FBI agents are piecing together details of Alshamrani's life -- both in the United States and overseas.
A key part of the investigation is taking place in Texas, three people briefed on the probe told ABC News.
When Alshamrani was first deployed to the U.S. for flight training, he was assigned to Lackland Air Force Base, now part of Joint Base San Antonio. Preliminary information indicates he was at Lackland for a few months going through language training, which is standard for overseas military personnel sent to the U.S. for training, the sources said.
"Like everything in his history, it's being looked at," one source told ABC News.
A spokeswoman for the FBI's San Antonio field office declined to comment.
He shopped at Halal market
Rojas encouraged anyone with information on the shooting or Alshamrani whereabouts leading up to the shooting to contact the FBI immediately, saying no tip is "too small."
Alshamrani was a recent regular customer at the International Grocery & Halal Meat in Pensacola, owner Karmul Islam told ABC News on Sunday. He said Muslims from the Navy base are regular customers, and he quickly recognized a photo of Alshamrani showed to him by ABC News.
He said he couldn't recall what Alshamrani purchased at the store, only that he was a pleasant yet unremarkable customer who'd been coming in over the past few weeks. The last time he said he saw Alshamrani was about two weeks ago.
2 Navy base shootings in 3-day period
The shooting came just two days after an active-duty sailor allegedly opened fire on three civilian employees, killing two, at the Pearl Harbor Naval Shipyard near Honolulu before taking his own life.
Authorities have found no evidence linking the two shootings.
On Wednesday, a 22-year-old naval sailor identified by the military as G. Romero allegedly opened fire on shipyard personnel at the Pearl Harbor Naval Shipyard with his M4 service rifle and then used his M9 service pistol to shoot himself, the official said.
Three civilian Department of Defense workers were found shot in the vicinity of the base's Dry Dock 2. Two died, and a third was last reported to be in stable condition, according to Rear Adm. Robert Chadwick, commander, Navy Region Hawaii.
Pentagon to review program
Defense Secretary Mark Esper said on Sunday during an interview on Fox News that he's requested the Pentagon investigate the breach in security at the Pensacola base to determine if any corrective action needs to be taken immediately. He also asked the Pentagon to "review of what our screening procedures are with regard to foreign nationals coming into the United States."
Military experts said the training program in which Alshamrani was participating in Pensacola has been around for decades, drawing elite military officers from around the world.
"The program of training foreign nationals in the military is one of the best ways we build long-term relationships with countries all over the world, not just the Saudis," Michael "Mick" Mulroy, a former U.S. deputy assistant secretary of defense.
Mulroy and former Navy SEAL Eric Oehlerich, both ABC News contributors and founders of Lobo Institute, which provides consulting and teaching on current and future military conflicts, said most officers accepted into the program are thoroughly vetted.
"These are military officers of a partner nation who have applied and met some pretty high standards to be able to get into the program," Mulroy said.
Mulroy said there is also a practical component to the program: Teaching foreign pilots to fly jets the Defense Department sells to their countries.
"If that program is ended, so will the sales," Mulroy said.
Florida Gov. Ron DeSantis said at a news conference Sunday night that he suspects Alshamrani was "a guy that had a deep-seeded hatred for the U.S."
"My view," the governor said, "is that for us to be bringing in these foreign nationals, you have to take precautions to protect the country. The fact of the matter is, bringing people from Saudi Arabia, you need to be on guard about that."
ABC News' Chris Francescani contributed to this report.