— -- The FBI today released a surveillance image of two unidentified men who apparently made off with a bag that had contained one of the explosive devices allegedly planted by Chelsea bombing suspect Ahmad Rahami.
A "seeking information" poster circulated by the FBI says the men "allegedly located a piece of luggage on the sidewalk, removed an improvised explosive device from the luggage and then left the vicinity leaving the device behind but taking the luggage."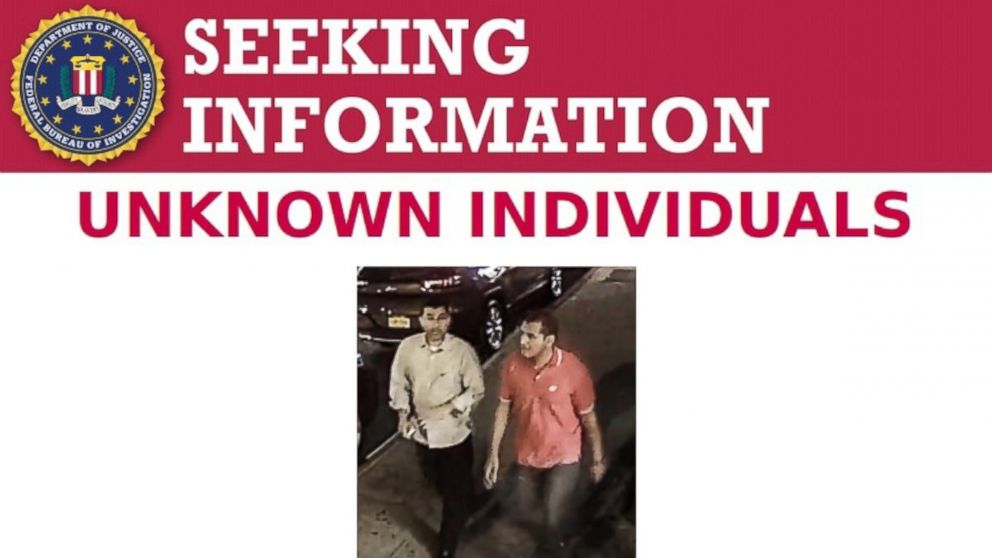 The suitcase was left at the location on 27th Street by Rahami just minutes before and right around the time that another explosive device detonated on 23rd Street, injuring 31 people, according to a criminal complaint filed against Rahami late Tuesday. The 27th Street bomb never exploded.
"The FBI is interested in speaking to these individuals and recovering the luggage," the poster says.
NYPD chief of counterterrorism James Waters described the two men in the poster as "witnesses." Waters said the men were not in danger of being arrested and appear to have been "very, very lucky" after handling the device.
Police previously said they believe the two men were "just strolling up and down 7th avenue at the time" and did not appear to be related to the plot.
Still, NYPD commissioner James O'Neill said today that authorities are still trying to determine if Rahami acted alone or he had accomplices.