The Federal Communications Commission is moving forward with a plan to create a new three-digit hotline number, similar to 911, to enable quick access to national suicide prevention resources.
In a report sent to Congress in August, the FCC's Wireline Competition Bureau and Office of Economics laid out its recommendation to designate 988 as the three-digit dialing number to quickly access the nationwide suicide prevention and mental health hotline, the agency said.
"The Lifeline has become the nation's mental health and suicide prevention safety net," the report said. "In many communities the only immediately available resource for a suicidal person would be an emergency room or the Lifeline and its network of crisis centers."
FCC Chairman Ajit Pai said the services are already provided by the National Suicide Prevention Lifeline at 1-800-273-8255 (TALK), but he said a three-digit number could help combat the country's growing "suicide epidemic."
National Suicide Prevention Lifeline counselors answered more than 2.2 million calls and 100,000 online chats last year, according to the FCC's report, which was mandated under President Donald Trump's National Suicide Hotline Improvement Act of 2018. The hotline receives an average of about 188,000 calls and 9,000 crisis chats per day, according to the report.
Talinda Bennington, the wife of Linkin Park frontman Chester Bennington, who died by suicide, has become an advocate for mental health and suicide prevention, leading the campaign 320 Changes Direction.
"If there is a simple number to call where they will be able to have resources at hand and an ear to listen, that simple step is going to save lives," Bennington told ABC News.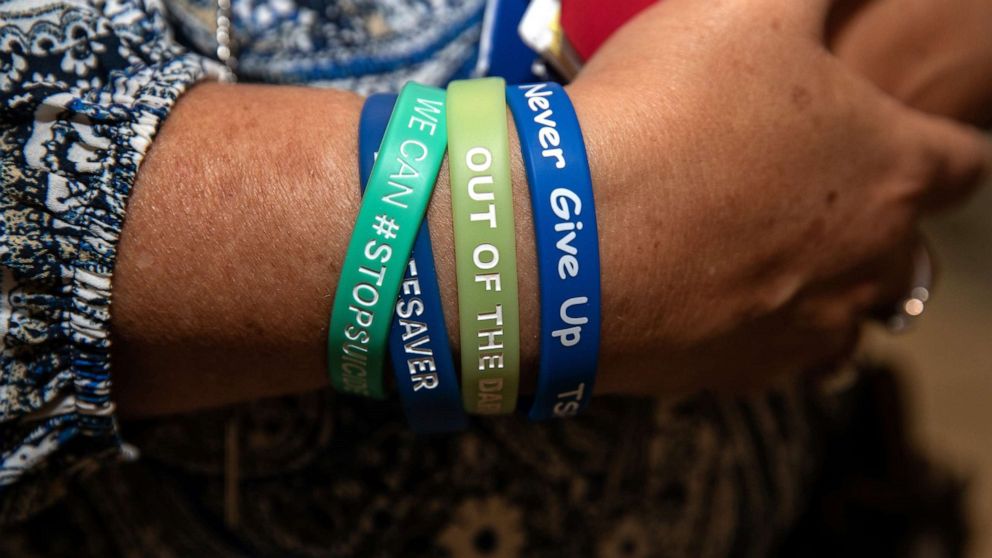 "Mental health is as important as our physical health and we need to take care of it just the same. Anytime our government takes notice and makes a change, that's making a bold statement that they are aware this change needs to come about, because it's being acknowledged," Bennington added.
The new number would be the same hotline that would offer 24/7 free and confidential support for anyone in distress and best practices for professionals, but with a simple and easier-to-remember number.
"There is a suicide epidemic in this country, and it is disproportionately affecting at-risk populations, including our veterans and LGBTQ youth," Pai said in a statement. "Crisis call centers have been shown to save lives."
"This report recommends using a three-digit number to make it easier to access the critical suicide prevention and mental health services these call centers provide," he added.
Pai said he plans to push forward with a rule-making proceeding. The proposal will be subject to a period of public comment and a final vote among the agency's commissioners on Dec.12 before it can go into effect.
Dr. Jennifer Ashton, ABC News' chief medical correspondent, has publicly shared the story of her ex-husband's death by suicide. Having reframed her tragedy as a means to empower others who have experienced loss and advocate for suicide prevention, she supports the FCC's efforts to implement a three-digit number.
"Unfortunately, I think with the suicide epidemic that we are seeing in this country, it's come to the point where parents need to teach their children that three-digit number just like we teach our children to call 911 if we see a fire or a police emergency," she told ABC News.
On the May 21 edition of her podcast, "Life After Suicide," Ashton discussed the benefits of a national three-digit code to help minimize stigma and make resources more accessible with Executive Director of the National Suicide Prevention Lifeline Dr. John Draper.
He said his daughter told him, "We have a three-digit number for medical emergencies. If we had one for a psychological emergencies, people would know that psychological emergencies are real and they require a different response -- not cops or an ambulance, but a caring voice."
Eden David, a rising senior at Columbia University majoring in neuroscience, matriculating into medical school in 2020 and working for ABC News' Medical Unit, contributed to this report.