Big wheels, big crowds and big air are synonymous with monster truck racing. But one unexpected surprise is the diversity of the drivers behind the wheel of the high-octane and heart-pumping sport.
Two female competitors leading the pack in a traditionally male-dominated field told "Nightline's" Linzie Janis that they're in it for the thrill of the chase.
Candice Jolly said driving a 12,000-pound monster truck is "exhilarating" while Cynthia Gauthier described it as "non-stop adrenaline."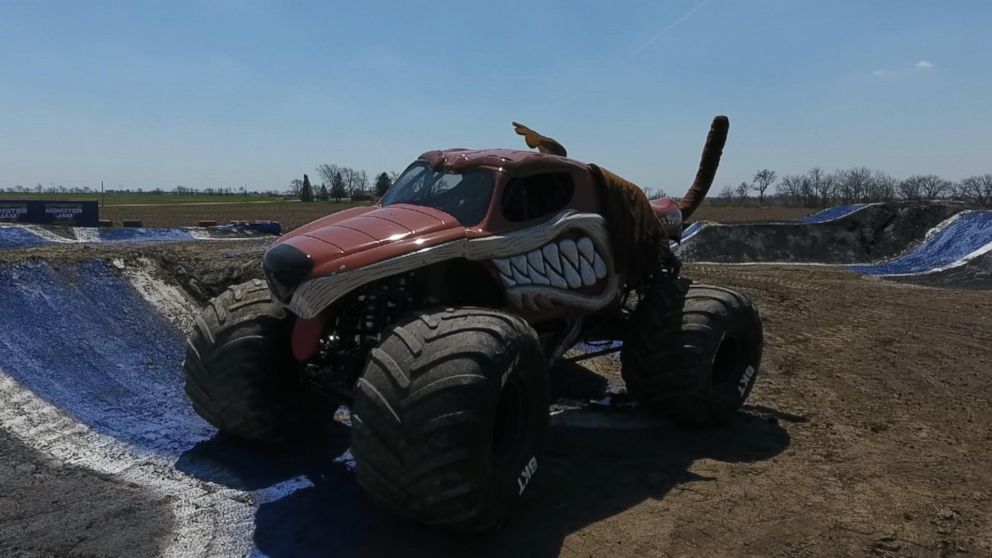 Both drivers pulled out all the stops to prepare for the Monster Jam World Finals in Las Vegas, Nevada. The freestyle and racing competition pits both male and female drivers against each other in a rare head-to-head battle in the extreme sports world.
Jolly said she has "absolutely" beat men in other competitions, which Gauthier described as the "best feeling."
Monster Jam is the most popular over-sized motorsport tour in the U.S. and can draw in upwards of 4 million spectators around the country annually, with thousands more in overseas markets like Brazil and Australia.
Jolly and Gauthier's dog-themed vehicles have reached near-celebrity status worldwide, but their reputation is backed by hard work and serious skill.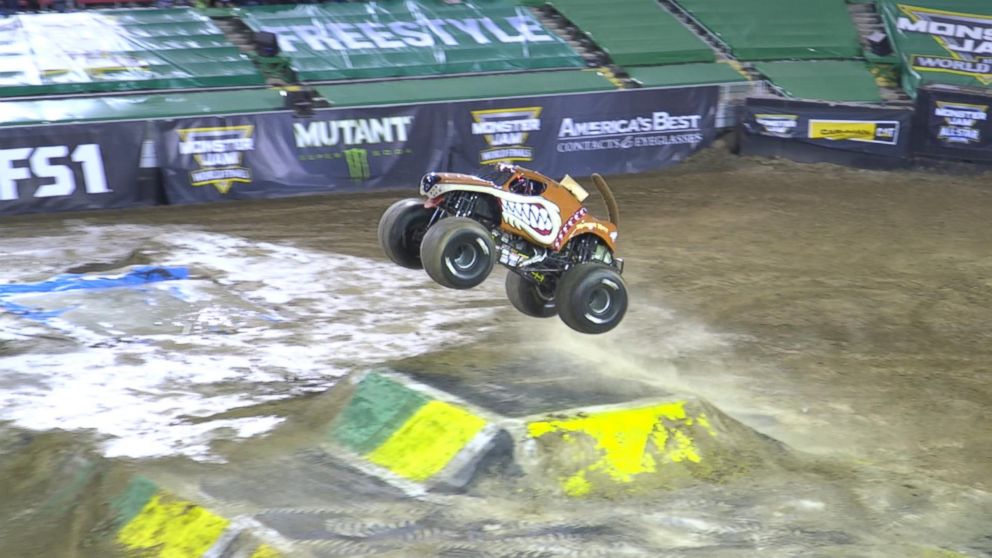 The home base for Monster Jam University is ironically located in the small, quiet town of Paxton, Illinois. "It's the perfect place to try new things, push a limit," Gauthier said.
Jolly took a unique route getting behind the wheel of her oversized-truck. The mother of two is a former beauty queen who traded in dainty tiaras for powerful torque and engines.
"I went to a Monster Jam show and the first time I saw these trucks I said I have to drive one of these things," Jolly said.
Gauthier, 29, is a longtime gearhead but has a newfound use for some of her monster truck equipment. She flips the 440-pound tires as part of her workouts to get herself into top shape for the track.
And that's not the only thing that the ladies flip. The massive vehicles can topple over from time to time while racing and practicing, but Jolly said she can usually keep it under control.
"Normally I'm a little upset with myself because I didn't save it. That's usually our goal. I would like to take the truck to the ragged edge and then bring it back," she explained.
But as far as actual concerns of safety Jolly said, "I'm not worried at all when I'm at my truck." She noted that ambulances parked nearby are there "just in case" for insurance purposes.
Jolly told Janis "I always feel safe" but she does keep other safety measures inside the truck in case of a potential fire.
"I have been on fire before," she said. "Not me personally but my Monster Jam truck has," Jolly explained. "But it was fine," she clarified. "I was already gone out of the truck. Burn baby burn."
After getting behind the wheel and attempting to drive the monster truck Janis told the ladies she has a newfound appreciation for their work. "Wow, I have so much respect for you! That is hard. And it's physical."
But talent alone won't be enough for one of the ladies to take the title at the finals in Las Vegas, their vehicles have to be in pristine condition.
One of the team's engineers, Daniel Crawford, said there are also specific regulations to help ensure the drivers' safety.
"Just like any racing entity our cubic engine is restricted, our fuel is restricted," Crawford said. "It's all for the safety -- We are grounded by certain rules that keep us in the same ballpark."
Those rules also help level the playing field for male and female drivers. "That's the beauty of these monster jam trucks because with the shocks and the way everything is set up we don't have to be as big as these guys driving these trucks the truck equalizes it," Jolly explained. "So we can go out there and perform and be just as good as them."
Another factor beyond just sizing up the competition are the unique challenges of the course itself.
"This is the main track at Monster Jam," Gauthier said walking around the course. "It's awesome because every year it will change. It's always a surprise for the drivers and we are so nervous to see it."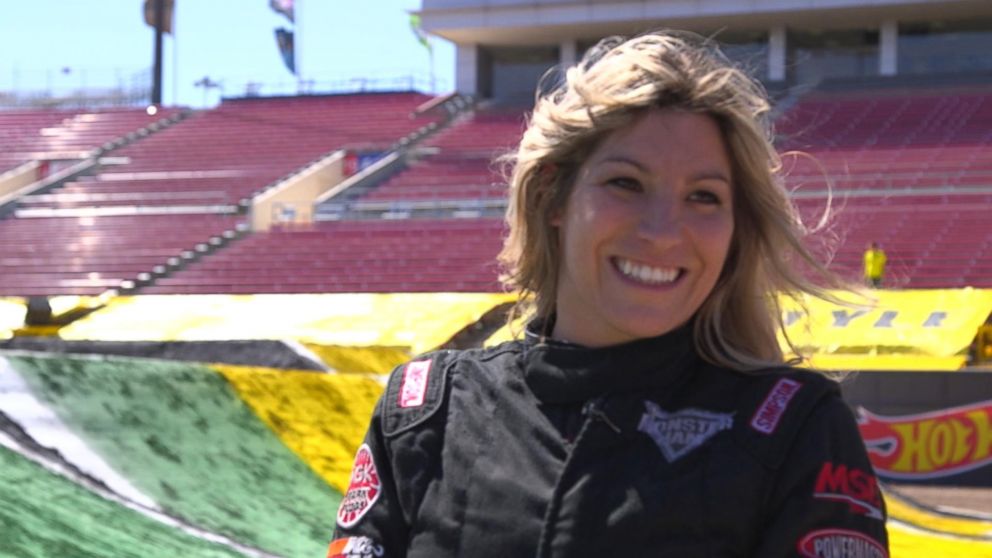 "It is extreme," Jolly added. "You never know what you're going to get at Monster Jam -- With freestyle, we get 90 seconds to go out there and wow those monster jams fans." And the fan involvement is especially crucial because their vote is factored into the judges' scores.
Despite strong showings from both Jolly and Gauthier at this year's freestyle competition they still missed the podium.
"I had so much fun," Gauthier said in spite of losing.
And for Jolly, winning the competition isn't everything, especially since she is inspiring younger generations.
"I've had so many dads that have come up to me that they brought their daughter to Monster Jam because the son wanted to come. And now the little girl wants to be a Monster Jam driver and it's because [of] women like us that are out there supporting the sport and getting all the female fans involved."