Flaco, the escaped Central Park Zoo owl, proving he can survive outside enclosure
"He's beautiful," said one birdwatcher.
When he first escaped from his vandalized enclosure at New York City's Central Park Zoo, handlers of Flaco, a Eurasian eagle owl, doubted he could survive on his own after spending most of his life in captivity.
But 12 days after he flew the coop, the nocturnal bird of prey is proving his doubters wrong. He's not only showing he's an agile aviator, swooping from tree to tree along "Billionaires' Row" on Central Park South, but he's also a quick study when it comes to hunting, zoo officials said.
After he escaped, Central Park Zoo officials said a major concern was whether Flaco would be able to fend for himself in the wilds of the asphalt jungle. "That is no longer a concern," zoo officials said.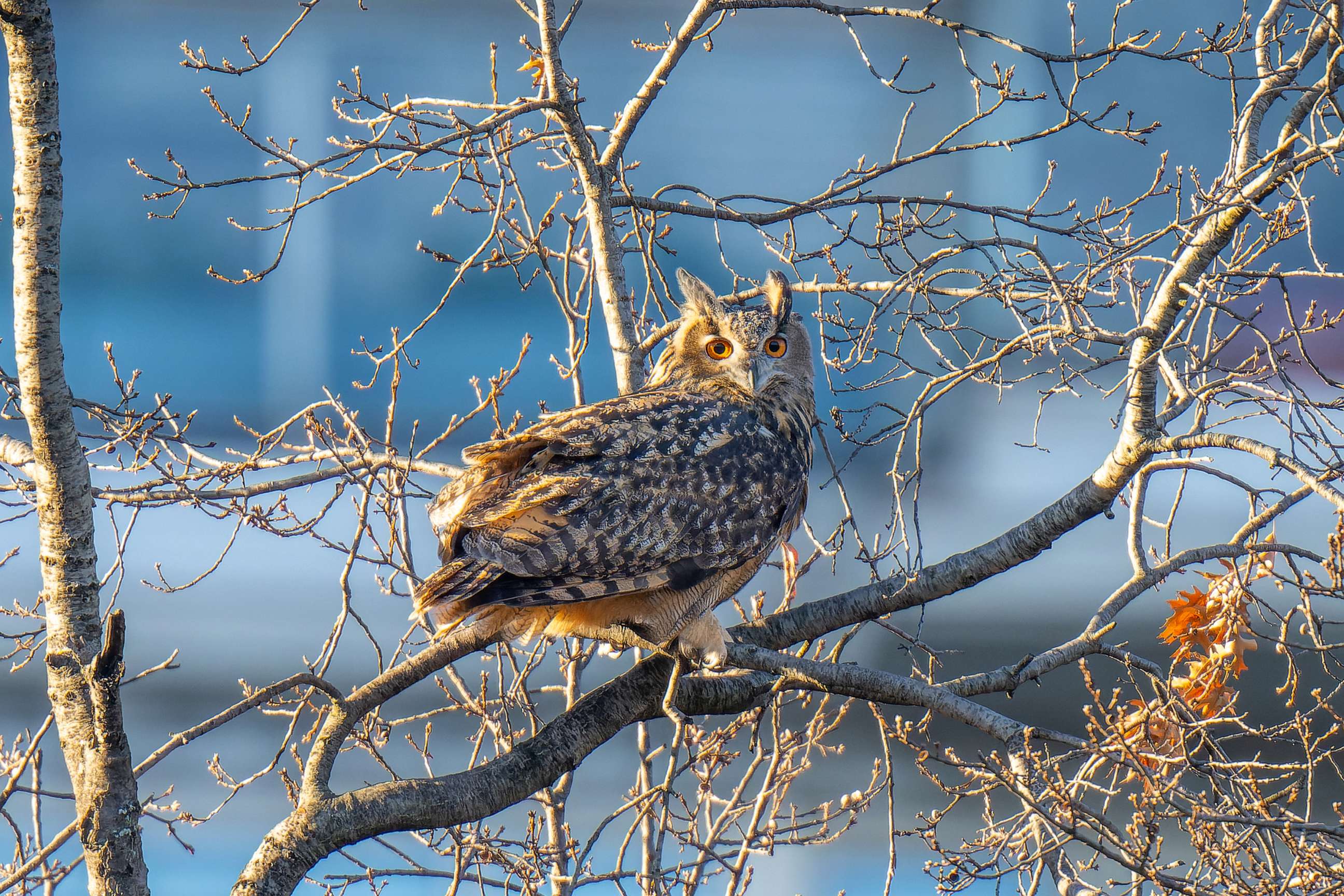 "Since that first night, our staff has intensely monitored the eagle owl each day and evening to document and observe his behavior and activity in Central Park," zoo officials said in a statement Sunday. "Several days ago, we observed him successfully hunting, catching and consuming prey. We have seen a rapid improvement in his flight skills and ability to confidently maneuver around the park."
The owl has recently been spotted several times munching on rodents while perched in trees.
Flaco's adventures outside captivity began Feb. 2 when zoo staff noticed him missing around 8:30 p.m. and reported to the New York Police Department that it appeared a vandal had cut the stainless steel mesh of his exhibit, according to zoo officials.
The NYPD said the incident is still under investigation and no arrests have been made.
Zoo staffers quickly launched a search for the owl. Stunned witnesses first spotting him on the sidewalk on Fifth Avenue near the famous Bergdorf Goodman luxury department store. But since then, he has mostly stayed in the southern end of Central Park, flying back and forth from the West Side to the East Side, even perching on trees inside the zoo.
A team of zoo staffers armed with nets and traps had been monitoring Flaco's movements around-the-clock as he avoided their attempts to "rescue" him.
"Since our recovery strategies, thus far, have all been based on luring him to familiar food items, we need to rethink our approach," zoo officials said in their update Sunday. "Our main concern has always been for the well-being of the eagle owl. Our observations indicate that he seems to be comfortable in the area of the park where he has been hunting, and we don't want to do anything to encourage him to leave this site."
Zoo officials said that while Flaco "faces potential challenges in this environment on a daily basis," they have scaled back in their attempts to recover him.
One big concern is that Flaco could eat a poisoned rat. In August 2021, a barred owl nicknamed "Barry" by Central Park birders was killed when it flew into the path of a Central Park Conservancy maintenance vehicle. A necropsy done on Barry detected a potentially lethal level of rat poison that could have impaired the owl's flying abilities, officials said.
"We will continue to monitor him, though not as intensely, and look to opportunistically recover him when the situation is right," zoo officials said of Flaco.
Meanwhile, Flaco has quickly become the city's latest celebrity bird, drawing huge crowds in the park over the weekend that rivaled those attracted by the Mandarin duck, a brilliantly colorful fowl who mysteriously appeared in the park in 2018, stayed in the area for several months before vanishing without a trace.
"I just wanted to see him. I just think it's really fun," said Jen Roff, an economics professor at The City University of New York, who glimpsed Flaco through her binoculars as he slept in a tree Monday afternoon. "I think he's beautiful. He's gorgeous."
Moustafa Elbeik also stopped by Central Park during his lunch break Monday to get a gander at the owl.
"It's exciting that we get to see a creature out here like this," Elbeik told ABC News. "It's pretty rare."
Elbeik added that it was also a relief to hear Flaco is now catching his own food, saying, "It's pretty impressive."
"He's helping to take care of our rat problem," Elbeik said. "So, that's much appreciated."