— -- Some patients who were admitted to a South Florida hospital after they were evacuated from a nearby nursing home that had lost air conditioning due to Hurricane Irma had temperatures of up to 106 degrees, officials from Memorial Regional Hospital in Hollywood told ABC News.
Eight residents of the Rehabilitation Center at Hollywood Hills, which is affiliated with the Larkin Community Hospital, died this week after the facility's air conditioning system failed.
Hospital staff describe chaotic scene
Recognizing a problem
Judy Frum, chief nursing officer for the Memorial HealthCare System, said in a press conference Thursday that she was manning the nurse's command center in the aftermath of Irma when three patients came in Wednesday morning with "extraordinarily high temperatures."
The patients' conditions "set off a red flag" that something may be going on at the nursing home, which is located near to the hospital but not affiliated with it.
Frum decided to "take a walk" over to the center, where she saw first responders were already there, she said.
When Frum walked in the door, the first thing she noticed was that a number of the center's staff appeared "extraordinarily stressed and panicked" as they were "doing everything humanly possible to move them to a cooler area" that had fans blowing, she said. It was apparent that "it was a situation where we knew we had to get those patients evacuated," she said.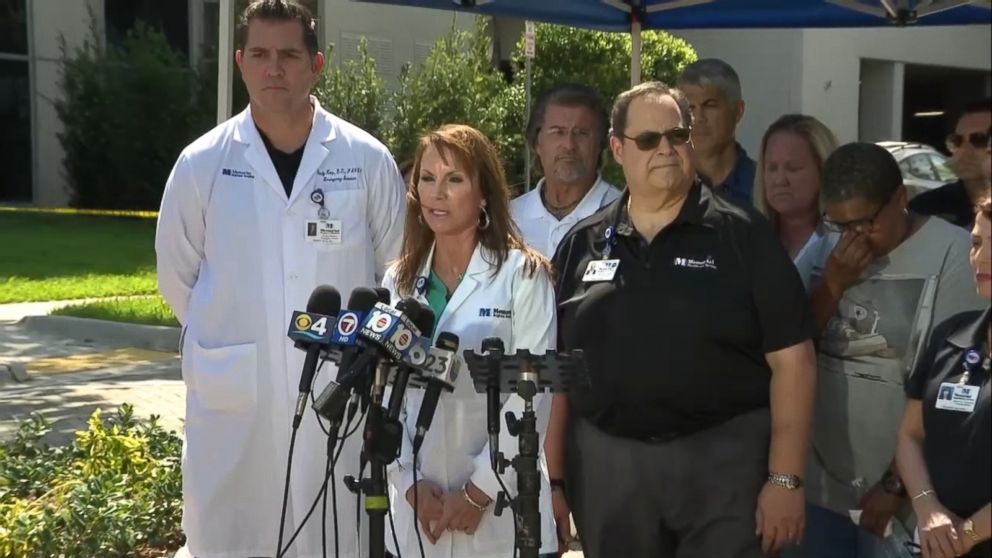 The hospital's rapid response
Dr. Randy Katz, medical director of emergency services at Memorial Regional Hospital, said he arrived at the hospital at 7 a.m. to a chaotic scene, with several hospital staff members en route to the hospital with patients on stretchers.
It was clear to doctors that a number of patients were dehydrated, Katz said.
"Visually, you could see that they were sick," he said.
Hospital staff were labeling patients as red, yellow or green, based on their medical conditions, Katz said, adding that the staff did a "phenomenal job" in its rapid response.
The hospital prepares and drills for mass casualty incidents on a regular basis, Katz said.
A total of 119 patients from the nursing home were admitted to Memorial Regional Hospital, said Zeff Ross, chief executive officer of Memorial Regional Hospital. A total of 39 patients remain admitted, he said.
Police investigating deaths of 8 nursing home patients
Police in Hollywood, Florida, are investigating the eight deaths -- a warrant has been signed to begin searching the nursing home and a criminal investigation is underway.
The city first "became [aware] a crisis was unfolding at the facility after multiple calls in the early morning hours" Wednesday, city spokesperson Raelin Storey said this morning. Of the eight patient deaths, seven occurred Wednesday. The first occurred Tuesday at the facility; that individual had a "do not resuscitate" order and the deceased was transferred to a funeral home, but authorities have now retrieved the body.
Hollywood Fire Rescue crews responded to the nursing home for a call at about 3 a.m. Wednesday regarding a patient who was reportedly in cardiac arrest. That patient was transported to a hospital, police said.
At 4 a.m., firefighters were sent back to the facility to transport a patient reportedly experiencing breathing problems, police said. After the second call, fire officials called the state Department of Children and Families to report concerns about the facility.
A third call later came in as well, police said. After additional crews arrived, three patients were found dead on the second floor of the nursing home, and several other patients were found to be in "varying degrees of medical distress," authorities said.
The nursing home eventually evacuated all of its patients Wednesday morning at the order of the responding crews.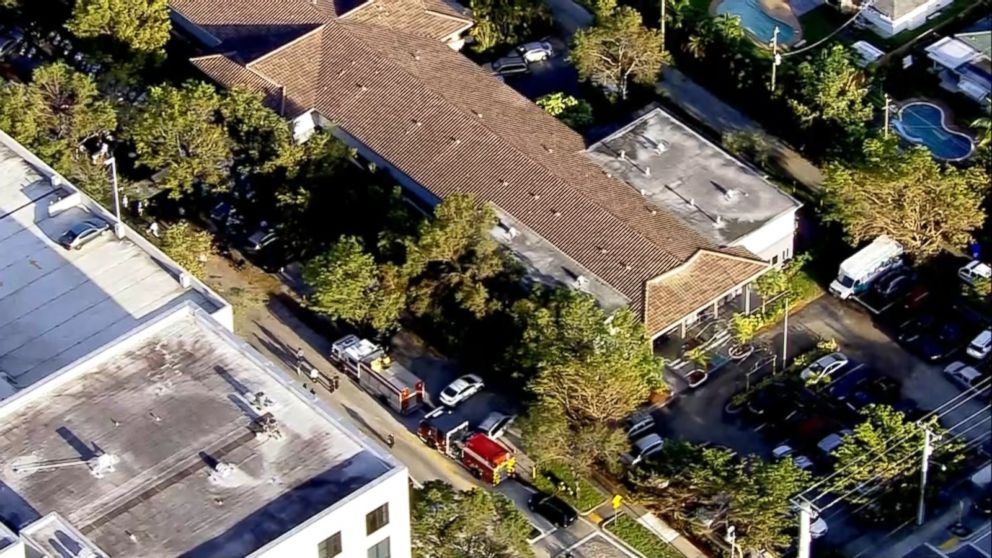 Daughter of nursing home resident 'upset' with caregivers
Miramar resident Bendetta Craig said she allegedly received a call from her mother's nurse early Wednesday morning alerting Craig that she could not enter the building. She didn't realize how dire the situation was until her friend called her later, telling her to turn on the news.
When she called the nurse back, she said she was looking for her mother, 87-year-old Edna Jefferson, Craig said.
Once Craig got to the hospital, she said hospital staff treated her like a "VIP" and escorted her to her mother within 25 minutes.
"They offered me anything and everything to comfort me, to comfort the family," Craig said, praising hospital staff. "God is here. God is here with all of us."
Craig said that she is upset that the people she entrusted with her mother's care put her in a midst of an "unnecessary tragedy."
"We throw our elderly away," she said. "That's my mother, somebody's mother, somebody's sister, somebody's father. They're not dollar signs."
Craig said she made the decision to leave her mother at the center during the hurricane because the staff allegedly assured her that the facility was a hurricane center and that they had everything they needed.
'What a price to pay'
One of the eight deceased was Betty Hibbard, 84. Her caregiver and friend of 63 years, Jean Johnson, told ABC News she visited Hibbard at the nursing home on Tuesday and described it as being very hot inside, with patients sitting in the hallway with fans or portable air conditioning units.
Johnson, 83, said her friend was one those in the hallway. She said Hibbard told her, "I can't breathe."
"Over the years there's been several times that we came over and it would be awfully warm in there," Johnson said. "I never had to wear a coat in there ever."
Johnson added that if Hibbard had been at home, she would've called 911 but since this was a nursing home she said she didn't want to "overstep" and stayed out of their way.
But Johnson said she never thought her friend would die.
"She was a friend," Johnson said. "She was absolute a true friend."
"What a price to pay," Johnson said of the eight people who died. "They were wonderful people."
The other victims were: Bobby Owens, 84; Manuel Mario Medieta, 96; Miguel Antonio Franco, 92; Estella Hendricks, 71; Gail Nova, 71; Carolyn Eatherly, 78; and Albertina Vega, 99.
Florida governor vows to hold those responsible accountable
Broward County Mayor Barbara Sharief said the center had contacted the county's Emergency Operations Center Tuesday morning to alert that it had lost power and the incident was then reported as a "mission-critical request" to Florida Power & Light for power restoration.
Later that day, the center discovered a tree had landed on a transformer and reported that to the county, which in turn alerted FPL, Sharief said. When asked by emergency workers whether they had any medical needs or emergencies, center officials "did not request assistance or indicate any medical emergency existed," Sharief said.
Nursing home administrator Jorge Carballo said in a statement that the facility was evacuated Wednesday "due to a prolonged power failure to the transformer which powered the facility's air conditioning system as a result of the hurricane."
"Facility administration is cooperating fully with relevant authorities to investigate the circumstances that led to this unfortunate and tragic outcome. Our hearts go out to the families and friends of those who were affected," he added.
In a later statement, Carballo said, "The center and its medical and administrative staff diligently prepared" for the hurricane.
"We took part in emergency management preparedness calls with local and state emergency officials, other nursing homes and health regulators," he said. "While our center did not lose power during the storm, it did lose one transformer that powers the air conditioning unit. The center immediately contacted Florida Power & Light and continued to follow up with them for status updates on when repairs would be made. Outreach was also made to local emergency officials and first responders."
The center had a generator on standby "in compliance with state regulations," as well as seven days of food, water, ice and other supplies, including gas for the generator, Carballo added. After the air conditioning went down, staff set up "mobile cooling units and fans to cool the facility," Carballo said. Staff also "continually checked on residents' well-being" to ensure they were "hydrated and as comfortable as possible," Carballo said.
"We are devastated by these losses," Carballo said. "We are fully cooperating with all authorities and regulators to assess what went wrong and to ensure our other residents are cared for."
The Florida governor's office said Wednesday Department of Health officials were "in contact with Larkin Community Hospital Behavioral Health Services management and the Rehabilitation Center at Hollywood Hills over the past three days" and that "hospital administrators were advised to call 911 if they had any reason to believe that the health or safety of patients was at risk."
The governor's office said Tuesday "the facility reported to the AHCA [Agency for Health Care Administration] that they had power and access to fans and spot coolers."
Florida Gov. Rick Scott, who said in a statement that he was "heartbroken" to learn of the deaths and planned to "aggressively demand answers," said he directed the AHCA and DCF to work with law enforcement on an investigation. "If they find that anyone wasn't acting in the best interests of their patients, we will hold them accountable to the fullest extent of the law," the governor said.
ABC News' Ben Stein and Seniboye Tienabeso contributed to this report.