A standoff in a Florida grocery store between a hammer-wielding suspect and local law enforcement ended in an arrest and multiple charges after one quick-thinking official dinged the suspect in the back with first one and then a second can of Bush's extra brown sugar baked beans.
Justin Tyler Stanford, 25, walked into a Bay County grocery store last Thursday morning after destroying his vehicle near the store, according to a statement released by the Bay County Sheriff's office.
Bay County Sheriff Tommy Ford and several other law enforcement personnel responded to the grocery store after receiving inaccurate emergency calls from inside the store that an armed man was holding hostages inside and that someone had been shot.
When the authorities arrived they were trying to establish communication with the suspect inside but he walked out of the store, pointing the hammer as if it was a gun.
"We quickly realized that he wasn't holding a gun but weren't sure if he had a firearm on him," Bay County Sheriff's Major Jimmy Stanford told ABC News. Stanford is not related to the suspect, who shares the same last name.
As the three officers approached the entrance where Stanford was standing he started to swing his hammer at them, according to Major Stanford. The suspect then went back into the store.
In the video of the incident, Major Stanford is seen positioning himself behind the suspect, whose attention is on Sheriff Tommy Ford and Chief Joel Heape – at whom he was continuing to swing his hammer at them.
Major Stanford was hoping to catch the suspect off guard and apprehend him from behind but the suspect realized he was also being approached from behind.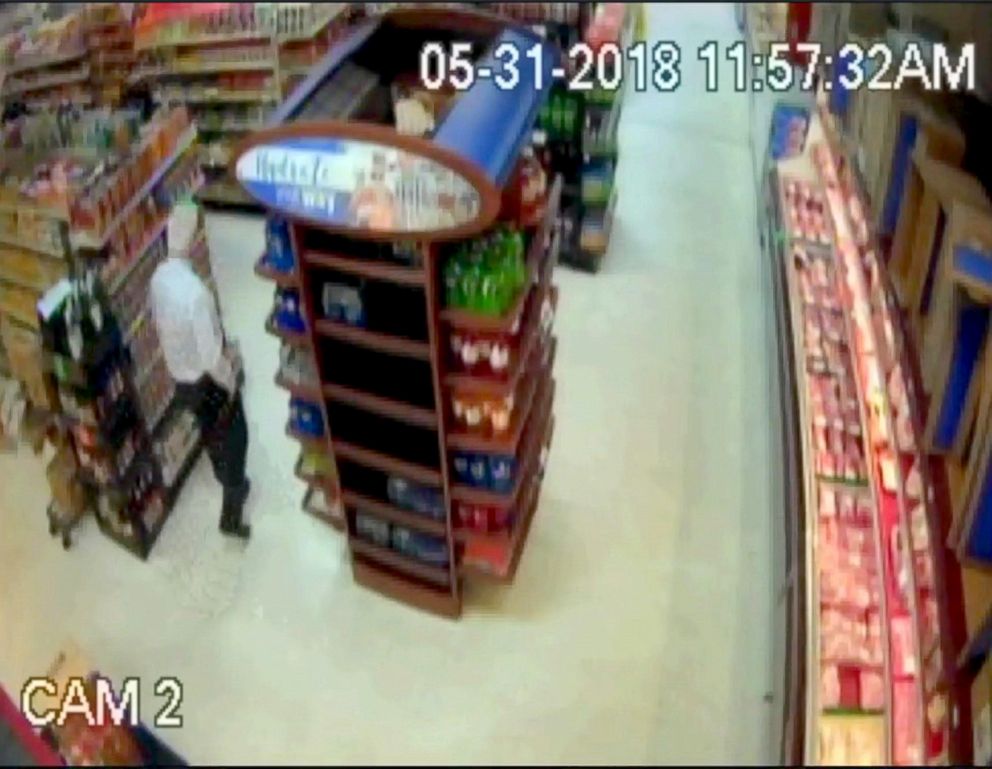 "He saw me and then I saw the cans and it was almost like they were meant to be there," Stanford said.
He quickly threw two cans of baked beans at the suspect, subduing him for a second, before all three law enforcement officials were able to apprehend him.
Stanford, the suspect, was taken to a local hospital for his injuries, and tried to take a weapon from a deputy who was standing guard over him in the emergency room, according to Major Stanford.
Justin Stanford is facing charges of assault, assault with a deadly weapon on a law enforcement officer, and resisting arrest with violence. He is currently in Bay County jail, and it was not immediately clear whether or not he has an attorney.
Major Stanford said that although they don't get trained to throw cans at suspects, he's glad he did it.
"I didn't want anyone to get hurt," Stanford said. "It seemed like the best thing to do in that moment."