New video obtained by ABC News shows Irvo Otieno before his March 6 in-custody death being pulled from his Henrico County jail cell and pushed into the back of a police SUV for transport to Virginia's Central State Hospital, where he died.
One view from the hallway shows seven deputies gathered outside Otieno's cell, preparing to enter.
As the door is opened, all seven deputies can be seen rushing into the cell, one carrying a pair of pants over his shoulder, the only clothing Otieno appeared to be wearing when he later died.
A second camera view shows deputies appearing to struggle with Otieno inside the cell. One deputy appears to make downward striking motions with his arm in the direction of Otieno, according to the footage. The view, however, is partially obstructed.
Approximately 14 minutes later, Otieno is seen in the footage being dragged from his cell by deputies through the hallway and toward the police van he'll be transported in as his pants begin to come off while he's being pulled.
Deputies attempt to cover his mostly naked body with a blanket before his pants are pulled up, footage shows.
Otieno is eventually forced into the back of a police van, with deputies pulling him and others pushing him in.
The police car carrying Otieno exits the jail at 3:10 p.m.
Previously obtained footage later captures Otieno and the moment surrounding his death at the Virginia hospital.
That footage shows sheriff's deputies and medical staff at the hospital carrying a handcuffed Otieno into a room and placing him on the floor.
The video shows Otieno being held down for nearly 11 minutes until he stops moving.
At some point, an injection was given to Otieno by hospital staff, according to Ann Cabell Baskervill, Dinwiddie County's Commonwealth attorney, who asserted the injection was likely given after he had died of asphyxia.
Seven Henrico County Sheriff's deputies and three Central State Hospital employees have been arrested and charged with second-degree murder. Additional charges and arrests are pending, according to the Commonwealth's attorney.
The deputies and hospital employees have been placed on administrative leave, pending the outcome of the Commonwealth's cases.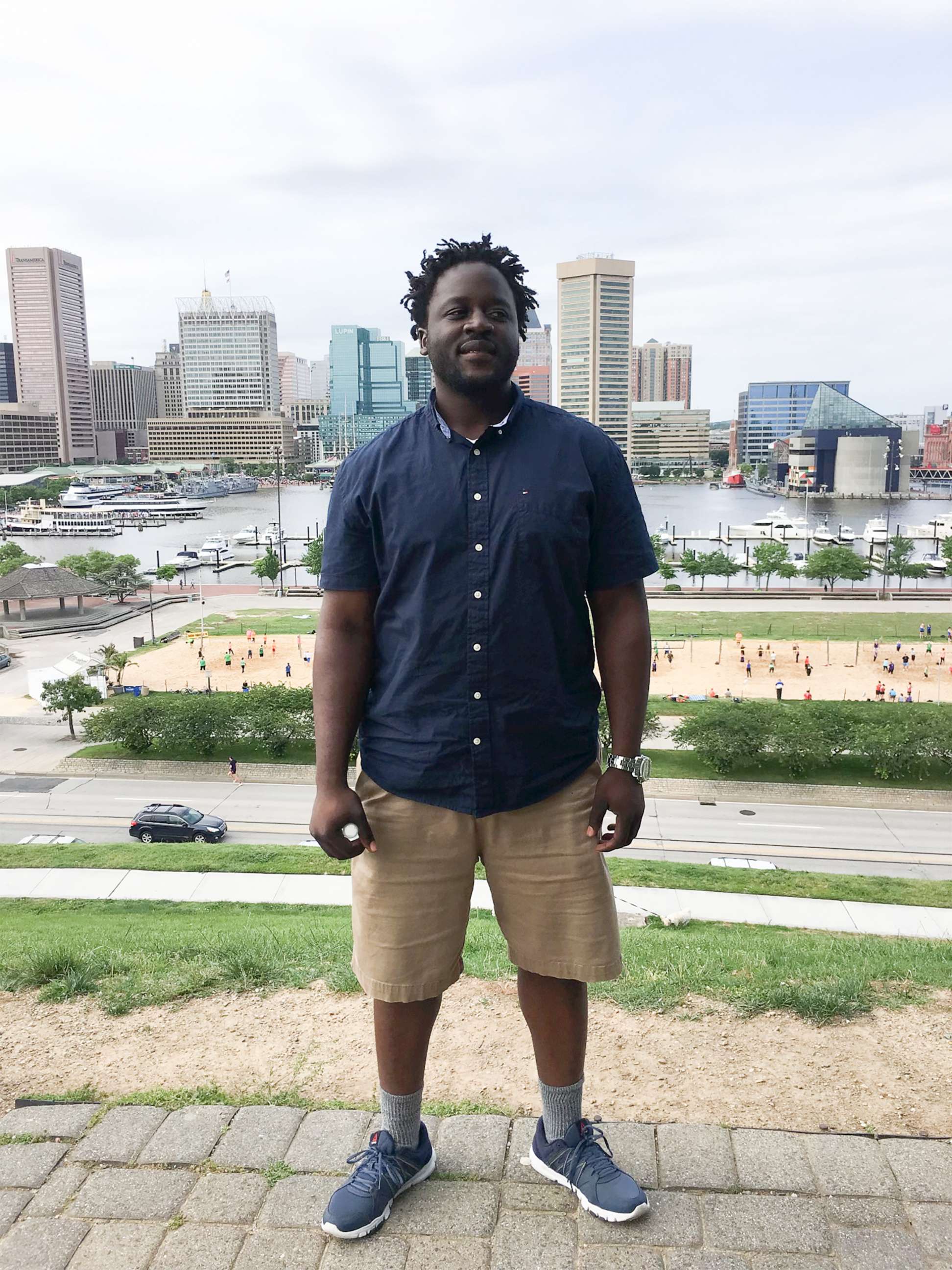 The Henrico County Sheriff's Office is conducting an independent review of Otieno's death alongside an investigation by Virginia State Police.
"Public safety is what we stand for as a Sheriff's Office," Henrico County Sheriff Alisa A. Gregory said in a statement on the charges. "We will continue to maintain the highest professional standards in how we serve and protect those in our custody, the community at-large and our staff."
In a court appearance, Cary Bowen, a lawyer representing Deputy Jermaine Lavar Branch, alleged the officer "did not administer any blows to the deceased, or violence towards him, other than simply trying to restrain him."
Bowen told ABC News by phone that Commonwealth Attorney Ann Cabell Baskervill is trying to fashion the case as something that is "malicious."
"There was no weapon used. There was no pummeling or anything like that. I think everybody agrees," Bowen said. "And the way she was casting it was that they ended up suffocating. He couldn't breathe. And she's acting like the guy didn't resist and he wasn't manic or bipolar or whatever. Just a nice guy who they're picking on."
Those charged are still awaiting a grand jury decision on whether they will be indicted.
In an interview with ABC News, Otieno's mother, Caroline Ouka, wondered why no one stopped the deputies from piling on her son.
"Even in my grief, I look at the whole thing and I wonder, you know, why couldn't somebody come in and stop what was going on," Ouka said. "I just cannot wrap my mind around it."
Leon Ochieng, Otieno's brother, told ABC News that his brother was going through a mental health crisis and "he cared about his health and he wanted to go to the hospital to get help."
"He didn't want to get in the squad car because he could tell the difference between a squad car and an ambulance," Ochieng said. "All systems failed Irvo Otieno."
He continued, "They need to change the way they approach ... Not 12 of 12 officers showing up with tasers ready to put you down."
Ouka remembers him as "a loving person," who was "smart" and "bright."
"I miss his hugs. … I miss touching him," she said. "I miss seeing him. I miss talking to him. I miss just being there for all of us. … Our life was perfect. They didn't have to do this. They didn't have to take him away from us."
ABC News' Sabina Ghebremedhin, Nakylah Carter, Jack Date and Luke Barr contributed to this report.