— -- Thane Maynard, the director the Cincinnati Zoo and Botanical Garden, said during a news conference Monday that looking back, officials there "would make the same decision" to shoot a 450-pound gorilla after a boy climbed over a stainless steel barrier and fell into the animal's enclosure.
Harambe, a 17-year-old silverback gorilla nicknamed Handsome Harambe by zookeepers for his good looks, was "six times stronger than a man" and acting "erratically" when he was shot and killed Saturday with the 3-year-old boy between his legs, Maynard said.
The barrier separating visitors from the gorilla enclosure exceeds "any required protocols," Maynard said, adding that while the barrier is over 3 feet high, "anyone" can climb it if he or she "want[s] to," comparing it to burglars gaining access to a locked house or car. The child was originally thought to have climbed through the 38-year-old barrier, but upon further inspection, it was determined that he climbed over it, Maynard said.
The child then fell about 15 feet into about a 18 inches of water, Maynard said, calling him a "tough little kid." Maynard said he is not "pointing fingers" for the incident.
"We've never had a situation like this in the zoo," he said, adding that drills are done "regularly" to prepare for them.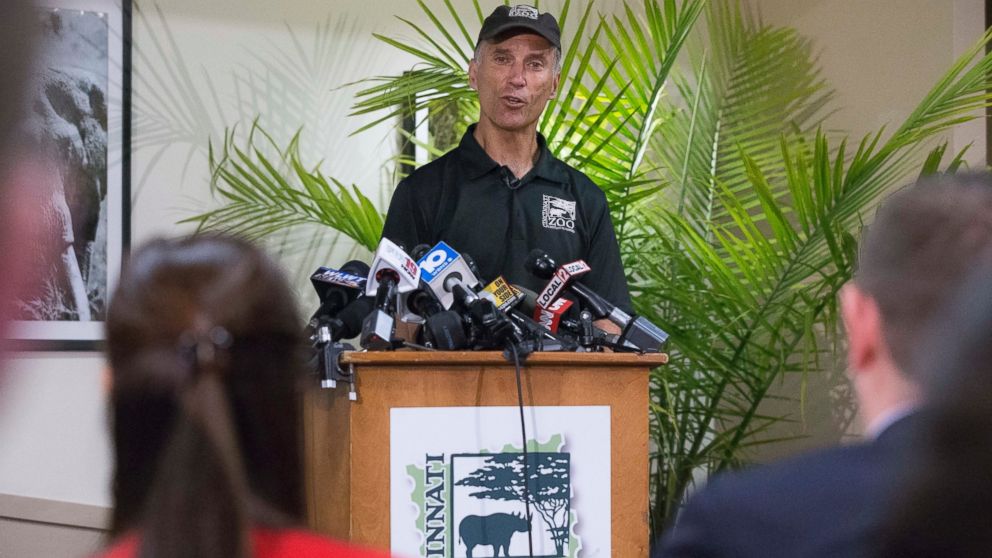 The zoo plans to double the size of the gorilla exhibit and will be "looking at" the barrier to see if changes need to be made, Maynard said.
More than 7,000 people were at the Cincinnati Zoo when Harambe was killed, Maynard said. The "difficult" decision to shoot and kill him was made after he didn't respond to a "special call" zookeepers make to summon the gorillas in from the enclosure. Instead, he was agitated by the child and onlookers' screams and began dragging him around, Maynard said.
The two female gorillas that lived in Harambe's group have been "looking around" for him, Maynard said, but they did not witness the shooting.
The zoo's gorilla breeding program is still "intact," Maynard said, and Harambe's bloodline has not come to an end. The zoo has a sample of his sperm, and his half-sister, Gladys, still resides at the zoo.
"We lost an incredible, magnificent animal," Maynard said.
Jack Hanna, the director emeritus of the Columbus Zoo in Ohio and the host of a series of television shows about wild animals, defended the decision to put down the animal.
"I've seen him take a green coconut, which you can't bust open with a sledgehammer, and squish it like this," Hanna told "Good Morning America" about Harambe, gesturing to indicate the ease with which gorillas can crush fruit. "You're dealing with either human life or animal life here. So what is the decision? I think it's very simple to figure that out."
A witness told ABC News that the gorilla was protecting the boy, who survived the encounter. "The little boy, once he fell — I don't think the gorilla even knew that he was in there until he heard him splashing in the water," Brittany Nicely told ABC News on Sunday, adding that zoogoers' screams drew Harambe's attention.
"The gorilla rushed the boy but did not hit the boy," she said. "He almost was guarding the boy, was protecting him."
Hanna argued that the boy would have been killed had it not been for the zoo employees' intervention.
"I can tell you now that there's no doubt in my mind the child would not be here today if they hadn't made that decision," Hanna said.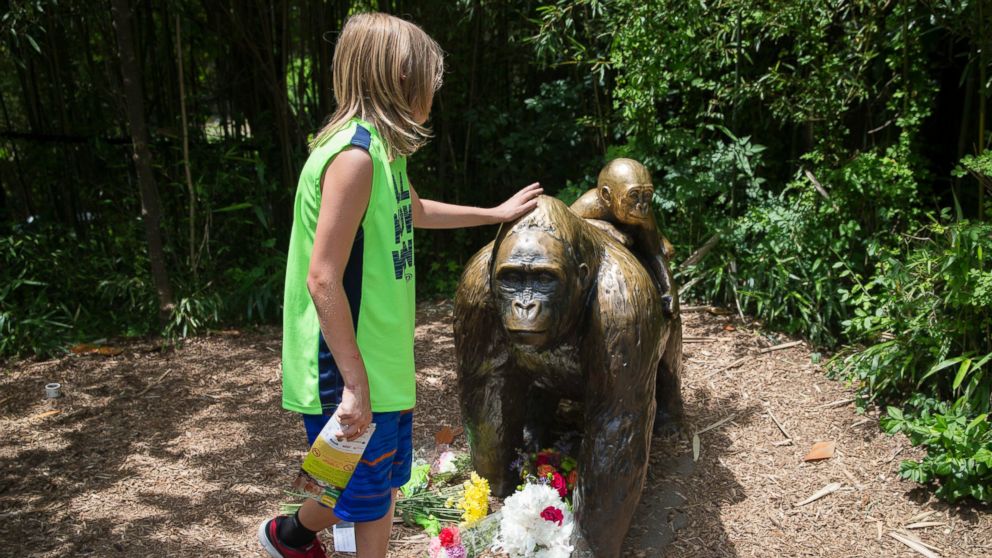 The death of Harambe has reignited a debate about zoos and their purpose. PETA, one of the world's most visible animal rights organizations, released a sharply worded statement on its website condemning the death of Harambe, arguing that zoos fail to provide an adequate home for the "complex needs" of wild animals.
"Gorillas are self-aware. They love, laugh, sing, play and grieve. Western lowland gorillas are gentle animals. They don't attack unless they're provoked," PETA said in its statement.
Hanna defended zoos, noting that they invest money in animal preservation.
"Remember something — no one loves gorillas more than the Columbus Zoo, the Cincinnati Zoo and the zoo world," he said. "We have given literally millions and millions of dollars to preserve these animals, both mountain gorillas and lowland gorillas."