Gov. Ron DeSantis' push for 'civics' education: What does it look like?
Florida has seen a wave of requirements on the founding principles of America.
Florida Gov. Ron DeSantis recently said that if elected president in 2024 he would push for civics education about the founding principles of the United States to celebrate the country's upcoming 250th anniversary.
DeSantis' announcement, which he made during an interview with the Washington Examiner, comes amid the yearslong overhaul that DeSantis and state legislators have put Florida's K-12 education system through, with civics taking center stage.
Florida's America-focused education requirements
DeSantis signed several policies into law in 2021 that set off a wave of new educational requirements about the country and its founding.
One law, House Bill 5, requires implementation of "patriotic programs," which includes teaching students about accepting "responsibility for preserving and defending the blessings of liberty inherited from prior generations and secured by the United States Constitution."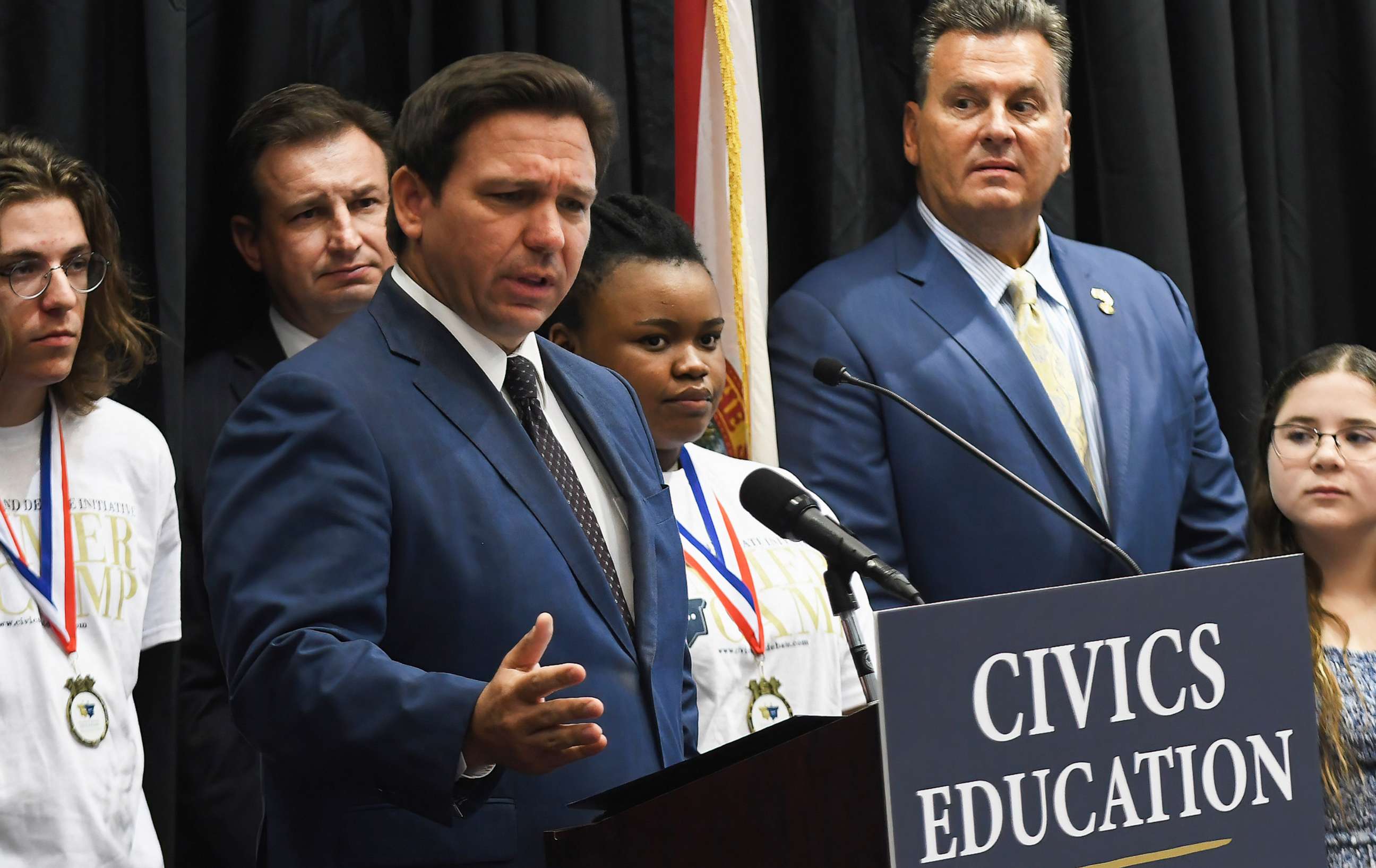 It also requires "comparative discussion of political ideologies such as communism and totalitarianism, that conflict with the principles of freedom and democracy essential to the founding principles of the United States."
The "Portraits in Patriotism Act" within the law would create a curated oral history resource that includes "first-person accounts of victims of other nations' governing philosophies who can compare those philosophies with those of the United States."
Another law, House Bill 233, requires that colleges and universities be reviewed for "intellectual freedom" and "viewpoint diversity."
Meanwhile, the state Department of Education has revised, removed or rejected other lessons based on the requirements of the so-called "Stop WOKE Act" and other legislation.
The law restricts lessons and training related to race and diversity in schools, though the law has been blocked in court from impacting colleges and universities.
This law is supplemented by the Parental Rights in Education law, which restricts curriculum or programs related to gender identity or sexual orientation, as well as Senate Bill 266, which bars state or federal funding from being used for programs or campus activities related to diversity, equity and inclusion or social activism in higher education.
The effects of these laws restricting classroom content have already been seen. DeSantis' administration rejected an advanced placement African American history course, saying it is "inexplicably contrary to Florida law and significantly lacks educational value" in a statement to ABC News.
Lessons on the civil rights movement and Black history also have been changed. For example, discussion of Black social justice movements in the 2000s, including the anti-police brutality Black Lives Matter movement, have been removed from classroom materials.
What is civics education?
Civics education in the U.S., according to the National Center for Education Statistics, refers to the knowledge and skills in "democratic citizenship, government, and American constitutional democracy." Surveys on American civics knowledge often focus on whether respondents can name presidential candidates, the branches of government, what the Constitution does, and more.
According to the 2022 Annenberg Public Policy Center survey, less than half of respondents -- 47% -- could name all three branches of government. One in four respondents said they couldn't name any of the First Amendment freedoms.
Over half of respondents -- 51% -- wrongfully believe that Facebook must let all Americans express themselves freely on its platform under the First Amendment.
However, some educators and lawmakers say civics in education should play a larger role than being able to recite information about the government.
They argue it should teach students about how to be an active and knowledgeable member of one's community, according to CivXNow, a bipartisan coalition of academics advocating for civics education expansion.
The group argues that civics education is about an understanding of the methods involved in civil discourse and civil engagement, such as protest, debate, voting, volunteering and more.
The National Education Association -- the nation's largest labor union which represents public school teachers, professors, institution staff members -- argues that civics education should incorporate discussions about current political or social issues, as well as promote programs that allow students to apply lessons from the classroom into community service.