— -- The man who flew what he called a "flying bicycle" through restricted airspace above the nation's capital and landed near the U.S. Capitol on Wednesday made his initial appearance in federal court this afternoon.
Doug Hughes, 61, of Ruskin, Fla., walked in wearing his U.S. Postal uniform, looking tan. He also had to wear court earphones so he could hear (the earphones usually used by foreign-speaking defendants who need translations).
During the hearing, the judge read the charges against him -- one count of knowingly operating an aircraft not properly registered and one count of violating national air defense space.
In total, he faces four years in prison, plus fines.
He rarely spoke, but at one point saying his name in a gentle high voice said, "Douglas Mark Hughes."
But his peaceful demeanor changed briefly after the judge said she was going to release him on his own recognizance with a series of conditions: He must stay away from any type of aircraft, he must report to pretrial services in Tampa once a week and he must be confined to his home in Florida.
He showed worry when asking the judge: "Am I going to be able to work?"
That question was not answered publicly in court.
After the hearing, he was sent back into U.S. Marshals custody, but will be released at some point today.
Hughes' next court appearance in D.C. is scheduled for May 8.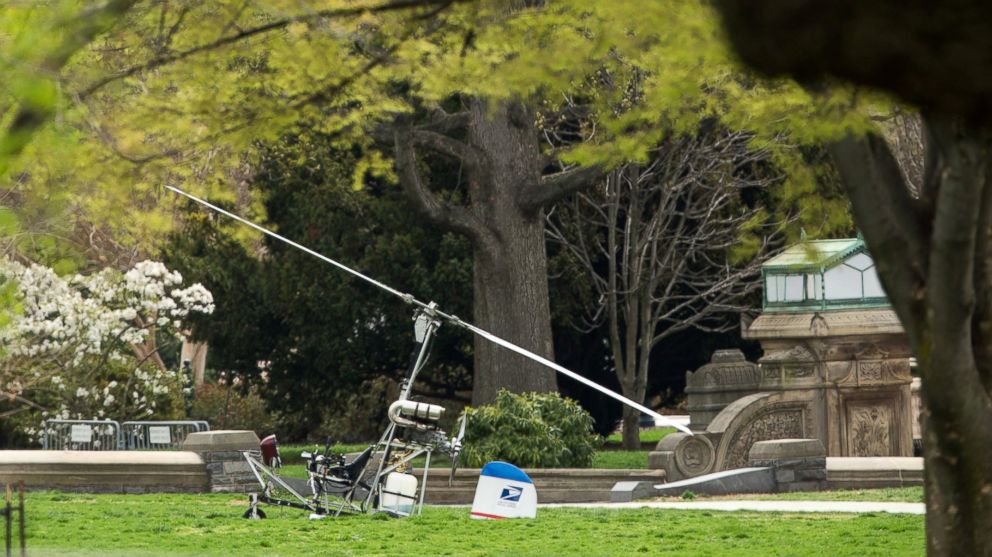 Law enforcement sources said his stunt was intended to draw attention to the issue of campaign finance reform.
Hughes was arrested almost immediately after touching down on the West Front lawn of the U.S. Capitol building. Though the Secret Service had learned of Hughes' general plan more than a year earlier, federal authorities insisted they had no reason to know he would actually carry out those plans yesterday.
Hughes first came to the Secret Service's attention in October 2013, after "a concerned citizen" told them "about an individual purporting their desire to land a single manned aircraft on the grounds of the United States Capitol or the White House," the Secret Service said in a statement. Within days, Hughes was interviewed by the Secret Service, which then alerted the U.S. Capitol Police to his plans.
"A complete and thorough investigation was conducted," the Secret Service said.
Nevertheless, more than a year later, Hughes was able to take off from Gettysburg, Pa., and land right beside one of the nation's most recognized and targeted landmarks.
On a website purporting to be his, the author wrote early yesterday: "There is no way I can prevent over-reaction by the authorities, but I have given them as much information and advance warning as my fuel supply allows. When I took off, I was over an hour away from the no-fly zone."
In addition, in a video posted on the Tampa Bay Times website yesterday, Hughes promised he's "going to land on the Capitol Mall."
"I have got a plane, a gyro-plane, and I'm going to fly it. I'm going to violate the no-fly zone, non-violently," Hughes said in the video.
Hughes had been contemplating his plot for more than two years, according to the newspaper.
"No sane person would do what I'm doing," Hughes reportedly told the newspaper.
As Hughes and the gyrocopter approached, a call went out over the Capitol Police radio requesting as many long guns as possible to cover the incoming aircraft, a law enforcement source told ABC News. U.S. Capitol Police routinely carry M-4 rifles while on patrol.
Within seconds of that call, officers converged on the scene with guns drawn, ready to take a shot, ABC News was told. But no shots were fired.