A strong ridge of high pressure is bringing increasing heat and humidity to a majority of the eastern half of the country through the weekend. Heat advisories, excessive heat warnings and watches have been posted for parts of the Midwest, including Kansas City, St. Louis, Chicago and Minneapolis.
On Saturday afternoon, the heat index will exceed 100 degrees in cities like Little Rock, Arkansas; St. Louis, Chicago, Des Moines, Iowa; and North Platte, Nebraska. A couple of isolated daily records are possible today.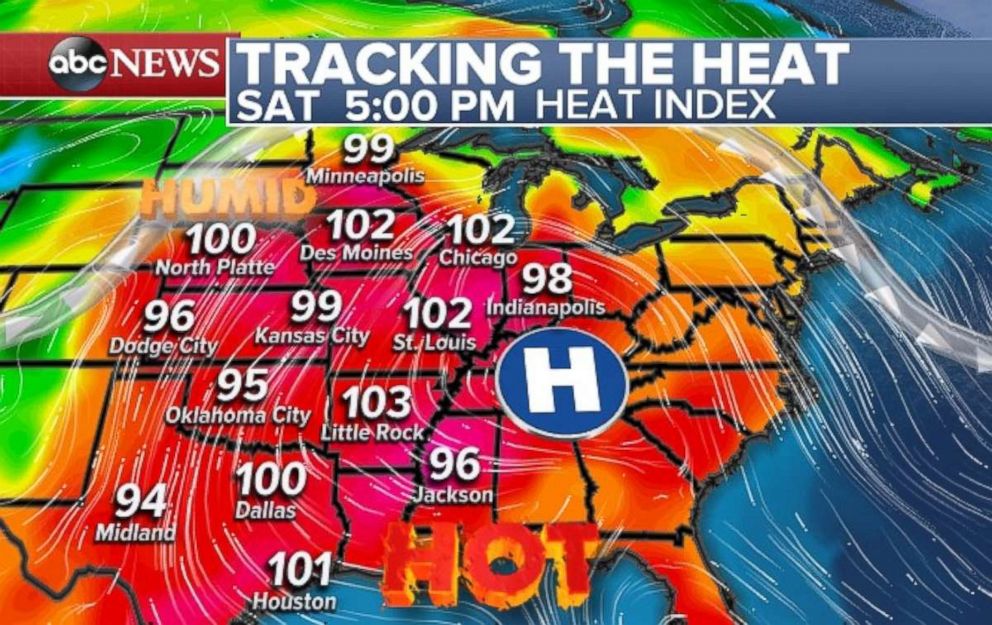 The heat index on Sunday from parts of Texas all the way to Wisconsin will be near or above 100 degrees. Even parts of Indiana, Michigan and Ohio will feel close to 100 degrees by Sunday afternoon. A handful of records will be possible from Iowa to Virginia on Sunday.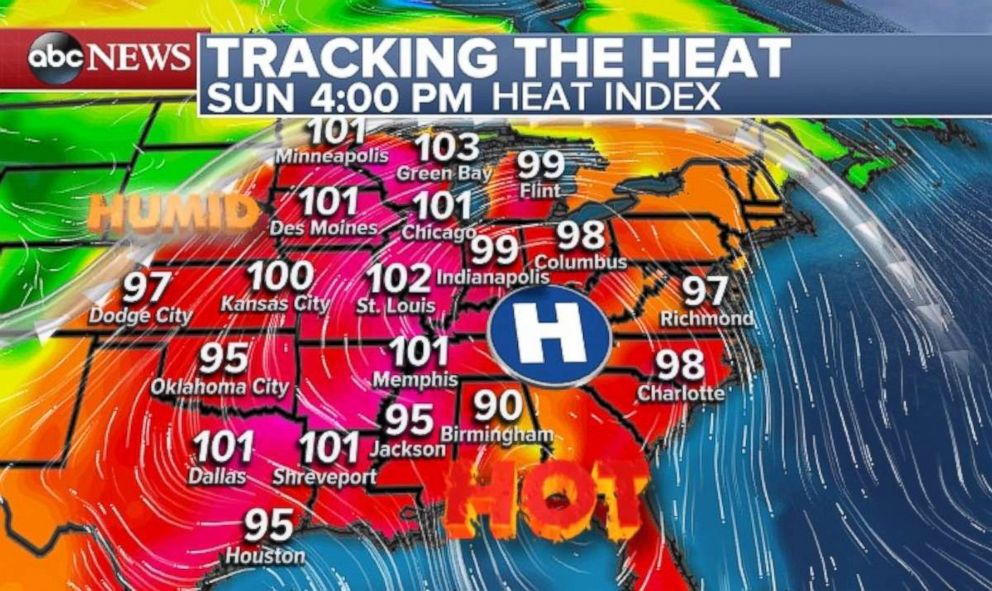 On Monday, the expanding heat will reach the East Coast, with temperatures feeling like the triple-digits from Texas to New York, including New York City, Philadelphia and Washington, D.C. Numerous daily records are possible across the East Coast from North Carolina to New Hampshire.
This stretch of heat shows little relief at night, especially in urban areas like Chicago and New York -- a classic sign of summer across the Midwest and Northeast.
Severe weather in Midwest, Northern Plains
A round of strong thunderstorms moved through parts of the upper Midwest overnight. The storms dumped over 4 inches of rain through parts of Wisconsin. Flash flooding was reported in Madison overnight with water covering roadways in the region.
This latest round of heavy rain and strong thunderstorms comes after a round of storms dumped several inches of rain from northern Wisconsin to northern Illinois on Friday. Several more rounds of strong to severe thunderstorms are expected in the upper Midwest and Northern Plains this weekend due to a stalled frontal boundary. This will bring the threat for flash flooding, damaging winds, large hail and tornadoes to parts of the region.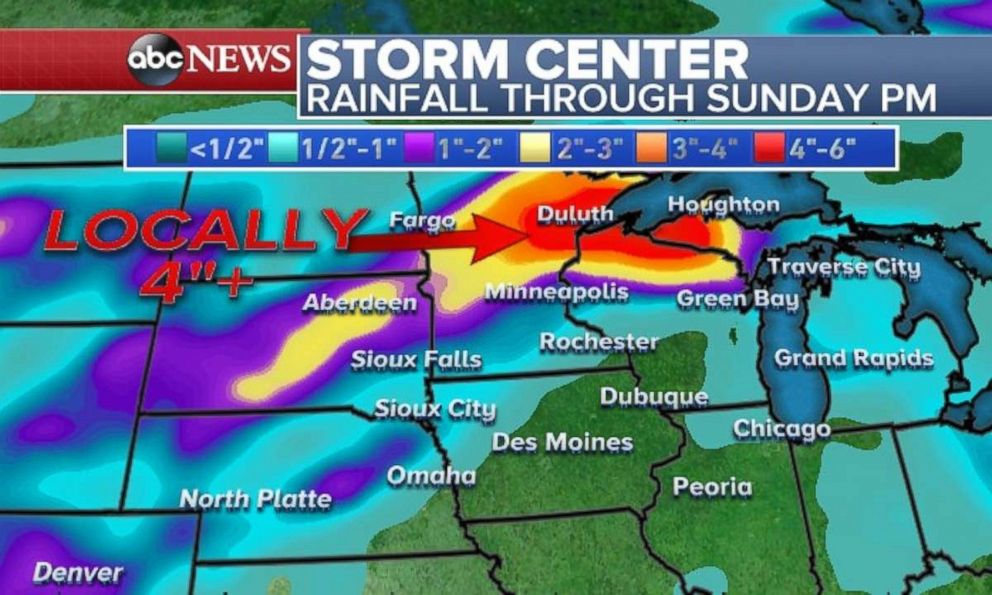 Numerous strong and severe storms will fire up this weekend, especially during the late afternoon across much of the Northern Plains and upper Midwest. The storms will have potential to dump quite a bit of rain across parts of northern Minnesota, northern Wisconsin and northern Michigan. Locally, over 4 inches of rain is expected this weekend near Duluth, Minnesota, with widespread 2 to 3 inches possible from Aberdeen, Michigan, to Houghton, Michigan.
A flash flood watch has been posted for parts of the upper Midwest.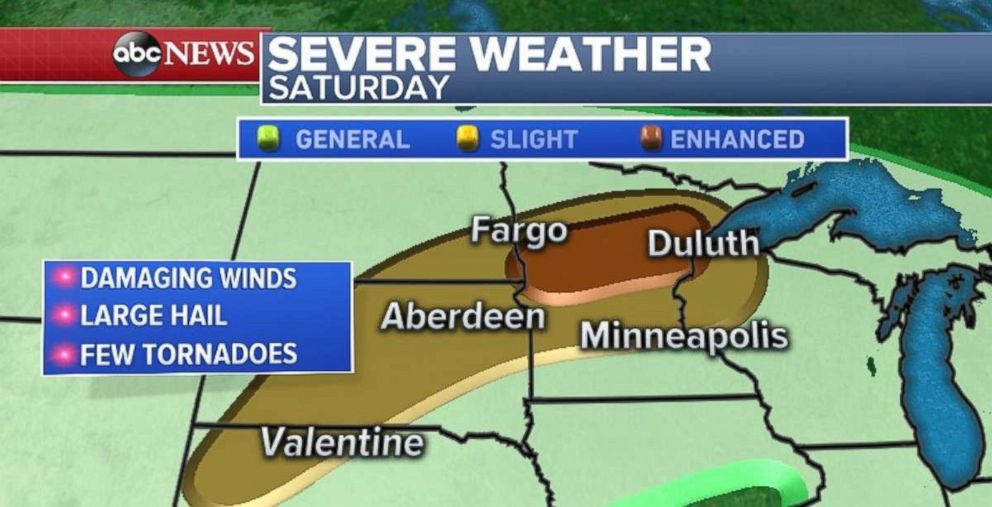 Storms could turn severe from Nebraska to Wisconsin on Saturday afternoon and early evening. There is an enhanced risk for severe weather for a large part of northern Minnesota, including Duluth. Strong damaging winds, large hail and a few tornadoes are possible in the enhanced region Saturday afternoon and evening.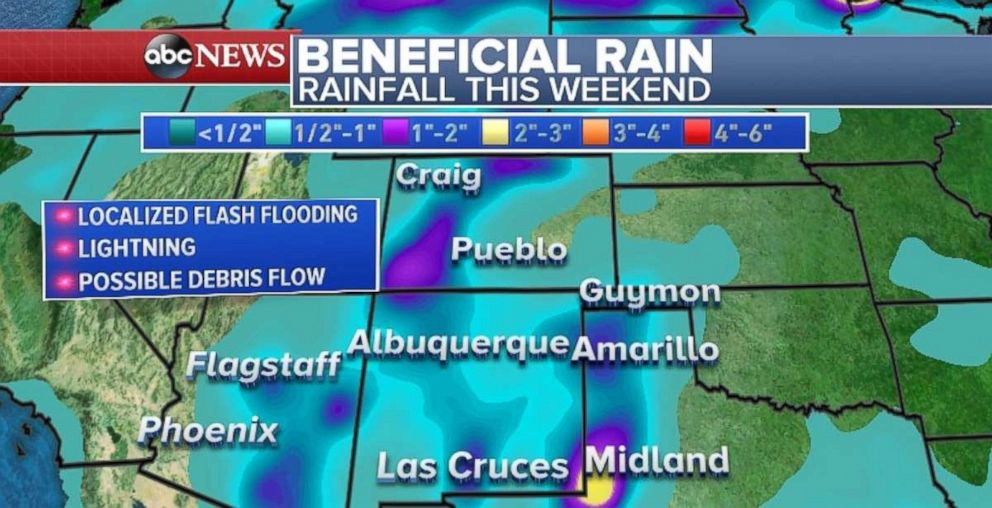 Much-needed rain
Meanwhile, in the Southwest, beneficial rain is moving into the Four Corners this weekend. This rainfall is coming exactly where it is badly needed. Locally, 1 to 2 inches of rain is expected in parts of Arizona, New Mexico and Colorado.
Isolated flash flooding, especially on recent burn scars, remains a concern. Lightning is also a concern since it could start new fires in parts of the region.