Tropical Storm Rosa has yet to make landfall in Mexico, but it's outer bands are already delivering some heavy rain to the U.S. Southwest.
Interested in
Weather?
Add Weather as an interest to stay up to date on the latest Weather news, video, and analysis from ABC News.
Rosa had winds of 50 mph and was approximately 140 miles west-southwest of Punta Eugenia, Mexico, as of 2 a.m. local time. The storm is moving northeast at 12 mph.
Heavy rain from Rosa is spreading across the Baja California peninsula and the extreme southwest U.S. Flash flood watches have been issued for parts of the region -- from California to Idaho.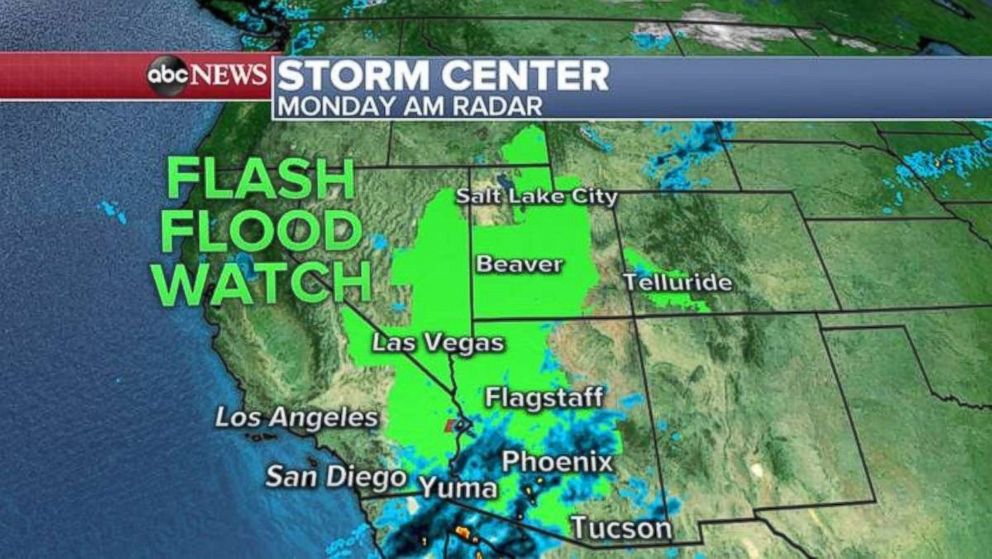 Rosa will continue to weaken Monday before its expected landfall sometime Monday night over the northern Baja California peninsula. Rosa will be guided north and east into the extreme southwest U.S. by an approaching trough from the west.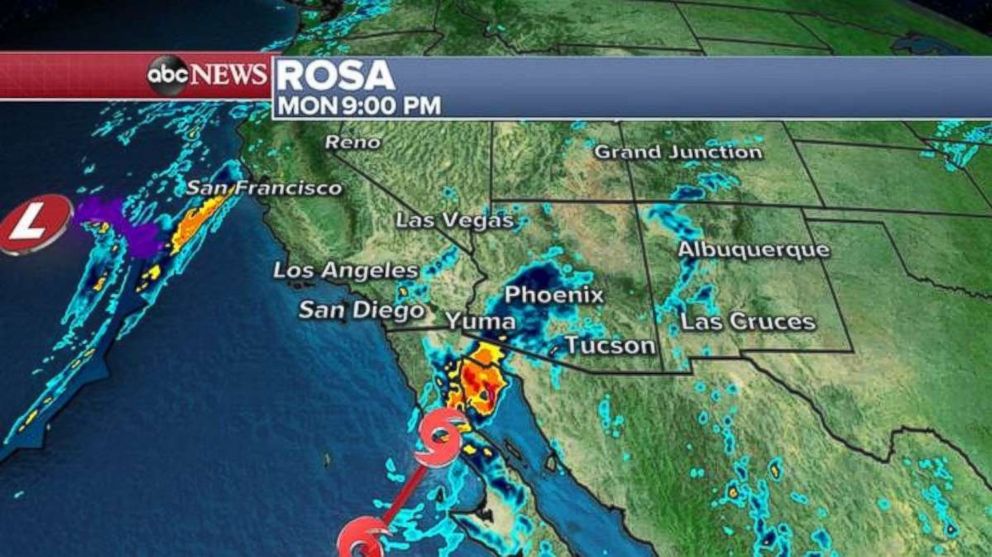 The remnants of Rosa are expected to move into the southwest U.S. on Monday and bring widespread heavy rain, which could cause potential flash flooding, mudslides and landslides over the coming days. Rainfall rates of 1 to 3 inches per hour are possible in the heavier bands of rain.
In the desert Southwest, 1 to 4 inches of rain are possible -- especially in parts of southern and central Arizona. In Baja California, more 3 to 6 inches of rain is possible locally. Additionally, up to 1 inch of rain is possible in California, with the bulk of the rain arriving by late Tuesday and Wednesday.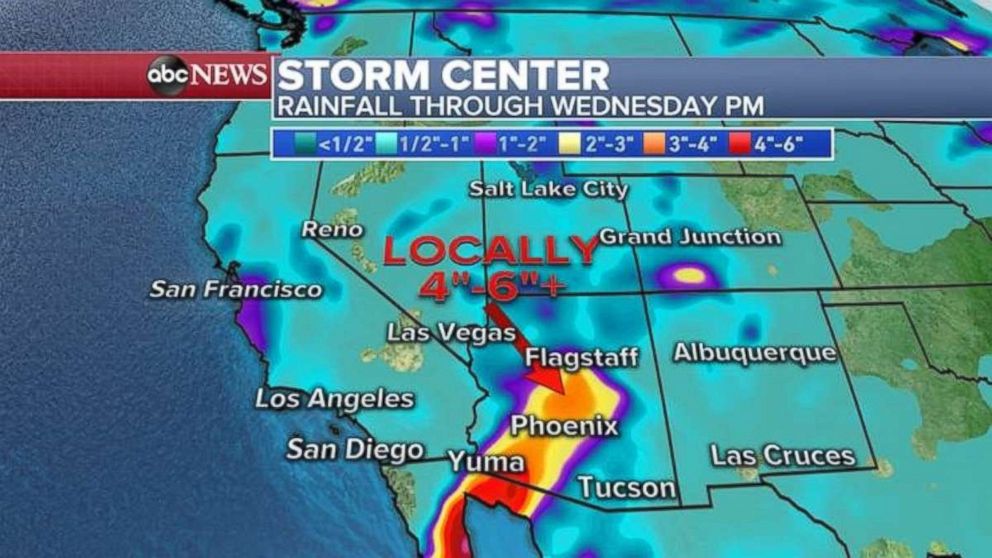 Flash flooding could be enhanced locally due to the mountainous terrain, with canyons quickly becoming very dangerous.
Heavy rain will spread into the Four Corners on Tuesday and last through Wednesday.
Dramatic temperature swings
Meanwhile, east of the Rockies, a pretty dramatic temperature gradient between two air masses has taken shape across the central and northeastern U.S. Some regions of the country could see dramatically different temperatures on either side of this frontal system. For example, Kansas City, Missouri, will be near 80 degrees, while Omaha, Nebraska, will be stuck in the 50s -- nearly 20 to 25 degrees different over just 100 to 200 miles.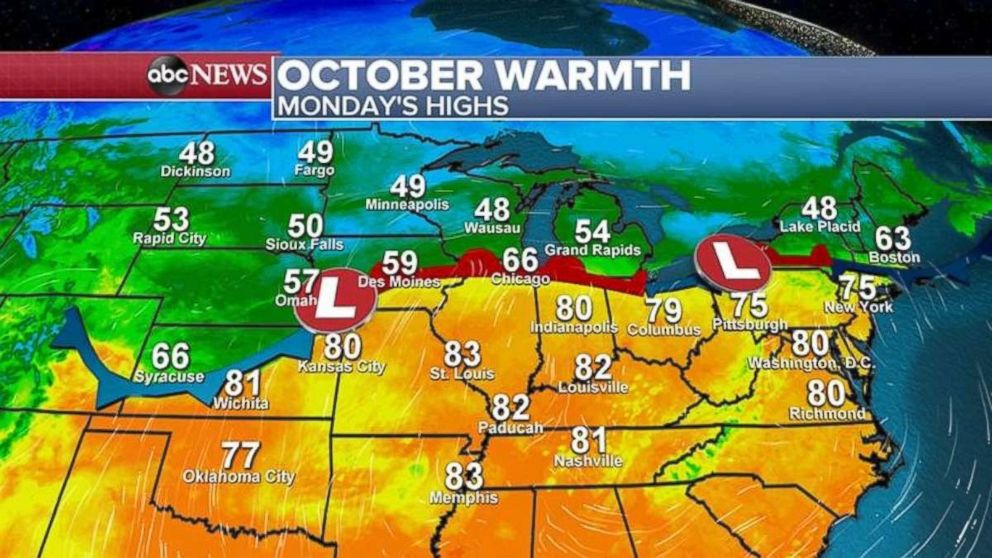 Storms are developing along this frontal system. Very heavy rain is falling Monday morning from southern Wisconsin to Michigan with rainfall rates locally up to 1 inch per hour. There is a small region of the Chicago and Milwaukee suburbs at risk for severe storms Monday afternoon and evening with damaging winds and large hail possible.
On Tuesday, strong storms will develop in parts of the Northeast with locally heavy downpours and gusty winds.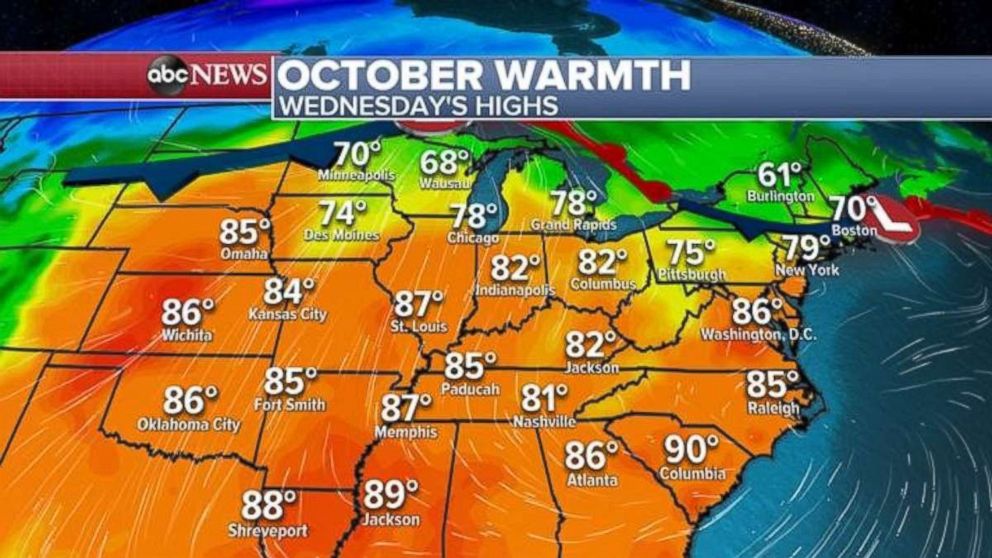 As the first week of October gets underway, temperatures across much of the central and northeast U.S. will be on the rise. Temperatures from the Plains to the Northeast will be nearly 80 degrees. It will feel more like summer than fall from Wichita, Kansas, all the way to New York. And in the northern part of the U.S., temperatures will be in the 60s and 70s.
Our climate forecast for the next one to two weeks shows that well-above-average temperatures are likely for the eastern U.S.