— -- A Michigan choir has a unique way of spreading holiday cheer.
The Mona Shores High School choir's Singing Christmas Tree, now in its 31st year, is known for its merry melodies and unprecedented size. The group of 240 students from Muskegon, Michigan, stand on 15 tiers of a 67-foot tree structure decked in 25,000 LED lights and 5,000 feet of greenery. Choir director Shawn Lawton told ABC News putting on the concert is a team effort.
"It brings together hundreds of parent volunteers beside their kids which makes it a very community-based project," Lawton said.
The instructor, who has been with the choir for 22 years, said the students are accompanied by a 50-piece orchestra that performs an eclectic mix of Gospel, African and traditional Christmas tunes. The audience can expect to hear a medley of "Jingle Bells," "Deck the Halls" and "Feliz Navidad" among others. Students are positioned on the tree depending on their voice, grade and height. Lawton always saves a special spot at the top for the "tree angel."
"Typically, [the tree angel] is somebody who doesn't get everything," Lawton said. "They're not the leads. They are hardworking kids that never give up. This year, I couldn't decide between them so I picked two. They are alternating between the five shows."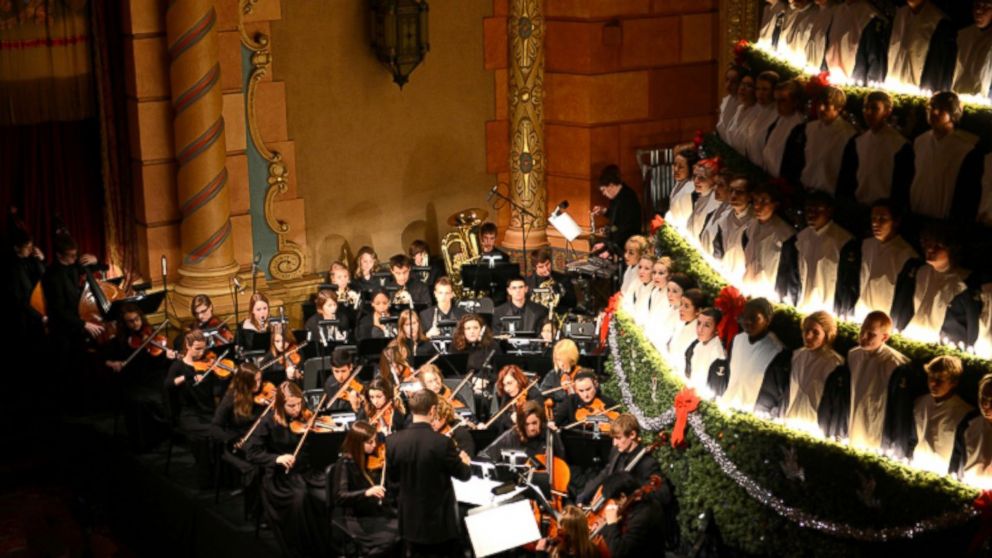 Seniors Jamie Gibbs and Madison Strait told ABC News they did not expect to be chosen as the tree angel this year.
"I feel like [Lawton] would choose popular people and it's not the case," Gibbs said. "He chooses people that have overcome stuff."
The Gospel-loving singer has been a part of the choir for three years. Gibbs said she is in foster care and was bullied in middle school.
"Music is my escape and [Lawton] saw that," Gibbs said.
Strait said she thinks her perseverance got her a spot at the top.
"I just think I've always been positive," Strait said. "I've auditioned for lots of things and not gotten anything."
A four-year vet of the choir, Strait said being selected as tree angel was a big honor.
"My dad's side of the family [was] so happy because my grandma, who passed away, used to volunteer for the Christmas tree and be an usher so that connection stayed," Strait said.
The choir has been rehearing since the first day of school, according to Lawton, and seasonal performances began Wednesday. Although the grandeur of the tree is undeniable, Lawton said the spirit of Christmas shines through his students.
"Our lights reflect the music in very beautiful ways," Lawton said. "It's just a presentation for magic. The kids love it and when they do it they sing from their souls."