— -- A state of emergency was issued and National Guard troops were deployed following a violent gathering in Baltimore, where people threw objects at police, set cars on fire and looted businesses.
"These acts of violence and destruction ... cannot and will not be tolerated," Maryland Gov. Larry Hogan said at a news conference this evening. Hogan called the clashes "disturbing" and referred to the protesters as "thugs."
The standoff began near the Mondawmin Mall in the northwest part of the city, the Baltimore Police Department said, as the group threw bricks, rocks and other objects at officers.
Fifteen officers were injured, six seriously, Police Commissioner Anthony Batts said in an evening news conference. Those injuries are not expected to be life-threatening.
"This is not protesting, this is not your First Amendment rights. This is criminal acts," he said.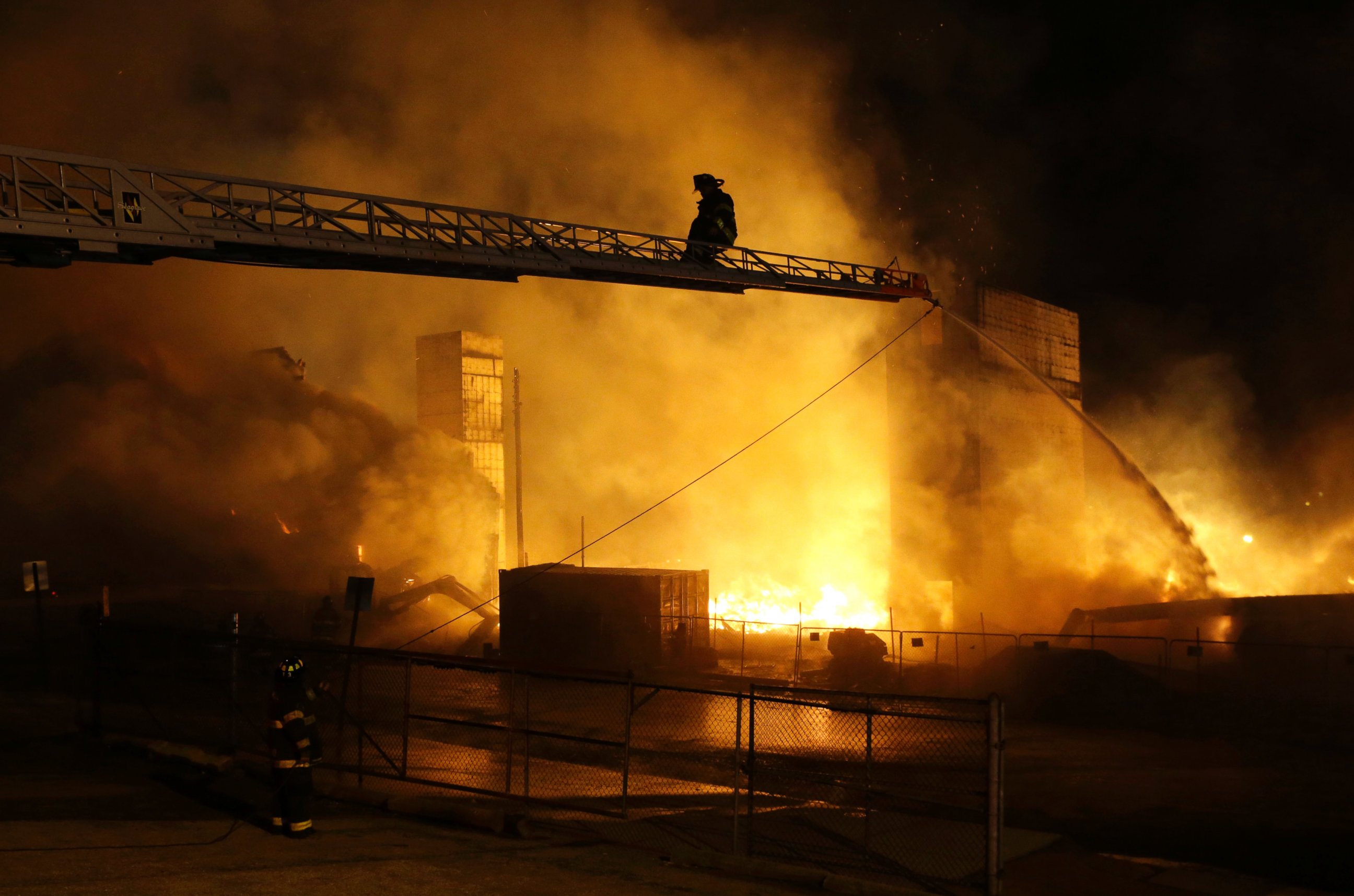 Protesters were seen climbing on a police cruiser and damaging several others. Police tweeted that people were also looting businesses and setting cars on fire.
One of the looted businesses was a CVS Pharmacy, but a spokesman for CVS said the store was closed earlier in the day out of an abundance of caution so no customers or employees were there at the time. A massive fire also broke out in a building that was under construction, slated to be used as a community center.
The clashes came hours after the funeral of 25-year-old Freddie Gray, the man who died last week after being in police custody. Police are investigation that incident.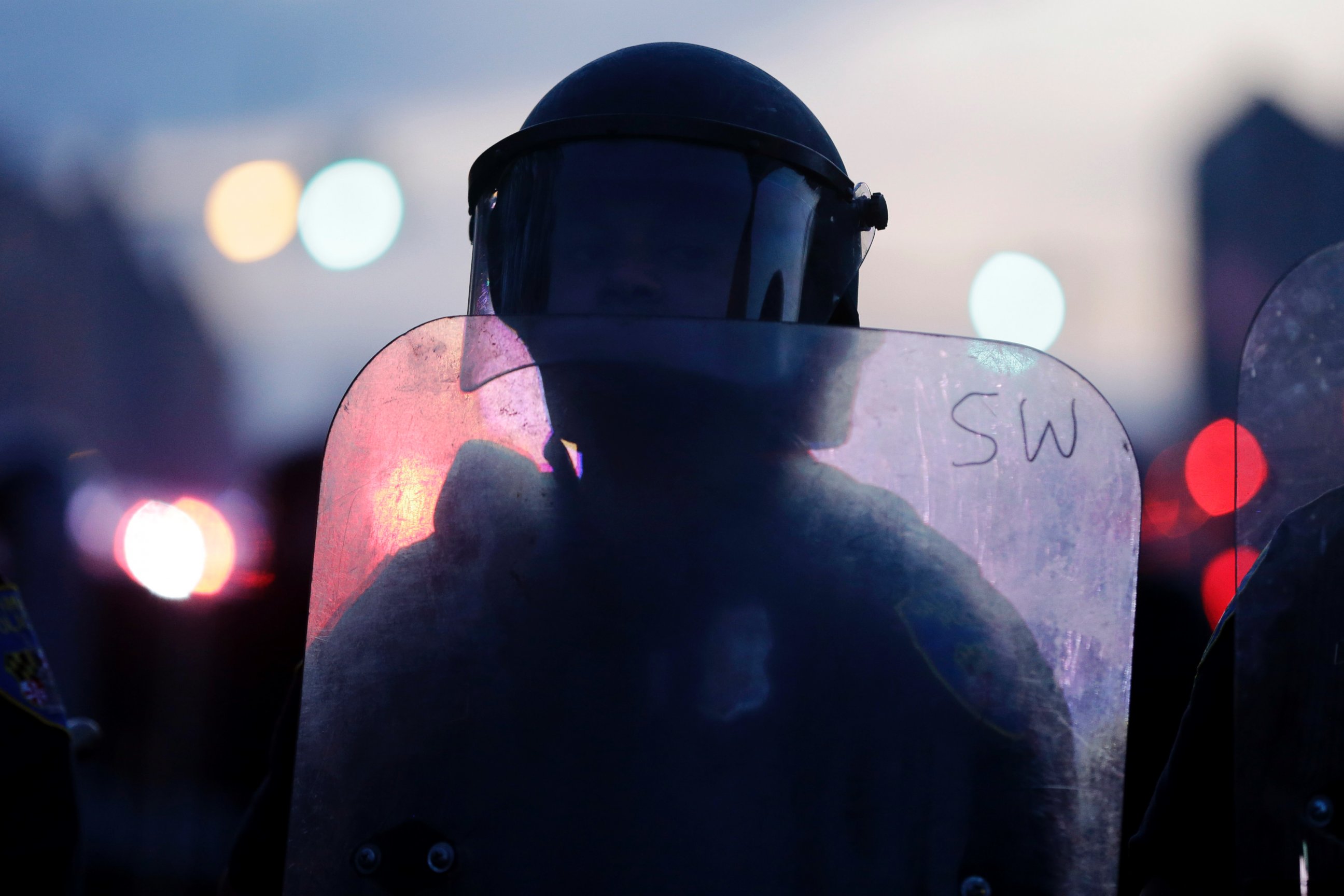 Mayor Stephanie Rawlings-Blake, speaking to reporters late Monday, decried violence and property damage in the city.
"People say they care about their community and want to be heard, but you can't care about your community and do what they did," Rawlings-Blake said.
"I understand anger, but what we're seeing isn't anger, it's destruction of a community."
Tonight's baseball game in Baltimore between the Orioles and the White Sox was postponed in the wake of the violence, the team said.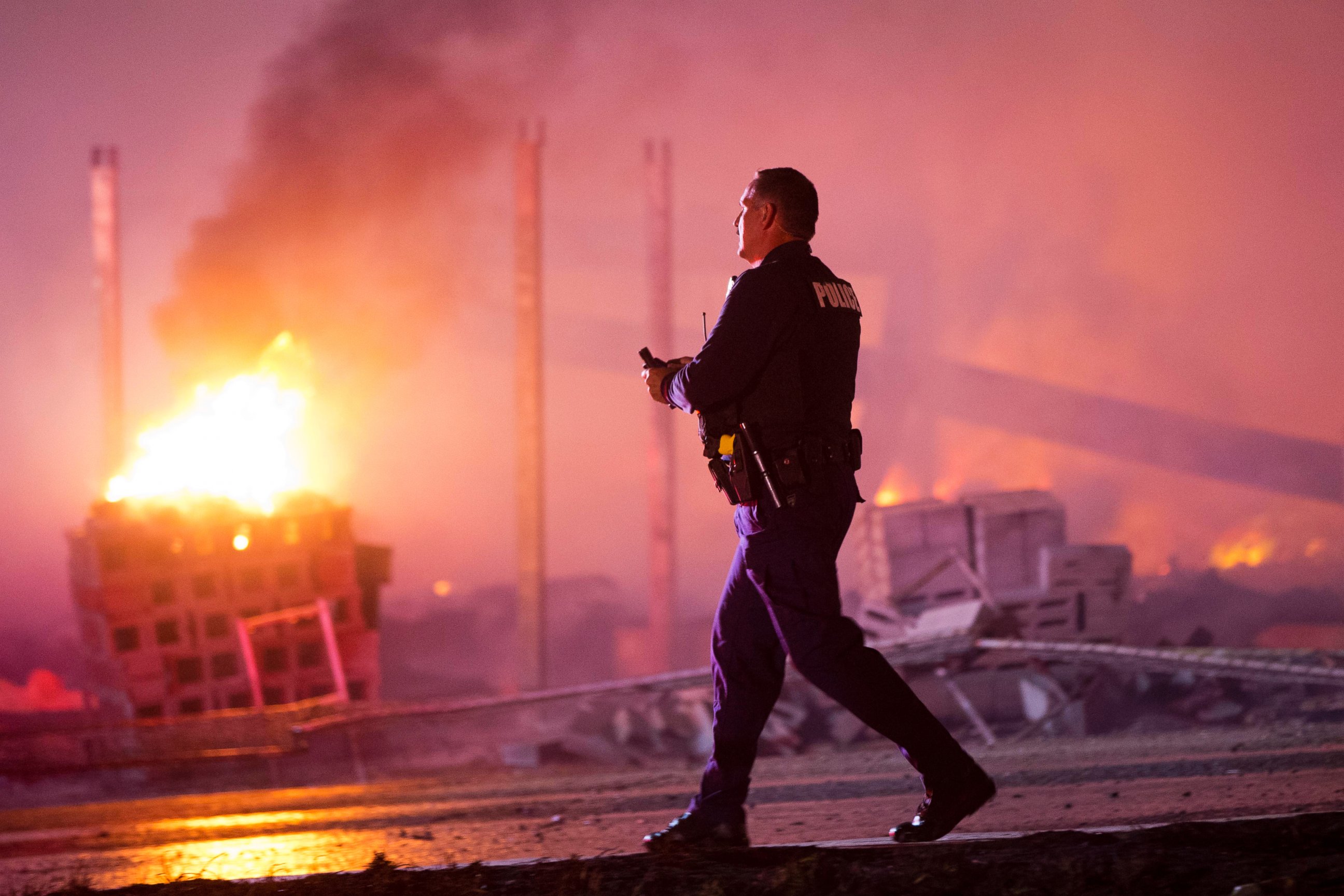 Police Capt. Eric Kowalczyk declined to speculate at a news conference on the reason for the violence, but called the group "criminals."
"Right now it is a group of lawless individuals with no regard" for safety, he said.
About 27 arrests were made, Kowalczyk said.
"Several people in the group are reported to be armed with sticks, bricks, and other weapons," the police wrote on Twitter. "We are hearing reports that members of this group are now setting small items on fire."
The police department described the group as "violent and aggressive."
Police said they used fire extinguishers to put out the small fires.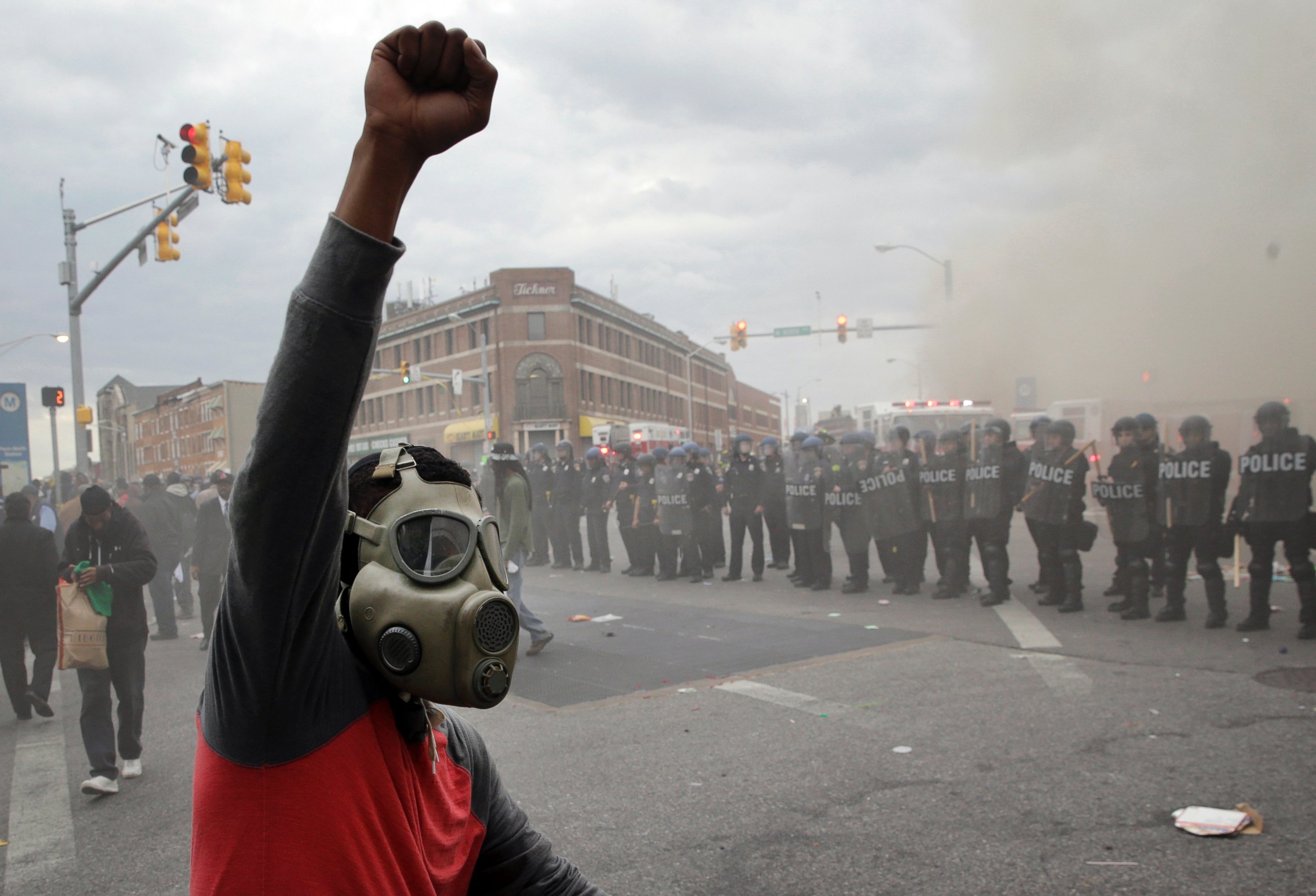 Rawlings-Blake activated Baltimore's emergency operations center to coordinate response in the city.
"We are deploying every resources possible to gain control of this situation and to ensure peace moving forward," Rawlings-Blake said at a news conference this evening.
She said a citywide curfew will be in effect beginning Tuesday night 10 p.m. to 5 a.m. The curfew will last for one week, she said, and could be extended as necessary. A 9 p.m. curfew is already in effect for children 14 and under.
"This is not a lawless city," Rawlings-Blake said. "I'm at a loss for words."
Edie Foster, public information manager for Baltimore City Public Schools, told ABC News that schools will be closed on Tuesday.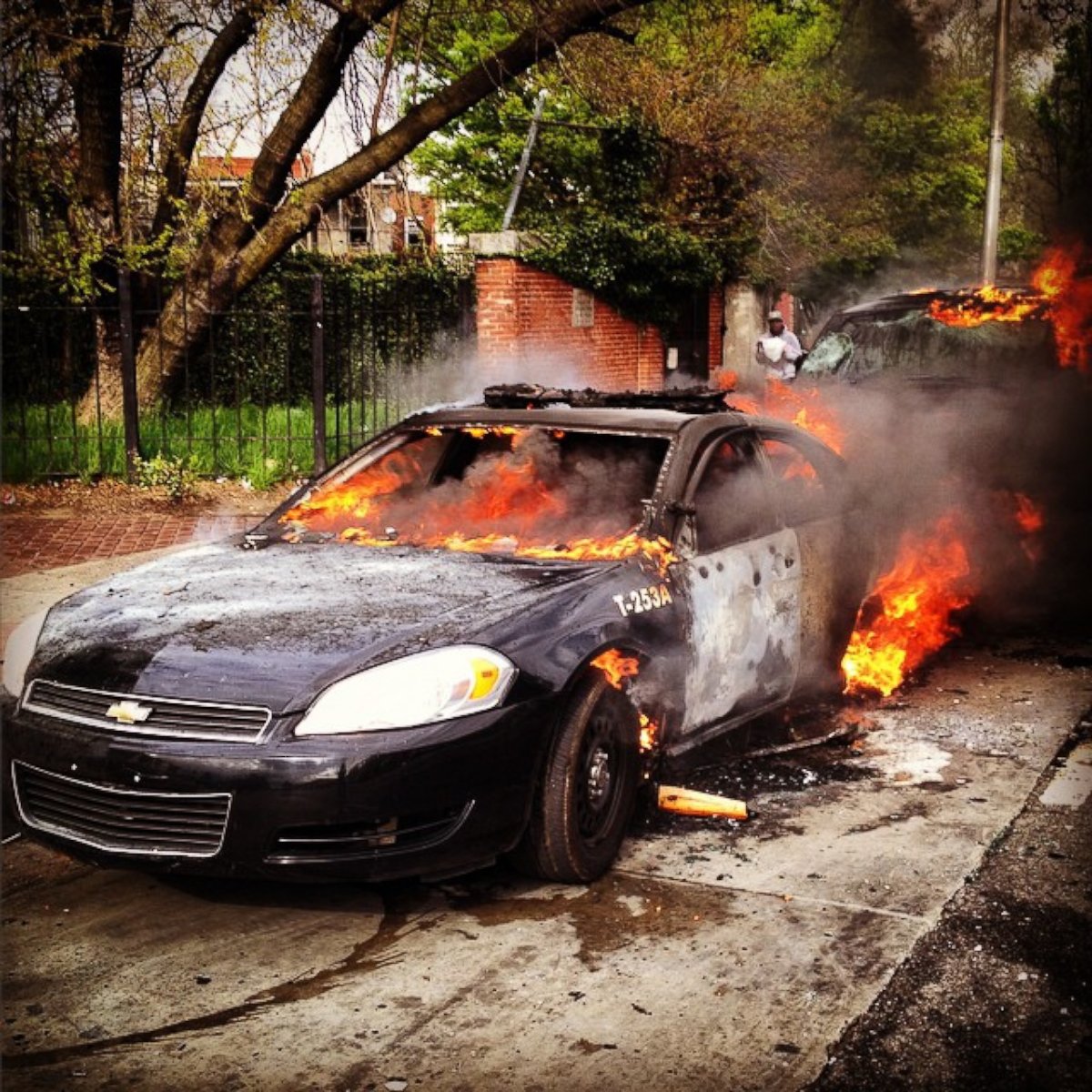 Maryland Sen. Barbara Mikulski said earlier, "We are extremely disappointed about the violence that has taken place in Baltimore by a few."
"We know the people of Baltimore. We know they have strong passions, we also know they respect each other's rights, and we would ask everyone to please do that and certainly we respect the right to express your views but do it in a peaceful way and don't feed into the very few number that have resorted to vandalism and violence," Mikulski added.
Newly minted Attorney General Loretta Lynch also weighed in on the situation in Baltimore, condemning the "senseless acts of violence by some individuals in Baltimore."
"The Department of Justice stands ready to provide any assistance that might be helpful," Lynch added. "The Civil Rights Division and the FBI have an ongoing, independent criminal civil rights investigation into the tragic death of Mr. Gray."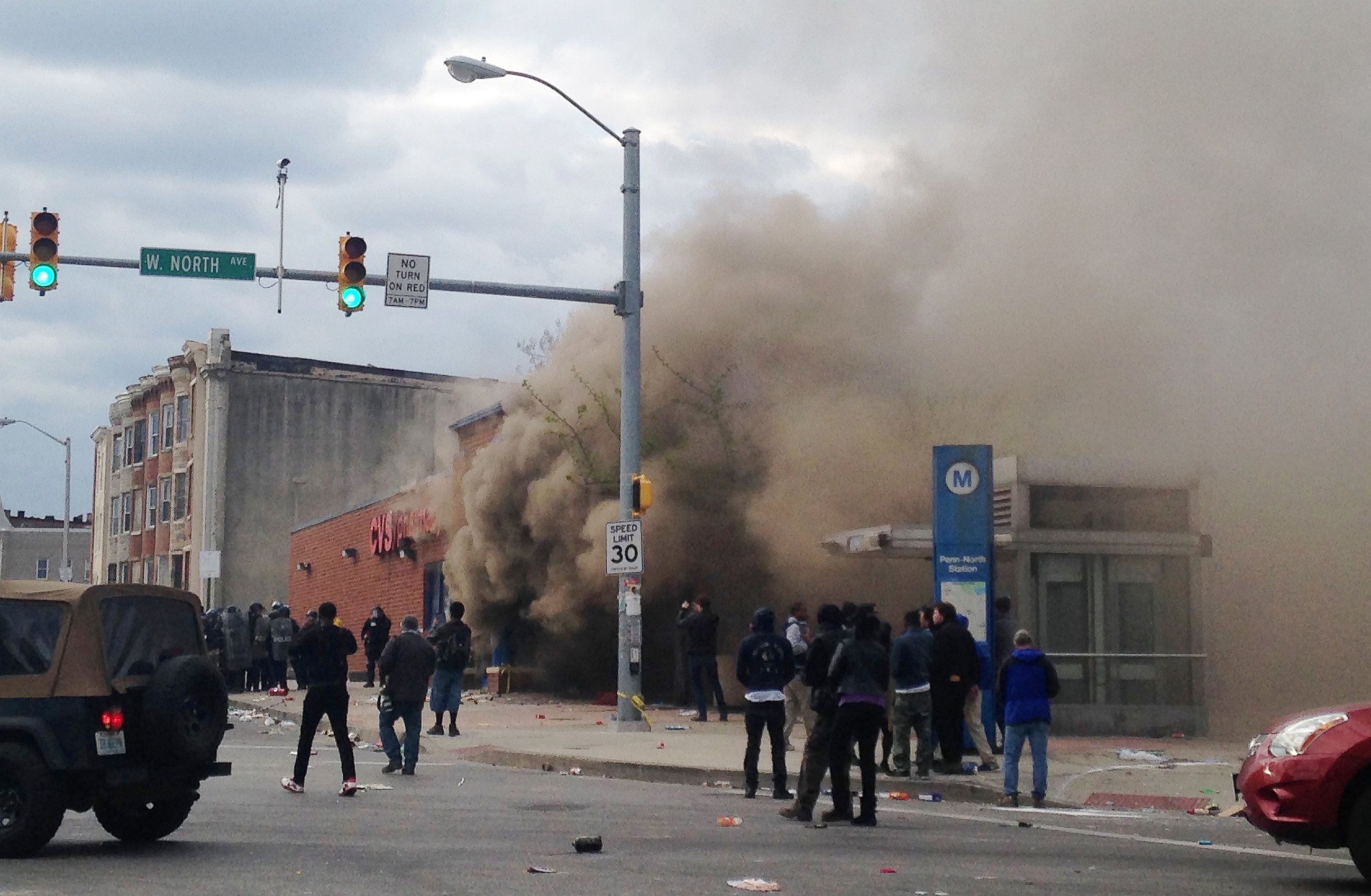 About 75 to 100 school-age children were involved in the violence, police said.
"We are working with our local and state law enforcement partners," the police department tweeted. "We are asking all protesters to remain peaceful."
"The crowd is not obeying our dispersal orders," the police wrote on Twitter, adding that the department is "continuing to deploy resources."
Federal agents from the Bureau of Alcohol, Tobacco, Firearms and Explosives are investigating several fires in Baltimore as possible arsons, an ATF spokesman told ABC News. ATF agents are already actively working fire scenes, including the massive structure fire at the community center. ATF arson investigators will work to determine if the fires were deliberately set, the spokesman said.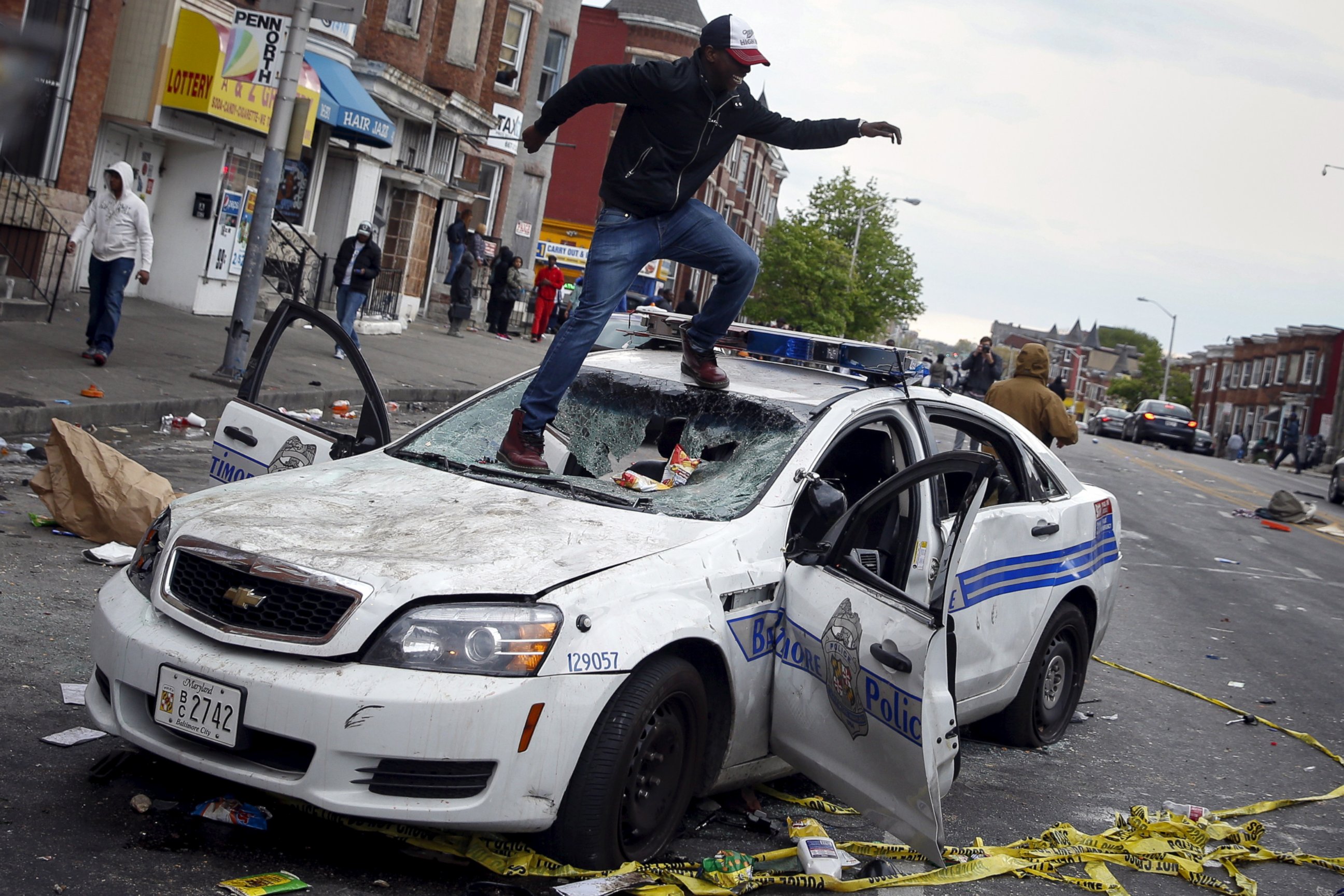 Baltimore police said there was a credible threat against law enforcement officers, as members from gangs including the Bloods, Crips and Black Guerilla Family "have entered into a partnership to 'take-out' law enforcement officers," according to a news release.
Gray's funeral was not explicitly mentioned in the announcement of the credible threat, but the threat was revealed minutes before the funeral service was set to begin.
Today's clash at the mall follows a volatile weekend in Baltimore. Protests that started off peacefully Saturday turned violent by afternoon in downtown Baltimore. Protests were also held during Gray's wake Sunday.
ABC News' Matt Larotonda and Jack Date contributed to this report.
Get real-time updates as this story unfolds. To start, just "star" this story in ABC News' phone app. Download ABC News for iPhone here or ABC News for Android here.