— -- A small city nestled on the Texas Gulf Coast has been hit hard by Harvey's wrath of torrential rain and high wind, leaving one dead, and the life-threatening weather has prevented emergency crews from responding to calls for help, officials said.
Gulf Coast residents struggle to recover after Hurricane Harvey
Members of First Baptist Church of Loeb chain saw pews and clean up the church on U.S. 69 that had eight feet of water in it due to Hurricane Harvey flooding in Lumberton, Texas, Sept. 7, 2017.
Rockport Volunteer Fire Department Chief Steve Sims told ABC News around 9 a.m. on Saturday that its teams are out doing assessments of the area of about 10,000 residents. Earlier in the morning, about 22 firefighters were still hunkered down at the local fire station. The department had about 25 to 30 pending calls at the time, and firefighters were anxious to help, Sims said, but they weren't able to respond until weather conditions improved and it was safe for them to travel.
Sims said the firehouse fared well in the storm thus far.
"It rattled, it shook, but made it through it," he said.
At least one person died in Rockport as a result of the storm, officials said Saturday afternoon. The individual's identity was not released pending next-of-kin notification.
The extent of the damage in Rockport became more clear as daylight brightened. ABC News' crew on the ground observed homes and buildings with roofs that had collapsed or were blown off; storefronts on Main Street that were shattered; brick structures that had crumbled; and flooded streets with downed power lines and scattered debris, making some roads completely impassable.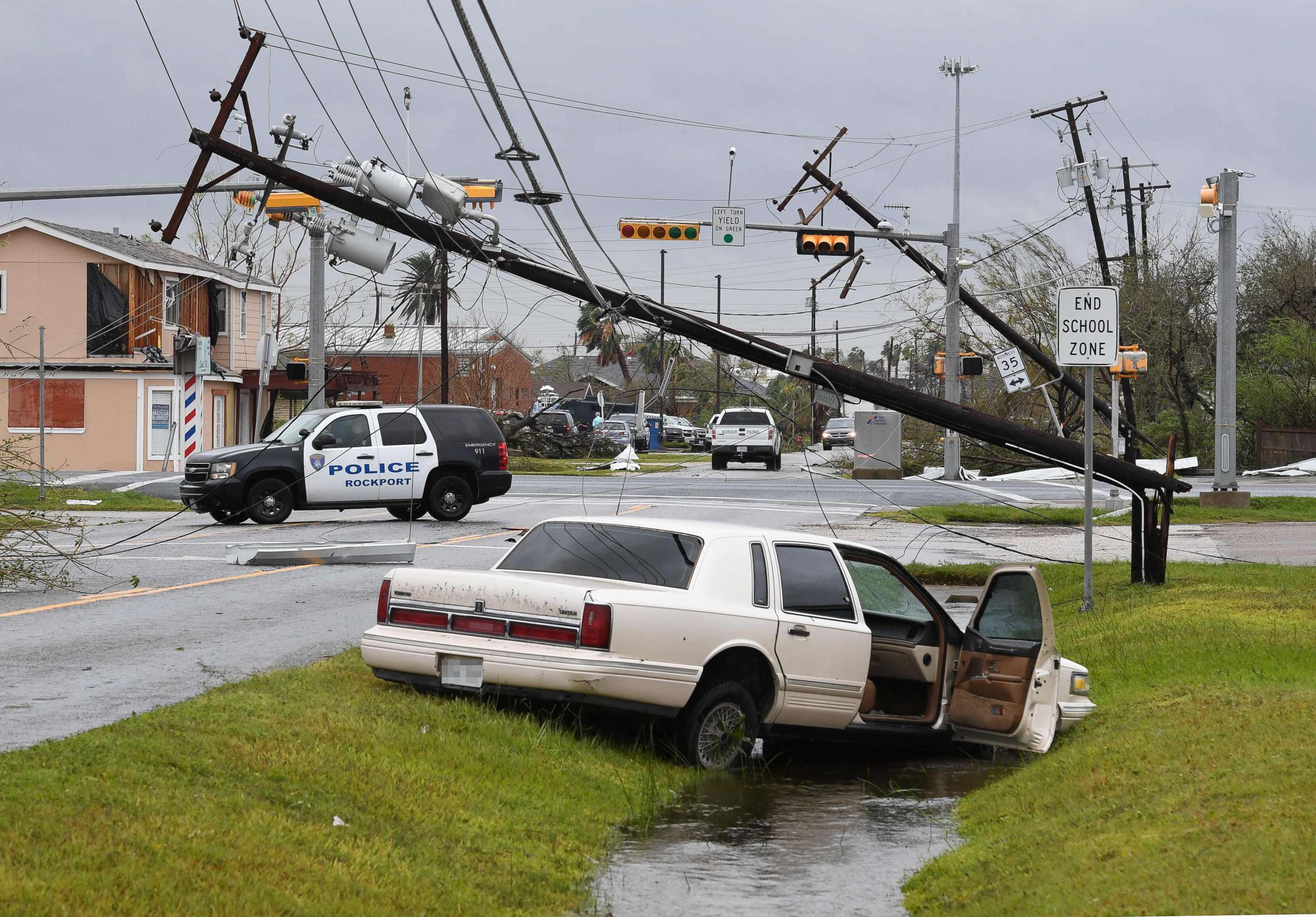 Rockport City Manager Kevin Carruth also confirmed to ABC News that multiple buildings were damaged in the coastal community, including the courthouse and the public high school.
Slideshow: Worst hurricanes in US history
Men use ropes to pull away the debris of houses in order to look for bodies, after the Galveston Hurricane of 1900. The Category 4 storm with winds in excess of 130mph and a storm surge of over 15 feet, was the deadliest in U.S. History, killing at least 8,000.
Library of Congress/Corbis/VCG via Getty Images
Harvey made landfall as a Category 4 hurricane at around 10 p.m. local time Friday over the northern end of San Jose Island between Port Aransas and Port O'Connor. The storm's eye was 30 miles away from the coastal city of Corpus Christi. By Saturday afternoon, Harvey was downgraded to a tropical storm.
However, Rockport, located about 31 miles northeast of Corpus Christi, experienced peak wind surges of more than 125 mph overnight, according to the National Weather Service.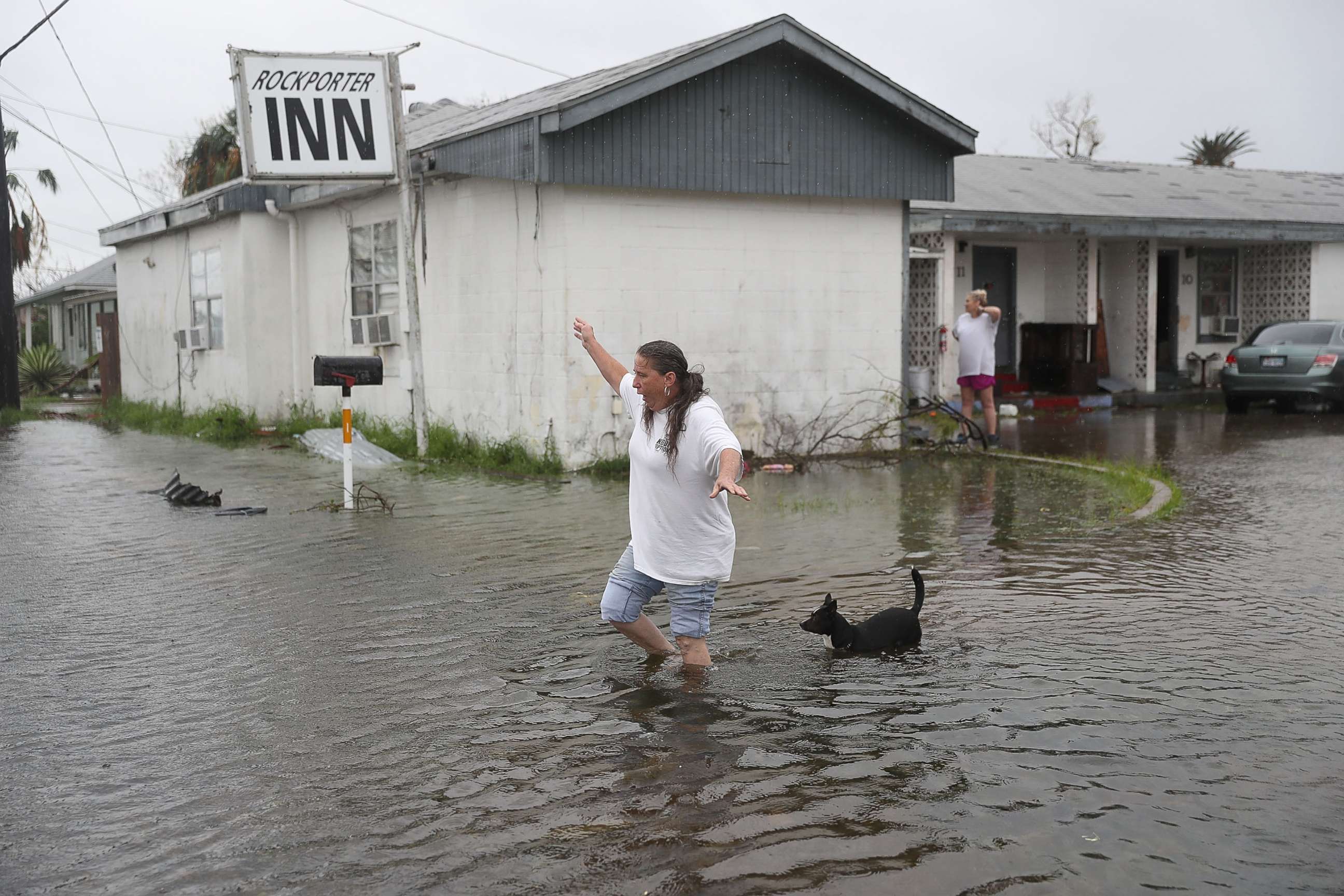 The city was among a handful of Texas locales that had issued mandatory evacuations prior to Harvey's anticipated arrival Friday night. Rockport Mayor Pro Tem Patrick Rios advised residents who were not evacuating ahead of the massive storm to mark their identities on their bodies.
"We're suggesting if people are going to stay here, mark their arm with a Sharpie pen with their name and Social Security number," Rios said at a news conference Friday morning.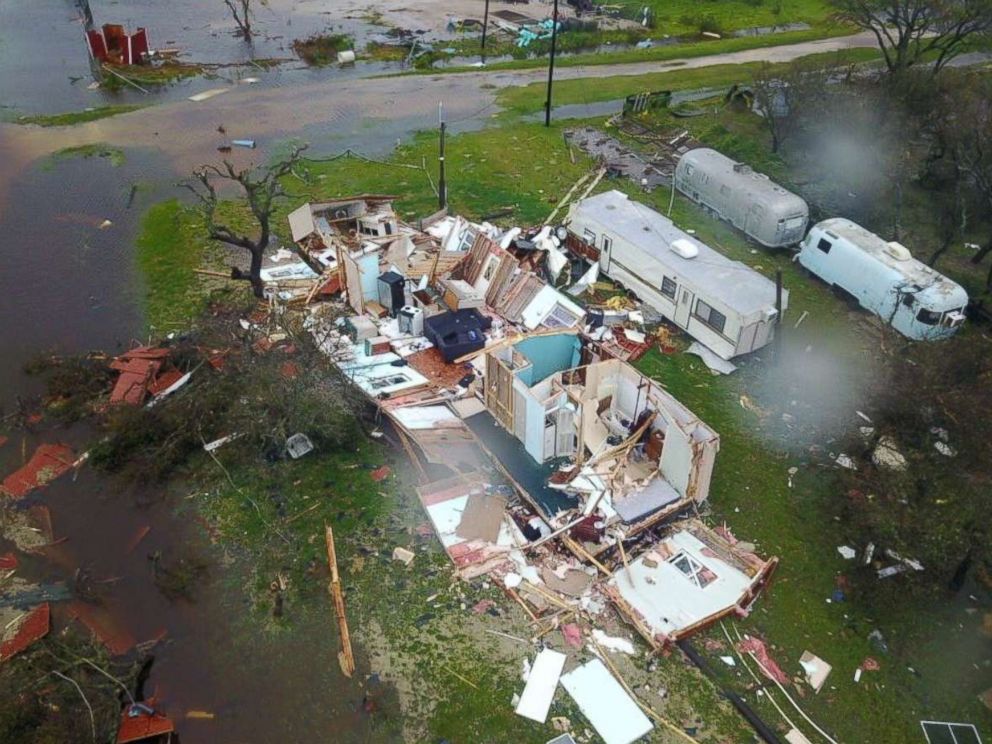 He said that grim step is necessary to prepare for the worst in case of deaths among people who remain in the area.
"We hate to talk about things like that," he added. "It's not something we like to do but it's the reality, people don't listen."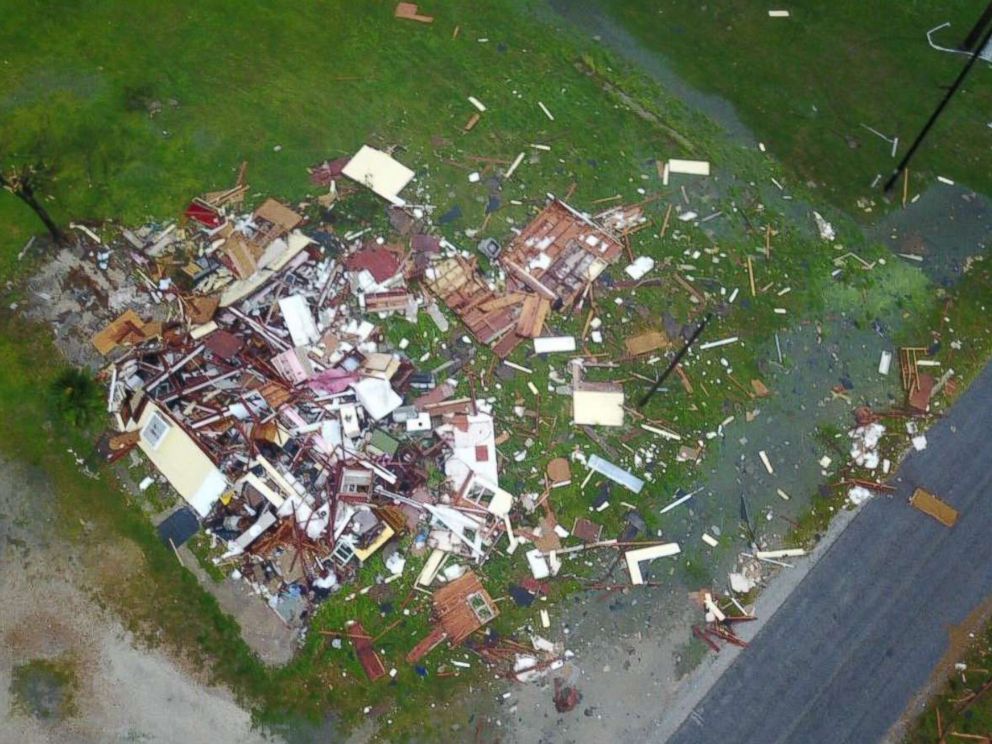 ABC News' Janet Weinstein contributed to this report.