— -- A group of first responders had a moving moment when they were out scouting for people in Coral Springs, Florida, who needed help Saturday immediately after Hurricane Irma hit the city.
The group of firefighters and trained medics had rescued one family from their house and rushed a mother and newborn to a hospital in the course of their work, but it is video of a different moment that is now resonating online.
As the crew made their way through the storm-battered streets in an armored vehicle, one of them, Joseph Schiavo, 42, thought he saw something unusual in the road. The group made a "collective decision" to stop and get the object, he said.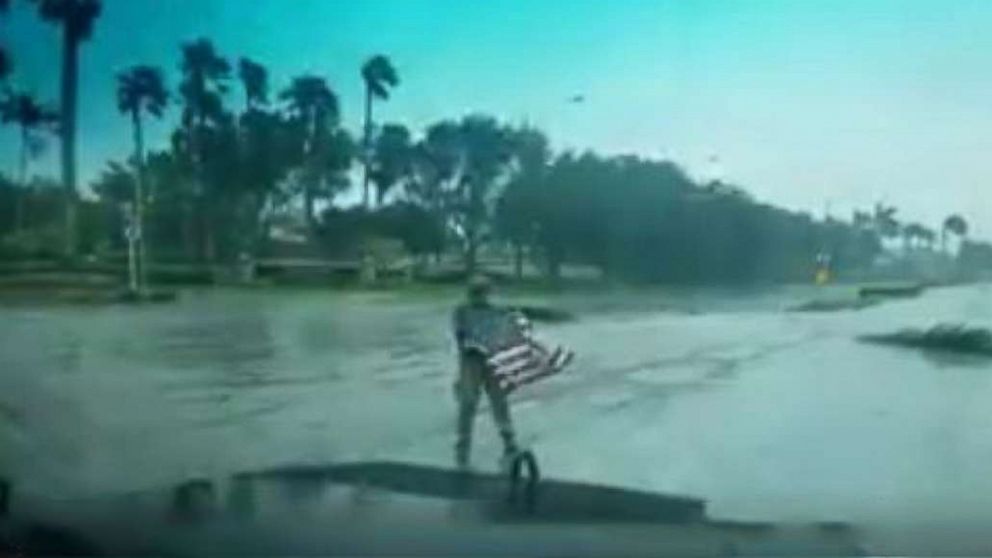 It was a fallen American flag.
"I just thought at the moment that it would be a disgrace to let that lay on the ground," Schiavo said, noting that his colleagues felt the same way.
Footage from inside the vehicle shows Schiavo getting out and picking the fallen flag off the street, waving it in the high winds, and then heading back to the vehicle.
"It felt like an honorable thing to do," he said.
"To me personally it just represented every first responder," Schiavo told ABC News, noting that he includes in that group police officers, firefighters, the National Guard and military service members both in the U.S. and overseas.
The Coral Springs police department tweeted the video today and connected the moment to the 16th anniversary of the Sept. 11 terror attacks.
"Even in the midst of a storm, we are reminded of the love for our country and community. #HurricaneIrma #September11," the tweet reads.