Dozens of Louisiana families didn't evacuate Hurricane Laura, official says
A 14-year-old girl in Louisiana is the first known fatality from the storm.
Tropical Storm Laura is barreling inland across the southeastern United States as a powerful tempest with an "unsurvivable storm surge" expected in some areas, according to the National Hurricane Center.
The storm made landfall near the Texas-Louisiana border early Thursday as a Category 4 major hurricane with a maximum sustained wind speed of 150 mph.
"Unsurvivable storm surge with large and destructive waves will cause catastrophic damage from Sea Rim State Park, Texas, to Intracoastal City, Louisiana, including Calcasieu and Sabine Lakes," the weather service said in a statement early Thursday. "This surge could penetrate up to 30 miles inland from the immediate coastline. Only a few hours remain to protect life and property and all actions should be rushed to completion."
Parts of eastern Texas and western Louisiana are forecast to see "catastrophic wind damage," especially in places where the storm's eyewall came ashore, the National Hurricane Center said. Residents in affected areas were urged to evacuate and brace for damaging winds and flooding rainfall that will spread well inland across parts of those areas.
Here's how the news is developing today. All times Eastern. Please refresh this page for updates.
4:13 p.m.: 840,003 without power in Louisiana and Texas
840,003 are currently without power in Louisiana and Texas, according to poweroutage.us.
The breakdown: There are 599,537 without power in Louisiana and 240,466 in Texas.
Not included in the total amount are 43,087 experiencing power outages in Arkansas and 12,633 in Mississippi.
2:10 p.m.: Cameron Parish begins assessing damage left behind
Emergency officials in Cameron Parish, Louisiana, have begun assessing damage caused by strong winds and reported tornadoes in the area. Officials said they had a lot of structural damages, but feel they were very lucky because they don't have as much water damage as feared. They said they hadn't reached out to all the residents who stayed behind, but there had been no real rescue calls reported, just welfare checks.
Officials will conduct a flyover examination with the governor this afternoon to further assess.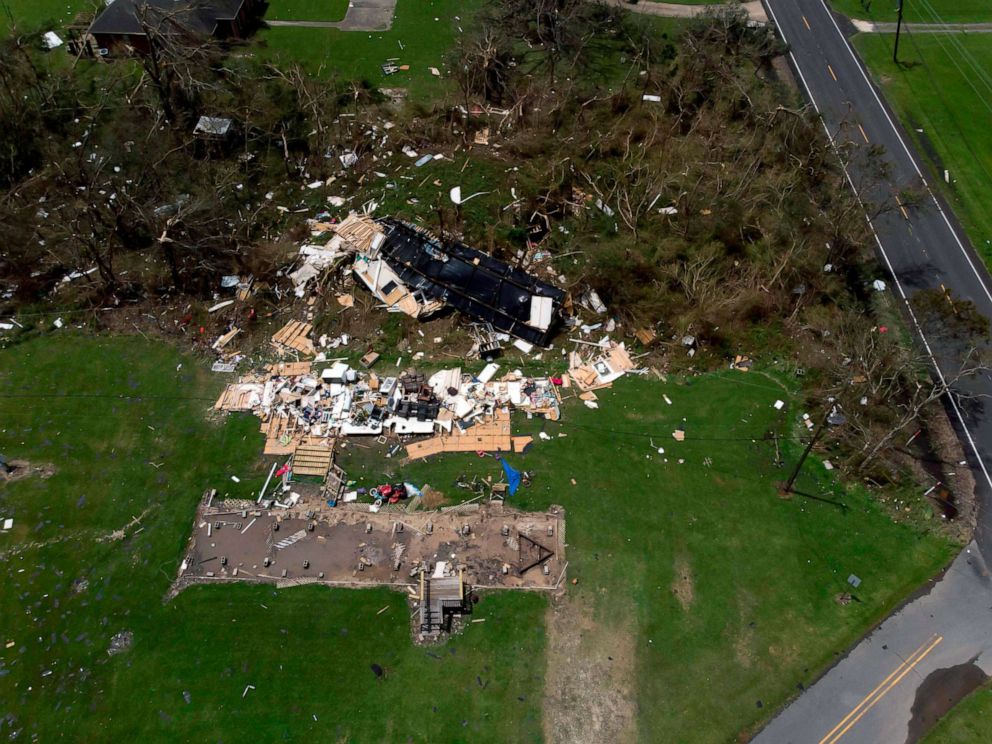 1:50 p.m.: Some 731,436 left without power
At least 731,436 customers in Louisiana and Texas were left without power as of Thursday afternoon, up from 671,307 earlier, as officials worked to recover in the wake of coastal storm surges and destructive flash flooding.
Louisiana saw the bulk of the outages with 596,976, while Texas reported about 134,460, down from about 137,376 earlier.
1: 20 p.m.: Authorities battle chemical leak in storm's wake
Louisiana Gov. John Bel Edwards urged residents to stay inside, close their doors and turn off air conditioning units as authorities battled a reported chemical fire just west of Lake Charles.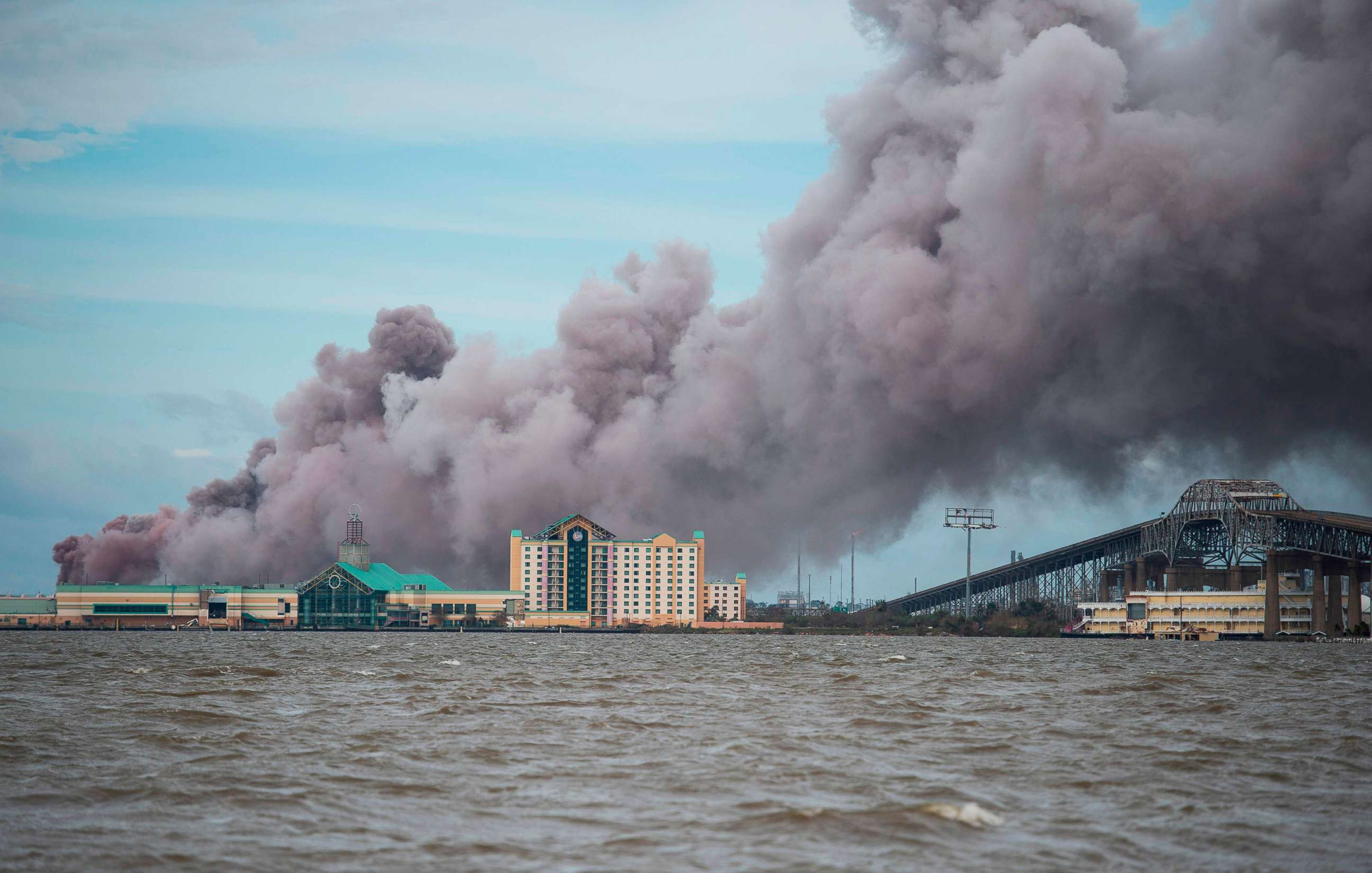 The fire at the BioLab chemical manufacturing facility in Westlake, Louisiana, was reported early Thursday as emergency officials battled the effects of Hurricane Laura. Louisiana State Police Emergency Services Unit described the fire as a "a hazardous material incident involving a chlorine leak" in the wake of the storm.
Residents in the area were advised to shelter in place and avoid unnecessary travel until further notice.
1 p.m.: Laura weakens further to tropical storm
Laura weakened to a tropical storm early Thursday afternoon with sustained winds of 70 mph. It was last moving north at about 15 mph. The storm's center is roughly 50 miles east southeast of Shreveport, Louisiana. The storm blanketed southern Arkansas with heavy rain and strong gusty winds as it moved northward, bringing the threat of flash flooding. Flash flood warnings remain in effect across northwestern Louisiana, where the heavy rain just moved through over the past few hours.
12:50 p.m.: President Trump approves Arkansas emergency declaration
President Donald Trump approved Arkansas' request for federal emergency assistance as Hurricane Laura makes its way toward the state.
The order authorizes the Department of Homeland Security and Federal Emergency Management Agency to coordinate all disaster relief efforts "which have the purpose of alleviating the hardship and suffering caused by the emergency on the local population," FEMA said in a statement.
Specifically, FEMA is authorized to identify, mobilize and provide at its discretion, equipment and resources necessary to alleviate the impacts of the emergency, FEMA said.
12:10 p.m.: More than 671,000 left without power in Laura's wake
At least 671,307 residents in Louisiana and Texas were left without power as of Thursday afternoon as officials worked to recover in the wake of coastal storm surges and destructive flash flooding.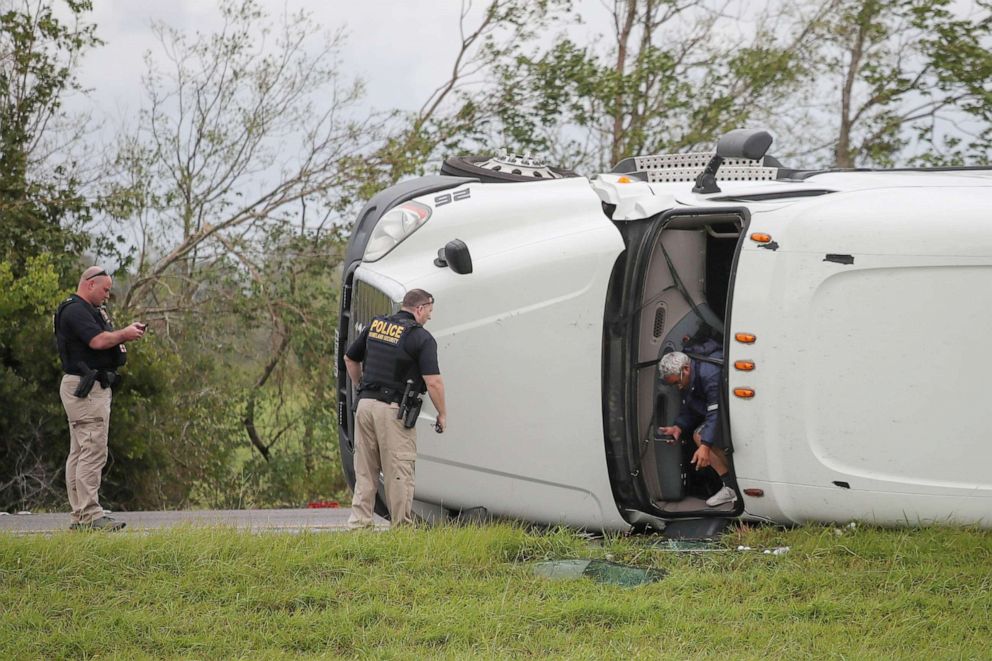 Louisiana saw the bulk of the outages with 553,931, while Texas reported about 137,376.
11:20 a.m.: Laura continues to weaken, damaging winds and flooding spreads inland
As of late Thursday morning, Hurricane Laura had weakened to a Category 1 with winds of about 75 mph, bringing it closer to tropical storm territory. Flooding is still a major concern as high water levels were still being reported along portions of the Gulf Coast.
It's forecast to weaken to a tropical storm within the next few hours and track northeast toward Arkansas before moving southwest toward Missouri overnight. Forecasters said it will likely be downgraded to a tropical depression by early Friday morning.
11:00 a.m.: President Trump 'commitment' to aiding affected communities
President Donald Trump has been receiving "regular updates" on Hurricane Laura amid ongoing preparations for a major White House celebration Thursday night to close out the RNC, according to the White House.
"As we begin to assess the damage, please continue to heed the warnings and instructions of your State and local officials as storm hazards will persist long after the storm has passed," White House Press Secretary Kayleigh McEnany said in a statement. "Hurricane Laura remains a deadly hurricane with devastating coastal storm surges, destructive winds, and flash flooding." "President Trump is committed to deploying the full resources of the Federal Government to rescue those in distress, support those in the region affected, and restore disruptions to our communities and infrastructure," she added.
The president is scheduled to meet with FEMA officials Thursday afternoon.