— -- Hurricane Matthew is no longer a hurricane: It was downgraded to a post-tropical cyclone around 5 a.m. ET on Sunday as it made an eastward turn and began to move out into the Atlantic at 14 mph. The newly-minted post-tropical storm Matthew has maximum sustained winds of 75 mph.
Despite the downgrade, ABC News meteorologist Daniel Manzo cautions, "Record-breaking flooding will continue in eastern North Carolina this morning. This will come to an end later on Sunday. The Outer Banks and mid-Atlantic will continue to see very gusty winds and heavy rain this morning."
President Obama signed major disaster declarations, which provide more federal money and resources than emergency declarations, for Florida and Georgia on Sunday morning.
Matthew made landfall as a Category 1 hurricane in the Cape Romaine National Wildlife Refuge near McClellanville, South Carolina, around 10:45 a.m. on Saturday
Around the same time the National Hurricane Center announced that Matthew had been downgraded, the North Carolina Office of Emergency Management confirmed a fifth death in Pitt County overnight due to weather. The US death toll from Matthew is currently at 19.
The state-by-state death toll so far is: North Carolina, 8 deaths; Georgia, 4 deaths; Florida, 6 deaths; and South Carolina, 1 death.
As of late Saturday, there were also four people missing in Cumberland County in North Carolina.
During the early hours of Sunday, Matthew had maximum sustained winds of 75 mph and was moving northeast at 16 mph. It was located 30 miles south-southwest of Cape Hatteras, North Carolina, at 2 a.m., according to the National Weather Service.
Matthew has left 2.2 million households and businesses without power across the Southeast region.
At 1 a.m. Sunday, North Carolina officials said there were 670,716 power outages across the state. In South Carolina, there were 768,856 power outages. Georgia was experiencing 205,220 outages, while Florida still had 561,862 outages, as of early Sunday morning.
The video below, released the city of Fayetteville, North Carolina, shows New York Police Department officers and New York Fire Department firefighters performing a rescue.
A Fayetteville resident also posted this video to Instagram of a road being washed away amidst the torrential downpour.
Dangerous Combination of Winds, Rain and Storm Surge
Storm surges that could cause flooding have been a concern up and down the coast. The National Weather Service measured a record tide level of more than 12 feet at the mouth of the Savannah River, which borders both South and North Carolina. Forecasters warned that the combination of a dangerous storm surge, the tide and large waves could cause rising waters to move inland from the shoreline to flood normally dry areas near the coast.
On Saturday, Charleston County Emergency Medical Services in South Carolina suspended its service countywide, warning that high-span or exposed bridges are unsafe for public travel due to high winds. A curfew was implemented in Charleston between Saturday 8 p.m. ET through Sunday 8 a.m. ET.
Nearly 17 inches of rain were recorded at Hunter U.S. Army Airfield in Savannah, Georgia over a 48-hour period, according to the National Hurricane Center.
FEMA Administrator Craig Fugate said Friday, "Many of these areas have not had this level of flooding since, like, the late 1800s."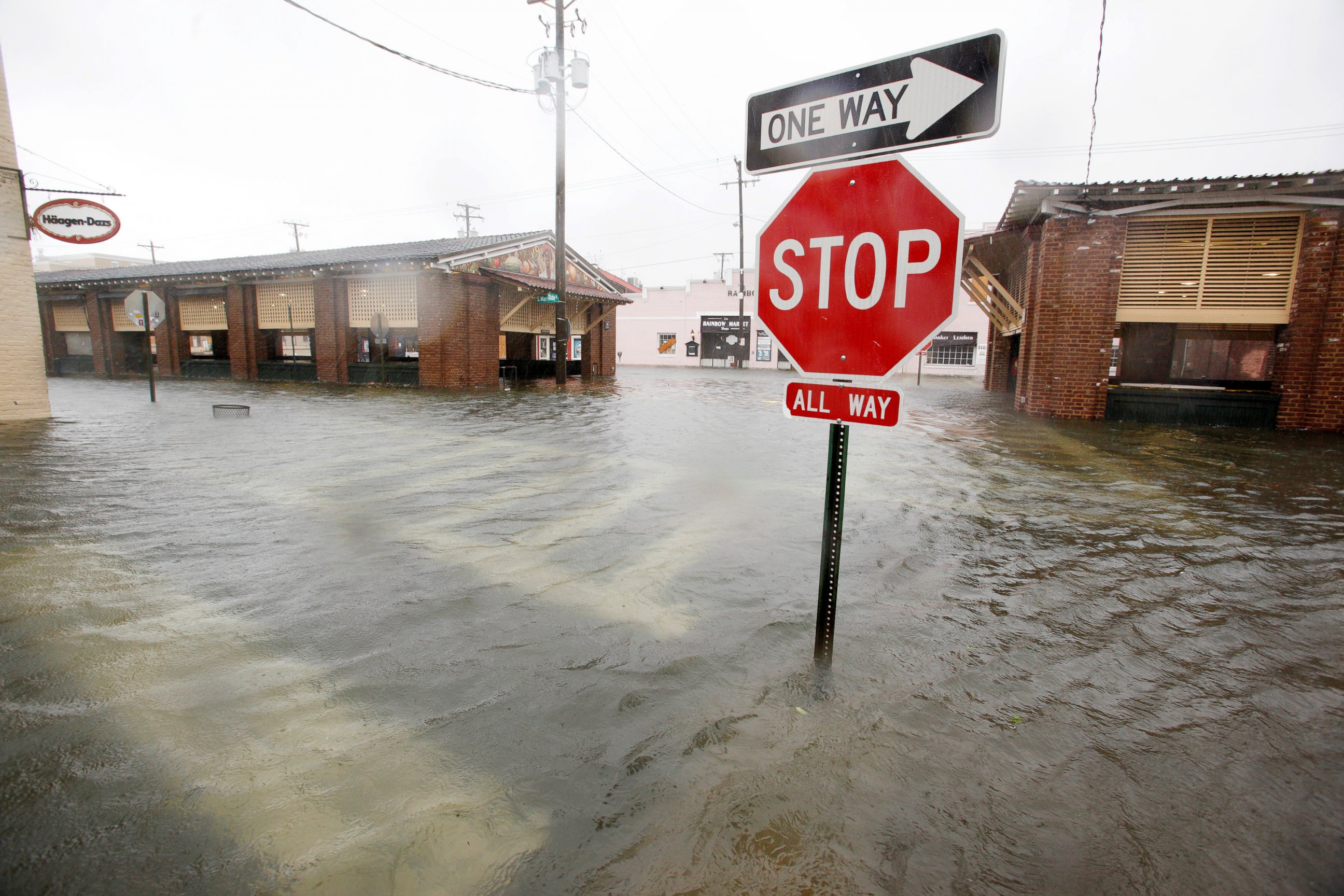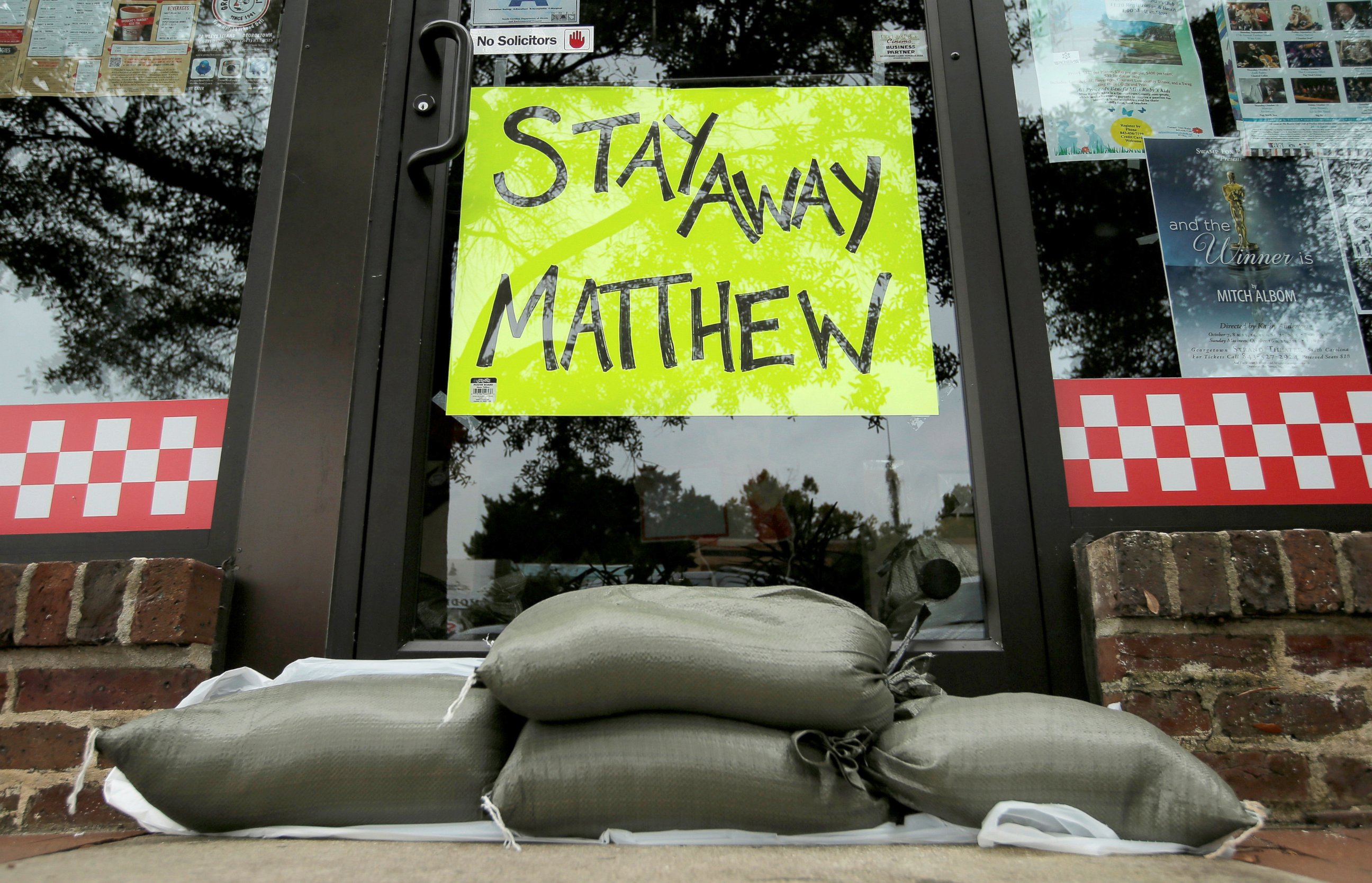 Hurricane Matthew Leaves Flooding and Destruction in its Wake
From left, Cassandra Rush, Anyah Carpenter, and Rosa Rush walk through floodwaters in their neighborhood, Oct. 15, 2016, in Lumberton, North Carolina.
Sean Rayford/Getty Images
Florida Awakens to Devastation
Meanwhile, the storm left a deadly trail of destruction in Florida. Six people in the state have died from Hurricane Matthew, authorities said.
In Jacksonville, officials said at a press conference Saturday morning that one person died in the area but they have not yet confirmed whether it was storm-related. The city's beaches will reopen Saturday at noon as officials continue to assess the damages.
"I'm grateful that the damage wasn't worse than it is, but there's a whole lot of work to do," Jacksonville Mayor Lenny Curry said at the news conference Saturday.
Florida Gov. Rick Scott said there are "unbelievable" amounts of beach erosion and fallen trees, but he was thankful the hurricane didn't make landfall. More than 5,900 people were in 70 shelters across the state as of Saturday afternoon, Scott said.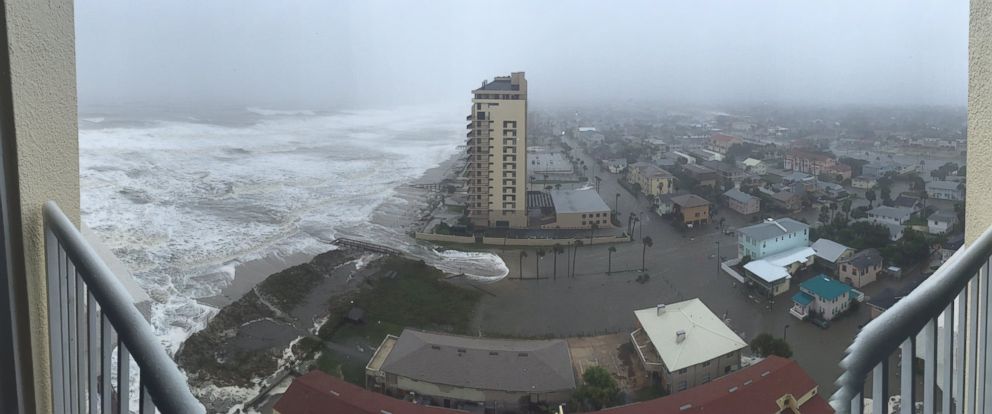 More than 763,000 households and businesses were still without power in Florida as of late Saturday afternoon, the governor said. The Florida Power and Light Company said it expects to have power restored to all customers by end of day Sunday, but "flooding and severe damage" will likely extend outages for some homes and businesses through Monday.
As of Saturday afternoon, more than 500,000 Floridians were in evacuation zones. As the zones are being lifted, the governor said local law enforcement ultimately decides when it is safe for residents to return to their communities and homes. Meanwhile, all toll suspensions remained in effect and will remain suspended until at least Sunday night.
ABC News' Devin Villacis, Matthew Foster, Julia Jacobo, Emily Shapiro, Jeffrey Cook, Matt Foster, Max Golembo, Melissa Griffin, Joshua Hoyos, Scottye Kennedy, Daniel Manzo, Janice McDonald, Troy McMullen, Daniel Peck, Arlette Saenz, and Jason Volack contributed to this report.