— -- When gunfire erupted in Las Vegas earlier this month in what would become the deadliest mass shooting in modern American history, Dennis Carver shielded his wife, Lorraine, from the bullets and guided her to safety, even as others were shot around them.
"We are safe," Lorraine (Lora) Carver wrote on Facebook that night, "prayers for us all."
In the wake of the Vegas shooting, one of Carvers' daughters, Brooke Carver, wrote on Facebook that her "parents were both at the Route 91 music festival tonight and were standing directly where shots were being fired. A poor man right next to my dad was shot in the leg, that's how close they were."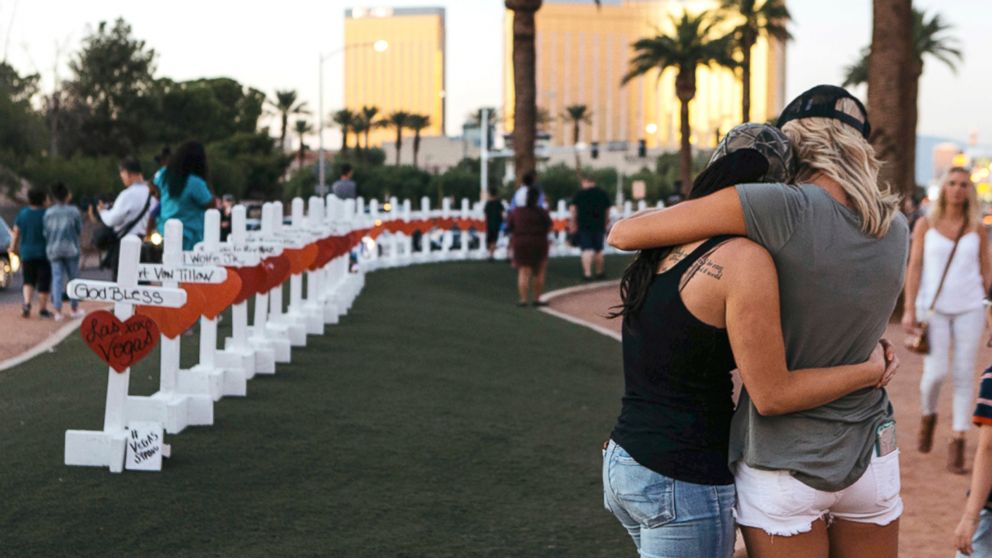 Lorraine Carver lauded her husband's actions in helping them get out alive.
Then, just two weeks later, tragedy struck the Carver family.
Lorraine and Dennis were killed in an accident when their car careened off the road and struck a cinder block column, ripping off the rear axle and rupturing the gas tank, according to Officer William Strom of the California Highway Patrol, which is overseeing the investigation.
The car then spun and went head on into another cinder block column, after which it rolled and burst into flames, Strom said. The Carvers were the only people in the car and the cause of the crash was unknown.
Now, Brooke Carver and her sister are left suddenly without their parents.
"Our beautiful, amazing, and strong parents were in a tragic and fatal car crash just down the street from my house," Brooke Carver wrote in an Oct. 20 Facebook post. "Our parents couldn't have done more for us, they truly did make sure we had anything and everything we could ever want, including love which will last a lifetime."
Brooke Carver described her mom as "so full of life, always laughing and dancing, she made our lives what they are today.
"She was there for every school play, every football game, every cheer competition, every day for anything, she was there," Brooke Carver added.
Of her dad, she said he "was the strongest man we have and will ever meet in our lives...He worked himself so incredibly hard day in and out all for me and my sister."
"They were the most grateful, generous, and strong people, and we know they are looking down on us guiding us from above," she wrote.
In a part of the Facebook post that was addressed to her parents, Brooke Carver wrote that she and her sister "love you more than anything.
"Thank you for giving us the blessed lives we live, and thank you for teaching us everything we need for the rest of our lives in 16 and 20 short years," she wrote. "Everything was always a lesson with you Dad, and now I know why. Mom, you always made everything a party, and we couldn't be more grateful to have all those memories. We love you, and can't wait to see you again."