Authorities are asking for the public's help in identifying a child with special needs who was found dead in a Texas park.
The brown haired, brown eyed little boy is about 6-years-old. At 28 pounds, officials say he is only half the average weight of child his age. He was found with a feeding tube attached to him, suggesting that he had "significant medical needs," according to the Wylie Police Department.
The boy was found at around 9 a.m. on April 15 by Gary Valentine, a garden worker who was mowing the area of owned by the Army Corps of Engineers in Wylie, Texas, when he says he saw the body. Wylie is just outside of Dallas in Northeast Texas.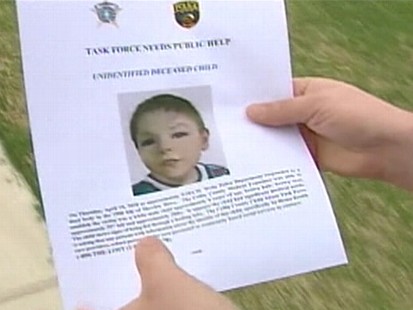 Valentine told ABC News' affiliate WFAA in Dallas that he spotted what he thought was a "small mannequin" while mowing the grass.
"I said a prayer and I knew I was at a crime scene, but I also knew I couldn't throw a child in a brush pile," said Valentine. "So, I stepped across the fence, laid him down, looked back [and] saw a baby blanket [and] took it and covered up the baby and called 911."
The National Center for Missing and Exploited Children transformed police photographs from the crime scene into a digital composite of what they believe the boy looks like to try and draw the attention of someone who may know him.
"This is a lifelike image of the little boy that we believe is very close to what he looked like," said Ernie Allen, the president of the organization.
Authorities believe the little boy had only been dead a few days when his body was discovered. There were no obvious signs of trauma, either. A full autopsy report has not yet been released.
"There is somebody out there who misses this little guy," said Allen. "We hope this image will help answer some questions."
"And of course, we hope to help law enforcement determine who did this to him," Allen added.
Allen said that authorities have already received about 60 leads they are following up on, and realize that the child may not be from Texas, and could have just been dumped in the area.
"The way his body was disposed of is not a way we want any child to be disposed of," he said.
Authorities Hope Someone Recognizes The Little Boy's Picture
In October 2007, when the body of a little girl was found stuffed in a box and abandoned along a Texas waterway, authorities tapped the public for help, releasing a sketch of the blond-haired girl, naming her Grace.
The girl's paternal grandmother spotted the image on the Internet and identified the child as her two-year-old granddaughter, Riley Ann Sawyers. Later, Riley Ann's parents confessed to abusing the girl before killing her and stuffing her in a plastic box in July 2007 -- two months before dumping her in the river.
Today Allen says that while he won't try to predict what may have happened to the Wylie boy, he does find comfort in the success these digital images of unidentified children have had in the past.
"Every case is different," said Allen, "And our goal here is to determine who this little boy is, but we've had dozens of cases that we've been able to identify using these techniques."
On Facebook, a page dedicated to the mystery Texas boy dubbed "Wylie's Angel," has already garnered more than 12,000 followers, many of whom are leaving messages of hope that someone will come forward and claim the boy.
Members of the community shocked by the discovery have made a makeshift memorial at the site where the boy was found, leaving flowers and even teddy bears behind.
"I came back to put a bear out for him cause he's like Wylie's little angel," one resident, Kathy Hanson, told WFAA.
"I don't know how someone could dump an innocent child, nobody's claimed him. It's sad. It's very sad," Hanson said.
Anyone with tips about who this child might be is encouraged to call 1-800-THE-LOST.