Seventy-four years ago today, Japanese planes attacked Pearl Harbor, Hawaii, taking the lives of more than 2,400 U.S. service members and plunging the United States into World War II.
Among those dead from the surprise assault were 429 sailors and Marines from the USS Oklahoma. The ship capsized in twelve minutes after being hit by around nine torpedoes, according to reports from the National Archives.
Now, the Department of the Defense is working to identify the men who lost their lives on the USS Oklahoma using a newly commissioned agency, the Defense POW/MIA Accounting Agency (DPAA), dedicated to accounting for America's fallen.
The remains of the service members who died on that infamous day have a complicated tale.
The wreckage of the ship was recovered in 1943, but after years underwater, the bodies of the dead were mere skeletons.
"You have the remains that are in the water, they're in the ship, they're decomposing in place," Debra Prince Zinni, a forensic anthropologist and a manager with the DPAA's main lab in Hawaii, told the Washington Post.
So, the skeletons were placed in two Hawaiian cemeteries in 1944.
Over the years, the military worked to identify the remains, but 1940's identification techniques, such as using dental records, proved futile.
In 1949, the skeletons were declared unidentifiable. The following year, they were moved to the National Memorial Cemetery of the Pacific, where they rested for over 50 years.
Since 2003, researchers dug up two caskets and successfully identified several sailors from the USS Oklahoma, prompting the Department of Defense to launch a mission to exhume and identify the estimated 388 remaining service members.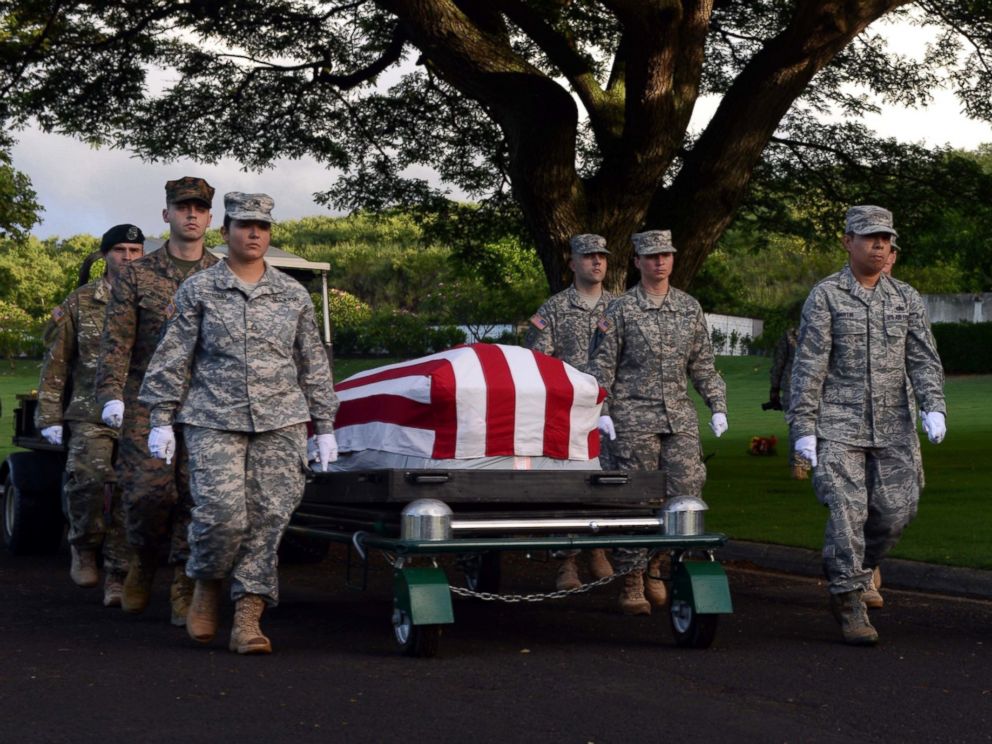 "The secretary of defense and I will work tirelessly to ensure your loved one's remains will be recovered, identified, and returned to you as expeditiously as possible, and we will do so with dignity, respect and care," Deputy Secretary of Defense Bob Work said in a statement announcing the decision last April. "While not all families will receive an individual identification, we will strive to provide resolution to as many families as possible."
Once the remains were removed from the caskets, cleaned, and photographed, they were sent to the DPAA lab for analysis using "current forensic tools and techniques, to include DNA testing," according to the Department of Defense.
So far, seven identifications have been made, but the public won't know the names of these service members quite yet. Military officials are waiting to contact family members before making a public announcement.
The Department of Defense said that all service members who are identified will be returned to their families for burial with full military honors.
More than 73,000 Americans are still unaccounted from World War II, according to the DPAA.
However, for the families of the sailors and Marines who served on the USS Oklahoma on Dec. 7, 1941, there is hope that their loved ones will finally come home.