A 21-year-old employee of the Massachusetts Air National Guard was arrested this week in connection with the leak of classified national defense information.
Jack Teixeira made his first court appearance before a federal magistrate in Boston on Friday morning after being charged with unauthorized retention and transmission of national defense information and willful retention of classified documents.
Media reports have described the U.S. intelligence documents -- which seem to contain top-secret information about the Ukraine war and other parts of the world -- as being shared among a small group of users on Discord before getting wider notice.
Here's what we know about the suspect so far.
Background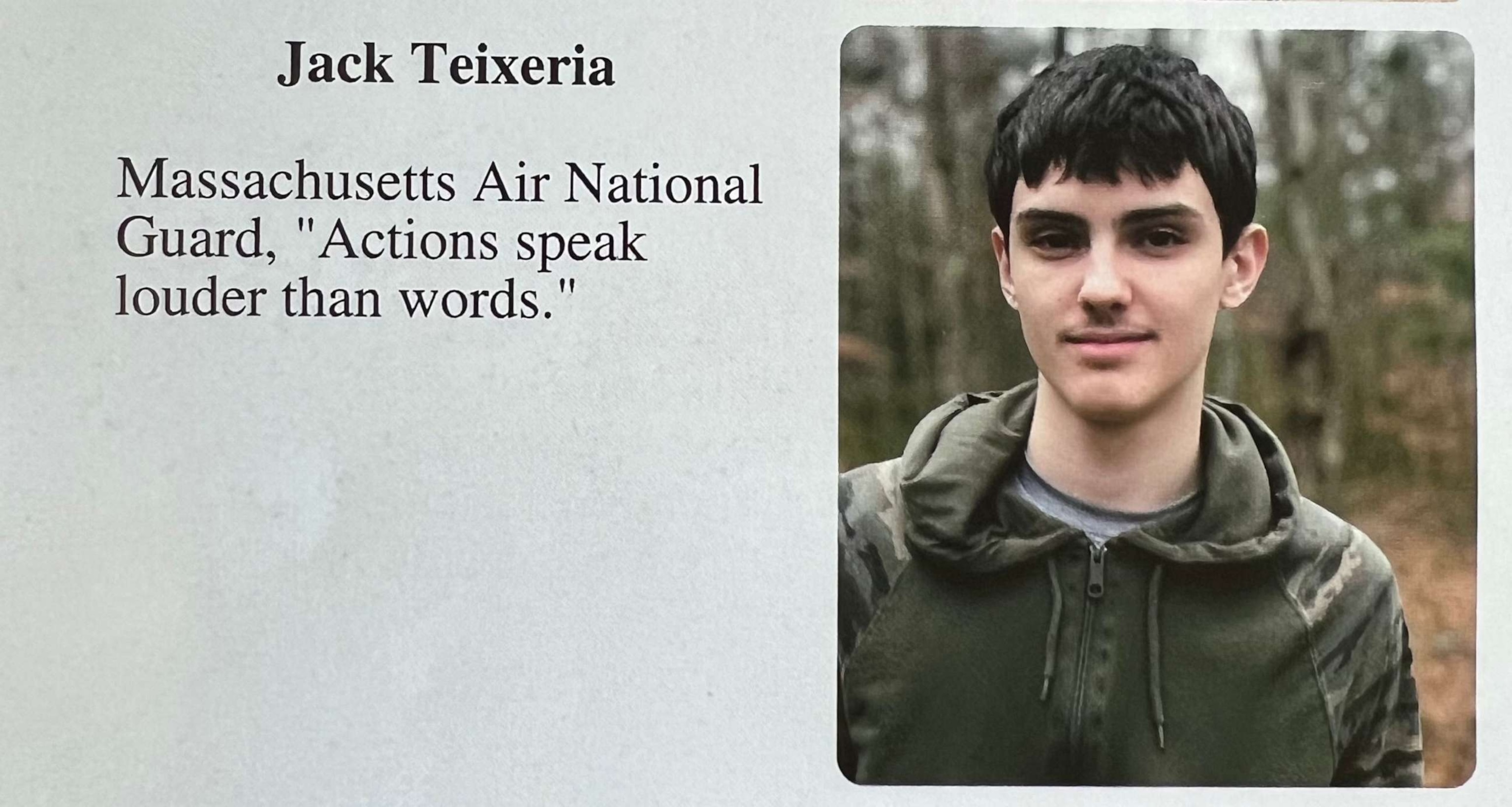 Teixeira attended Dighton-Rehoboth Regional High School in North Dighton, Massachusetts, which he graduated from in 2020. His senior year quote in his 2020 high school yearbook (which misspelled his last name) said, "Actions speak louder than words."
The page also noted that he would be going to the Massachusetts Air National Guard.
Teixeira is not listed in any clubs or sports during his four years at the high school, per school yearbooks.
Military service
Teixeira enlisted in the Air National Guard on Sept. 26, 2019, according to his service record.
He was assigned to a support squadron of the 102nd Intelligence Wing at Otis Air National Guard Base, according to the National Guard Bureau. Service records show he was awarded the Air Force Achievement Medal on Sept. 30, 2022.
The Air Force confirmed to ABC News that his rank is Airman 1st Class (E-3), and his duty title is Cyber Transport Systems Journeyman.
A U.S. official described this role to ABC News as something like "combat IT" -- a job focused on keeping the military's global communications and cyber infrastructure running. The role is not an intelligence specialist but requires security clearances to perform certain duties, according to the official.
On its website, the Air Force describes the responsibility of Cyber Transport Systems specialists as ensuring the underlying infrastructure of its "vast, global communications network" is operating properly.
"Whether it's repairing a network hub at a stateside base or installing fiber-optic cable at a forward installation overseas, these experts keep our communications systems up and running and play an integral role in our continuing success," the Air Force said.
Teixeira was mobilized on active duty Title 10 status with his unit beginning in October 2021, according to a National Guard Bureau official.
According to a criminal complaint filed in the case, Teixeira has held a "Top Secret security clearance" since 2021 and "would have signed a lifetime binding non-disclosure agreement in which he would have had to acknowledge that the unauthorized disclosure of protected information could result in criminal charges." Additionally, Teixeira "maintained sensitive compartmented access (SCI) to other highly classified programs," the complaint stated.
Arrest and charges
Teixeira was arrested without incident at a residence in North Dighton on Thursday "for his alleged involvement in leaking classified U.S. government and military documents," the FBI said in a statement. The arrest was made by the FBI-Boston tactical team, according to law enforcement officials familiar.
He has been charged with unauthorized retention and transmission of national defense information and willful retention of classified documents, which collectively carry a maximum of 15 years in prison. He has yet to enter a plea.
The criminal complaint alleges that Teixeira "improperly and unlawfully retained and transmitted national defense information to people not authorized to receive it." Teixeira allegedly accessed a government document on Feb. 23 and posted it the following day, according to the complaint. It's the disclosure of that one document that forms the basis of the initial charges.
On April 10, the FBI interviewed an unidentified member of a social media platform chat room where Teixeira allegedly posted classified documents. The member reportedly told the FBI that the person began posting "what appeared to be classified information" around December and described the poster as someone named Jack who appeared to live in Massachusetts and "claimed that he was in the United States Air National Guard," the complaint stated. The member described Jack as "a white male who was clean-cut in appearance and between 20 and 30 years old," the complaint stated.
The complaint, which does not mention Discord by name, indicates the platform assisted the FBI by providing the credentials behind the account associated with the leak on April 12. The billing name associated with the account was Jack Teixeira and the address in North Dighton, according to the complaint.
Teixeira allegedly used his government computer to search classified intelligence reporting for the word "leak" on April 6, around when the first public reporting on the leak occurred, according to the complaint.
ABC News' Jack Date, Aaron Katersky, Victor Ordoñez, Luis Martinez and Matt Seyler contributed to this report.