Judges reluctant to say Trump was acting as president when he allegedly defamed E. Jean Carroll
The former Elle columnist alleged that Trump raped her in the 1990s.
Judges from the D.C. Court of Appeals expressed reluctance Tuesday to find that then-President Donald Trump acted within the scope of his employment in 2019 when he, in the course of denying a rape claim by E. Jean Carroll, allegedly defamed her by calling her a liar and saying she was "not my type."
The outcome will determine whether Carroll's defamation case in Manhattan federal court can proceed.
Trump has sought to have the U.S. government substitute for him as the defendant, a position that the Justice Department under President Joe Biden has continued to support. However for that to occur, the D.C. Court of Appeals must decide that Trump was acting within the bounds of his employment as president when he allegedly defamed Carroll.
Carroll, a former Elle columnist, alleged that Trump raped her in the dressing room of Bergdorf Goodman in the 1990s.
On Tuesday, Justice Department lawyer Mark Freeman urged the court to find it was part of Trump's job to deny Carroll's claim.
"It is part of the job of elected officials to address matters of public controversy," Freeman said in an argument echoed by Alina Habba, an attorney for Trump.
"This was thrust upon him and he was responding to press in his job," Habba said.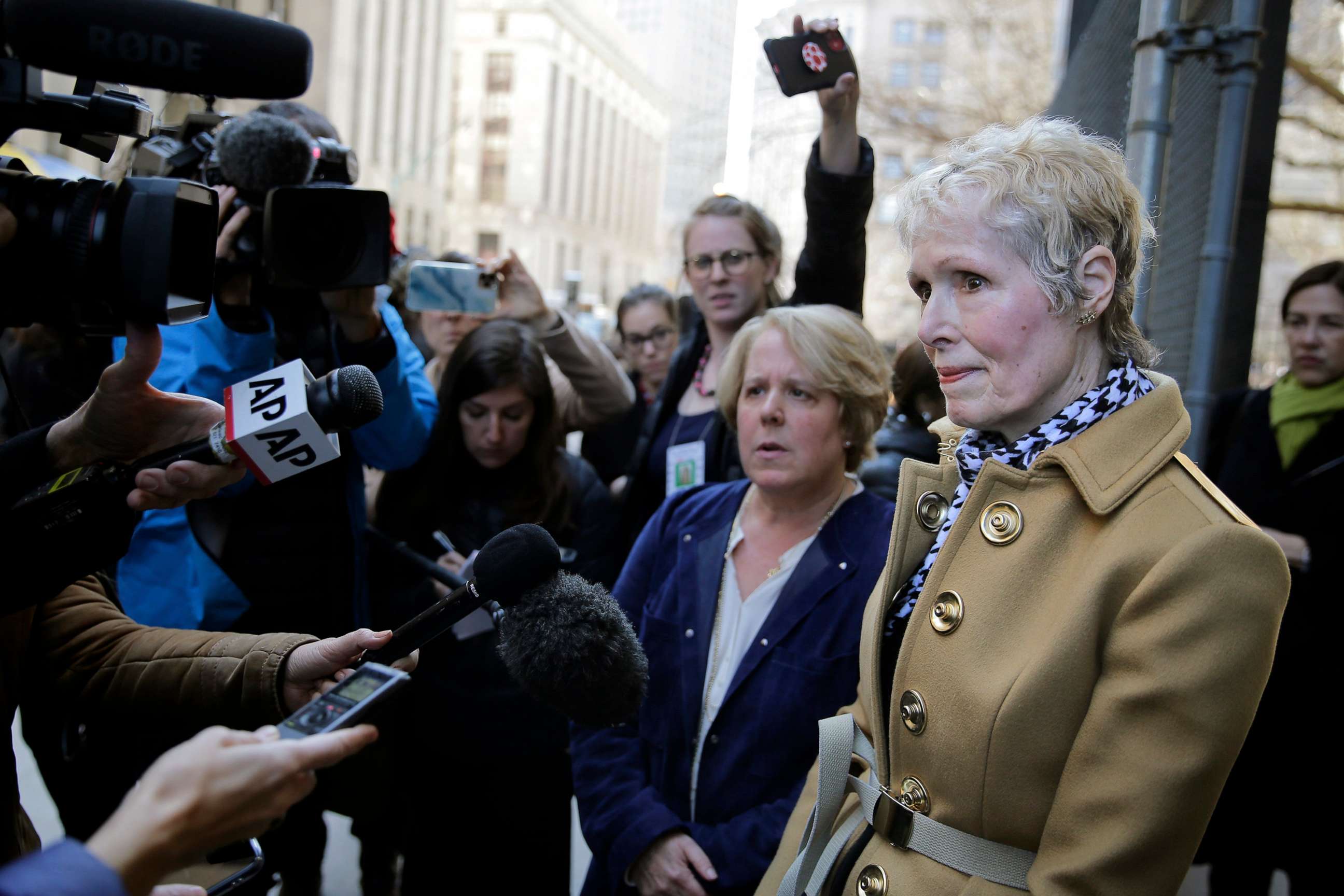 Judge Catherine Easterly questioned whether the court, as a matter of law, could decide whether Trump's conduct was part of the job.
"The court has never done that," Easterly said.
Carroll's lawsuit is set for trial in April. The substitution of the United States for Trump would, however, end the case since the federal government cannot be sued for defamation.
"A determine that something is within scope of employment doesn't normally immunize the individual employee," Judge Roy McLeese said.
Carroll's attorney insisted that Trump denied her rape claim for purely personal reasons and in a manner that was outside the norm for a government employee.
"When someone accuses a prominent official of sexually assaulting them and they respond and say 'Well she's not my type,' our position is that is evidence of some degree of motivation that goes beyond job-related, " Carroll's attorney, Joshua Matz, said.
Carroll sued Trump for a second time in November, alleging battery under a new law in New York that allows adult sex assault victims to file claims that would otherwise be barred by the passage of time.
Her new lawsuit also alleged a second claim of defamation over statements Trump made in October 2022.
Trump called Carroll's claim "a Hoax and a lie" in a post on his social media platform Truth Social. "And, while I am not supposed to say it, I will. This woman is not my type!" the post added.
"Trump's false, insulting, and defamatory October 12 statement about Carroll -- and his actual malice in making that statement -- is fully consistent with his tried-and-true playbook for responding to credible public reports that he sexually assaulted women," the lawsuit said.